Best mother of the groom dresses 2022—chosen by fashion stylist Gemma Sheppard
The best mother of the groom dresses will help you stand out in the all the right ways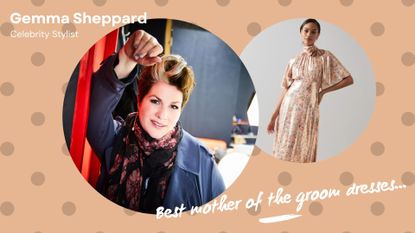 (Image credit: Gemma Reynolds / Future / LK Bennett)
The best mother of the groom dresses will ensure you can have your own moment in the style spotlight, without eclipsing the bride on the big day.
When it comes to what to wear to a wedding, everyone wants to get their outfit just right, but when it's your son that's getting married, the pressure certainly stacks up. Although the most celebrated outfit on the big day will be the bride's, there's no reason you can't look and feel great too. Traditionally, mother of the groom dresses were expected to be low key but times have changed—just look at Victoria Beckham's mother of the groom dress at Brooklyn Beckham's wedding—so there's nothing stopping you from opting for an ensemble that makes you feel fabulous, chic and comfortable (you'll be wearing it for 12 hours at least so, trust me, comfort is key!)
So where to start? The rule of thumb is to not choose the same color as the bride, bridesmaids, or Mother of the Bride. However, you must choose a hue that complements them all to avoid a ghastly color clash in all the official photographs. Find out from the bride what the official color palette is before hitting the shops: if the wedding party are wearing bright color clothes for example, you'll need to keep this in mind when shopping for your outfit—taking a swatch of the final chosen best bridesmaids' dresses is a good way of matching up—then give the bride's mother a call to get the low down on her frock.
It's also important to be mindful of the wedding theme—is it a casual or formal do? Is it happening in the day or evening? When you know all this detail, it's time to shop and, make no mistake, you can never start this too early. Leaving everything to the last minute risks panic-buying an outfit that isn't your preferred style or shape, which could leave you feeling awkward and out-of-place all day. Six months ahead of the wedding is a good time to start searching for that truly special something where your personal style can shine through.
How to select the best mother of the groom dresses
When it comes to selecting the best mother of the groom dresses, there are several things to consider:
Color: Lighter neutrals are a safe option for a daytime event. They won't clash, will match every color palette and will ensure you complement the wedding party beautifully. Absolutely avoid white at all costs or, if the bride is going for a warmer color, bypass that too.
Skirt length: You want to be comfortable on the day and not stand out for all the wrong reasons. Choose a below-the-knee length to ensure your skirt doesn't ride up when you sit down or bend over. Guaranteed comfort and elegance all day.
Toy with trousers: Although mother of the groom dresses are more traditional, you don't have to rule trousers out altogether. A wide-leg trouser that sits on the hip then flares out slightly looks great on all shapes and with a wide or palazzo style leg, you often give the illusion of wearing a dress too. Worried about making an outfit match? Flattering jumpsuits are also a lovely option for an easy and complete outfit. Opting for lighter fabrics such as linen or silk will prevent a corporate look and for maximum chic, team with some incredible statement accessories.
Good shoes: As you're likely to be on your feet all day and even dancing well into the night, fabulous footwear is key! Choose a heel height you're already happy with. Just because it's a special occasion, it doesn't mean you need to buy the biggest heel around. You can get some really comfortable flats that also look beautiful—even designer iterations. Alternatively, if you want the best designer heels, opt for a mid-height heel or a wedge as these will be easier to navigate the whole day in. And don't put them on for the first time on the big day, wear your shoes a few times before the wedding to avoid blisters.
Statement bag: Your bag or clutch can be more extravagant than usual at a wedding so choose one with stunning embellishments or a metallic finish. Providing it's in the same color palette as your outfit, you'll turn heads for all the right reasons! If you've been looking for an excuse to buy one of the best designer bags, now could be the time. But remember, opt for something compact as you want to carry the absolute minimum with you.
Mother of the groom outfit suggestions
When it comes to the best mother of the groom dresses, you might want to consider your body type as the first port of call. This will help you to narrow down the silhouettes you're shopping for and find the most flattering fit for your frame. While you will be somewhat beholden to the color palette of the wedding and the fashion color trends 2022, it's also important to ask yourself, 'what color suits me?', so that you look your best on the day. Once you've gathered all of the above information, it's time to start shopping.
If you're heading to physical stores we suggest taking a pair of shoes in the heel height you would wear to try on with outfits. It's also important to wear your best bra and best underwear for your shopping trips as this will give you a better sense of how items should look. If you're conscious about having a smooth silhouette, we suggest investing in the best shapewear and bringing that with you too for outfit try-ons.
1. Best mother of the groom dresses—country house and garden weddings
Whether you're after the best mother of the groom dresses or the best mother of the bride outfits it really does depend on where the day itself is happening. If the couple has opted for a country house or garden wedding, then pretty pastels and the best midi dresses make for great outfit options. Take notes from Royal wedding guests, who wear this style so well. From dress and matching coats to floatier printed dresses, this is a light, feminine aesthetic that works well for high summer, outdoor weddings.
If you're looking for the best mother of the groom dresses for your shape then there are some easy silhouette tips to follow. Apple body shapes can sometimes struggle with finding flattering dresses to hide a tummy. A wrap dress, with a side tie is great for drawing the eye up and to the side, creating a narrower waistline, while a flat front panel will easily skim your shape. If you're still worried about your midriff, invest in some of the best plus size shapewear to help your chosen outfit skim and flatter your curves.
If you have an hourglass body shape or are looking to create the illusion of fuller curves, then a V-neck dress, with a belt will help to draw attention to your waist. A-line or fuller skirts will create width on your bottom half and balance out a fuller bust for well-balanced curves.
Pear-shaped body types are often looking to balance out fuller hips, a wide-legged jumpsuit will skim past wider hips and show off a narrower waistline with its lightly gathered middle. Cap sleeves or puff sleeve heads will add volume to your shoulder area, which will also help to balance out wider hips.
2. Best mother of the groom dresses—beach wedding
When selecting what to wear to a beach wedding, there are a host of practicalities to consider. While you might usually opt for white and neutral hues for stepping onto the sand, when it comes to a wedding, white is a no-go (unless specifically requested by the bride to wear white). It's also courteous to be wary of pastel hues that look too similar to white and cream. Given that the sun will hopefully be shining down on the big day, look for bright colors that will channel the happy feel of the day..
When it comes to silhouettes, this will again depend on your body type. A beach wedding will have a more relaxed feel than a country house or garden wedding and as you'll be dealing with sand, flat shoes are certainly recommended. Opt for maxi and midi dresses, or palazzo trousers, teamed with an embellished kaftan to reflect the mood of the wedding. When it comes to hats, depending on what is requested by the couple, you may want to opt for something that offers a little more sun protection, particularly if the wedding is taking place in the mid-day sun.
3. Mother of groom—black tie wedding
A black-tie wedding offers a wonderful opportunity to get dressed up. A black-tie wedding outfit does usually require a full-length or at least midi-length dress so this is something to consider in your initial planning stages.
While black-tie mother of the groom's dresses may have previously felt a little stiff and dated, Victoria Beckham, attending her son, Brooklyn Beckham's wedding to Nicola Peltz showed that mothers of the groom can look sensational without upstaging the bride.
You won't want to go for black, as this is usually frowned on at a wedding, you can however opt for darker hues such as navy, red, gunmetal, or purple for winter weddings, while in the summer punchier tones such as pink, green or orange will add a refreshing and zesty feel.
Black tie events demand luxe fabrications and you can also get away with added embellishment and jewelry for a really dressed-up feel. Silk, satin, velvet, sequins, and beadworks all work for evening dos, but as with all mother of the groom outfits, speak to the bride and bridal party to ensure you're in keeping with the theme and color palette.
---
Gemma Sheppard's Must-Haves
Each column Gemma highlight her three favorite things of the week. Whether that's a must-buy or must-do, this is what Gemma is championing this week.
Tincture Natural Cleaning Products
RRP: from £1.99 (UK only) | These award-winning cleaning and home products are 100% natural, antiviral, antibacterial, sustainably sourced, biodegradable, and free from harmful toxic chemicals. They smell and look great and they seriously work!
Odile The Anti-Wrinkle Serum Par Excellence
RRP: £85 (international shipping available) | Packed with silk proteins and vitamin B2, this serum doubles up as a hydrating makeup primer. My skin feels like it's had the ultimate drink!
Follow Celebrity stylist and fashion expert Gemma Sheppard @Sheppard Style (opens in new tab)
Gemma Sheppard is an international fashion stylist with a successful consultancy business working with luxury and high street fashion brands. Resident stylist on Channel 5's award-winning makeover show 10 Years Younger in 10 Days, Gemma is a TV regular and frequently dominates the news headlines.
Gemma's ability to defy trends and shatter expectations means her extensive roster of clients stay at the forefront of style conversation. Whether a platinum-selling pop star, a talent show judge or award-winning, prime-time TV presenter, Gemma's fashion-forward styling gets her clients noticed for the right reasons.