12 tuxedos for women that are both elegant and timeless
The best tuxedos for women offer a twist on classic partywear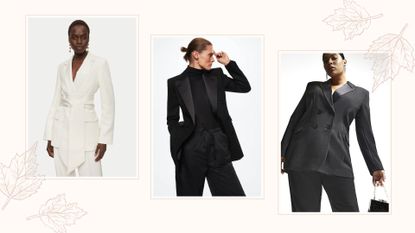 (Image credit: Jigsaw, Mango, River Island)
Offering the ultimate girl power moment, the best tuxedos for women are a fantastic alternative to sparkly evening wear. Offering instant luxe factor, a well-tailored tux will ensure you stand that bit straighter, walk that bit taller and ooze confidence at any big event this season.
The ultimate wardrobe essentials, suiting for women has been a staple for a while. But the best tuxedos for women offer a cool alternative to traditional partywear. A total must-have, we'd argue that a tux is even more classic than the LBD. And if you're a fan of a two piece suit as a winter outfit for work, when it comes to what to wear to a winter wedding this season, a tux should be on your shopping list.
A great investment piece, the best tuxedos for women can be dressed up or down - add a silky cami and the best designer heels for a special occasion, or wear skinny jeans, a tee and trainers for a more directional feel. Essentially the best blazer and tailored trousers, you can also wear the tuxedo pieces separately for added versatility. Although we recommend to always dry clean them together to ensure the color of the fabric remains even.
The best tuxedos for women as chosen by celebrity fashion stylist, Gemma Sheppard
A great alternative to the best cocktail dresses, a tuxedo is ideal for evening wear, particularly in the winter. Wearable as a suit or as separates, a tuxedo can offer greater versatility than a dress, particularly as you can restyle it with ease, adding different tops and accessories. These are our favorite tuxedos to slot into your wardrobe for this season and beyond.
1. Zara Wool Blend Tuxedo Collar Blazer
Specifications
RRP: $149 / £99.99
Sizes: XS-XXL
Reasons to buy
+
Wool blend is ideal for winter
+
Timeless design
+
Waist defining button closure
We saw tailoring return to the winter 2022 fashion trends, particularly ahead of the party season. This beautifully tailored jacket with statement satin collar is a fantastic alternative to plain black blazers, adding an chicer finish to everything from black jeans to the best midi dresses. With all the classic hallmarks of a tuxedo jacket, this design can be enjoyed for years to come.
If you're looking to learn how to style a blazer for added luxe factor, regardless of how much your tuxedo jacket costs, the most important thing is fit. A jacket that sits neatly across your shoulder (oversized or not), will immediately look expensive and well tailored.
---
2. Karen Millen Tuxedo Belted Wrap Jumpsuit
Specifications
RRP: $342 / £199
Sizes: US: 2-12 / 6-16
Reasons to buy
+
Selection of colors
+
Easy outfit for an event
+
Flattering fit
Prefer a one-piece? This flattering jumpsuit from British clothing brand Karen Millen will be a hit at any event this summer. Whether you're looking for a Christmas party outfit or need an appropriate wedding guest look, this cobalt blue design is sure to turn heads. Evoking a classic tuxedo, this one-piece offers a more directional feel, but keeps it classic with satin lapels and a waist highlighting belt. The universally flattering wrap-front is ideal for a fuller bust and the slightly cropped trouser will help elongate your legs, showing off ankles and your best heels too.
The pop of color is particularly welcome this season. Tapping into the dopamine dressing trend for bright color clothing, this blue hue will work all year through.
---
3. Coast Plus Size Tuxedo Midi Dress
Specifications
RRP: £199 (UK only)
Sizes: UK: 18-26
Reasons to buy
+
Ideal for a wedding
+
Flattering wrap fit
+
Timeless design
Now one of the best plus size clothing brands, Coast is a great place to head for occasionwear classics. With its simple cut, this wrap, tuxedo dress is ideal for fuller-figures. The wrap front draws the eye down and narrowing your waist, with the tie belt allowing you to adjust the level of definition too. In a chic cream hue, this knee-length tuxedo dress gives a nod to the wedding dress trends 2022, showcasing a more tailored bridal style - ideal for those who don't want a big frothy number.
As this dress falls within the bridal color palette, it's best avoiding this one as a wedding guest, although with the bride's permission, it could make a very sleek mother of bride outfit. Alternatively if you're wondering what to wear to a christening, white and cream hues, particular if you're the mother of the child are an excellent choice.
---
4. 12 Storeez Single-Breasted Tuxedo Blazer
Specifications
RRP: $447 / £405
Sizes: XXS-L
Reasons to buy
+
Classic satin lapels
+
Can be dressed up or down
+
Relaxed fit
Single-breasted and fasten free, this chic black, tuxedo blazer will never go out of style. Ideal for dressing up any look, you can slip this on over everything, from pretty, embellished slip dresses, to distressed jeans, a band t-shirt and the best Chelsea boots - ideal for what to wear to a concert. Due to the fasten-free cut, this tux blazer is naturally more relaxed, making it a great choice for anyone who finds full tailoring too constricting. With wide, long, satin lapels, this silhouette has the potential to overwhelm petite frames, so is best on taller, rectangle and apple body shapes.
---
5. Reiss Lennon Tuxedo Jumpsuit
Specifications
RRP: $390 / £238
Sizes: US: 0-10 / UK: 4-14 (Petite / Regular / Tall)
Reasons to buy
+
Choice of petite, tall or regular fits
+
Stylish alternative to a dress
+
Flattering cut
For a twist on the classic tuxedo, opt for this Reiss jumpsuit. With the classic hallmarks of a tux - front pleat trousers and satin trimmed collar, this jumpsuit offers a modern finish. A waisted style, for that nipped in effect, the pants leg finish in a flared silhouette, balancing hips and larger busts with ease. The full chiffon sleeves add a feminine twist to this otherwise androgynous style for a great work Christmas party outfit or occasionwear look that you can wear again and again.
As with dresses, a flattering jumpsuit negates the need for too much additional styling and this black tuxedo, which is also available in white, just needs a simple addition of shoes, clutch and a statement cocktail ring for a winning look.
---
6. Mango Black Satin Lapel Tuxedo Jacket
Specifications
RRP: $249.99 / £149.99
Sizes: S-L
Reasons to buy
+
Statement piece
+
Can be worn with different items
+
Classic item
Reasons to avoid
-
Doesn't have matching pants
With a statement oversized collar, this tuxedo blazer is a piece that you can easily slip into your capsule wardrobe. Rendering anything it's paired with immediately more dressy, it can be teamed with everything from cargo pants and jeans to tailored pants. Cut with a longer hem line, to skim the hip, it's preferable to pair this jacket with straight or slimmer fitting pants to highlight your silhouette. The wide satin collar and singular central fastening will help to nip you in at the waist, narrowing your waistline.
Although this is an expensive piece, staying true to classic tuxedo jacket design, this blazer is unlikely to go out of fashion anytime soon, making it a great investment look. It can also be slipped on over dresses or paired with the best sequin skirts for a party-ready look.
---
7. Jigsaw Satin Trim Tuxedo Blazer
Specifications
RRP: £240 (UK only)
Sizes: 6-16
Reasons to buy
+
Statement design
+
Feminine feel
+
Waist-defining
Reasons to avoid
-
Can't wear as a wedding guest
If you snapped up the pink version last season, Jigsaw have brought out its hit tuxedo for women in white too. Ideal instead of Christmas party dresses, or for New Year's Eve black tie events, this striking white tux with satin trim is sure to get you noticed.
Although this look is tailored, the design offers a softer finish, thanks to the wide, waist cinching, sash belt. Rivalling any of the best designer belts, this wrap design can be bowed for a more statement look. Cut from textured crepe, it features a double-breasted button closure, peak lapel and back vent. With matching satin trim trousers, this is a truly unique design and if you're looking for a strong alternative to a wedding dress to your big day, this white tuxedo, paired with any of the best bridal shoes is a strong contender too.
---
9. Saint Laurent Single-breasted grain de poudre tuxedo jacket
Specifications
RRP: $2,990 / £2,035
Sizes: US: 2-10 / UK: 6-14
Reasons to buy
+
Leader in the design
+
Timeless
+
Top quality
Coining one of the best fashion quotes about the tuxedo, French clothing brand founder, Yves Saint Laurent designer of the iconic "Le Smoking" tuxedo said, "For a woman, the tuxedo is an indispensable garment in which she will always feel in style, for it is a stylish garment and not a fashionable garment. Fashions fade, style is eternal." - a sentiment we whole heartedly agree with.
Subsequently, no round-up could be complete without the one and only Yves Saint Laurent tuxedo jacket. This will make anyone and everyone feel unstoppable because no one does tailoring quite like Laurent. Worn with cigarette pants and a pair of heels as high as you can go, you will not only look amazing but feel amazing too.
10. Karen Millen Tuxedo Wrap Dress
Specifications
RRP: $334 / £195
Sizes: US 2-12 / UK 6-16
Reasons to buy
+
Feminine and glamorous
+
Flattering wrap design
+
Timeless
As classic as the best tuxedos for women is of course, the LBD (little black dress). A style that never dates and can constantly be reinvented with new accessories, this glamorous wrap dress combines both looks in one. A wrap silhouette is universally flattering, defining and creating waists, flattering busts and skimming silhouettes. To rework this look for 2022, add a direction feel with the latest shoe trends 2022 and allow your footwear to be the statement feature in your outfit. If you've read our piece on 'what color suits me' and are worried about having black fabric near your face, add a pop of brightness with some costume jewelry in a shade that flatters your skin tone.
---
11. Sandro Tuxedo Jacket with Satin inset
Specifications
RRP: $520 / £389
Sizes: XS-XL
Reasons to buy
+
Works well on its own
+
Slim-fitting shape
+
Classic button and lapel detailing
Reasons to avoid
-
Small size range and slender cut
When it comes to the most important building blocks in your closet, a great blazer that can be dressed or down is a must. Instantly transforming everything, from your best joggers - yes really - to tailored trousers or a chic pleated midi skirt. When it comes to a slender fit, Sandro should be your go to. The French fashion brand is great for classic designs with a fashion-forward feel and this beautiful tuxedo jacket is no exception. With three buttons at the cuff and a classic satin lapel, it's made to follow the line of your figure. Elevating anything it's paired with, this is a worthy investment.
---
12. River Island Plus Tuxedo Blazer and Pants
Specifications
RRP Blazer: $176 / £95
RRP Pants: $84 / £45
Sizes: US: 14-24 / UK: 18-28
Reasons to buy
+
Great price
+
Available to a size 28
+
Can be worn and bought separately
Reasons to avoid
-
No satin trim on trousers
One of the best plus size tuxedos for women, this lightweight, bargain design is a great set to see you through the party season. An ideal swap for party dresses, this two piece can be bought separately so you can get the fit that's right for your shape. With a classic cigarette style trouser, that can easily slide into the rest of your winter wardrobe, the jacket features a satin trimmed collar and double breasted front. To make this design truly unique, swap the plain black buttons for something more glitzy to make this tuxedo look instantly more luxe.
With an ankle skimming finish, these plus size cigarette pants will work for different heights and the slightly shorter hem is ideal for showing off a pair of statement shoes too. A great choice for what to wear on Christmas Day too.
Suits vs tuxedos: What is a tuxedo?
If you're wondering about the difference between a suit and a tuxedo, the answer is all in the fabric. A tuxedo features satin lapels, often (but not always) in black, regardless of the color of the jacket, the material also tends to have a slight sheen to it too. Occasionally the coordinating trousers will also feature a satin side stripe to add polish to the look.
Introduced to the world by Edward VII when he had a bespoke blue silk tailless smoking jacket made by Savile Row tailors Henry Poole & Co. The jacket style then made its way to America and was worn by millionaire American financier James Brown Potter at the infamous Autumn Ball in Tuxedo Park, New York, and the rest, as they say, is history…
Thanks to their fancier aesthetic, tuxedos are a stylish choice for upping the ante on your partywear. Whether you're after an alternative to rehearsal dinner dresses or the best wedding guest dresses, a tuxedo looks achingly cool and does all the hard work for you, minimal styling needed. A tuxedo always looks instantly glamourous thanks to the satin details.
While the most timeless of tuxedos for women will be in black, there is certainly an increase in designs utilizing color - possibly thanks to the increased popularity of colorful and patterned suits and bright tailored coords. However, these do have the potential to date more quickly than black or white counterparts.
When it comes to fabric, a regular suit will often be in wool or a wool mix in the winter, with linen a popular choice in the summer. For tuxedos look for the most luxe fabric you can afford. From silk to velvet, it's the finer details that make this look standout.
While traditionally it's all about a two piece, the popularity of the tuxedo has seen an explosion of tuxedo inspired dresses and jumpsuits which offer a softer and more contemporary take on the trend.
What shoes to wear with a tuxedo
Tuxedos look best teamed with a pair of barely-there heeled sandals, especially if it's a show-stopping party look you're going for. Tuxedo suits are predominantly black, so stick to the minimalist look and team with black sandals or courts - both are just as sleek. If you want to up the ante, you can also try a pair of metallic heeled sandals for a touch of sparkle.
If you're looking for comfortable flats, then opt for a pair with embellishment for a more dressed-up feel. This style works particularly well teamed with wide-leg trousers.
Alternatively, for a more dressed-down look, you can team your tux with a pair of the best white trainers. Much like the best blazer, a tuxedo jacket can be dressed down with footwear, just make sure the trainers are sparkly clean - try our guide on how to clean white shoes - to keep it looking smart and fresh.
Are tuxedos still in fashion?
Want proof that a good tuxedo for women won't date? They've made several appearances on the red carpet over the decades. Victoria Beckham donned a sleek black tuxedo and simple courts to a charity event back in 2010. Actress Dakota Johnson also wore a black double-breasted design to the InStyle Awards in 2015. And more recently, Gwyneth Paltrow brought the tuxedo back into the spotlight when she re-wore her iconic Gucci red velvet suit to the designer's Love Parade fashion show in Los Angeles in November 2021. She originally donned the two-piece in 1996 to that year's VMA's, proving just how well the tuxedo has stood the test of time. And we don't expect that to change anytime soon.
Gemma Sheppard is an international fashion stylist with a successful consultancy business working with luxury and high street fashion brands. Resident stylist on Channel 5's award-winning makeover show 10 Years Younger in 10 Days, Gemma is a TV regular and frequently dominates the news headlines.
Gemma's ability to defy trends and shatter expectations means her extensive roster of clients stay at the forefront of style conversation. Whether a platinum-selling pop star, a talent show judge or award-winning, prime-time TV presenter, Gemma's fashion-forward styling gets her clients noticed for the right reasons.