How to clean white shoes so they look as good as new
Learn how to clean white shoes—including canvas, leather and suede styles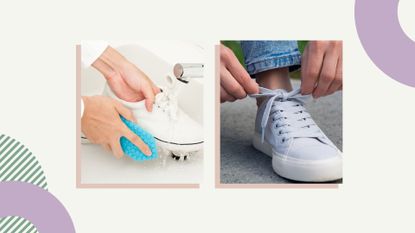 (Image credit: Getty Images)
woman&home newsletter
Sign up to our free daily email for the latest royal and entertainment news, interesting opinion, expert advice on styling and beauty trends, and no-nonsense guides to the health and wellness questions you want answered.
Thank you for signing up to Woman & Home. You will receive a verification email shortly.
There was a problem. Please refresh the page and try again.
As far as sartorial missteps go, accidentally planting a box-fresh white shoe into a muddy puddle is up there with one of the most frustrating. Knowing how to clean white shoes is a helpful hack to have in your fashion arsenal, and will keep your footwear looking as good as new.
If you've embraced spring cleaning and learned how to organize your closet, chances are you've come across some old favorite white shoes that have seen better days. The best white trainers, shoes, and sandals have a lot of styling potential. The neutral hue makes them a firm wardrobe essential, as they will team with nearly everything in your capsule wardrobe, offering instant brightness and polish to everything from your best jeans, to your favorite summer midi dress. But while white shoes are undeniably chic, they do have their pitfalls. White marks easily, meaning spills, stains, and spots are more visible than on darker shoes and clothing.
In an ideal world, anything you can do to try and keep your white shoes fresh in the first place will mean you need to dedicate less time to cleaning them. White shoes are ideal for perfect weather days, which is why some of the best sandals are white, but even if you've got the best winter boots in white, you should avoid wearing them when it's raining (puddles really do have a lot to answer for), and avoid white trainers in busy cities where grime is more abundant, you'll also want to skip your white shoes on grassy or muddy terrain. To keep your footwear from picking up dirt around the house invest in one of the best shoe organizers to keep everything in order. And if you're packing away your best winter boots, check out our guide for how to clean Uggs, so that when autumn comes around, they're clean and ready.
But remember... "With all stains, prevention is better than cure," says Natasha Seal-Jones, Head of Marketing at shoe care brand Cherry Blossom. "We'd recommend always treating a brand new pair of shoes with a protector before their first outing."
How to clean white shoes without ruining them
If you want to spruce up your white shoes, you're not short on options.
1. How to clean white shoes with micellar water
Best for: Leather, plastic and soles of shoes.
If you're short on time or on the go, there's not always the opportunity to dedicate much time to cleaning your white shoes. Enter micellar water: the handy beauty essential that can also work wonders on lighter marks and scuffs. A step up from tap water, the USP of micellar water is that it contains micelles, tiny little particles that attract dirt like a magnet. They're a smarter choice than, say, baby wipes, which often contain oils that can make the marks worse.
Step 1 - Start by removing any surface dirt. Pour a little micellar water onto a cotton pad. It is always best to start with a small amount, and you can saturate the pad further if needed.
Step 2 - Gently wipe across the surface of the shoe, focusing on the areas that need the most TLC. This method works particularly well on leather or plastic, as well as the soles of shoes.
2. How to clean white shoes with soap
Best for: White leather and canvas sneakers.
Sometimes you just can't beat a little soap and water. Soap has the benefit of being able to cut through grease, making it a good choice for tackling food stains. To avoid making matters worse, we would always recommend using white bar soap as your starting point over colored dish soap. The latter works well on colored fabrics but will leave a residue on white shoes. This method is often used for white leather and canvas sneakers.
Step 1 - Use a damp cloth or paper towel to wipe away any surface dirt. This will allow you to see clearly where the marks on your shoes are.
Step 2 - Wet a cloth or paper towel and rub this into a simple white bar soap until it begins to create a lather.
Step 3 - Massage the soapy section of the cloth onto the shoe to lift away marks and stains. Be careful not to rub too vigorously, as this has the potential to damage the fabric. You may need to reapply the soap to the cloth several times during the process.
Step 4 - Blot any excess from the shoes and leave to dry in a warm, dry place.
3. How to clean white shoes with baking soda
Best for: Canvas and plastic shoes
Baking soda, also known as bicarbonate of soda, is a handy staple to have around the house. It can come in handy for a number of chores, as well as cleaning white shoes. Its powdery, slightly gritty texture means it transforms into an abrasive paste when mixed with water, which then does a brilliant job of buffing away marks from canvas and plastic.
Step 1 - Using a clean cloth or brush, gently buff away any surface grime from your shoes.
Step 2 - Create a paste by mixing baking soda with water until it has a thick but workable consistency.
Step 3 - Apply to your shoes, focusing on areas that are the heaviest marked. Use a soft, damp cloth for fabric, and a toothbrush or other small brush for soles.
Step 4 - Allow the mixture to soak into the shoe for 30 minutes before rinsing with water. Leave to dry.
4. How to clean white shoes with vinegar
Best for: Leather and suede shoes.
When thinking of ways to give your white shoes back their sparkle, it's unlikely that vinegar is the first thing that springs to mind. But this condiment has huge cleaning potential in its white form—especially on suede and leather items. Be warned, using vinegar to clean your shoes means they will, you guessed it, smell like vinegar—so bear that in mind before beginning.
Step 1 - Using a clean cloth, gently remove any surface stains from the shoe. Blot, don't scrub, as this can drive marks further into the fabric.
Step 2 - Mix white vinegar with an equal amount of water to dilute. Some experts recommend straight vinegar, but it's always best to err on the side of caution with a blend.
Step 3 - With a clean cloth, carefully blot the vinegar and water solution into your shoes—paying special attention to the worst marks.
Step 4 - Use a fresh cloth to soak up any excess liquid from the shoes, before leaving them in a warm, dry place to fully dry.
5. How to clean white shoes in a washing machine
Best for: Trainers and canvas shoes.
If you haven't got the patience for manually scrubbing at your shoes, try popping them in the washing machine instead. This method is best for trainers and canvas shoes, and we wouldn't recommend this for leather items. As the whole shoe will be getting wet, this only really works for all-white shoes as any other colors may run during the cycle. Similarly, be aware that any metalware on the shoe may tarnish in the process. If your shoes have a care label, this will usually be able to advise if they are suitable for a machine wash.
Step 1 - Before washing, take the time to remove the worst of any marks or staining. The washing machine won't be able to do its work as effectively with clumps of mud in the way. You may also want to remove any laces.
Step 2 - Place your shoes into a white pillowcase or laundry bag—just as you would wash your best bra. This will protect both them and your machine during the cycle, preventing any snagging on the drum. Shoes can be noisy when rattling around in the machine, so adding some towels or sheets (again, they will need to be white or light-colored) will keep this to a minimum.
Step 3 - Set the machine to a delicates cycle no warmer than 30 degrees. Any warmer, and you run the risk of parts of the shoe melting. Again, to keep noise levels low, don't spin them at the end, instead leaving your shoes in a warm, dry place to dry out.
6. How to clean white shoes with bleach
Best for: Canvas shoes and plastic soles.
Of all the ways to clean white shoes, this comes with the most caveats. Bleach can strip the color from your surfaces, and can be dangerous when inhaled and you don't want to get it on your skin either, so be sure to cover your workspace before beginning and only clean your shoes with bleach in a well-ventilated area, you may also want to wear gloves. Warnings aside, using bleach is an effective way to remove stains from canvas shoes and plastic soles.
Step 1 - Before picking up the bleach, use a clean brush to knock any debris from the outside of the shoe.
Step 2 - Dilute the bleach carefully, aiming for one part bleach (half a lid full) to five parts water. It is also worth noting that you will need to use plain bleach—the blue kind you use to clean the bathroom will only make your white shoes blue.
Step 3 - Dip the same clean brush as before into the bleach solution, and apply to your shoes, moving in circular motions. Pay particular attention to the areas with the most stubborn stains. Be careful not to spritz any on yourself.
Step 4 - Rinse your shoes with warm water and leave to dry in a warm, dry place.
7. How to clean white shoes with toothpaste
Best for: White soled sneakers.
Whitening toothpaste is designed to lift stains from our teeth and can have a similar effect on shoes. It's suitable to use in our mouths, so we know it's not too abrasive, making it a less risky choice than reaching for the bleach. Just make sure the toothpaste you're using is white (anything blue or green-tinged will impart this hue onto your white shoes) and a non-gel formula. Non-gels are thicker in consistency, giving them a bit more grip when working into your shoes.
Step 1 - Use a clean toothbrush, or any small brush, to buff away any surface dirt from your shoes.
Step 2 - Put a little white, non-gel toothpaste onto the brush and work into the shoe in circular motions. You shouldn't need a huge amount or product and can always add more if needed.
Step 3 - Once the shoe is covered, and you have managed to reduce some of the marks through brushing, leave to work into the fabric for 10 minutes.
Step 4 - Rinse the shoes with water and leave to dry in a warm, dry place.
8. How to clean white shoelaces with whitening detergent
Best for: White shoelaces.
White shoelaces are pretty impressionable, and can easily pick up dirt and color transfer. To restore them to their brightest best, wash using a specialist whitening detergent—the kind you use to freshen up your whites.
Step 1 - Dilute the whitening solution, liquid or powder in water, according to the on-pack instructions. Ensure there is enough liquid for your laces to sit beneath the waterline.
Step 2 - Remove any surface dirt from the laces. Place the laces in the solution, either using a stick to swirl them around or by wearing gloves. Depending on the severity of the marks, leave to soak for up to 20 minutes.
Step 3 - Again, making sure your hands are protected, rub the laces together to help ease away stains. Remove from the solution, and rinse in cold water to wash away any excess.
White shoelaces can also go in the washing machine.
9. Try a for-purpose product
Don't have any of these household items in your cupboards? Invest in a for-purpose shoe cleaner instead. These can be used to help keep your white shoes white in between wears, as well as tackle any marks or stains.
Cherry Blossom Trainer Wipes
RRP: $6.90 / £5.50 | These lemon-scented wipes make light work of cleaning your sneakers. Use the rougher side for tough stains and the smooth side for lighter ones.
Handbag Clinic Suede & Nubuck Cleaner
RRP: $25 / £20 | Its delicate nature means suede is one of the trickiest fabrics to treat. This kit is designed to treat suede shoes with care when cleansing.
10. Consider visiting a specialist cleaner
DIY methods are always worth a try and will tend to be the easiest and most cost-effective options. However, there is always a margin for error. You might use a little too much toothpaste, select the wrong setting on the washing machine or scrub at the fabric just that bit too hard. Durable fabrics like plastic or leather may be able to withstand these mishaps, but if your white shoes are especially delicate, expensive or important to you, e.g. your best designer heels or the white satin pumps you wore on your wedding day, it's a smart idea to enlist the help of an expert. Look online to find specialist shoe cleaners in your area. Enquiring at your local dry cleaners is worth a try too, as even if they don't offer this service themselves, they may be able to recommend one. You'll be wearing your favorite white shoes with your best skinny jeans again in no time.
How can I get my white shoes white again?
White shoes not looking quite so white anymore? Don't stress. There is a myriad of ways to clean white shoes to remove scuffs, stains and marks. "There are a lot of home remedy options such as brushing in circular motions with baking soda or distilled white vinegar," says Natasha Seal-Jones. "Just be sure to always test on an inconspicuous area first."
The best approach will depend on a few different factors. Not all methods will be suitable for all fabrics, with leather, canvas and mesh all requiring slightly different considerations. Equally, you may want to tackle cleaning the body of the shoe, laces and soles in varying ways.
"Surface dirt is relatively straightforward to remove from white shoes, particularly from non-absorbent leathers which will not have enabled the dirt to penetrate into the fibers," advises Charlotte Staerck, CEO & Co-founder at The Handbag Clinic, which restores damaged shoes and bags. "The most difficult stains to remove from white shoes are dye transfers and ink-colored stains because they tend to absorb much deeper into the fibers and can dye them. This makes extracting the dye a much more complex and challenging process. This is as white is the weakest pigment of them all, meaning the dye may reappear after being treated and the stain removal process may need to be repeated."
If you spill something on your white shoes, time is of the essence, as the quicker you act, the less chance the stain has to take hold. "Start by blotting the stained area with a clean, dry cloth or tissue," says Charlotte Staerck. "You want to absorb as much of the liquid as possible. Once you have removed the excess liquid, you should then blot the stained area with a damp cloth or tissue using warm water. Start at the outside of the stain and work inwards; this will stop the stain from spreading outwards."
Sign up to our free daily email for the latest royal and entertainment news, interesting opinion, expert advice on styling and beauty trends, and no-nonsense guides to the health and wellness questions you want answered.
Jess Beech is an experienced fashion and beauty editor, with more than eight years experience in the publishing industry. She has written for woman&home, GoodtoKnow, Now, Woman, Woman's Weekly, Woman's Own and Chat, and is a former Deputy Fashion & Beauty Editor at Future PLC. A beauty obsessive, Jess has tried everything from cryotherapy to chemical peels (minus the Samantha in Sex and The City-worthy redness) and interviewed experts including Jo Malone and Trinny Woodall.