How to clean patio slabs without using a pressure washer
Follow these simple cleaning steps to give the patio a spring clean without blasting the slabs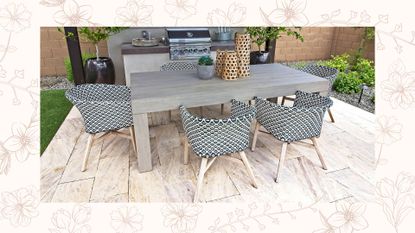 (Image credit: Getty Images | Thomas Bullock)
It's time to start sprucing up the backyard ready for outdoor enjoyment. Luckily tackling how to clean patio slabs and tiles is an easy task to get you started with your exterior maintenance chores this spring.
Cleaning the patio slabs, along with giving the grass its first cut of the year, planting grass seed, cleaning the BBQ, and washing down your best outdoor furniture is all part of essential gardening upkeep to ensure your outdoor living space looks in tip-top condition ahead of any planned garden parties.
While blasting the decking with a pressure washer is a satisfying activity for quick results it's not the best method when it comes to cleaning patio slabs and exterior tiles because the high pressure can prove potentially damaging to the stone and mortar. Instead, experts recommend a gentler approach.
How to clean patio slabs without a pressure washer
The task of getting the patio looking pristine is a fairly easy one, even without a pressure washer. Here's our expert step-by-step guide to getting the job done in no time, using a simple homemade patio cleaner and a little elbow grease.
Here's what you'll need:
Garden broom
Bucket
Dish soap
Vinegar
Hard bristle brush
Optional: laundry detergent, oxygen bleach, or dedicated patio stain remover
Optional: Patio sealant
1.Clear the area
Similar to how you would declutter your home prior to cleaning a room before you can start the patio cleaning process it's best to make sure you have a clear area. Removing any furniture or garden tools and accessories ensures every inch of the patio is exposed to ensure maximum cleaning potential.
"First, you should remove debris and any furniture from the surrounding area," advises Rowan Cripps, founding director, and paving expert at Infinite Paving. "Failure to do so could lead to damaged furniture or obstructions you could trip over, so clearing the perimeter and giving it a good sweep is essential!"
2. Remove weeds and leaves
Once the area is clear it'll be easier to see any fallen leaves, weeds, or moss that may have accumulated over the winter months. Removing these before you start cleaning avoids grounding them down and effectively scrubbing the green pigment into the stones – which could potentially stain, particularly on very porous materials.
To clear leaves use a hard bristle broom to sweep them into a pile to clear. It's easiest to remove weeds and unwanted deposits of greenery by hand. Simply put on a pair of gardening gloves and remove the weeds, placing them in a garden trug as you go.
"Try to remove as much of the root as you can in the process to minimize the chances of it growing back," advises Fiona Jenkins, an expert at leading trades matching site Myjobquote.
"If your weed problem is extreme and too much to pull up by hand, then you should opt for a weed killer. When using weed killer, always ensure you follow the manufacturer's instructions and keep children and pets away from the area."
3. Pre-treat stains
Similar to when cleaning carpets it's best to treat and clean stains directly to get optimum results. "Before you apply a cleaning solution to your stones, you should lay the groundwork for tougher stains," advises Rowan.
"Applying products such as laundry detergent, oxygen bleach (not chlorine bleach), or dedicated stain remover will help to tackle stains directly – just make sure to avoid adding too much bleach, as this could damage the stones."
4. Mix a natural cleaning solution
Depending on how dirty your slabs are, one of the most effective ways to clean your patio is with the old fashion soapy water method, a mix of dish soap and warm water will help to lift stubborn mud and any build-up of debris.
"You won't need any special products to create your soapy cleaning solution. A mild dish soap mixed with warm water will work just fine," says Fiona.
Simply make up your soapy water mixture in a bucket and pour directly over the slabs, to be treated with a brush in the next step. "Mix your soapy solution around until you start to see foam forming on the top," Fiona advises.
5. Scrub the solution into the stones
Use your cleaning solution to wet the patio surface with the solution and scrub it clean.
"Using a brush with stiff bristles, scrub the paving stones to agitate your cleaning solution, applying pressure to any stubborn stains," says Rowan. Be sure to work in manageable-sized sections at a time.
"Add some extra water to the surface and scrub to loosen the dirt and debris," suggests Colin Lincoln-Evans, buyer at Tile Mountain. "Use a sponge to absorb any excess water, and repeat these steps until you're happy you've cleaned the surface."
6. Rinse and repeat
After you've scrubbed the stones with your solution, to remove any traces of dirt you can rinse them clean with fresh water. Depending on how ingrained the dirt is or the degree of dirtiness to begin with you may need to repeat the whole cleaning process to get optimum results.
"Once you have scrubbed the stones, you should inspect them for any residual signs of dirt," advises Rowan. "If they are not completely clear, you can repeat the process."
7. Allow to air dry thoroughly
After the final rinse, you need to leave the patio empty to ensure it dries through completely, not just the surface. This may take a while depending on the temperature.
"Make sure to let your stones dry out adequately before covering over them," Rowan warns, i.e placing the furniture back into place. "As doing so could lead to moisture getting trapped and cracking the stones."
8. Optional step – seal for protection
As an additional preventative measure you can finish cleaning patio slabs by applying a sealant that will help to add a layer of protection against general wear and tear over the coming months.
"This step is optional, but if your stones are expensive or particularly delicate, you should apply a patio sealer," suggests Rowan. "This will help to protect from any weather damage and can even reduce the likelihood of future stains."
Keeping on top of cleaning your patio slabs once cleaned will ensure that they remain in the best possible condition at all times throughout the warmer months.
What is the best homemade patio cleaner?
The best homemade patio cleaner is a solution made by diluting white vinegar and warm water. "After your pre-stain paving solution has soaked into the stones, you can create an effective yet cheap cleaning solution by mixing vinegar and water in a 50/50 ratio," suggests Rowan.
"Homemade cleaning solutions are usually just as, if not more effective than store-bought solutions," says Rowan. "This is because you can add as much bleach or vinegar as necessary, meaning you can create a solution that perfectly caters to the needs of your patio."
From cleaning windows and cleaning grout to deodorizing drains, white vinegar is the best natural ingredient to avoid using harsh cleaning chemicals around the house.
However, there are those that don't agree with using acid-based cleaning products on certain natural stones, limestone in particular, as this can cause damage. So when looking to use vinegar to clean your paving stones be sure it's suitable and always dilute it first and rinse off immediately after use. We always recommend performing a patch test on a small, inconspicuous area to ensure compatibility with your specific patio material.
Is there anything to avoid doing when cleaning your paving slabs?
The most important thing to consider when cleaning your paving stones is to treat them with care. As such, Rowan recommends: "researching the type of stone used to create your paving slabs, as different stones will have specific needs. For example, you should avoid using harsh chemicals on most stones, and never use power washers, wire brushes, or even metal scrapers on limestone, as these could severely damage your patio."
"In addition, you should always make sure to rinse off all cleaning products and to let your stones dry thoroughly after every treatment. Failure to do so could lead to deterioration or damage."
"You should avoid using a pressure washer where you can," says Rowan, "as these can damage your paving stones, especially if your slabs are created from limestone."
To avoid using a pressure washer you can use a stiff bristle brush as a milder alternative to get the same results – it just means you have to do more vigorous work yourself. But because you are in control of how hard you scrub the stones and the mortar you can better assess how much pressure your patio can withstand.
Tamara is a highly experienced homes and interiors journalist, with a career spanning 19 years. Now the Lifestyle Editor of womanandhome.com, she has spent the last 16 years working with the style teams at Country Homes & Interiors and Ideal Home, and it's with these award-winning interiors teams that she gained a wealth of knowledge and honed her skills and passion for shopping, styling and writing about every aspect of lifestyle and interiors.
With a keen eye for the latest interior trends, there's not a lot she doesn't know about home decor – whether it's what colour we should be painting our living rooms next season, or if the latest 'must-have' buys are actually worth investing in.
A true homes and interiors expert, Tamara has served as an ambassador for leading interior brands on multiple occasions, including appearing on Matalan's The Show and presenting at top interiors trend events such as the Autumn Fair and Spring Fair.