23 things experts recommend cleaning with vinegar around your home
Cleaning with vinegar gets the thumbs up from professional cleaners to effectively clean all areas of the home; here they share their tips on using this natural remedy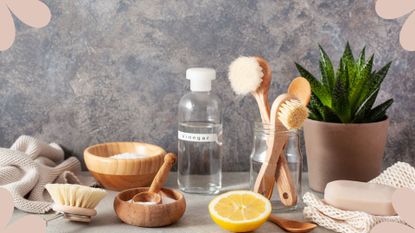 (Image credit: Getty Images)
Who'd have thought cleaning with vinegar could be so effective? Even professional cleaners regularly use white vinegar as part of their tried and tested go-to cleaning supplies.
This pantry cupboard staple is one of the best cleaning solutions around, as well as being cheap and chemical-free – a quality to consider for making more eco-friendly choices around the home.
Favored for tackling tough stains, limescale, and more, make sure you store white vinegar alongside your cleaning products, organized under the kitchen sink. This natural product is ideal for kitchen appliances, sinks, windows, walls, door handles, mirrors, upholstery, and floors.
To tackle any of our vinegar cleaning hacks below, all you'll need is a bottle of white vinegar and a clean microfibre cloth and you're all set to be dazzled by the sparkling results.
How do you go about cleaning with vinegar?
It's easy to make an effective solution for cleaning with vinegar. Some chores may require you to use it neat, but the general consensus is to dilute the white vinegar with water, preventing it from being too acidic on the surfaces you are cleaning.
"A warm water and white vinegar solution of roughly a 50/50 split can be used on most household surfaces that are common touch points," says Chris Wootton, the managing director of the domestic cleaning business, Poppies. "It's ideal for anywhere that has hard-water stains such as lacquered taps or areas that have build-ups of grease. The acidity helps dissolve mineral deposits, limescale, dirt, and grime."
Many may be put off by the idea of cleaning with vinegar due to the strong smell, but the scent is less pungent when diluted with water and doesn't last long. If you open windows it'll be gone in no time.
Cleaning with vinegar – 23 things you can clean around the home
This naturally acidic product is an ideal eco-solution for the whole house, from cleaning the bathroom, cleaning the kitchen, or even cleaning the living room. Our Lifestyle Editor, Tamara Kelly, tried cleaning with vinegar in her home and has only included the cleaning hacks below that are expert approved or she has vetted herself to ensure they really do work.
1. Clean a washing machine with vinegar
Using vinegar is one of the most natural ways of cleaning a washing machine.
For best results, pour two cups of white distilled vinegar into the machine's drum and set your washer to carry out an empty cycle at the hottest water setting. The vinegar naturally breaks up mineral deposits and any mould growths.
2. Descale a kettle with vinegar
Wondering how to descale a kettle? Vinegar is your friend once again.
We recommend filling the kettle with half white vinegar and half warm water and letting it sit for at least an hour. After this time you'll see that the limescale starts to disappear because vinegar is naturally acidic and will dissolve the mineral deposits that have built up.
3. Clean an oven with vinegar
Cleaning an oven with vinegar offers a natural solution, avoiding harsh cleaning chemicals in an area associated with food.
Vinegar is highly effective for cutting through the grease and grime that builds up on the racks inside your appliance. Remove the racks and sprinkle each with baking soda, then spray with vinegar. The mixture will start to react and create a foam, loosening any grime or food build-up on the metal. Once it stops foaming, rinse with hot water and leave to dry.
4. Clean a fridge with vinegar
Cleaning a fridge is another chore where you will probably want to avoid hard chemicals. "To make your own cleaning solution, we suggest adding one part vinegar and three parts of water solution," advises Elaine Aguiar, at Elaine Cleaning Services.
"This is a better alternative to using chemically loaded cleaning sprays. Not only can these damage surfaces, but residue from the chemicals particles can come in close contact with food causing a high safety risk."
5. Steam clean a microwave with vinegar
If your microwave is plagued by food smells, try mixing a heat-safe mug of water with a generous tablespoon of vinegar to deodorize and provide gentle steam clean. Simply heat up the vinegar and water solution for up to five minutes to get rid of the lingering smells. Wipe down any steam condensation with a microfibre cloth to remove any residual dirt.
6. Clean a sink with vinegar
Get your sink sparkling in no time with a dash of diluted vinegar cleaning solution. Use a 1:1 white vinegar and warm water solution to gently remove dirt and watermarks from the inside of your ceramic or acrylic sink, suitable for kitchens and bathrooms. Spritz the sink and surround with the solution, then use a microfibre cloth to wipe it clean. Take care when cleaning a stainless steel sink because vinegar can be damaging to the surface if it is left for long periods of time.
7. Dedorise drains with vinegar
A touch of vinegar can dramatically improve any unpleasant-smelling drains. Professional cleaner Lynsey Crombie, TV's Queen of Clean, tells woman&home how she's a fan of "deodorizing drains with vinegar."
To do this Lynsey suggests, "pour 20ml of white vinegar directly down the drain a few times a week to keep odors and gunk at bay." Ideal for use in bathrooms and kitchens.
8. Clean a dishwasher with vinegar
It's important to have an easy yet effective method of cleaning a dishwasher because food particles getting stuck in the machine and clogging up the drains can be a regular occurrence.
"Prevention of problems like this is important and we have a solution that a homeowner can use every month to prevent clogging, " says Ben Peach, Product Laundry Manager at Haier Europe. He recommends "running a cycle with the dishwasher empty at least once a month, choosing the highest temperature and using vinegar to degrease the inside, the drains, and the pipes."
9. Clean a shower head with vinegar
Shower heads are notorious for limescale build-up, yet probably not cleaned frequently enough. To tackle cleaning a shower head with vinegar simply remove the shower head and submerged it in a half and half water and white vinegar mixture in the sink. Leave it for an hour – no longer because overexposed to acidity is not recommended when cleaning stainless steel. But after one hour there should be no trace of limescale, with no need to scrub and potentially risk scratching the surface.
If you can't remove your shower head you could get the same results by filling a sandwich bag with the vinegar solution and tying it around the head.
10. Remove water marks from shower trays and baths
When it feels like you've scrubbed and bleached stubborn watermarks to no avail it's time to turn to white vinegar. Whether tackling the watermark stain in the bottom of your acrylic roll-top bath or cleaning the shower tray, this natural method will produce incredible results.
Pour a half-and-half mixture of vinegar and water to cover the unsightly pink-tinged area for between 30 minutes to one hour before rinsing away and giving the area a gentle wipe-over with a cleaning cloth to ensure it all traces are removed.
11. Clean grout with vinegar
For a tough but totally natural approach to cleaning grout, try vinegar and warm water. Mix equal parts of both directly into a spray bottle to apply directly onto the grout with ease. After letting it rest for five minutes or so gently scrub with a specialist grout brush or toothbrush to remove mold, watermarks, and grime.
12. Clean a shower curtain with vinegar
If your shower curtain is material and can be removed from the rail, wash it in the washing machine (checking the care instructions first) on a gentle setting with a low spin at 30 degrees. Add 120ml of white vinegar during the rinse cycle to naturally eliminate any dirt.
13. Clean windows with vinegar
Spritz glass panes and uPVC frames with a homemade white vinegar and water solution to get a streak-free finish every time when cleaning your windows.
To make the perfect solution Adam Pawson, at window specialists Safestyle UK advises, "I'd recommend using a spray consisting of one part distilled white vinegar to 10 parts warm water which can be applied directly to a cloth before being rubbed evenly against the glass."
14. Remove water marks from upholstery
White vinegar is the secret weapon for cleaning watermarks from upholstered furnishings, according to Lynsey. She advises "mix equal parts vinegar and water, and apply directly to the area – working in an up and down motion using a soft bristle brush."
We would always recommend doing a patch test in an area that's less visible before you begin.
15. Clean crayon off walls with vinegar
White vinegar is the ingredient to restore your interior walls if a crayon stain has somehow 'mysteriously' made its way onto your best living paint color.
To tackle cleaning a wall with crayon stains, dip a toothbrush or sponge in vinegar and trace it lightly over the spot in a slow, circular motion – ensuring to avoid going over too much of the wall. The vinegar will break down the oily crayon mark and remove it with minimal effort.
16. Revitalise leather sofas with vinegar
Use this natural remedy to revive leather sofas and armchairs, to give them a gentle cleanse to remove dust and any visible dirt.
Lynsey suggests cleaning with, "neat vinegar, applying a small amount to a microfibre cloth and rubbing in a circular motion over the whole area."
17. Clean door handles with vinegar
Vinegar may not be as effective for killing germs as bleach or commercial cleaner but it does still offer a level of antibacterial cleansing for areas that frequently come into contact with skin - such as door handles.
Use your half-and-half mix of white vinegar and water on a microfibre cloth to gently wipe handles on doors and kitchen cupboard door handles.
18. Clean floors with vinegar
When you consider how often you should mop your floors it's worth seeking a natural method to prevent any prolonged damage from using harsh chemicals. Use your water and white vinegar solution to clean hard floors, but avoid natural stone or waxed wood finished as vinegar could potentially damage the surface of these materials.
Declan Christie at Luxury Flooring & Furnishings says, "When you are cleaning wooden floorings or solid floorings such as laminate and vinyl, it can be tempting to use expensive specialist floor cleaners, although if you are looking for more natural and cheaper products to use outside of specialist products then you can always mix water with vinegar and rubbing alcohol with your choice of essential oils. This can be very budget-friendly and equally as effective."
"All you need to do is fill your bucket with the appropriate levels of water to your coverage area, then add 50ml of white vinegar, a great natural dirt stripper, 1 cup of rubbing alcohol as a disinfectant, and a couple of drops of your favorite essential oils, which will make your solution and floor smell fantastic!" We recommend peppermint for a fresh scent.
19. Remove toilet stains
Unsightly toilet stains are a result of limescale build-up that gradually discolors over time. There are many hacks out there to combat this rather unpleasant occurrence, some influencers use pumice stones to scrub it off, but we've found Vinegar to be the most effective solution for cleaning toilet stains – and the least taxing.
"Out of all the areas and appliances in our homes, the toilet is one of the most problematic and this is because it sees a lot of use and constantly has still water sitting inside of it, which is the perfect environment for limescale to thrive," explains Tony Jones, general manager at Harvey Water Softeners. Coloration is further influenced by the fact that, as limescale dries, it picks up any dirt particles along with it and slowly stains build layer by layer on the inside of the toilet bowl."
"The best way to tackle this problem is with an acidic solution, which can cut through the limescale. One way you can do this is by adding four cups of white vinegar to the toilet bowl and then letting it sit overnight before flushing it away in the morning," Advises Tony.
20. Refresh bathroom mirrors
Bathroom mirrors are commonplace for smudges, watermarks, caked-on hairspray, and toothpaste splashes so they need an extra good clean more frequently than other mirrors throughout the home.
To quickly remove any traces of bathroom dirt, try a homemade mix of one part of white vinegar to four parts water in a spray bottle, spray the solution onto the glass, and wipe up and down or side to side with a microfibre cloth.
We would recommend polishing the mirror in two steps, once to remove any splashes and stains then giving it another once over to leave it gleaming.
21. Restore shine to glass stovetops
Removing burnt-on food and restoring a gleaming shine when cleaning glass stovetops is easy with a dash of vinegar.
"Simply fill a spray bottle with vinegar and water and spray it onto the stain," advises Alicia Sokolowski, president and co-CEO of AspenClean. "Use a damp microfiber cloth to gently scrub the stain away. You can also use an old toothbrush and gently scrub in circular motions."
We recommend a 50/50 ratio of white vinegar with water so it's not concentrated and therefore less of a strong scent. Wipe down the area with a clean, damp cloth to remove any hints of the vinegar scent.
22. Remove carpet stains
Who'd have thought vinegar would be handy for cleaning carpets? Specifically stains. "For water-soluble stains, such as drinks or mud, blot away the mark with a solution of two pints of water with a quarter of a teaspoon of white vinegar," advises Johanna Constantinou, brand director at flooring specialists Tapi.
"Start with a clean cloth and gently press the stain, moving from the outside to the inside. Never rub the stain as this causes it to move into the carpet fibers and you risk permanent damage."
"With any stain, it's a good idea to test your cleaning product on an unseen area of your carpet before use to make sure it won't damage or discolor the material. And always avoid using hot water as this can make stains worse."
23. Clean a dehumidifier
If you're looking for a natural solution to help clean a dehumidifier we highly recommend a DIY solution of vinegar and bicarbonate of soda.
"Mix 120ml / half a cup of white wine vinegar and 50g/ 1 quarter cup of bicarbonate of soda with 2 liters / 8 cups of water," advises professional cleaner Lynsey. "Mix until fully dissolved and decant the mixture into a spray bottle and use it to clean with ease."
This simple solution is the perfect natural remedy for removing mold, bacteria, and dust debris from the outer casing of the best dehumidifiers as well as the filter and water collecting compartment.
Does vinegar disinfect or clean?
There's a lot of conflicting information around the efficacy of vinegar as a disinfectant but it's important to remember that while it does work as a disinfectant to a certain degree it's not as effective as bleach or commercial cleaning products. It's favored over these stronger disinfectants because it's natural and therefore kinder to use around many areas of the home, the kitchen especially.
"Vinegar is an acidic liquid that cleans so well because it is able to dissolve stains and build-up such as soap residue, grease, and glues,' explains Ex-Nasa scientist and Oxwash founder Dr Kyle Grant. "Vinegar has a pH of 3 and is, therefore, a relatively strong acid and has been proven to kill germs (bacteria) such as E. coli and Salmonella. However, a 'disinfectant' should kill over 99.9% of germs to be labeled as such. Vinegar falls short of that target and should therefore not be used on its own as a disinfectant."
What can you not clean with vinegar?
Vinegar is an acidic liquid which is what makes it so efficient for breaking down grease, grime, oils, and bacteria. But the acidic element can make it unusable on some surfaces, so always be sure to test the area you are cleaning in an inconspicuous patch.
"It's important to remember that vinegar is corrosive. So, while it is ideal for cleaning most areas around the house, there are some surfaces that should be cleaned with caution. Granite, marble and stone floor tiles should generally only be cleaned using mild soapy detergent and polish," advises Chris.
Vinegar is not recommended for prolonged use on stainless steel, aluminum or cast iron so it's best to limit the time it's in contact with the surface, limit exposure to between 30 minutes to an hour, and rinse thoroughly after use.
Chris also warns "while some people do use this solution to clean hardwood, if acidic solutions get into the grains too often, it can warp the wood."
Tamara is a highly experienced homes and interiors journalist, with a career spanning 19 years. Now the Lifestyle Editor of womanandhome.com, she has spent the last 16 years working with the style teams at Country Homes & Interiors and Ideal Home, and it's with these award-winning interiors teams that she gained a wealth of knowledge and honed her skills and passion for shopping, styling and writing about every aspect of lifestyle and interiors.
With a keen eye for the latest interior trends, there's not a lot she doesn't know about home decor – whether it's what colour we should be painting our living rooms next season, or if the latest 'must-have' buys are actually worth investing in.
A true homes and interiors expert, Tamara has served as an ambassador for leading interior brands on multiple occasions, including appearing on Matalan's The Show and presenting at top interiors trend events such as the Autumn Fair and Spring Fair.