How to clean a glass stovetop: 4 easy steps for a mirror-like shine
Follow our easy guide on how to clean a glass stovetop to keep it sparkling, without causing any damage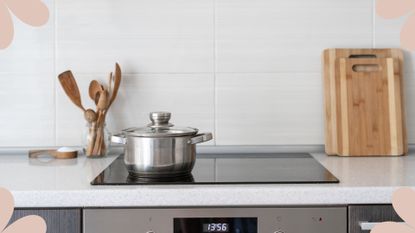 (Image credit: Getty Images | Brizmaker)
A smooth, contemporary glass finish always looks sleek and stylish, and knowing how to clean a glass stovetop will ensure it stays looking that way without running the risk of causing damage.
The first thing to note is that even though they are referred to as glass stovetops, you shouldn't think of them as glass when it comes to cleaning – meaning commercial glass cleaning products should be avoided for cleaning your stovetop. These products commonly include ammonia, which can damage the surface of your glass hob. If in doubt, double-check the ingredients listed on the packaging and skip any formulas that contain ammonia.
But the good news is that there are simple, natural solutions to use instead, so cleaning your stovetop doesn't have to be a difficult chore. In fact, all you need is about 20 minutes and a few common items from your kitchen cupboards.
How to clean a glass stovetop
"The golden rule for cleaning glass stovetops is less is more," explains Chris Wootton, managing director of the domestic cleaning company, Poppies, "there certainly isn't any need to pull out the heavy artillery and use expensive chemicals."
From daily maintenance to weekly deep cleaning, keep your glass stovetop looking great with these simple steps.
1. Switch off and allow to cool
Before we dive into the know-how for cleaning a glass stovetop it's important to remember that surfaces should be completely cool before cleaning.
Most glass-top stove brands have added a handy light that will indicate whether the surface is hot even after the ring has been switched off. This key safety measure will ensure that cleaning tools are safe to use without the risk of burning, melting, or catching fire.
This is also advisable when cleaning the best portable induction hobs as most of these are made of glass.
2. Mix and spray a natural cleaning solution
"The easiest and most effective way to clean a glass stovetop is to wipe the stovetop after each use with a natural kitchen cleaner," says Alicia Sokolowski, president, and co-CEO of AspenClean.
However, the most favored method our experts recommend is cleaning with vinegar. They suggest making your own DIY cleaning solution because vinegar is a natural antibacterial product, and therefore a great ingredient to have to hand for stovetop cleaning.
"Mix a warm water and white vinegar solution, a 50/50 ratio reaps the best results," Chris explains. Put the diluted vinegar into a spray bottle and spray down the entire stovetop surface. "Allow the acidic solution to set into the grease and grime for around 10-15 minutes."
Because vinegar is toxin-free and gentle for kitchen surfaces it is also favored for cleaning a fridge, cleaning a microwave, and even descaling a kettle.
3. Wipe clean with a microfibre cloth
After allowing adequate time for the vinegar solution or your natural cleaner to get to work and dissolve any grease and grime on the surface, it's time to wipe it clean.
Simply wipe away any trace of the cleaning product with a damp microfiber cloth. "We recommend using a clean microfiber cloth as it eliminates up to 99.9% of bacteria and prevents spreading bacteria across surfaces," explains Alicia.
4. Buff with a dry cloth to shine
Similar to when cleaning your windows it can be beneficial to buff the glass for a streak-free finish that gleams. "After you have wiped away the vinegar solution, buff the stovetop with a fresh, dry microfibre cloth," suggests Chris.
For stoves that are in frequent use, perform this routine once a week. If you cook less often, opt for every other week or whenever you notice your glass top is looking dull or grimy. This simple cleaning method should make a considerable difference in your kitchen and will inspire you to keep up the effort.
Keep on top of your glass stovetop daily with a quick wipe-down at the end of each day, making hard, stuck-on food less of a hassle to clean up at a later stage.
How to remove stubborn burnt-on food
Sometimes, however, glass stovetops can have stubborn, stuck-on foods that might have accumulated during cooking. So how should you clean up particularly difficult messes, whilst ensuring that you don't do any harm to your delicate stovetop?
"To clean a burnt glass stovetop with care, apply baking soda onto the area and rub it in with a dampened soft-bristle toothbrush to create a paste," suggests Chris. "Allow the paste to set for around 15 minutes and then wipe away with a damp microfibre cloth. The baking soda will help loosen the grime and polish the burn, and the damp cloth will move any larger debris while buffing the polish.
If that doesn't work don't be afraid to use a kitchen-safe scraper as a handy kitchen cleaning hack. "A mechanical solution can help with burnt-on food," Chris explains. "Use a specially designed sharp bladed cooker hob scraper, always wet the surface, use a fresh blade and at an angle to the hob. However, if you want to avoid using blades or anything too heavy-duty, stick to the softer solution method.
For best results, use a safe, single-blade razor with a plastic handle specifically designed for glass stovetop cleaning. Gently scrape off any excess food using the razor at a 45-degree angle.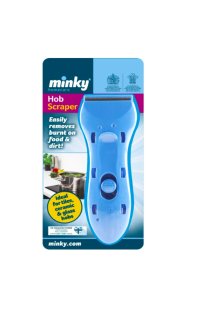 Minky Hob Scraper, $5.71/£3.85 | Amazon
This nifty hob cleaner will help you remove tough, burnt-on marks in a flash—at a very affordable price tag. Ideal for use on tiles, ceramic, and glass hobs, it also has a special safety function to ensure there are no nasty accidents during your cleaning routine.
What should you not use on a glass-top stove?
"Generally, glass stovetops are resilient and made with strong glass. However, where possible, avoid using abrasive cleaning materials, including scouring pads and steel wool," advises Chris. "Surprisingly, using glass cleaner is one to avoid. While is seems logical, glass cleaner contains a strong concentration of ammonia, which can damage stovetops. The better alternative is always natural remedies such as vinegar."
"Do not use scrub or steel wool sponges on your glass stove top as they will scratch the surface," warns Alicia. "It is recommended not to use any glass or general oven cleaners as they are too harsh on the glass."
Are commercial cleaning products safe on glass stovetops?
When it comes to everyday cleaning, lots of store-bought brands are available specifically for glass stovetops, and these are generally safe and great for cleaning with. The cleaning aisle of your local market or hardware store will probably offer a wide variety of options.
Many popular brands offer soft scrub cleansers that you apply directly to your glass stovetop. These cut through grease and debris and all you need to do next is wipe clean with a damp cloth or sponge. You can stick to these commercial cleaners, or alternate with a DIY cleaner as above.
Amy Hunt is an experienced digital journalist specialising in homes, interiors and hobbies. She began her career working as the features assistant at woman&home magazine, before moving over to the digital side of the brand where she eventually became the Lifestyle Editor up until January 2022. Amy won the Digital Journalist of the Year award at the AOP Awards in 2019 for her work on womanandhome.com.