The 9 best oven cleaners for removing grease, grime, and stubborn build-up in a flash
The best oven cleaners are affordable, easy to apply and capable of eliminating even the most formidable stains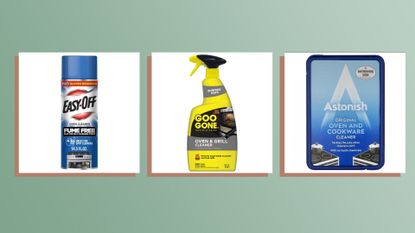 (Image credit: Future)
The best oven cleaners make what's otherwise an arduous task much less of a hassle. Nowadays, formulas are easier to apply and contain fewer toxic chemicals, making for a more pleasant experience of this much-loathed but highly necessary chore.
Knowing how to clean your oven goes further than making your kitchen look spotless. If you find your favorite meals or desserts haven't been as tasty as you've made them in the past, a dirty oven might be to blame. A build-up of grease, oil, and burnt food from previous dishes can impact the flavor of your food and not for the better. A dirty oven is also less energy efficient as it'll take more time to heat due to the grime within—it could even be a contributing factor to higher-than-usual utility bills.
Fortunately, you don't have to stoop to your hands and knees with a toothbrush and scrub your oven until the bristles fall off. Below are the nine best oven cleaners available in the U.S. and the UK that'll get the job done with minimal fuss, ranging from commercial-grade formulas to all-natural DIY solutions. We've also asked several experts – think chefs and housekeepers – to suggest their tried-and-true oven cleaning hacks so you can clean your kitchen like a pro.
How we tested the best oven cleaners
Why you can trust Woman & Home Our expert reviewers spend hours testing and comparing products and services so you can choose the best for you. Find out more about how we test.
In order to find the best oven cleaners on the market we put popular brands through a rigorous testing process against the following criteria:
Speed—how quickly does each product clean the area?
Application—how easy was the product to apply, and were the instructions thorough and accurate?
Wait time—do we need to leave the formula on, or does it get to work straight away?
Value-for-money—does a higher price point equal a better product?
The finished result—was our oven sparkling like new afterward?
We assessed whether the product was right for cleaning the oven overall, or whether it was best used for specific parts of the oven, as well as evaluating what types of ovens it can and cannot be used on.
We also sifted through the oven cleaner ingredients and assessed whether the product is natural or chemical, and considered the wider concern of consumer safety when dealing with potentially toxic ingredients.
The best oven cleaners as tested by our experts
1. Easy Off Heavy Duty Oven and Grill Cleaner
The best oven cleaner for tough stains
Specifications
RRP: From $6.50 (US only)
Suitable for: Gas, electric, self-cleaning ovens; broilers/broiler pans; grills; stainless-steel surface
Fume free: Yes
Formula: Spray
Reasons to buy
+
Spot cleans in only 30 seconds
+
Gentle enough to use without gloves
+
Can loosen the toughest baked-on stains
Reasons to avoid
-
Fume-free, but not unscented
-
Takes at least an hour to deep clean
A favorite among homeowners and professional cleaners, the Easy Off Heavy Duty Oven and Grill Cleaner scores high marks for being an affordable way to handily remove deep-seated oil and grease stains from ovens, grills and stainless steel surfaces. This fume-free formula is safe enough for cleaning without gloves (although we'd recommend wearing them anyway to preserve your hands).
For spot-cleaning surface-level stains, you'll only need to spray and wait 30 seconds before wiping them away. Meanwhile, this formula will require at least an hour to seep into those baked-on food stains – ample time to catch up on your favorite Netflix series. But the wait will be worth it and your oven will look as good as new.
Although it's considered a fume-free formula, the Easy Off Heavy Duty Oven and Grill Cleaner does have a fresh lemon scent. If you're sensitive to smells, you'll want to make sure your kitchen is well-ventilated.
2. Oven Pride Complete Oven Cleaning Kit
The best oven cleaner for tough stains
Specifications
RRP: From £5 (UK only)
Suitable for: Gas, electric, and self-cleaning ovens
Fume free: Yes
Formula: Solution
Reasons to buy
+
Incredibly powerful for truly dirty ovens
+
Includes a convenient clean-up bag
+
Cruelty-free with no harsh chemicals
Reasons to avoid
-
Cannot be used on cast-iron surfaces
-
Not preferred for quick cleanups
Oven Pride's Complete Oven Cleaning Kit really does live up to its moniker—it's a robust, all-in-one product that quickly dissolves stubborn grime, grease, and residue.
To test its merits, we placed our oven trays in the bag provided along with the solution. Once sealed, we allowed the trays to soak in the solution, and then rinsed them thoroughly under warm water and soap. The solution softened baked-on grease and stains, allowing us to scrub them off incredibly easily—we didn't even have to go back in with a sharp scraper. For the inner oven, expect a four-hour wait time, once you have applied the solution. With this in mind, we recommend using this cleaner for heavy-duty tasks, rather than quick spot cleans.
The result, in short, was spotless. Even the toughest stains and marks were removed to leave surfaces sparkling clean after a quick wipe. This product also comes with a handy single-use bag, designed for discarding leftover remnants and dirt. There are, however, a few drawbacks to consider: Oven Pride is incompatible with oven doors made of tempered glass, as it's more susceptible to cracking. It's also not suitable for uncoated cast-iron surfaces or aluminum surfaces. For a real deep clean though, it's a kitchen game changer.
3. Goo Gone Oven and Grill Cleaner
The best oven cleaner for regular spot-cleaning
Specifications
RRP: From $6.99 / £15
Suitable for: Gas, electric, self-cleaning ovens; grills
Fume free: Yes
Formula : Spray
Reasons to buy
+
Fizzing formula great for spot cleaning
+
Non-abrasive without any strong odor
+
Great for recent surface-level stains
Reasons to avoid
-
Not as effective on deeper stains
-
Beware of inflated prices online
The Goo Gone Oven and Grill Cleaner is our favorite contender when it comes to regularly maintaining your oven. Without a good oven cleaner and regular spot checks, it's likely you'll need to resort to a scraper (meaning more elbow grease is needed to clean your surfaces), but a daily or weekly swipe with a tough solution like this is a great preventative measure.
Just spray the Goo Gone cleaner onto your oven surface and watch it bubble up and dissolve oil, food, and grease. For minor surface stains, you won't need to wait more than 10 minutes before wiping it off. You can also use this formula for deep cleaning, although it'll take up to an hour for it to work effectively on tougher stains. And even then, it may not entirely remove grease that's been baked on for months or years.
A 28oz. bottle of Goo Gone Oven and Grill Cleaner should not set you back more than $7; however, prices at Amazon and other online storefronts tend to sell it for an inflated price that's almost double so have a discerning eye whilst you're shopping.
4. Weiman Glass Cooktop Heavy Duty Cleaner
The best oven cleaner for a glass door
Specifications
RRP: From $10 / £7
Suitable for: Glass and ceramic cooktops; oven windows
Fume free: Yes
Formula : Polish
Reasons to buy
+
Leaves a glossy finish
+
Gentle, fume-free formula
+
Has a sweet apple scent
Reasons to avoid
-
Can be smeary unless you dilute it
-
Will require some elbow grease
While it might be natural to focus on oven cleaners that can clean our oven racks and walls, it's important to remember that we also need one to specifically clean the glass doors of these kitchen workhorses. Enter Weiman's Glass Cooktop Heavy Duty Cleaner, a non-abrasive polish that is the best oven cleaner for doors.
And it's not just oven doors that benefit from this oven cleaner; it's formulated to deep-clean glass cooktops, countertops, and bar surfaces, too. Stains, splattered food, and oil spills are no match for this product, which also gives glass doors a glossy finish. With just a few simple spritzes, the product got to work, although admittedly it did need a bit of elbow grease. Overall though, it rid our glass oven doors of oily stains and food really well.
On thing to watch out for—although it's not really all that inconvenient—this oven cleaner has a dense, milky texture, which will smear everywhere if you're not careful. To resolve this issue, make sure you open it and apply it gently with precision. You could also try diluting the mixture with water; this will help spread the product evenly and cover a greater surface area.
5. Magic Stainless Steel Cleaner Aerosol
The best oven cleaner for stainless steel
Specifications
RRP: From $13 / £10
Suitable for: Stainless surfaces and appliances
Fume free: Yes
Formula : Foam
Reasons to buy
+
Suitable for aluminum and chrome surfaces
+
Creates a protective coating after cleaning
+
Non-drip formula
Reasons to avoid
-
Not abrasive so it won't remove rust
-
Might leave streaks
Stainless steel requires a unique cleaning approach. Although it is highly resistant to corrosion, it's more susceptible to oxidation, rusting, and staining. So, we're delighted when products are specially crafted to help sidestep (or tackle) these issues. We're looking at you, Magic Aerosol Stainless Steel Cleaner.
This oven cleaner's foaming formula hangs on to surface debris—and it doesn't drip upon application, either. Not only is it formulated to erase fingerprints and smudges but, thanks to its 'Stay Clean' technology, it also creates a transparent, protective coating that fends off hard-water stains too—a common problem for stainless steel. With continued use then, your surfaces will remain durable and look shinier for longer.
During the testing process, we found that a little goes a long way with this oven cleaner. Moreover, we didn't have to spend much time buffing it with a cloth either. We also tested it using a thin paper towel, to see if the cleaner would still hold up— spoiler alert, it does (although a bit more effort is required with this method).
That being said, the cleaning process wasn't seamless. Occasionally, we found that this oven cleaner left behind streaks—not consistently after each test, but enough to be mildly irritating. However, it was a minor issue and, this aside, we felt it was a great stainless steel oven cleaner.
6. Mr. Clean Magic Eraser
The best oven scrubber
Specifications
RRP: From $5 / £6
Suitable for: Textured oven cleaner, surface sponge cleaner, wall cleaner, bathtub cleaner, and soap-scum remover
Fume free: Yes
Formula : Sponge/solution
Reasons to buy
+
Non-abrasive sponger
+
Suitable for more than ovens
+
No harsh chemicals added
Reasons to avoid
-
Not suitable for polished surfaces
-
Each eraser only good for a few uses
Spot cleaning is imperative for those small spills that happen when cooking; cleaning them up quickly will safeguard the oven's appearance, as well as its performance. The small-but-mighty Mr. Clean Magic Eraser gets this job done brilliantly, without much effort. And, since it closely remembers a traditional dish sponge, it's easy to use on virtually every surface of your oven.
Given its size, you might assume that the Magic Eraser wouldn't hold up to hard work and tough stains, but it's designed to endure wear, tear, and multiple cleaning jobs. We can thank its textured design for that—the crowning glory that really was tough on grease, soap scum, build-up, and baked-on residue. In other words, it's a long-lasting product that won't need replacing all that frequently.
Still, faced regularly with heavy-duty jobs, the eraser may fall apart over time—it's a soft, squishy sponge that's designed for spot cleans, rather than intensive cleaning, so we suggest you stick to quick wipes, spot-checks, and minor retouches. It handles all these jobs brilliantly.
Used sparingly and gently, the Magic Eraser can also be handy at cleaning stuck-on debris on other kitchen appliances, too—objects such as your blender or your food processor. Just be careful not to scrub too hard or you might damage the machine.
7. Arm & Hammer Pure Baking Soda
The best DIY oven cleaner
Specifications
RPP: From $1 / £1.50
Suitable for: Enamel-lined ovens
Fume free: Yes
Formula: Powder
Reasons to buy
+
Preserves the shine of enameled ovens
+
Can be used to clean the entire kitchen
+
Easy to use and very inexpensive
Reasons to avoid
-
Not as strong as specialized formulas
-
Might leave residue behind
Though fairly easy to maintain and clean, enamel-lined ovens require a different approach; traditional oven cleaners aren't always necessary as, typically, mild soap and water applied with a soft non-abrasive sponge will suffice. However, if your enamel-lined oven is a bit dirtier than usual, a great oven cleaner can make all the difference. This is where Arm & Hammer Pure Baking Soda comes in.
Boasting more than 100 uses per pack, Arm & Hammer Pure Baking Soda physically picks up everything that you can't remove with regular soap and water—from discoloration and stains to oily remnants. Before you can get started, you'll want to mix a cupful of bicarbonate of soda with water. This will create a thin paste and, better still, when dried it'll leave a protective coating that absorbs future grease, burnt-on stains, and grime. We also used this solution on our oven trays, and then left them in the sink for an hour. When the hour was up, the mixture had softened even chunky grime, making it a cinch to remove.
What's more, this cleaner polishes and preserves the color of worn-down, porcelain-enameled surfaces—think cookware that's become dull or lightly browned through use. While not the strongest oven cleaner on our list, it's a good gentle option for more delicate machines or cleans.
8. Astonish Oven & Cookware Cleaner Cleaning Paste
The best oven cleaner paste
Specifications
RRP: From $8 / £1
Suitable for: Oven enamel, glass doors, oven racks, glazed cookware
Fume free: Yes
Formula: Paste
Reasons to buy
+
Lasts a long time, as you don't need a lot
+
Eco-friendly vegan formula
+
Can use on cookware and microwaves
Reasons to avoid
-
Requires more effort than a spray
-
Not for brushed stainless steel
The UK-made Astonish Oven & Cookware Cleaner Cleaning Paste is a versatile, eco-friendly way to clean your oven, racks and hob. It's not only biodegradable but it's also vegan and cruelty-free.
To use, just put a small dollop of paste onto a damp cloth or sponge and apply to the surface in a circular motion. You may need to apply some elbow grease to break apart more formidable grease and oil build-up, but it'll get the job done. However, we think this product is better-suited for spot-treating recent stains.
In addition to your oven, Astonish paste can also refresh any pots and pans that show years of heavy use. You can even use it on your microwave. But be careful not to use this formula on brushed stainless steel or non-stick cookware, as it'll damage those surfaces.
9. Carbona Oven Cleaner Spray
The best eco-friendly oven cleaner spray
Specifications
RRP: From $8 (US only)
Suitable for: Gas, electric, self-cleaning ovens; grills; baking pans,