How to clean a BBQ according to grill and cleaning experts
Discover how to clean a BBQ grill using an onion, pressure washer and more, as tested and recommended by grill and cleaning experts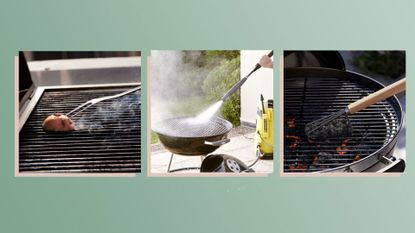 (Image credit: Getty/Karcher/B&Q)
Knowing how to clean a BBQ is essential both for food hygiene reasons and to prolong the life of your backyard grill. The better condition you keep it in, the longer it will last to provide you, your family and your friends with many home-cooked grills for years to come.
The object of cleaning a BBQ Grill is to remove the burnt-on grease, grime, food deposits and carbon so some elbow grease will be required, and also to remove any bacteria to prevent cross contamination with food.
"Layers of grease, old burnt food and excessive oil can also be a fire hazard," warns Sophie Herrmann of heritage brand, Jeyes Fluid. "So don't put off cleaning the barbecue, do it regularly."

In our guide to the best ways to clean a barbecue we've included expert recommended solutions and tried and tested natural options. We asked industry and cleaning experts to share their top tips and to bust the BBQ cleaning myths, to reveal how to clean stainless steel grills as effectively as possible.
How to clean a BBQ grill in 4 easy steps
"Charcoal, pellet, electric and gas barbecues all require slightly different methods of cleaning depending on the individual components, so it's always best to check the manufacturers recommendations before you start" advises Dan Cooper, Head Grill Master at Weber (opens in new tab). But his general rules for cleaning a BBQ are as follows.
"First off, you need the right tools" he says. "My personal cleaning arsenal always includes a T-brush, barbecue cook box scraper, microfibre cloth, rubber or latex gloves, enamel, and stainless-steel cleaner sprays, and, finally...an onion". (We'll come to the onion in a bit).
Here is Dan's complete 4-step plan for how to clean a BBQ like a pro:
Step 1: Burn off residue
''The burn off. This first step is key," Dan says purposely. "Heat your barbecue up to the max for about 30 minutes – be wary that the dirtier the cooking grates are, the more it will smoke. Once the grill stops smoking it will generally have burned off most old residual grease and fat."
It's much easier to scrub off any residual grease or food from the grill surface while it's still hot. Be sure to wear protective clothing for the 'burn off', or at least old clothes, because it is likely that anything you are wearing will smell of smoke and have traces of old BBQ food remnants by the end of this step.
Step 2: Scrap the grate
"While your barbecue is still hot, brush the cooking grates with a T-brush as this will remove any leftover residue or detritus left behind from the burn off," explains Dan.
Just like when you clean the oven, always ensure that the grill is no more than moderately hot. Never clean the grill while it is scorching hot and always allow it to cool to a safe temperature first.
Step 3: Disassemble
"Once your barbecue has cooled down, remove all the grates and internal components, and use a T-brush and scraper to clean everything," advises Dan. "The initial burn off should have loosened hard to remove carbon deposits from the cook box, and this will make sure all grease channels are clear."
He adds at this point: "We would definitely recommend using rubber gloves for this part! Once complete, place all clean parts back into the barbecue. Make sure you don't jet wash or put components in the dishwasher as this can cause some parts to rust."
Step 4: Clean the outside
Clean the outside of the BBQ with a cloth and a specialist enamel and stainless steel cleaners that will leave your barbecue gleaming, because you want the outside to reflect how clean the inside now is – like when you take pride in cleaning your windows. Dan adds:"for the best shine I use a microfiber cloth for buffing. Once all this is done, you are ready and raring to go for your next garden party!"
How to clean a BBQ using natural ingredients
How to clean a bbq with an onion
After scrapping the grill with a brush (step 2), Weber's grill expert Dan recommends grabbing an onion: "Using half a raw onion on the end of a BBQ fork, scrub the grates back and forth" he says.
And before you think he's an onion short of a BBQ burger stack, fear not. He has good reason behind his suggestion: "Onions are acidic and will pick up the grease that's left behind, as well as any small specks of dirt and carbon. I use this method regularly and it really helps keep my cooking grates in good shape."
Lynsey Crombie, TV's Queen of Clean (opens in new tab), is also a fan of the onion method, saying: "If you have any onion left over, rub it over the racks whilst it's still warm. Onions have antiseptic properties so they make good cleaners and will cut through dirt and grease."
How to clean a BBQ with a lemon before cooking
Lemons aren't just for serving in refreshments, they are an ideal natural solution for cleaning bbq grills, to avoid using chemical oven cleaning products. "I always have leftover lemons lying around, especially if I've had a big BBQ," says Laura Hartnett, founder of Seep (opens in new tab) natural cleaning products . "Instead of letting them rot in my fruit bowl I repurpose them for cleaning stuck grease and grime on the grill. The citric acid in lemons is perfect for cutting through residual fat from meat on a BBQ."
"Push some coarse rock salt onto your lemon to tackle any extra tough spots. Lemon juice also has antibacterial properties so perfect for stopping any nasties growing on your grill."
"Lemons are also ideal for giving your BBQ a quick clean before you start cooking – slice in half and rub over the grill just before you want to begin using it." Because lemons are natural this is the safest way to clean your grill before cooking, because you can be sure there is no chemical residue left that could transfer onto food.
How to clean a bbq with vinegar
White vinegar is a classic cupboard staple that can be used for a multitude of household cleaning chores, including as natural solution for how to clean hardwood floors. White vinegar is one of the best cleaners around for cleaning stainless steel grills. Due to its acidic nature it will dissolve grease, carbon, dirt and mineral deposits. Your grill will be looking good as new in no time! Many cleaning experts agree, saying it's ideal to mix up a homemade BBQ cleaning remedy.
"White vinegar and bicarbonate of soda are staples in your sustainable cleaning cupboard – both are hugely versatile whether you're cleaning inside or out," explains Laura Hartnett, of Seep natural cleaning products. "Mix them together to form a thick paste and leave on tough carbon grit on your BBQ for at least ten minutes, ideally longer, and then simply wipe away with a damp, plastic-free cloth or sponge. If any spots are still stuck on you can use our copper scourer."
Making sure you use a good cleaning spray is essential when cleaning the BBQ properly. If you are struggling to find a brand you like or don't want to spend too much money, a 50/50 water and white vinegar mix will do the trick, leave on for 10 minutes and it will have your grill gleaming.
How to clean a BBQ with baking soda
For those stuck-on grease and stubborn grime stains that you just can't seem to shift with your normal BBQ cleaning routine, try a handy naturally derived solution that is also used to clean burnt pans. Simply mix baking soda with a little water and put it on stubborn marks. The acid-based reaction causes the solution to bubble up and break down even tough grease or carbon. Then get scrubbing with a good cleaning brush.
This a cost-effective, chemical free cleaning solution is championed by the experts: "The easiest hack to clean your BBQ is to spray the surface with warm water and then sprinkle baking soda all over the grill and base," says Susan Fermor of Dr Beckmann (opens in new tab).
"Leave this to soak in for around 10 to 15 minutes and then use a scourer or scrubbing brush to work away the grime. Use hot water to rinse any excess debris and leave to dry. If any grease is remaining on the grill, then soak in hot water with washing up liquid, which will help remove any additional residue."
How to clean rust off a BBQ grill
A common problem all too many of us have after opening up the BBQ after the winter is the discovery of rust on the grill. But all is not lost, it's easy enough to clean off and get the grill looking as good as new.
"I recommend ketchup and beer for getting off rust, just pour some onto the grill and scrub with your scourer" says Lynsey Crombie, Queen of Clean. But she is keen to point out: 'It is only good for removing rust, it won't actually clean and disinfect," she explains.
How to clean a charcoal BBQ
Contrary to cleaning the rest of the grill you should wait until the charcoal is completely cool before trying to throw it away - but you should still move quickly emptying the ash as soon as it is chilled.
"Remember to give your BBQ a quick clean after each use,' says Sarah Dempsey, cleaning expert at MyJobQuote (opens in new tab). "Wait for it to cool and wipe it over to prevent heavy build-ups of grease and food."
"Always use the right tools for the job. Metal brushes are best for tackling tough grime on grill plates and racks, while a plastic scraper and sponge is better for cleaning enamelled or painted surfaces without scratching them."
"If you don't have a removable ash pan or outlet, place foil on the bottom of the firebox to make it easy to empty after use. Simply wait for it to cool and lift out. Use your vacuum cleaner to remove the remaining debris."
Do you have to clean your BBQ after every use?
Cleaning your BBQ (even just quickly) after every use is recommended for food hygiene reasons and to pro-long the life of your BBQ grill. However, you should also add a big BBQ deep clean to your spring cleaning checklist at least once a year according to the experts:
"Whatever type of barbecue you have I would always recommend a deep clean at least once a year," is the advice of Weber's Dan Cooper
"Getting into the habit of cleaning your barbecue after every use will prevent bacteria, cross contamination, and also rust building up," says Heather Nixon, Sustainability Manager at cleaning brand Bio D (opens in new tab).
"Start by spraying the sides with a sanitiser to gather all the dirt. Next scrape any remaining residue or food off the grills. Once the residue has been removed, soak the grills in hot water with washing-up liquid, or washing powder also works. Allow to soak for 20-30 mins then give the a scrub, then leave to dry. (Once dry) Place the racks back and you are ready to go."
Remember to check any manufacturer recommendations, as all BBQs are different.

Alison Davidson has been working as an interiors and lifestyle journalist for over 30 years. She has been Homes and Gardens Editor of Woman & Home magazine and Interiors Editor of House Beautiful magazine, she has also freelanced and worked for most of the interiors magazines at one time or another. She is currently embracing the move to digital using the same knowledge and expertise to produce high quality features for an online audience.