How often should you clean your oven? Experts weigh in
Cleaning experts share their recommendations on how often you should clean your oven - and it's more often than you might think...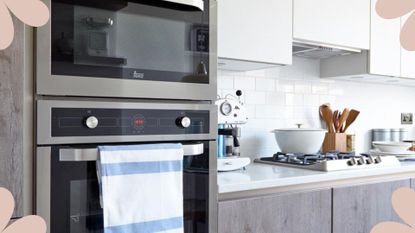 (Image credit: Future)
Ovens are a hotspot for grease, grime, food residue and spillages - so how often should you clean your oven to get the best results from this everyday appliance?
We spoke to experts who outlined how often you should clean your oven, explaining how frequently you should complete quick cleans as well as deeper, lengthier cleans.
Similar to knowing how often you should clean your home, the exact frequency will naturally depend on how often you use it and the size of your household but with this expert advice, and their quick tips to keep your appliance clean while cooking, you'll be on the right track.
How often should you clean your oven?
As with the question of how often you should vacuum or clean your bathroom, there is no definite right answer because it will depend on your frequency of use, and what you're cooking. However, the experts we spoke to all agreed that undertaking a light clean after each use is the best way to avoid an accumulation of grime and grease.
In addition to light, regular cleans, the consensus from our panel of experts was that you should complete a deep clean of your oven every month.
Queen of Clean Lynsey Crombie (opens in new tab), cleaning expert, TV presenter, and author, tells us, "I advise to wipe over with a warm soapy cloth after every use and then do a deep clean with the shelves once a month."
"Cleaning the oven is a job that most people put off for months, but that's the problem," adds Ivan Ivanov, cleaning expert at End of Tenancy Cleaning (opens in new tab). "Leaving long gaps between your oven cleaning will make the job much harder and tedious. Therefore, the key is to clean your oven little and often." Because as with tackling how to get stains out of a carpet, the longer you leave it the harder the task becomes.
"If you have cooked something that has caused a mess in your oven, it's a good idea to wipe down the appliance immediately once it has cooled," states Ivan, adding that a deep clean should be completed once a month.
"If you do a lot of roasting or cooking fatty foods you may need to clean more regularly. Spilled foods should be wiped out after every use," explains Sophie Lane, product training manager at Miele (opens in new tab). "Do this once the oven has cooled sufficiently to be safe but is still slightly warm as to make cleaning easier."
"It's important not to wait too long to clean oven racks, as repeated baking on of grease and food residue makes it harder to remove over time, so wipe up spillages as soon as the appliance has cooled sufficiently so you can safely do so."
"It's always best to try and keep your oven cavity as clean as possible and wipe it after each use to prevent the oven cavity and cooking surfaces from becoming heavily soiled and more difficult to clean," says Alexandra Dibble, home economist for Rangemaster (opens in new tab). "We recommend wiping up any spillages immediately to prevent them from burning onto the surface – but be careful if the cooker is hot."
Alexandra advises deep cleaning on a less regular basis than other experts, however. "If your oven has a build-up of grease or cooking residues, we suggest performing a thorough deep clean every three months to keep it looking its best," she advises.
Cleaning your oven doesn't need to be a difficult task, some models have side panels with coatings that are designed to clean themselves at high temperatures, or dedicated pyrolytic cleaning functions," states Alexandra. "However, most ovens can be cleaned with hot soapy water, or any proprietary oven cleaner that is suitable for enamel, and a chrome cleaner for the shelves and grill racks."
How to keep your oven cleaner: 5 expert tips
"If you really dislike cleaning your oven, there are some simple actions you can take to ensure your oven stays cleaner for longer," advises Ivan.
Here are the best practices to follow when using your appliance to maintain a level of cleanliness in between your chosen kitchen cleaning routine.
1. Keep dishes covered at all times
Avoid making unnecessary messes through spills and splashes from a bubbling pot by simply covering the contents. "Cover all slow-cooking food with a lid or foil," suggests Ivan. This simple act will ensure no food will leak onto the oven surfaces.
2. Use oven trays to catch spills
Place oven trays underneath your pots and dishes to create a protective barrier that will catch any potential food drops. "Place dishes on a baking tray to avoid food dripping into the oven," suggests Ivan. The simple act will catch any stray food or sauce remnants - and cleaning oven trays is a far easier and quicker task than cleaning the oven itself.
3. Clean the door with a glass scraper
"One way to make an instant difference to the appearance of your oven is by cleaning the glass on your oven door after each use," advises Ivan. "It often gets grimy from cooking, preventing you from seeing what's going on inside and whether your food is cooking as it should."
Keep your oven door clear of cooked-on food traces by using a glass scrapper after each use. "Use a glass scraper, sponge, or clean microfiber cloth to remove any foods," Ivan suggests. "It's important not to use harsh scourers as they may create minuscule scratches on the glass - doing this may weaken it and over time makes it vulnerable to smashing."
4. Use oven liners
Similar to the oven tray trick, using oven liners is a great way to catch any spills. "If you want to protect the inside of your oven, you can quickly get oven liners or an oven mat made of fiberglass in every home improvement store or on Amazon," explains Yordan Yordanov, an expert at professional cleaning company Fantastic Services (opens in new tab). "They provide better heat resistance and protection and therefore less cleaning."
Opt for liners that are built for purpose, rather than aluminum foil. "Many people use aluminum foil, which is not a good solution because the material aluminum foil reflects and blocks heat in gas and electric ovens," warns Yordan.
5. Steam clean with a bowl of water
Strike while the oven is hot so to speak. Carrying out a gentle steam clean while the oven cools prevents any potential lingering mess.
"Grease and food marks are easier to remove when the oven is still warm – but not too hot of course," explains Heather Nixon, who works in new product development at green cleaning company Bio-D (opens in new tab). "A great natural way to clean your oven after every use is to fill an oven-proof pot with warm water and shut the door, to steam and loosen the dirt. Leave it to cool for 10 minutes or so before wiping away any trace of dirt and grime." Even better, if you add a few slices of lemon it will deodorize the oven, eradicating smells in between cooking.
This simple trick helps to keep on top of any potential grease and grime every time you use your appliance. The same method is ideal for cleaning a microwave with ease too.
Tamara is a highly experienced homes and interiors journalist, with a career spanning 19 years. Now the Lifestyle Editor of womanandhome.com, she has spent the last 16 years working with the style teams at Country Homes & Interiors and Ideal Home, and it's with these award-winning interiors teams that she gained a wealth of knowledge and honed her skills and passion for shopping, styling and writing about every aspect of lifestyle and interiors.
With a keen eye for the latest interior trends, there's not a lot she doesn't know about home decor – whether it's what colour we should be painting our living rooms next season, or if the latest 'must-have' buys are actually worth investing in.
A true homes and interiors expert, Tamara has served as an ambassador for leading interior brands on multiple occasions, including appearing on Matalan's The Show and presenting at top interiors trend events such as the Autumn Fair and Spring Fair.