How to clean oven trays to remove burnt-on food
These methods for how to clean oven trays guarantee sparkling results that will help yours look like new again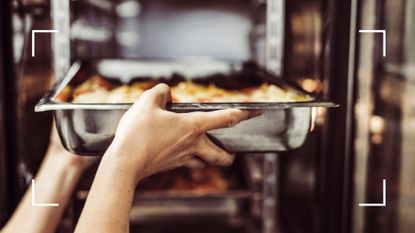 (Image credit: Getty Images)
Knowing how to clean oven trays is something every cook should have in their arsenal, given that trays can often be some of the most used, yet grimiest, pieces of kit in our kitchen.
No matter how careful you are, oven baking trays always seem to end up with burnt-on residue that only gets more and more stuck with each successive use. This can cause the baking tray to look discolored and dirty, and can even create an unsanitary environment on which to cook food.
While it may seem like your tray is hopelessly soiled beyond the point of no return, there are some simple methods for how to clean oven trays, all involving items that you likely already have in your home. Before you know it, it'll become one of the easiest parts of your kitchen cleaning routine—and you'll have sparkling clean baking trays once again.
How to clean oven trays
The best part of our methods for how to clean oven trays is that there is no need for special equipment or expensive cleaners. Most of what you will need to clean your baking trays, you probably already have in your cupboards. Here are five ways to make your oven trays look like new again.
1. Use dish soap and steel wool for aluminum trays
A good long soak in hot soapy water, a steel wool pad (opens in new tab) and some elbow grease may be all you need to clean every bit of residue off your baking trays. This method works well for aluminum baking trays, but should never be used for non-stick pans or trays, as the steel wool may scratch the coating. Like some of the best cookware items, baking trays can have very delicate surfaces, so if you're unsure, test out this cleaning method on a smaller patch first to see how the tray responds.
Directions:
Fill your sink or washtub with boiling water
Add dish soap to the water to help with the grease
Wipe down the tray with a paper towel and submerge in the soapy water
Allow to soak for 30 minutes to an hour
Using the steel wool pad, scrub in a circular motion. For best results, focus on small areas and keep working on them until they are completely clean. Then move onto the next spot
Rinse and leave to dry
2. Soak in hot water and baking soda
Yes, that's right—the magical baking powder has yet another practical use (baking soda is also one of the best ingredients to use when working out how to clean copper and how to clean grout, to name but a few). Baking soda and hot water may be all you need to clean burnt-on food off your baking trays. This method is safe for both non-stick and regular baking trays.
Directions:
Wipe down the tray with a paper towel to remove any oil or loose debris
Fill your sink or washtub with boiling water
Add about one cup of baking soda. You may need more or less depending on the amount of water and the amount of burnt residue on your tray
Let the tray sit in the hot water for at least an hour
Using a cloth or sponge, wipe away the burnt-on grease and other debris
Rinse thoroughly and wash again using regular dish soap, or pop it in the dishwasher
3. Mix baking soda and vinegar
The chemical reaction that occurs when you mix baking soda (a base) and vinegar (an acid) together can remove even the toughest of marks from your baking trays (it's also great if you want to know how to clean a showerhead). This method is safe for all types of baking trays, and best used on trays that are proving really difficult to clean any other way.
Directions:
Fill your sink or washtub with hot or boiling water
Mix in half a cup of vinegar and half a cup of baking soda
Wipe down the tray to remove grease or loose debris
Submerge the baking tray in the mixture for at least 30 minutes
Using a sponge or scratch-free scouring pad, scrub using a circular motion
Rinse well and allow to dry.
4. Use a commercial oven cleaner
Using one of the best oven cleaners is another way to get your baking tray looking like new. The upside of this method is that it is as easy as simply spraying and waiting for the product to work its magic. The downside is that it does use harsher chemicals—so if you prefer a more natural approach, opt for one of the above methods instead.
Directions:
Open your kitchen window and turn on the exhaust fan for ventilation and put on rubber gloves
Wipe down the tray to remove any grease or loose dirt
Spray the tray with the cleaner, making sure to coat the whole surface evenly
Pop the tray into an oven that has been preheated to the temperature given in the instructions
Wait the recommended amount of time—this is usually at least a few hours
Remove the tray from the oven using a thick rag towel and whilst wearing rubber gloves
Wash under running water using a cloth or non-abrasive scrubber, and then wash the tray again using regular dish soap or the dishwasher
5. Pop them in a self-cleaning oven if you have one
One of the biggest tricks when it comes to how to clean an oven, this method is so simple you may kick yourself for not thinking of it earlier. If you are lucky enough to have a self-cleaning oven and your trays can take the heat, you can use the oven itself to get your trays clean again. It's incredibly easy and a good option for those looking for a hands-off baking tray-cleaning approach.
Directions:
Place the baking tray in the oven
Set the oven to self-cleaning mode
Wait for the cycle to complete
Rinse and wash the baking tray in soap and water, then leave to dry
---
All the above-listed methods will get your oven baking trays shiny and clean, but they won't fix other problems you might have with them.
For example, if your baking trays are scratched or warped, they should be discarded. Also, you should never use non-stick trays if the coating has begun to peel or there are areas where the underlying metal is exposed. Trays in this condition could allow harmful chemicals to leach into your foods during the baking process and should be discarded immediately.
To save time and effort, lining your baking trays with kitchen foil or baking paper is an excellent way to keep them clean and free of burnt-on food.
Amy Hunt is an experienced digital journalist specialising in homes, interiors and hobbies. She began her career working as the features assistant at woman&home magazine, before moving over to the digital side of the brand where she eventually became the Lifestyle Editor up until January 2022. Amy won the Digital Journalist of the Year award at the AOP Awards in 2019 for her work on womanandhome.com.