How to organize under the kitchen sink - 13 easy storage ideas to streamline the space
These expert-approved ways to organize under the kitchen sink show that the best storage ideas can also be the cheapest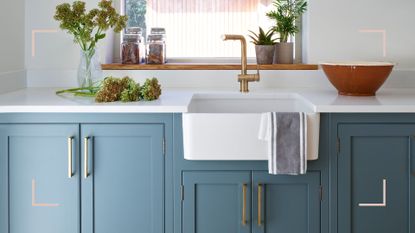 (Image credit: Harvey Jones Kitchens)
woman&home newsletter
Sign up to our free daily email for the latest royal and entertainment news, interesting opinion, expert advice on styling and beauty trends, and no-nonsense guides to the health and wellness questions you want answered.
Thank you for signing up to Woman & Home. You will receive a verification email shortly.
There was a problem. Please refresh the page and try again.
Knowing how to organize under the kitchen sink effectively will make it much easier day-to-day to navigate that space and find exactly what you need, when you need it, with ease.
Thanks to a lack of shelves and awkward spacing around pipework, the space under the sink can easily become one of the most cluttered in the kitchen. Often overlooked when organizing a kitchen as part of an annual spring clean, the cleaning products, cloths, and all sorts of miscellaneous items under the sink can quickly build up.
However, with smart under the kitchen sink organization ideas, this space has great potential and can house all of your cleaning kitchen essentials with ease.
To prevent the space from turning into a cluttered mess and bring you the best storage ideas for under the kitchen sink, we've asked professional organizers and declutter experts to share their tips and advice on the best ways to organize under the kitchen sink for a more harmonious space.
13 different ways to organize under the kitchen sink
1. Consider what deserves space
The under-the-sink cupboard is one of the most tricky spaces to organize because it feels all too easy to use it as a dumping ground for all manner of items. The secret to unlocking its potential is to streamline its contents.
Kate Ibbotson, a professional organizer and decluttering coach at A Tidy Mind says, "It's vital to utilize this space because it's usually in a central place in your kitchen."
According to Kate, the golden rule for your organization under the kitchen sink is to "store it near to where you use it". This means that you will most likely want to store items related to dishwashing and cleaning in the under-sink cupboard.
Before you start organizing, it's a good idea to think about what you're currently keeping in this space, and make changes as necessary. Kate suggests storing frequently used items in the under-sink cupboard since it's usually an easily accessible space.
2. Think about safety
Given how often we clean our homes the handy under-the-sink cupboard typically contains a lot of hazardous chemicals and cleaning products to reach for with ease, like your best wood floor cleaners, for example, that should be kept out of sight and reach of children. This is especially true of items like colorful detergent pods. If you have small children or pets in the household, it's crucial to install reliable child locks for this space.
Ideally you should consider keeping hazardous cleaning supplies in a more secure location instead of using the under-sink cupboard. Instead, when you organize under the kitchen sink, keep only child-safe items in the cupboard like dishcloths, extra sponges, and paper towels.
3. Measure and clean the area
It might sound obvious, but before you set about with your under the kitchen sink organization, it's important to prepare the area. This means cleaning your sink, and cleaning the cupboard underneath so that it's fresh and tidy.
Once you've cleaned your sink, simply wipe down the cupboard underneath with disinfectant and remove any debris that might have fallen in there.
The next step is to measure up, to work out how best to organize it to utilize every inch of room. "We recommend measuring around your pipes to help select products that fit your space," says Ashley Murphy, Co-Founder of NEAT Method.
4. Decant into stackable containers
Decant your dishwasher tablets or laundry powder into airtight containers that take up less space than bulky merchandise boxes, and are easier to store than plastic pouches filled with washing detergent capsules. Choosing stackable containers means you can make better use of the space available, not having to wrestle with awkward packing or losing valuable storage potential.
Storing the items you need to keep dry, like dishwasher pods, in airtight containers is also highly practical.
"Airtight containers are not just for food, they work really well for storing dishwasher tablets and you can easily see when you are running low," says Lauren Allen, founder of Not a Boring Box. This solution is ideal if you are looking to switch to more sustainable living solutions, "Stylish and practical - you can buy your cleaning products in eco-friendly concentrated refills and dispense into these" Lauren explains.
5. Make use of retractable drawers
Make limited space under the sink go further with savvy storage designs, such as a retractable drawer solution. The ingenious VARIERA pull-out container at IKEA is a brilliant way to store more, as the container pulls out to provide easy access to cupboard essentials.
The smart design utilizes space that might otherwise be wasted because it can be fixed high and at the back of the cupboard, where it may be too awkward to put in shelves or hooks. Simply attach the guide rail to the inside of the cupboard, elevated above any items below, then attach the slimline container to store your smaller items up and out of the way to pull out as and when you need them.
6. Store in handy baskets
One of our top kitchen storage ideas, baskets can be super handy when it comes to under the kitchen sink organization because they can be easily lifted in and out, making it easier to maintain order. However, while installing shelves in an under-sink cupboard is possible, it can be tricky to make them fit.
"The main issue with the under-the-sink cupboard is the pipes getting in the way. So another option is to measure and then choose individual boxes or baskets in different sizes so that you can make them fit perfectly in the space," suggests Kate.
"Keeping your most regularly used cleaning supplies in a portable caddy is a good idea so you can grab your cleaning kit quickly and take it from room to room as needed," says Kate. If you have space, you could even have extra baskets dedicated to things like laundry (containing detergent, fabric conditioner, stain remover, and mesh bags for delicates).
"Decorative storage for your home will give visual appeal," adds Lauren. "Metal storage baskets are not only a top kitchen trend but they are also so versatile and practical and great for storing under the sink when using them to neatly hold together cleaning products, cloths, and sponges."
7. Install an adjustable tension rod
If you still have lots of empty space above your storage containers and want to utilize it, you could also fit a short tension rod for hanging spray bottles from their nozzle near the top of the cupboard.
This is a great kitchen cabinet organization idea, and a particularly good option for anyone renting their home, as it requires no screws or other forms of permanent attachment. These also work well for storing kitchen cloths too, so is a great multi-functional organization hack.
8. Add attachments to the door
The inner door of the under-sink cupboard is often an underutilized area to provide valuable storage potential, especially as there are many gadget options for making use of this neglected extra space.
Kate suggests, "You can fit over-door storage in the form of pocket organizers," she says. "Hooks can be really useful too, or compact shelving for your dustpan and brush, tea towels, scrubbing brushes or cloths."
As well as over-door storage, you can often also fix small storage items to the door more securely using 3M sticky pads or small screws.
9. Utilise hooks where you can
Hooks can be a particular hero when you organize under the kitchen sink, and also a great hack when organizing a pantry too. Place a few self-adhesive hooks on the walls or inner door of the cupboard, and these can then be used for hanging things like washing up gloves (secured together using a bulldog clip), scrubbing brushes, or freshly cleaned microfibre cloths that need airing.
Self-adhesive hooks are a great organization under the kitchen sink option because they can be moved and adjusted super easily. If you find the hooks don't work in one part of the cupboard, you can move them simply and quickly.
10. Label everything
It's easier to maintain an organized space when there's a place for everything, and everything is in its place. That's where a simple yet effective labeling system proves invaluable.
To make sure everyone in the household knows where things are kept and where to return them to after use, simply add a few labels to the storage you've put in place under the kitchen sink. With this efficient system in place, it will encourage all to keep the cupboard tidier for longer.
11. Opt for clear storage
When you organize under the kitchen sink, it helps if you can see everything at a glance. Whatever type of storage you choose, Kate suggests opting for clear storage as the under-sink cupboard is a dark space, and transparent boxes or drawers allow you to see what you have quickly to help maintain your organization long term.
Kate also notes, "To utilize the height of the cupboard, you may need to stack boxes on top of each other or use drawers."
Many clear storage boxes come in stackable sets so that you can keep them organized more easily—with different sizes that slot into each other available from many homeware retailers. Plus, clear storage is brilliantly easy to clean—when they get a bit dirty, just empty out the content and wash them in the sink with water and dishwashing liquid.
You can also add handy labels to these too, like these Unique Laundry Room Labels at Etsy for $1.88/ £1.50.
12. Try compact shelving units
Another option is to utilize a mini shelving unit or a combination of different storage solutions based on what your space allows. This is actually one of our favorite pan storage ideas, but it can work really well under the sink too.
If you only have a small cupboard to work from, it is possible to get one-row shelf inserts that stand inside your cupboard to create another layer of storage. However, if you have a bigger space, it's worth getting something with several rows of shelves to maximize your storage space.
13. Keep shopping bags in order
Under the kitchen sink is often the place where reusable shopping bags live, which is fine provided they are neat and orderly – otherwise it can be a chaotic mess that spills out every time the cupboard is opened.
Many retailers now cater to this problem with handy over-door storage solutions, such as Lakeland's Carrier Bag Store for $12.54 / £9.99 or Amazon's Amito Over Door The Cupboard Door Carrier Bag Holder for $18.78 / £14.99. Both storage devices simply hook over the cupboard door to provide an accessible place to store shoppers as a pleasing under kitchen sink organization idea.
Sign up to our free daily email for the latest royal and entertainment news, interesting opinion, expert advice on styling and beauty trends, and no-nonsense guides to the health and wellness questions you want answered.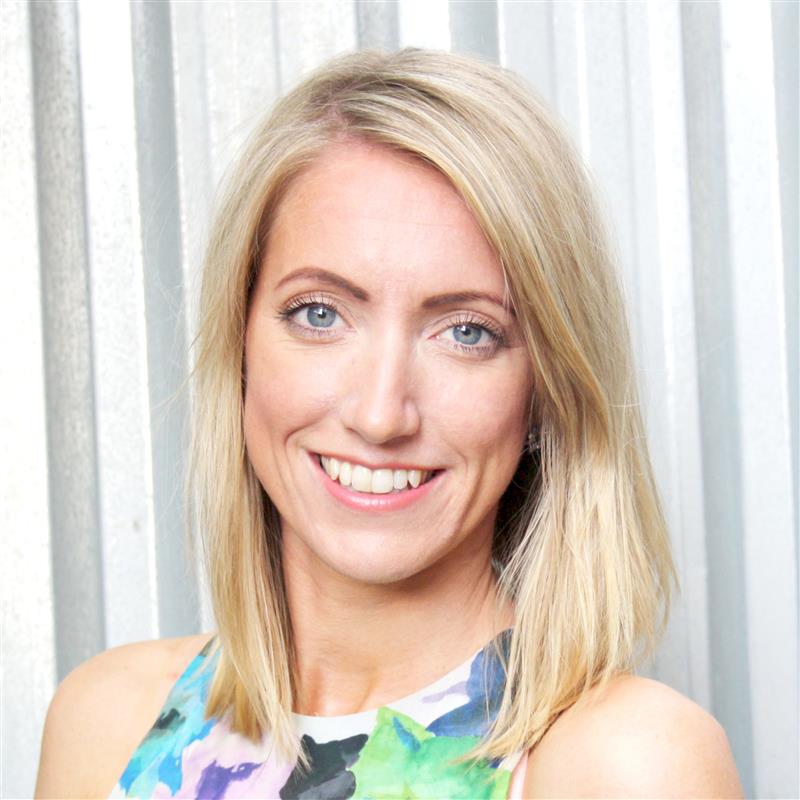 Tamara is a highly experienced homes and interiors journalist, with a career spanning 19 years. Now the Lifestyle Editor of womanandhome.com, she has spent the last 16 years working with the style teams at Country Homes & Interiors and Ideal Home, and it's with these award-winning interiors teams that she gained a wealth of knowledge and honed her skills and passion for shopping, styling and writing about every aspect of lifestyle and interiors.
With a keen eye for the latest interior trends, there's not a lot she doesn't know about home decor – whether it's what colour we should be painting our living rooms next season, or if the latest 'must-have' buys are actually worth investing in.
A true homes and interiors expert, Tamara has served as an ambassador for leading interior brands on multiple occasions, including appearing on Matalan's The Show and presenting at top interiors trend events such as the Autumn Fair and Spring Fair.

With contributions from