Small kitchen storage ideas: 10 ways to boost storage in a bijou space
Seeking small kitchen storage ideas? These clever solutions will take your compact kitchen from overcrowded to clutter-free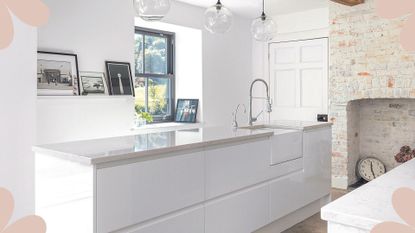 (Image credit: Future)
Good storage takes on a new priority when the kitchen is small. You may not be able to magic extra cupboard space out of thin air, but with smart small kitchen storage ideas and a ruthless cull of non-essentials, a compact kitchen can prove both practical and efficient.
When considering how to organize a kitchen of small proportions it's important to make the most of all available space to maximize kitchen storage ideas. If possible, install drawers instead of regular cupboards as they are far easier to access, and you'll enjoy more effective use of the interiors. "Use separators or organizers; drawer dividers are the best organizing tool for keeping everything under control," explains Lizzie Grant, founder of Declutter on Demand (opens in new tab).
Most kitchen showrooms include space-saving storage within their displays, so it's well worth visiting for fresh inspiration and to help decide what might work for you. Check how smoothly hinge and drawer mechanisms glide, what style of corner cupboard solution you prefer, and seek out extra-clever functions such as electronic pop-up storage and sleek pocket doors.
Small kitchen storage ideas: 10 ways to maximize space
A well-planned approach to kitchen cabinet organization ideas can result in a small kitchen that is just as pleasant and easy to use as one twice its size. Ready to find out how? Here are our top 10 small kitchen storage ideas to maximize your home's potential.
1. Take cabinets to the ceiling
Taking kitchen cabinets right up to the ceiling will make full use of the room's vertical storage potential, key when organizing a small kitchen. Professional designers also recommend this approach for drawing the eye upwards to enhance the sense of height in a small kitchen.
"Careful content organization is key. Reserve the top cupboards for items you use infrequently, like festive tableware for example, and store the stuff you use daily closest to hand," advises interior designer Ciara Ephson, of Fentiman Design (opens in new tab).
A small stepladder clipped on the back of a cupboard door will ensure nothing is impossible to reach. For safety, avoid storing anything too unwieldy or heavy in cupboards that sit above head height. Best of all, fitting cabinets tight to the ceiling means there will be no awkward void above to keep dust and cobweb free – a bonus kitchen cleaning hack of sorts.
2. Choose open shelving
Switching solid wall cabinets for open shelving will lighten the load visually and provide readily accessible storage where everything you need is easy to see in one glance – a top tip when organizing any small space.
"I'm a big fan of open display shelving in small kitchens; closed wall cabinets can dominate and enclose the room. When space is tight, open shelving is best reserved for frequent-use items, there is simply no space to waste on pretty but unpractical displays," says George Miller, home designer, Neptune (opens in new tab).
Do use the shelving itself to make a design impression. Crittall-style black metal shelving is brilliant for introducing an industrial edginess or go for rustic timber shelves for a more laidback, country vibe. "Luckily, storing everyday, regularly washed, crockery and glassware on open shelves is a great choice cleaning-wise, as they won't be sitting there for long periods of time collecting grease and dust," adds George.
3. Utilize every nook for storage compartments
When every inch of space is in demand, it's essential to hunt out every possible storage opportunity. We're talking pull-out drawers hidden at floor level behind cabinet plinths – perfect for baking trays, cooling racks, and pots and pan storage. and chiseling the corners out in an awkward-shaped alcove to accommodate a fridge-freezer or larder, for example.
If there's a spare 20cm between the cabinetry and the wall, use it to stash chopping boards and serving trays. Wine racks can also be squeezed into narrow gaps – a standard 750cl bottle is just 7.5cm in diameter but do allow a little space to get your hands around the bottle to pull it out.
"Carving out shelving niches inside a chimney breast is one of our favorite ways to keep oils and spices close to hand while cooking, without visually cluttering the area. Measure your most often used condiments to ensure a perfect fit," adds interior designer Dean Keyworth, of Armstrong Keyworth (opens in new tab). "Consider installing a socket inside the niche for blitzing soups in the pan with a stick blender."
4. Opt for portable and practical
If space is tight, you're not ready to commit or you just want more flexibility, a freestanding unit on wheels could be the answer. "Portable furniture can prove really practical in a small kitchen. A freestanding butcher's trolley or bar unit can be wheeled exactly where you need it when entertaining, then pushed back out of the way when more floor space is required," enthuses interior designer, Caz Myers of Caz Myers Design (opens in new tab).
Kitchen trolleys and portable island units are now widely available in a great range of finishes and can be used to add design differences. If you'd like to use one for extra prep space as well as storage, make sure it is a similar height to your regular worktops, around 90cm, to avoid straining your back. "Look for trolleys featuring brakes on at least two wheels, especially if the unit is lightweight," adds Caz. "You really don't want the unit sliding across the floor while you're whisking or chopping away!"
5. Keep countertops clear
The more kitchen countertop you can keep completely clear, the more space you'll have to prep foods and spread out when cooking up a storm. Empty surfaces are also easier to keep clean and undoubtedly make a small kitchen appear bigger.
"A simple shelf running the full width of the countertop can house multiple items and is great for immediately spotting what you need," says Jacqueline McLeod, founder of the Association of Professional Declutterers and Organisers (opens in new tab). "Also use a sink caddy that attaches to the inside of the sink rather than in a container on the worktop. Make use of cupboard doorknobs to hang tea towels, use under sink shelving, and interior door racks to store your spices."
Another simple way to help maintain organized kitchen countertops is a boiling water tap or induction hob-compatible kettle, this will allow you to ditch a regular kettle and its annoying trailing cable.
6. Break up solid storage
Floor-to-ceiling cabinetry is undoubtedly effective when it comes to maxing out storage in a small kitchen and just a few neat design details can make a big difference to the overall impact - to avoid it overwhelming a small space.
Glazed doors are a great, inexpensive feature and can really help break up large expanses of cabinetry. Do be prepared to make a little more effort with what you store inside, decanting dried foods into stylish canisters is a good way to avoid a mishmash of packaging in various colors and shapes. Alternatively, restrict the use of glazed doors to above eye level or go for fluted or opaque glass to obscure the contents.
Including a pocket of open shelving will also allow the eye to compute the full depth of the room and prevent full-height storage from shrinking the footprint. You can also use freestanding appliances to break up the material palette. "Concealed lighting inside glazed cabinets will make it easier to spot what you need and also add a welcoming ambiance in the evenings," adds Peter Humphrey, design director, Humphrey Munson (opens in new tab).
7. Integrate a small larder
No space to spare for a luxurious walk-in, perfectly organized pantry? A freestanding or built-in larder cupboard is the next best thing when considering how to organize your kitchen. A bespoke larder with shelving and drawers made precisely to fit everything you need to store will make the most efficient use of every inch. There are also plenty of stylish off-the-shelf larders that are fully loaded with space-saving features.
As well as looking fabulous, a well-organized larder will allow you to shop smarter, with less doubling-up on ingredients. Don't be tempted by really deep shelving above eye level, shallower shelves will prove much more accessible and reduce sell-by-date expiry wastage.
Feel free to go deeper on shelving below waist level but add baskets or drawers so that you can pull items out into view. Use the back of your larder doors to store spices, alphabetically rather than by container size. Include power sockets to host small appliances and keep your main kitchen surfaces clear.
"A good chef will organize contents rigidly, making sure everything is easy to see, at a glance, so that ingredients can be gathered quickly and efficiently," says chef and author Peter Sidwell, brand ambassador for Symphony Kitchens (opens in new tab).
8. Don't discount kitchen islands
We've all drooled over kitchens with island units that can be seen from space, but an island doesn't have to be vast to prove a valuable asset. "Dismissing an island in a small kitchen is counterintuitive as space is needed more than ever. Even an island as small as 60cm x 60cm would be useful for prep work, with vital storage below," explains Catherine Finkernagel, Director, Finkernagel Ross (opens in new tab).
The best way to work out how big you can afford to go with an island is to start by considering the available floor space. The minimum recommended walking space around an island is 90cm wide, to allow people to pass easily and cupboard doors/drawers to be opened without obstructing the traffic flow. Think carefully about the location of appliances, too. A dishwasher with a drop-down door shouldn't clash with an island opposite, for example.
Make the most of an island in a small kitchen by working out what it needs to achieve and what items you plan to store inside. This will help you make informed choices on the type of storage you integrate. Deep drawers are great for pans and can include slimmer internal drawers for cutlery and utensils, while open shelves work well for showcasing recipe books and other stylish items that will add personality and color to the space.
9. Add built-in seating
Squeezing dining space into your kitchen puts extra pressure on the available storage provisions. "Built-in banquette style seating with storage inside offers a fantastic opportunity to enjoy eating in your kitchen, without having to sacrifice too much precious cupboard space," says interior designer Clare Gaskin (opens in new tab).
The beauty of a banquette is they fit snugly to the wall so won't encroach into the room in the same way as regular dining furniture, which is perfect in a narrow kitchen – such as this example from Optiplan Kitchens (opens in new tab).
"Consider what you'd like to store under the seating and, most importantly, how often you need to access it. You may need to pull the table out to get inside, so this is not the place for frequently used items. We're big fans of drawers, rather than lid-style lift-up bench storage. The contents are more accessible, and there is no need to remove cushions to gain access," adds Clare.
10. Hang utensils on the walls
Use the vertical space between countertops and wall cabinets ­– aka the splashback area – to lift essentials like oils, utensils, and chopping boards off the surfaces, yet keep them close to hand and easy to spot. Wall-hung storage solutions can be as simple as a single brass rail with hooks for hanging spatulas and sieves, or a specialist system with integral knife blocks, plate racks, and foil dispensers. Companies like IKEA (opens in new tab) and Estilo Living (opens in new tab) sell kitchen wall storage and organizers that are buildable so you can add to them should your storage needs increase.
Don't forget your kitchen ceiling also boasts storage potential. Ceiling-hung pan racks may seem old-fashioned, but you can now get them in sleek, chrome designs and black metal finishes for a more modern, industrial look. They are best positioned above an island or table to ensure nobody hits their head as they pass through the kitchen. If your ceilings are high, or your arms are short, go for a pulley-style rack to make it easier to grab what you need.
How do you arrange things in a small kitchen?
Zoning cupboard contents according to to use is how the professionals recommend arranging any kitchen, whatever the size. Essentially this involves splitting the kitchen into three principal tasks, prepping, cooking, and cleaning.
Next, think about the best location for the items used to complete these tasks with the aim of minimizing travel. For example, store cleaning products, tea towels, and dishwasher tablets in the cleaning area, pans and cooking utensils near the hob, and knives and chopping boards close to the main prep area. Locating dried and ambient foods next to the fridge will make gathering ingredients a one-stop trip.
Also, consider walking distance when laying the dining table and loading the dishwasher after dinner. If one person lays the table while the other is cooking, it's wise to store cutlery, glassware, and plates away from the hob/sink areas so you're not clashing with each other while completing tasks.
How do I organize my kitchen with fewer cabinets?
If your kitchen lacks enclosed storage, there won't be a lot of space to hide less attractive cooking paraphernalia. Prioritize whatever cupboard space you do have for those unsightly but well-used items, like kids' lunchboxes, cake tins, and cling wrap. "Everything you put in a small kitchen should be very carefully chosen, there is no room for nasty appliances or unused pots and pans," says Helen Parker, Creative Director, deVOL (opens in new tab).
The most organized kitchen owners do regular stock takes. "Look at each item stored and think about when you last used it and whether you have anything else that does the same thing," says author and professional organizer, Kathryn Lord of More To Organising (opens in new tab). "If you haven't used something in a year, you don't use it. Either plan it into your routine or get rid."
Once you have pared back to the essentials, it's time to assess alternative ways to store them. Wall hooks, pan racks, and ceiling-suspended systems will all take the pressure off when cupboards are in short supply. Floating shelves with mugs and utensils on hooks underneath are also useful. Finally, learn how to organize kitchen drawers to ensure everything fits neatly – dividers are your friend here.
An interiors journalist for more than 20 years, Linda Clayton has worked on a wide array of consumer titles, including Homes & Gardens, Livingetc, Country Homes & Interiors and Real Homes.
She graduated from Cardiff's esteemed School of Journalism, Media and Cultural Studies with a First Class degree and Postgraduate Diploma in Magazine Journalism.