How to organize a pantry: 23 expert tips and design ideas
Mastering how to organize a pantry is key for a streamlined kitchen zone that offers maximum storage for ingredients and everyday essentials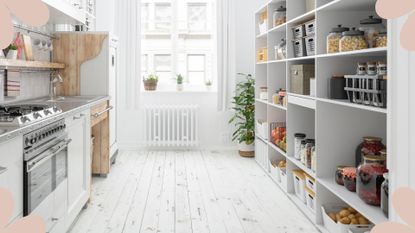 (Image credit: Getty Images | Onur Dongel)
Organizing a pantry can feel overwhelming, and it's certainly one of those tasks most of us put off until "later". But a tidy, organized space will reduce stress and save time in the future. It can even become a design feature.
"Pantries are an iconic part of today's kitchen design, from slim solutions to our awe-inspiring double pantry ideas, all giving you the flexibility of choosing storage options that work for you," explains Tom Howley of bespoke kitchen company Tom Howley. "Whether that might involve more drawers, an emphasis on shelving, multiple spice racks, or simply somewhere to close the doors on breakfast mess."
If you've already mastered how to organize a kitchen, many of the same principles and kitchen storage ideas can be used in your pantry. We explore these, along with a range of ways to make your pantry both functional and attractive, from adding baskets to your doors to ensuring essentials are stored in easy-to-reach spaces. We've also included design tips for those who are lucky enough to be creating a pantry from scratch.
How to organize a pantry: 13 top tips and ideas
Before organizing your pantry, it's useful to consider some specifics. Who else needs to use the space? Or can you adapt it to suit your own preferences? What items do you need before you get started? Will you be buying new containers, such as jars or baskets, or will you be working with what you already have?
If you can, it could be worth learning how to organize kitchen cabinets or organizing under the kitchen sink at the same time, as you can take an inventory of everything you have, and work out what storage solutions you need.
Before you start organizing your pantry, you'll also need to consider the following:
Decide how much time you have, and how much you need: How much time do you have? It's advisable to block out an afternoon and deal with it in one go. This won't be a ten-minute job.
Take everything out of your pantry and audit it: Before organizing your pantry, remove everything and audit the contents. Pantries can often become depositories for all the things that don't have another natural place. So, take everything out: food, appliances, jars, crockery, and decide what you want to keep. Throw out any out-of-date food and donate unopened, in-date items. If you have any old plates or appliances, consider giving them away, or selling them.
Clean the pantry: Use a multipurpose spray and microfiber cloth, or a cloth soaked in diluted washing-up liquid. If you're running low on cleaning products, simply arm yourself with baking soda, vinegar, empty spray bottles, and lemon. Cleaning with vinegar is also effective.
1. Organize by food type
Arranging your pantry by food 'genre' or type is a great way to keep track of what you have in stock, and to find items with ease. For example, group all the tins on one shelf, the jars on another, and so on.
This method, much like when you organize a fridge, also allows you to be more aware of sell-by dates and reduce food waste on your next shopping trip, as a result, because you'll know exactly what you need to buy. To be even more eco-friendly and sustainable at home collect jam jars, run them through the dishwasher, and reuse them for said storage.
Group like with like: keep all your baking items together, as well as your dry cooking items such as rice, pasta, oats, and lentils. Keep your tinned items together, too, as well as your spices. If you are storing any perishable items, such as cereal, remember to put products that are close to their use-by date at the front.
2. Use stylish glass jars
Use sealed glass jars to organize rice, flour, sugar, herbs, tea… the list goes on! "Transferring your pantry essentials such as rice, sugar, and flour into clear glass canisters can help keep your food as fresh as possible, and you can also see when you're running low on specific things," explains Lauren Allen, Found of home storage and organization outlet Not a Boring Box (opens in new tab).
"And while storing your food in these air-tight containers is great for freshness and shelf-life, it can also be more hygienic. Flour mites and pantry weevils are, unfortunately, way more common than you may think!" Lauren explains. "They thrive in dark and humid environments, which means your pantry and food cupboards are the perfect breeding ground for these little pests- especially in the summer."
"Flours, oats, and rice are especially attractive to pantry pests, with some of these bugs even being able to eat through cardboard and paper packaging! And so, keeping your pantry goods tucked away in air-tight containers is one of the best ways to reduce the risk of these measly mites. Alongside this, having glass storage jars will instantly make your cupboards look nicer and tidier. Who doesn't want that!?
It's also worth buying a label maker or sheets or these stylish Pantry Labels by Not a Boring Box (opens in new tab) (seen above). Labeling your jars will not only look fabulously organized, but it'll also make cooking and shopping for food so much more simple – you can see at a glance how much you have left and how it fits with your meal planning.
3. Use different containers for different foods
Glass jars have many advantages, but they may not work for your home. Children searching for snacks might do better with something lighter and less breakable, for example. Or you might need larger receptacles or ones that are easier to decant if you're using them on a daily basis. You might even want to hide some products in concealed boxes. Consider using different types of containers for different types of items. You could store canned goods in boxes, pasta in tins, and snacks in baskets.
You can incorporate any kind of storage item, from vintage boxes and straw baskets to bright, simple plastics.
4. Make sure essentials are easy to access
Only you know what you consider a kitchen essential. But make sure that the items you reach for most frequently are easy to access. Regular baker? Keep those supplies of flour, sugar, and spices on a lower or mid-level shelf, close to the door. Unlikely to touch that bulk-bought supply of tinned fish for a while? Store it higher up. Want your kids to be able to grab their own snacks? Make sure those are at a height they can reach without having to call for you each time.
5. Create an 'appliance zone'
Zoning is a popular kitchen trend, so why not apply the principle to your pantry? If worktop space is limited in your kitchen, consider using your pantry as an area where appliances, such as best blenders or food processors can be stored and used. If you can, create a dedicated area just for these appliances, away from food so your pantry doesn't become disorganized.
"An integrated workspace is ideal for housing small appliances for keeping work surfaces clear of clutter, to give a more minimalist feel and allow for more prep space, the pantry serves as an excellent solution for hiding unsightly toasters or coffee machines," says Tom.
"It can also be nice to make an allowance for a plug point in the pantry area," says Award-winning interior designer Roselind Wilson (opens in new tab).
6. Use baskets for fruit and veg
Baskets or boxes can be a great space saver and make for easy access to stored ingredients. Containers with holes will also help to keep your produce fresh, as better ventilation prevents mold from developing. "Sort all of your loose items into different food groups and then store them in baskets," advises Lauren.
Wire baskets are a great way to store fruit, or vegetables like potatoes and onions. The fresh produce you are able to store will depend on the conditions of your pantry, however, so also bear that in mind.
7. Store spices on the door
Spices can be awkwardly shaped and difficult to store, but they are also items we often need to grab quickly when cooking. The back of your pantry door can become a useful spice rack with some simple tweaks. Shallow, door-mounted wall shelves can be added without too much fuss, or you could look for hanging shelves that hook over the back of the door.
8. Use wall-mounted hooks to hang textiles
If you have free wall space within your pantry, utilize it by mounting hooks for extra storage. You can use these easily-accessible hooks to store oven mitts, towels, and aprons, freeing up valuable drawer space in your kitchen for bulkier items.
9. Mount a chalkboard on the door or wall
You'll always find a use for chalk or pinboards in your kitchen, whether it be for pinning recipes, coupons, or shopping lists. However, using a chalkboard to record your stock means you can easily see what you have, or what you need to buy at a glance. If you're designing a bespoke pantry, think about a chalkboard wall if this is something you'd use regularly.
10. Use Lazy Susans to maximize space
Spinning organizers, or lazy susans, are especially handy for storing items at the back of shelves that are otherwise difficult to reach (or see). Ideal for small things like spice jars, these nifty space-saving devices mean that your favorite condiments are just a twirl away. We especially like these matt black designs, but you can go for wood or bamboo ones to fit your preferred aesthetic.
These IKEA ENHET Swivel Shelves (opens in new tab) are only $12/£10 each and are fully adjustable to fit within existing cupboards to offer a spinning storage solution with ease.
11. Consolidate supplies
There's no point in buying the best storage solutions just to store duplicates of the same thing. Instead, bite the bullet and consolidate all your supplies. If you invest in storage containers or jars, this will be easy as you'll be decanting your dry supplies anyway.
12. Use shelf dividers
Similar to lazy susans, shelf dividers like these IKEA VARIERA Shelf Inserts (opens in new tab) are an inexpensive and easy way to maximize shelf space. Ideal for small items such as spices, condiments, and jars, these nifty little shelves can help double your shelf capacity by simply allowing you to stack more items onto each internal shelf.
These stackable storage solutions are the ideal way to organize any small space, be it a wall cabinet after a bathroom declutter or an under-sink kitchen cabinet.
13. Label storage for clarity
Take your storage needs to the next level by labeling boxes and baskets for extra clarity, which comes in especially handy when restocking the pantry with the weekly groceries.
Orderly labels help to give your organized pantry a touch of added purpose and sophistication. Either source baskets with wipeable labels already in place, like these Stackable Pantry Baskets by A Place For Everything (opens in new tab) or buy a set of clip-on labels that can be easily secured to the outside for a clear indication of what goes where.
If you have clear wire baskets it's more about knowing what to replenish the storage with once the baskets are empty but with woven baskets, it's there for ease to make every clear from a glance where everything is stored.
10 Tips for designing your pantry
If you are building a new pantry, remodeling an old one, or looking to adapt your kitchen, it's worth considering the following pantry ideas:
1. Plan for practical positioning
Choose the ideal position within your kitchen space to reap the maximum benefits and ease of use. "A well-positioned pantry should be located near to your fridge or cooker, so you don't have to travel far to reach the essentials," advises Darren Watts, Design Director at Wren Kitchens (opens in new tab). "Consider also locating it near worktop space features such as an island or table, so unpacking your shopping will become that little bit easier!"
2. Seek smart solutions for small kitchens
Pantry-style storage is still completely possible even if your kitchen is small, look to utilize how to organize a small kitchen to maximize space by adapting your wall space to perform the same function. Consider long slimline shelves, with enough depth for two cans or a bag of flour. "Maximize your space by using wire baskets to horizontally store any tins," suggests Darren.
3. Consider the height of drawers
Floor-to-ceiling drawers may look great on Instagram or in interiors magazines, but they aren't always useful. "They're only practical to a certain level as after a certain height, you cannot see into them," explains Roselind. "Drawers at a lower level are preferable as you can easily access them."
4. Utilize space with floor-to-ceiling shelving
Especially useful in buildings with high ceilings, shelving that goes all the way to the top can really help you to maximize the available space. "Utilising the full height of the room and the depth of the cabinets means every inch serves a purpose," says Tom.
To make the higher compartments easier to reach Rosalind suggests, "a bespoke ladder on railings would also not only complete it perfectly but would also allow you to reach those higher shelves. "Some people prefer to opt for a stepladder that can be stored elsewhere though if an attached ladder is too cumbersome for permanent display."
5. Consider sliding doors to conceal clutter
Using sliding or retractable doors into an otherwise open-plan pantry has two major benefits. Doors will help the space sit well with the overall design of your kitchen and installing them also means you can shut the door on your storage space - because we all know it won't always be tidy.
6. Install sections specifically for bottles
Bottles can be awkward to store, given their height and fragility, so installing storage specifically for them can be a real space saver. It also means you can see your best drinks or dressings at a glance, without having to move things around – running the risk of causing accidental spills and breakages.
7. Add a pop of color
Embrace an accent kitchen paint color idea to make your pantry stand out in style. "A pantry is a practical benefit to your kitchen space, but it can also be beautiful too," says Darren. "If you want your pantry to stand out, create a bold statement by adding a pop of color or integrate the color with your cabinets. A simple addition of color can make what is a purely efficient space feel more elevated."
8. Consider all your storage needs
When planning and designing your dream pantry remember that it doesn't have to mean one size fits all. The space can include more than merely decentered food goods in aesthetically pleasing glass storage jars, it can accommodate all your storage needs in one place.
Allow for shelves and compartments to be tailored for specific alternative storage. for instance, why not put a plate rack in the middle and some glassware storage to cater to all your entertaining needs in one space? Don't restrict your design to a standardized layout, seek small. compartments and wider spaces for anything that you need to make the pantry fulfill your own personal needs.
9. Repurpose a dresser
If a chic freestanding pantry is the dream but you don't have the budget to buy a bespoke furniture piece you could create your own take on a pantry by repurposing a kitchen dresser display cabinet.
A plain dresser can be instantly transformed into a pleasing pantry with stylish storage jars and baskets used neatly on the shelves to provide stylish storage for all your kitchen essentials. If you choose a glass-fronted cabinet ensure your internal storage feels cohesive, so opt for the same color or material to unify the look.
10. Seek smart pull-out shelving
Transform a tall cabinet with a smart pull-out larder, for an affordable option try the IKEA UTRUSTA Pull-out Larder (opens in new tab) unit that's merely a metal frame that fixes to the inside of the door with internal storage baskets that automatically pull out as you open the door. This savvy solution can double your storage space and make accessing the goods at the back of the cupboard feel like a breeze.
"Tall pull-out or cranked larder units are ideal for storing non-perishable food items while a wipeable bottom surface is easy to clean if any spills do occur," advises Symphony's (opens in new tab) in-house designer, Josie Medved. "Designs with internal drawers are also handy for smaller items while also revealing the contents quickly and easily while cooking."
Katie Byrne is a contributor to woman&home and a writer whose interests span everything from homes and interiors, to pop-culture, travel, business and self-development. A former digital editor, her freelance journalism has featured across a wide range of print and online titles, including Raconteur, Digital Spy and more. When she's not writing, she loves reading (and has the groaning bookshelves to prove it...), dreaming up new décor ideas for her flat and devouring Netflix's latest true-crime series with her husband. You can find her on Twitter: @katie_b123 (opens in new tab).