How to create a Japandi kitchen: 10 ways to style this serene on-trend look
Looking to design the perfect Japandi kitchen? These tips, from lighting schemes to layout considerations, will help you create an effortlessly cool minimalist look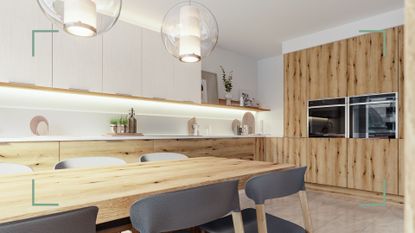 (Image credit: Smile Kitchens)
A Japandi kitchen is not only stylish but also functional, which is why it's become such a popular aesthetic with homeowners.
Not sure what Japandi is? The term first appeared around 2016, and as the name suggests, it's a design mix of Japanese and Scandinavian styles.
It's influenced by two practices — the ancient Japanese philosophy of wabi-sabi and the Scandinavian hygge — both of which value simplicity, contentment and well-being. Both ways of living also embrace nature, all of which can be translated into the look and feel. Think minimal lines mixed with simple, practical items that actually help enhance life.
"Japandi design is all about functionality and minimalism, with each item within the room having a strong purpose, whether that's a day-to-day function or decorative appeal," says Elina Enqvist-Twomey, from bathroom and kitchen manufacturer, GROHE.
Japandi also emphasizes sustainability, making it not only a stylish choice but also an eco-friendly one. All of these elements work outstandingly in kitchen design.
Japandi kitchen ideas
Just like Japandi bedroom ideas, a Japandi kitchen uses warm natural materials and is all about neutral shades and minimal clutter. Lighting is also important and, when combined with the other elements, creates a cozy, practical kitchen that you won't want to leave.
"Japandi works brilliantly well in open-plan living areas which are really popular in the UK now," says Dawn Filkins, Head of Creative at Smile Kitchens.
She continues: "It is also a very calming style that can be easily replicated through a combination of textures and finishes."
If that sounds enticing, here are some expert tips on how to get a Japandi kitchen.
1. Keep it neutral
The first step to creating a calming, minimal environment is to stick to a neutral color palette on walls and kitchen units. Soft shades such as beiges and even pale greens, such as sage green, will help with how to make a home cozy – something that's not traditionally associated with clean, minimal kitchens.
Katie Seidler, interior designer at @hello_haus advises sticking to neutral shades with warm undertones, otherwise, you risk losing the cozy element.
"Keep it neutral but warm," she advises. "Japandi is the fusion of Scandinavian muted tones with the earthy colors of Japanese design. Soft beiges, taupes, and mushroom tones will make your kitchen feel cozy. It's important to pick colors with warm undertones rather than cooler options."
These tones not only help soften the kitchen environment, but they also allow for flexibility with adding accessories and textiles in coordinating accent tones.
Don't forget you can also bring soft muted color into the kitchen through tiles and splashback ideas, perfect if you prefer to stick to the best white paint colors on walls or cabinets.
2. Choose the right kind of cabinets
An obvious material for your Japandi kitchen cabinets is wood, which will add a natural element to the room, while also looking warm and inviting.
"Wood finishes offer warmth and soft texture to prevent the space from feeling too sterile," advises Chris Dance, Head Designer and Director at InHouse Inspired Room Design.
"For added texture, choose a cabinet front with vertical wooden ridges, or combine wood flooring and cabinetry in different tones for a warm, natural feel."
David also advises ditching the handles to provide a clean, sleek feel that fits in with the minimal Japandi aesthetic.
If you're watching the pennies and can't afford to install a whole new kitchen, Dawn from Smile Kitchens says new doors can make a real difference.
"Consider replacing your kitchen cabinet doors with a Japandi-inspired style, such as our Löfte range in Oak. The door and finish scream Japandi and on their own will help to evoke the feeling you're searching for," she says.
3. Go for natural worktops
Japandi is very much about choosing quality craftmanship over cheaper buys that won't stand the test of time. And nowhere is this more important than with worktops. These are super high-traffic areas and need to last.
Countertops made out of natural materials are one of the big kitchen trends for 2023, which is perfect for this trend. A quartz worktop is not only hardwearing and low maintenance but also has a natural feel. Choose a marble or granite design in muted tones to ensure a calm coherent look throughout your Japandi kitchen.
4. Bring the outdoors in
While plants and foliage may seem more natural in a Japandi living room, they can also look super stylish in the kitchen, especially when teamed with muted, natural wall colors and wooden cabinets. Japandi is all about seeing beauty in simple, raw things – and plants are very much an integral element of this.
"Bringing the outside in is key to Japandi," says Dawn. "Add natural elements and textures such as wood and stones. Also, make sure to add lots of plants - both living and dried out."
Don't have green fingers or are not sure what will grow in your kitchen? The best places to buy plants online will give you all the advice you need, but in general aloe vera, ivy and spider plants will thrive in most environments.
Accessories can also help bring nature inside and are a cheap way of giving your kitchen a Japandi makeover.
"If you can't go all-out on a brand new Japandi kitchen, you can add some elements of Japandi in your existing kitchen by incorporating some rattan-style pieces," advises George Burrows at HomeHow.co.uk. "Things like rattan light shades and a rattan fruit bowl can help to provide some of the Japandi styles that you're looking for."
5. Create an invisible kitchen
The 'invisible' kitchen has been one of the big kitchen trends 2022 has thrown up – and it marries well with the Japandi theme.
"We all have 'stuff', but to keep the Japandi style true, look to keep larger areas free and clean," says Andy Briggs, interior designer at Optiplan Kitchens.
"Japandi styles are easy to achieve in a kitchen, using larger cupboards and pantries to hide away any clutter, keep your worktops clear."
The true Japandi kitchen will also keep all appliances hidden, so if you're having new kitchen cabinets installed, think about creating places to hide your microwave and fridge freezer. You can also go for an under-mounted sink – a kind of sunken sink if you will – to add to the spacious, minimal feel. And if you're looking for how to make a small room look bigger, hidden storage is your friend, so it's perfect for tiny kitchens.
6. Time to declutter
Wondering how to organize your kitchen so it's sleek and minimal? Sue Spencer, professional declutterer at A Life More Organized, and a KonMari master consultant recommends a good declutter if you're aiming for a Japandi kitchen.
"I always recommend decluttering first, so you make sure that you've only got the things you need in your kitchen. I like to keep kitchen cupboards organized so you can see, reach and easily use everything you need."
Once you've decluttered and got your fabulous storage space, Sue recommends storing similar items together, making it obvious where they need to go after they've been used.
The danger spot for a minimal kitchen is often the surfaces, but Sue has an idea for that as well. "Kitchen surfaces are not very useful 'work' tops if you have to clear them before using them!" she says.
"I recommend placing a plant or decorative item on the worktop to help keep the surface clear. Once you've made a conscious decision to make a space look nice, you're less likely to leave papers and other bits and pieces there."
Her other advice is to do a quick tidy of surfaces before bed every night. "Getting into a routine like this means that the clutter doesn't build up over several days and you keep on top of it," she says. "Once you get used to it you'll find that you naturally want to keep your space clear. "
7. Play with textures
To make your kitchen feel warm and inviting, the texture is key. "Incorporating warmer materials such as natural wood and soft fabrics will support and emphasize the notion of comfort, creating the ideal sleek and functional, yet inviting space," advises Elina.
An easy way to do this is with different textures and fabrics. Yes, there may not be as much opportunity in a kitchen as there is in say, a living room to do this, but there are still options, such as curtains, tablecloths, and even rugs. All of these can help inject warmth into a cold kitchen, literally and emotionally!
Katie says accessories, in particular tableware, can also add interest and texture to the overall look of your kitchen.
"Think about softening those clean lines of Scandi design with irregular shapes, unglazed finishes on your plates and bowls, and textured, reeded glassware — the more "unfinished" the more it will play into this look," she advises.
8. Don't neglect the lighting
Making kitchen lighting an afterthought is one of the most common kitchen design mistakes. Spotlights that offer glimpses of light in key areas or bright overhead lights that make the area practical, but often take away any warmth or character, are functional, but not very pretty.
Katie says this trend needs warm, ambient lighting and can be done just as you would in other rooms in your house.
"Lighting is key to setting the tone in any room — this can be done with shelf lighting or a table lamp on a worktop to give you an alternative to harsh kitchen spots at night," she says. "Think about natural materials like wood and linen for your lighting choices."
9. Dress your windows
Coziness is a very important element in Japandi style and, while you may automatically reach for blinds when it comes to your kitchen, curtains can really make a difference. Not only do they make any room look cozier, but they actually help to keep the heat locked in and keep your kitchen warm and inviting.
Whether you choose blinds or curtains, go for natural fabrics such as linen in muted shades. As layers work so well in Japandi design, a heavier curtain over a voile layer works well — or similarly, natural-colored blinds covered by slightly see-through curtains will help keep your kitchen private, while also softening the lines of the window.
And if blinds are the only option due to perhaps lack of space, go for natural options such as rattan or wood to complement the outdoor feeling of your kitchen.
10. Add unique styling touches
While your Japandi kitchen shouldn't be stuffed full of appliances and items, adding a few finishing touches, such as some ornamental vases or art can really help complete the look.
"Both Japanese and Scandinavian design focus' on function so try not to overcrowd your kitchen," advises Kate.
"Layering is very important to consider for this trend and is great to balance out the hard lines of a very functional space like a kitchen. Style your kitchen shelves or surfaces with different textures and shapes in a muted palette and layer your materials like linen, wood and ceramics, but keep it uncluttered!"
Sign up to our free daily email for the latest royal and entertainment news, interesting opinion, expert advice on styling and beauty trends, and no-nonsense guides to the health and wellness questions you want answered.
With over 22 years' experience in journalism, Jayne has written about a variety of subjects. She spent the start of her career within the world of film, interviewing Hollywood stars, attending premieres and lusting after red carpet outfits, and then moved into fashion, launching websites for big magazines such as Look, Woman's Own and Wedding and working with top fashion brands such as Westfield, LK Bennett and Hunter.
Career highlights include dressing up as Kylie (in gold hot pants!) for a national newspaper and working on big fashion events alongside Giles Deacon, Henry Holland and Naomi Campbell.