Interior colour trends 2024: the hottest hues set to dominate homes for the year ahead
Bring colour into your home with the interior colour trends of 2024, from paint shades to soft furnishings and accessories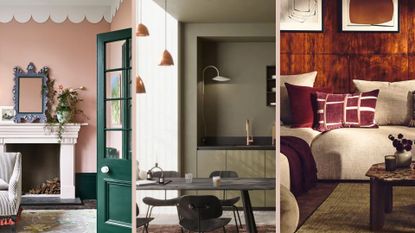 (Image credit: Annie Sloan | Rotpunkt | John Lewis)
Planning to give your home a makeover in the coming months? Embracing the latest interior colour trends of 2024 is a simple and effective way to modernise your space wisely.
We've consulted with leading design experts to find out what shades they'll be using in the coming year when bringing the latest interior design trends to life.
Everything from on-trend interior paint colours and furnishings, it seems many of the new interior colour trends are reflecting a growing desire for warmth, comfort, and connection with nature.
More and more people are craving spaces that feel nurturing and inviting. This is translating into a shift towards richer, more saturated hues, as well as a continued focus on grounding, earthy and natural tones.
Interior Colour Trends 2024: how to use the hottest hues in your home
No matter what your style is, whether you prefer bold maximalist decor or the more hushed tones of quiet luxury, there's a colour trend for 2024 that's perfect for you.
From looking to incorporate a subtle refresh on this year's kitchen trends or welcoming a bold new look to overhaul an outdated interior trend, these colours can help you transform your home.
From calming pastels that invoke a sense of tranquillity to bold and electrifying shades that make a statement, next year's interior colour trends promise to transform any room in style.
1. Plaster pink
Soft pink is having its moment in the interior spotlight. Calmer than its more vivacious sister – bubblegum Barbie pink – it offers the chance to create a calm haven in your home. Sweet Embrace, Dulux's colour of the year for 2024, is one such example of this on-trend warm pink shade.
Designer Matthew Williamson says this shade of pink is a great way to dip your toe into colour. "I love using a soft plaster pink on the walls at home, as it feels like a new neutral," he says."Warmer than grey and more interesting than beige, it adds a unique and different element to the space."
While plaster pink paint colours and accessories make for a great neutral, Matthew suggests using darker, rich shades to bring your interiors alive. "I'd suggest investing in velvet cushions and printed bed throws in rich chocolate, cinnamon and burnt orange," he advises. Imagine the shades of a beautiful sunset.
"I feel this palette will work well against the soft pink and add warmth to rooms such as the bedroom or lounge. It's also a versatile combination that works all year round, not just for the colder months."
Matthew Williamson is an award-winning, British interior designer known predominantly for his unique use of pattern and colour. Having begun his illustrious career in fashion under his namesake brand for over 20 years, Matthew has drawn on his decades of experience and pivoted seamlessly into the world of interior design. Alongside his growing design portfolio, Matthew has also launched a series of homeware collections in collaboration with John Lewis, Pooky, Roome London, Obeetee and more.
2. All the blues
Blue is the new black in the world of paint, with Benjamin Moore and Valspar both naming blue hues as their colours of the year. Benjamin Moore's Blue Nova is a deep, velvety blue that blurs the line between violet and blue, while Valspar's Renew Blue is a mid-tone blue-green that is both calming and invigorating.
Becky Dyson, director and co-founder of The Living House says blue is a natural follow-on from green, which has dominated interiors for a while now. "Blues and greens are here to stay as we continue to look to nature for inspiration," she says.
"The blues we will be seeing in our homes will change to mid-coastal tones and green to mid-toned earthy shades. They are a way of bringing the outside in and they have calming restorative qualities. Your home will feel like a sanctuary away from the chaos of everyday life."
Interior designer Michelle Shakallis Johnson believes these shades work best for "respite spaces" within the home, such as the bedroom or bathroom, saying: "This colour evokes a serene feeling that can be paired with both warm and cool colours."
Choosing dark blue duvet covers is simple enough to makeover a bedroom on a budget or you might decide to go bold and choose a sky-blue sink to revamp your bathroom colour scheme.
As the co-founder of The Living House, Becky is an expert in creating homes that work for busy families. Becky is skilled in selecting pet-friendly fabrics for customers with furry friends and knows what will stand the test of time (and claws). As a design director, Becky loves to keep up to date with the latest trends and she favours a timeless style in her own home.
3. Olive green
Move over sage green and forest green, olive is the new green on the block. "The world of interiors is getting excited for warm earthy colours as we move into 2024," says Ben Thomson, colour expert at Promain Paints. "The trend of green is set to continue with an introduction of deeper tones and in particular olive green."
This darker hue is a moodier, more sensual twist on the previous green colour trends, so would suit living rooms and bedrooms, however, don't dismiss the kitchen either. Not only is olive green a good paint colour idea for a kitchen, but it also works well for kitchen cabinets.
Rotpunkt is introducing the olive shade into their climate-friendly range of kitchens this year and Matt Phillips, head of UK operations, says this shade looks great combined with wood.
"Oak is the wood of choice for adding colour this year, able to be hand-painted to take on virtually any hue like light beige, dark brown, black and even whitewashed," he says. "Matt black appliances, hardware, worksurfaces and distinct features continue to provide the perfect accent in a coloured kitchen, such as olive green."
4. Red
Scarlet shades dominated on the catwalk this season and it's proving to be popular for interiors as well for 2024. Paint and colour expert Annie Sloan cannot get enough of red for adding flashes of colour into the home.
"Red looks beautiful as an accent in the deep blue living rooms we've embraced, as a flash of cosy colour on large pieces of furniture in the country to farmhouse looks, or as a sexy colour pop in a contemporary sixties space," says Annie.
While it's a super modern colour, it can be quite overwhelming for those who are colour-averse, so Annie advises using it sparingly to begin with. "It's a colour with great joy and passion, the boldest of all the shades, and a little will go a long way," she says.
"Ease yourself in by painting just one piece of furniture and bask in the great warmth, dynamism, and personality it brings to a space. Then, once you're warmed up take the plunge and splash around more liberally. This is a fabulous choice in social or active spaces – especially hallway paint colours and dining rooms."
Annie Sloan, CBE, invented her revolutionary furniture paint, Chalk Paint™, in 1990 and hasn't stopped refining and improving her formula since. She is widely considered one of the world's leading authorities in paint, colour and style. In 2023, Annie was appointed Commander of the Order of the British Empire (CBE) for services to interior design.
5. Biscuit tones
As well as sky blue and greens, other nature-inspired tones that will prove popular as Interior colour trends for 2024 include sandy beiges and biscuit shades.
Francesca Hadland, styling expert at luxury furniture brand Bridgman says: "Continuing the trends we've been seeing since 2020, 2024 will be the year of nature-inspired tones, reflecting a growing need to protect and appreciate the earth."
Less overwhelming than bright red, but with the versatility of grey, biscuit shades add warmth to any interior. This soft shade is a great accent to use against other on-trend shades such as dark brown or damson, and it even works well paired with the best white paint colours, offering a soothing sanctuary.
It's a beige that's anything but boring and this is one colour trend that extends beyond the shade.
"The need for a natural touch will also be reflected in the continuing shift toward more sustainable furnishings and decor like recycled upholstery, organic materials and of course, thrifted pieces," says Francesca. Making the act of buying second hand furniture more popular than ever
Using rattan accessories, such as lampshades, or hanging natural fabrics on the wall are easy ways to incorporate this shade, as well as give a nod to comforting textures, one of the biggest design trends of 2024.
6. Chocolate brown
If you like the idea of the cosiness of red, but find it too bright, Michelle Shakallis Johnson suggests going for earthy, rich browns instead. "Colours such as deep chocolates to shades of terracotta with yellow bases are versatile, neutrals are perfect for creating indulgent and inviting spaces," she says.
"These colours evoke feelings of comfort and are easy to live with. They are a warm palette that delivers cocooning, soothing and restful schemes."
For a bold statement, she suggests colour-drenching a room, painting the whole room including the woodwork in these dark, earthy shades.
If you're worried a whole room in chocolate brown will look too much like a 70s-inspired decor, instead go for furniture, such as sofas or sideboards, in dark shades of brown.
"A vintage brown leather sofa would look amazing adorned with velvet cushions or accessorise this earthy with metallic touches that will add a sunset shimmer and a touch of luxe to your lounge," advises Jemma Jaques, visual design lead at The Lounge. Co.
Michelle Shakallis Johnson
After studying at the Royal College of Art. Michelle began her career as a knitwear designer for brands such as Whistles and Calvin Klein. In 2015, while renovating her dream home in Kent, Michelle developed a passion and inspiration for interiors. Michelle retrained and set up her own company in 2018. Michelle offers a design service on large-scale remodels, quick and simple makeovers or a simply choosing paint colours.
7. Damson
Named by John Lewis as their 'Colour of the Season', Damson is a warm and inviting shade. Its richness evokes a sense of comfort and luxury, capturing the cosy ambience of the upcoming seasons.
"With searches up 309% on Google, Damson is set to be the shade of the season," says Sam Greig, senior designer at Swoon. "This rich, plummy tone adds depth and sophistication to any room."
Not sure how to incorporate this bold design into your home? Sam suggests using it as an accent wall or in upholstery. It's a shade that pairs well with other on-trend colours such as biscuit and olive green.
Alternatively, damson works well in the kitchen. Julia Steadman, commercial director at Brandt Design says that while black and grey still reign supreme in kitchens, this new shade is gaining popularity.
"Deep shades of plum and indigo blue are elevating raw materials like quartz worktops and brass hardware with a strong base colour," she says.
Julia has been involved in the kitchen industry since 1986. Having initially trained as a kitchen designer, she made the move into management and then operations. When not at work Julia enjoys travelling to far off countries and experiencing different cultures.
8. Rust
Rust may not sound like a sexy colour, but it has a softness to it that you can't get with other darker shades.
"It is about adding warmth and cocooning within the home for this coming season," says Grazziella Wilson, head of creative at Ca' Pietra and Proper Good Paint. "Rust colours are grounding and have a wonderfully calming effect on a space."
This shade also pairs well with other interior colour trends of 2024 such as damson, dark blue or biscuit. While it is a statement shade, there are ways of introducing it into your home in more subtle ways says Grazziela.
"One room where this shade is proving to be popular is in bathrooms, so look to choose a patterned tile that has rust tones running throughout it," she says.
"If you do find that this colour suits your space, you can look to then match the colour from your tiles onto your wall."
9. Soft black
Is black even a colour? Paint experts Behr say it is and it's definitely on trend for 2024, especially if you go for a soft black.
"Adding a soft black evokes a sense of confidence and individuality that we want all of our customers to feel after completing a project." says Jodi Allen, global chief marketing officer at Behr.
While it may seem a bit of a scary colour, it actually makes for one of the best living room paint colours around, making a bold statement, that still offers a cosy feeling.
''Providing an elegant and mature look, rich colours like soft black are a great option for living rooms or studies and will compliment any darker interior features, such as mahogany side tables or fireplaces'' says Lewis Janes, senior category manager of paint at Wickes.
To ensure your interior is less Morticia and more mega chic, choosing furnishings made from light wood and rattan accessories adds a softer edge to the darker tones.
Alternatively, if you want to up the glam factor, accessorise soft black walls or furniture with gold – such as bold art deco lamps or geometric gold door handles.
10. Pared back pastels
While earthy, rich tones seem to be the forerunners for the big interior colour trends for 2024, fear not, if you love something a little lighter, as muted pastels are still going to be big news.
"Pastels are always popular in the world of interiors, but in 2024, expect to see paler, pared-back hues that emanate faded, vintage glamour," says Jemma. "Sorbet shades of pale pink, mint green and lavender are all set to trend due to their softness and ease with a neutral palette."
Due to their calming nature, a pretty pastel such as lavender or pistachio makes pastels one of the best bedroom paint colours.
Jemma says that another easy way to work these pastels into your home includes choosing cushions and throws in several different pastel shades to create a pretty, laidback look. Alternatively, stick to one pastel shade and go all in.
"If you'd rather stick to one colour, we'd recommend picking your favourite soft hue and creating a layered, monochromatic look," she says.
"There's something distinctly stylish about choosing a colour and running with it! Don't try and match the shades exactly – in fact, you'll achieve a more pleasing room by bringing together lighter and darker hues."
What is the decorating colour for 2024?
"For 2024, I think unusual colour combinations will become more commonplace as people strive to create unique homes," says designer Matthew Williamson, whose book 'Living Bright' gives practical tips on how to bring colour into your house.
"Colour-drenched walls can be the single most effective and affordable way to transform and elevate a space."
While grey, greens and millennial pink have ruled the interior colour roost for years, richer, earthier tones also look set to be all the rage for the coming year.
"Earthy neutrals and shades of green will be popular for 2024, as people continue to embrace biophilic design," says Anna Hill, brand director and colour consultant at Fenwick & Tilbrook. "These colours take their inspiration from nature and can help evoke a sense of peace and tranquillity into the home."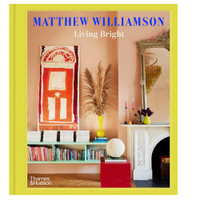 Is grey out of style for 2024?
It seems the resounding answer to the grey question is yes, decorating with grey is no longer as popular as it was a few years back.
"Making way for more characterful tones, I imagine we will see less neutrals such as white, beige and grey being used which can sometimes feel flat and perhaps a little bland," says Matthew.
Instead of using these cooler tones, Matthew sees warmer colours such as pink, tan, clay, terracotta and peach becoming more popular for interior decoration. Saying: "They instantly warm up and modernise a space, whether used individually or combined in one scheme."
Sign up to our free daily email for the latest royal and entertainment news, interesting opinion, expert advice on styling and beauty trends, and no-nonsense guides to the health and wellness questions you want answered.
With over 22 years' experience in journalism, Jayne has written about a variety of subjects. She spent the start of her career within the world of film, interviewing Hollywood stars, attending premieres and lusting after red carpet outfits, and then moved into fashion, launching websites for big magazines such as Look, Woman's Own and Wedding and working with top fashion brands such as Westfield, LK Bennett and Hunter.
Career highlights include dressing up as Kylie (in gold hot pants!) for a national newspaper and working on big fashion events alongside Giles Deacon, Henry Holland and Naomi Campbell.