How to make a small living room look bigger, according to a home staging expert
A professional home stager shares their top tips for how to make a small living room look bigger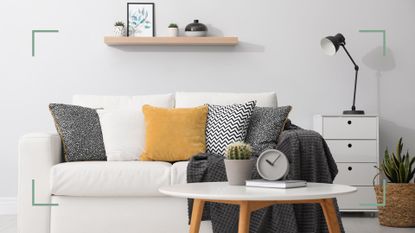 (Image credit: Getty Images | Liudmila Chernetska)
Knowing how to make a small living room look bigger helps a limited space feel more valuable and fulfilling as a key living area, and it's easier than you may think.
From removing window treatments and decluttering to rearranging the furniture layout, there are easy tricks you can use to maximize space in even the smallest of living rooms.
We enlisted the help of professional home stager Elaine Penhaul, director at Lemon and Lime Interiors to discover how to make a small living room look bigger with simple styling tips. As a professional home stager, Elaine excels at giving a home maximum appeal to potential buyers the minute they walk into a room, so it's no wonder she knows all the tricks for how to make a small living room look bigger.
How to make a small living room look bigger: 10 easy ideas
1. Declutter and store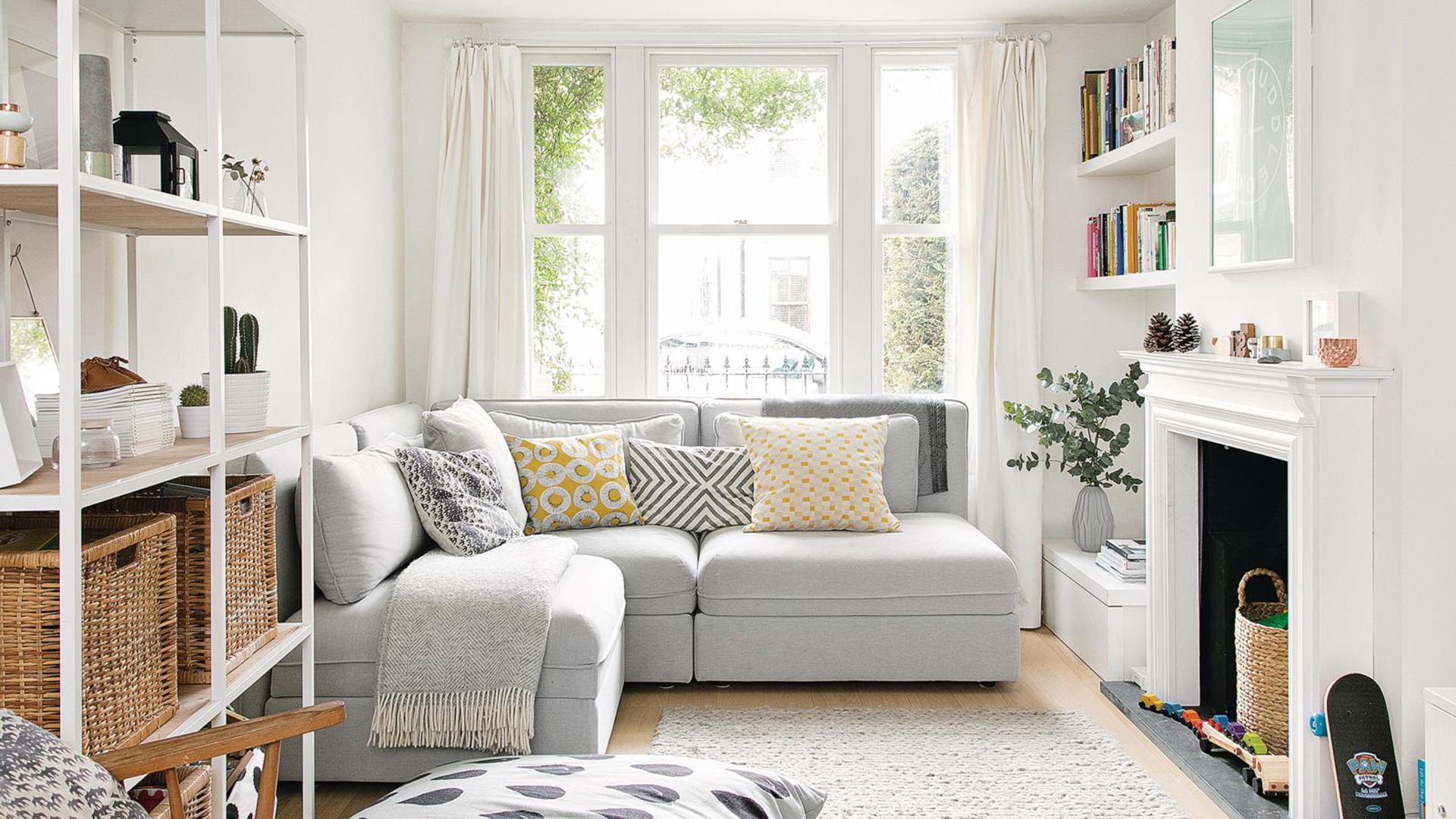 Decluttering is the key to organizing a small space so start by undertaking a thorough clear-out to ensure the limited space feels less overwhelmed by 'stuff'. "Small rooms can easily become cluttered, so it's important to think about what you are bringing into the room and the purpose it will have," says Elaine.
"Shelving will make the space feel bigger but only if you are tidy. Glass shelves are especially good for keeping a space light and open. Using solid shelves with mirrored glass between, especially if the mirror faces the garden and brings an unusual view into the room, is also a really interesting way to make a small living room feel much bigger."
When space is at a premium it pays to be smart with hidden storage too. Look for hidden compartments within sofas or TV units with extra storage. "There are now lots of furniture options with inbuilt storage available on the market which work perfectly, such as storing excess throws and cushions, " suggests Elaine. "Optimize floor space by opting for built-in storage, another great option to either store items away in style."
2. Free up floorspace to improve the flow
Elevating everything within your small living room will help to create a sense of space and a continuation of flow. It's all about perspective – clearing areas beneath the furniture enables the eye to see more floor space. Even though it doesn't change the literal floor plan, it creates a greater sense of space because more of the floor is visible.
"Furniture on legs is a great way to give a perception of space. If you can see straight through the room and your view isn't blocked by furniture it really makes a difference," advises Elaine.
3. Ditch the sofa
It feels like there's an unwritten rule that every living room requires a large sofa, but in fact, all you need is comfortable seating that caters to the space. If that space is limited, think about ditching the sofa in favor of other soft furnishings or chairs.
If entirely going without a sofa fills you with dread, choose a smaller model so it takes up less space. Not only will there be less of a solid block of furniture, but armchairs also give you much more freedom in determining the layout.
"Using armchairs instead of a sofa can be a great option to give more flexibility in where the seating is positioned. Plus chairs can easily be moved around to change the look and feel of the room," advises Elaine.
4. Welcome light with mirrors
Using mirrors and mirrored surfaces to welcome light in small living spaces is the oldest styling trick in the book, but it's the best one for creating a sense of airiness. "Large mirrors are another obvious way to use wall hangings to open up a room," says Elaine. "Go large, and angle the mirror towards the garden if you can to bring in the perception of extra depth to the room."
Elaine elaborates on how it's not just wall mirrors that work in this way, the same effect is achievable with glass furniture and surfaces. "Glass coffee tables also reflect the light so are great choices for continuing the flow through the room," she adds.
5. Perfectly position furniture
Work with the dimensions you have to make every inch count. "You don't necessarily have to choose the smallest pieces of furniture to make a room feel spacious. Finding the right fit is more important," Elaine emphasizes. "For example, we found a perfectly fitting corner sofa recently that allowed a small room to be efficiently divided into a sitting and dining room. This in itself made the room feel twice as big."
Create a layout that works for your furniture rather than trying to force furniture into the 'obvious' living room layout, if a better-proportioned sofa enables space to be used most effectively move it to a different spot. Or move a coffee table off to one side so it doesn't take up too much of the floor space or place a small dining table into an alcove space where it fits perfectly.
Believe it or not, moving furniture ever-so-slightly away from walls is another great way to make the space feel bigger because it feels less constricted. Curved shapes and organic lines are a key interior trend of 2022, which places less emphasis on pieces neatly fitting against vertical walls.
6. Maximize natural light
Utilize natural light to make the small space feel airier. "Light can have a huge impact on the perceived size and space of a room, with natural light being essential to brightening and enlarging your home," explains Elaine. 
"Use a compass app on your phone to find out exactly how the light moves around your living room and orientate your furniture accordingly - helping to maximize the useful light in your living space, keeping you energized throughout the day."
"Taking down window dressings and keeping your windowsills free of clutter also allows you to get as much light as possible into the area," Elaine suggests. Ensure you've mastered how to clean windows for a streak-free finish to maximize the light even further. "Skylights are also great for this, so if your living space is in a single-storey extension or a bungalow, this is definitely something to consider – if you have the budget."
7. Lay down a large rug
"A large rug is much more effective in a small room," says Elaine, "not only does it create comfort underfoot and warmth in the room, but it helps to maximize the space". A large rug may feel counterintuitive for maximizing a small space but it works by creating the illusion of more floor area, because of the scale. The same principle can be applied outdoors - the best outdoor rug can really help maximize a garden small plot.
Positioning the rug under furniture will also make the floor feel more generous and anchor the pieces. Where a small rug would 'float' in the space and draw the eye inwards, in effect drawing attention to the limited surface area, a more generous-sized rug will create a better perspective to help extend the floor.
"Rugs are also great for adding color and personality while also being practical," Elaine adds. Just be wary of going too bold with your design, because you run the risk of overwhelming the small space. Opt for block color over a heavily patterned rug design if you do want to add a decorative touch. Otherwise stick to neutral and textured designs, to add interest without distracting too much from the rest of the decor.
8. Use alternative room dividers
 Use simple styling ideas to create 'zones' to create a multipurpose living space. if the room has more than one purpose, it will feel bigger simply by the sense of detachment from one zone to another.
"Finding objects to act as room dividers is a great way to create extra space in your living room. Not only can plants bring color and freshness to a room, but they can also create a partition to break up multifunctional spaces," suggests Elaine.
" A console table, shelving unit, or sideboard with tall lamps can serve the same purpose - especially if you are using a dining table in your living space as a daytime office while working from home."
9. Choose white
An easy and effective way to open up a small space is by choosing a white color scheme. From walls to furniture, a splash of white can work wonders for making a small living room look bigger and brighter. There's a reason why it's one of the all-time best living room paint colors.
"Keeping the walls white may seem boring, but it is the easiest way to add light and make a room feel more spacious," explains Elaine. "It creates a clean and modern canvas which can be built upon with pops of color in cushions and artwork."
Elaine adds, "using lots of textured materials will also help layer the space and will add warmth. We love using lots of textures when color will shrink the space even further."
10. Thoughtfully position artwork
When it comes to living room wall decor it is not the scale of artwork that matters, it's more about where you choose to hang it that holds the key to how you can make a small living room look bigger.
"Don't be afraid of artwork, just consider where it is being positioned," advises Elaine. "Choose to hang artwork on the largest wall space to give a sense of openness. Contrary to popular perception, bigger canvases will make the space feel bigger, not smaller. Avoid lots of fussy prints or a gallery wall if your space is limited and go for a big, bold statement piece."
Tamara is a highly experienced homes and interiors journalist, with a career spanning 19 years. Now the Lifestyle Editor of womanandhome.com, she has spent the last 16 years working with the style teams at Country Homes & Interiors and Ideal Home, and it's with these award-winning interiors teams that she gained a wealth of knowledge and honed her skills and passion for shopping, styling and writing about every aspect of lifestyle and interiors.
With a keen eye for the latest interior trends, there's not a lot she doesn't know about home decor – whether it's what colour we should be painting our living rooms next season, or if the latest 'must-have' buys are actually worth investing in.
A true homes and interiors expert, Tamara has served as an ambassador for leading interior brands on multiple occasions, including appearing on Matalan's The Show and presenting at top interiors trend events such as the Autumn Fair and Spring Fair.