Working from home during the coronavirus outbreak? Here's how to make sure you're still productive
There are a few easy ways to help you get into the working mindset.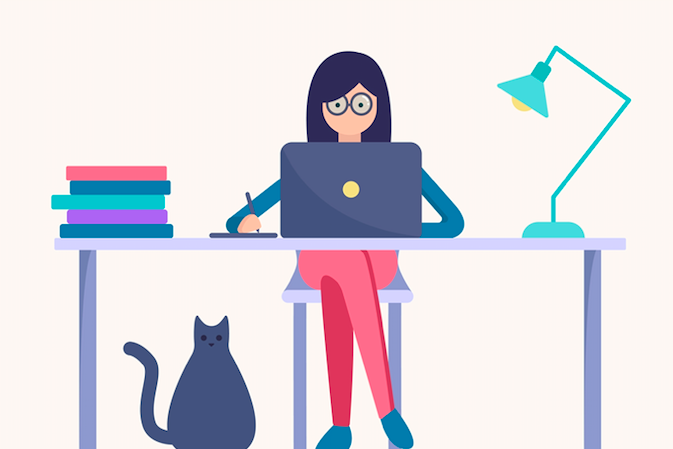 By Amy Hunt
With the coronavirus pandemic ongoing, those who can across the UK, are now working from home for the foreseeable future.
Even before the UK lockdown, many bigger companies, including the likes of Microsoft, JP Morgan, and Google were among the the first to tell employees to work from home.
But when Boris Johnson announced on 23rd March that those who could must work from home for the next few weeks at least, it meant that everyone who was able to, began a different way of working.
Previously to the lockdown, working from home may or may not have been part of your daily working life already. If not, the idea of organising your day without the normal routine of the office - and with the distractions of your home - can seem daunting.
Heck, even if you already work from home regularly, it can sometimes feel tricky to be as productive as possible. After all, who can concentrate on work when there's a mountain of washing staring at you from the bedroom floor?
But of course, it's important that your workday remains efficient, even if you're not in your normal environment. So how can you make sure you're staying productive whilst working from home during the coronavirus crisis?
How to be productive when working from home
Create an 'office' - even if you don't actually have one
Clare Evans, a time management and productivity coach,suggested clearing an 'office' space for yourself before you start working, and have a permanent spot set up if you work from home continuously. Essentially, it's about avoiding perching on the sofa!
"Clear a space to work in. Preferably a permanent space, such as a spare room, - otherwise the kitchen or dining table or the corner of your living room. If you regularly work from home, it's better to have a more permanent space where you can have everything you need to hand without having to clear things away all the time."
Abigail Ireland, a peak performance strategist and productivity expert, explained, "The reason for this is that it helps your brain to associate a location with "work", enabling you to focus and get in the zone more quickly. It also means the rest of your home remains associated with rest and relaxation, rather than constant reminders of work."
And ensuring the space you set up is tidy, organised and calming is just as important. Clare said, "Keep papers in files and folders that you can put away at the end of the day. Have clear space around you as you work."
Accept that things simply won't be as productive if you have kids at home too
Now that we're a few weeks into the lockdown, many working parents, whose kids are now home from school, have acknowledged that it's simply not possible to be as productive with little ones in tow.
Clare Evansexplained to w&h, "You won't be able to have clear, uninterrupted time to work for as long as you want. There will be added demands on your time, especially with younger children around.
"Spend what limited work time you're able to carve out, working on your top priorities. Be really focused and selective on only doing the tasks that will get you the greatest results."
She also advised splitting childcare with a partner, if possible, to create a clear block of kid-free time. "Divide your day, so you can both spend time with and care for young children and get a couple hours of productive work done."
Add nice touches to your workspace
Your new workspace should be somewhere that you look forward to working in. So Abigail advises using essential oils to improve the space. She toldw&h, "Use essential oils in a diffuser to naturally freshen up your workspace, promote calm and hydrate internal air that has been prone to too much central heating over winter. Use rosemary, peppermint, grapefruit or eucalyptus oil for a sense of wellness and to enhance focus."
You can also use candles to diffuse essential oils and create a complementary mellow light. We recommend these Holistic London candles, as they're completely natural so don't contain paraffins that release harmful chemicals into the space around you.
Having plants around you in your workspace has also been proven to decrease stress, so having a small house plant on your desk not only makes the area more inviting but helps you to work more productively. The idea behind it is that the colour green promotes relaxation and calm, so you can get on with your work with a positive mindset.
Establish boundaries with the people you live with
Working from home has the potential to blur boundaries between work and home life. But according to Clare, it's important to set restrictions in the same way you might at the office. This means making clear to friends, family and kids what you need when you're working from home.
"It can be challenging if other people are around you when you're working from home", she noted. "If you're in your 'office' space – you are working. If you get distracted, take a complete break and then get back into work mode."
But, she advised, "Be mindful of their needs too. They may expect you to be more involved. Explain when you can and can't be disturbed and when you need space, time or some peace and quiet."
The productivity expert also shared that it's important to make clear to loved ones that just because you are working from, it doesn't mean you are available to chat or do other things.
"Unscheduled 'drop-ins' by friends or relatives can be a disruption. Politely tell them you're working or take unscheduled break but let them know it's not always convenient. Set the boundaries in the beginning and it will make it easier for everyone."
Treat working from home (almost) exactly like a working day at the office
If you're working from home, it might feel tempting to tick off a few bits on your home to-do list, as well as your work to-do list. But Clare advises against doing this.
She said, "While you can be flexible with your working day don't be tempted to blur the lines between home and work life too much.
"By all means take breaks during the day to have some 'home' life, or time to get chores done, but place a time limit around these. Set a fixed start and end time to your home working day."
Perhaps agree with yourself to put a load of washing in during a five-minute break at 11am, or pop to the post office during your lunch break - but keep it to that, and when you're working, make sure that's all you're doing.
MORE:Money expert Martin Lewis has issued travel advice amid the coronavirus crisis
And in the same way you set boundaries with friends and family at home, it's important to do the same with work acquaintances - and work in general. When working from home, it can easily become tempting to keep plugging away, because it's easy to just stay at your laptop. But, Clare said, "Avoid the habit of working all hours - late into the evening or on weekends just because your office is at home, only a few feet away and you can just 'pop in' to check emails.
"Use voicemail or switch off your 'work' phone of office hours. Just because you're working from home doesn't mean you have to answer the phone for work related calls or answer work related emails outside of working hours. That also applies if you usually work from an office."
Constantly being 'on' can have a potentially negative effect on your mental health - so it's vital to set boundaries and avoid the temptation to be available all the time.
Try 'going to work' to get you in the zone
We know what you're thinking - pyjama's are just part of the deal if you're working from home, right?
Well, Clare notes that - although you may not want to - it might actually be helpful to your productivity to change out of your nightclothes before you start working. She told w&h, "Switch from home to work mode by getting up and dressed and into a work mindset rather than lounging around in your PJs all day - tempting as it might be. Even if you're in a relaxed, comfortable clothing, rather than your usual business attire."
MORE:UK rail networks introduce new scheme to support victims of domestic violence
It can also be useful to pretend as though you are 'arriving' at work, and then later, 'arriving' back at home.
Clare said, "[If you have kids], use returning home from the school run as 'the start' of your workday - or if you don't, try and a morning walk around the block to 'the office'. When you get back it's work time. If you're already at home when you start work, you're more likely to drift into work."
Take advantage of the space working from home gives you to concentrate
While you may be nervous about doing so if you haven't before, working from home can be an amazing opportunity to concentrate on working without the distractions of an office - so enjoy that!
Abigail said, "Working from home is brilliant when you need to get stuck into deep work or strategic thinking.
"Turn off notifications, set a temporary out of office, and ensure your colleagues know what you're doing - then get stuck into the tasks you never get a chance to focus on in the office."
If you're not quite sure how to, Abigail explains, "Spend the first hour each day doing the one task that you keep avoiding but that is going to make a big impact. This usually falls into the "important but not urgent" bucket. Use the time you would otherwise spend commuting to get stuck into making solid progress on this task."
Amy Hunt is Life Channel Editor at womanandhome.com, having been with the brand since 2015. She began as the magazine's features assistant before moving over to digital as a News and Features Writer, before becoming Senior Writer, and now a Channel Editor. She has worked on either women's lifestyle websites previously too—including Woman's Weekly, Goodto.com, Woman, and Woman's Own. In 2019, Amy won the Digital Journalist of the Year award at the AOP Awards, for her work on womanandhome.com. She is passionate about everything from books, to homes, to food and the latest news on the royal family. When she isn't editing or updating articles on cleaning, homewares, the newest home gadgets, or the latest books releases for the website, she's busy burying her nose in a gripping thriller, practising yoga, or buying new homeware of her own.