Best goal planners for 2022—whether you want to thrive at work or focus on your health
Here's our pick of the goal planners that will have you achieving more this January and beyond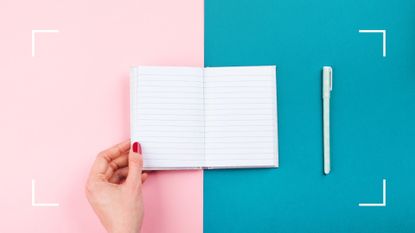 (Image credit: Future/Getty Images)
If you want to achieve more this year than the last, then a goal planner could be the perfect way to stay accountable. They have been rising in popularity in recent years as a performance-enhancing upgrade to ordinary diaries—using a specially-designed format with motivational and productivity-boosting techniques woven through the pages. After 12 months in which there has been much uncertainty, this is a small but smart way to keep yourself on track.
The best bit is these planners—sometimes called goal journals—can be applied to any hopes and dreams you have in mind, not just month-long New Year's resolutions. Whether that's flourishing at work life, getting fit (our guide to the best Fitbits could come in handy, too) or making time for the important relationships in your life.
Not sure where to start? We've tried and tested the best goal planners to help make 2022 your best yet and teamed this with expert advice on how using them could supercharge your life. Filling one in can help you get more done and look after your wellbeing, both mentally and physically, at the same time—it could be the best gift you give yourself in 2022.
The best goal planners
1. UltimateYou Planner
Best health-focused planner
Specifications
RRP: $40/£29.99
Length: Six months
Reasons to buy
+
Helps you to work out exactly which goals you want to achieve
+
Breaks down aims into a step-by-step process using evidence-based techniques
+
Reminds you daily to focus on your wellbeing too
Reasons to avoid
-
You're after a year-long planner
The UltimateYou Planner has been specifically designed to help you to not only achieve your goals—but also help you decipher the best aims to shoot for in the first place. The first part of the planner is subtly infused with scientifically researched goal-setting theory, with questions to help you conclude whether losing weight or nabbing that promotion will—ultimately—make you happier.
Once you've chosen what exactly you want your goal to be, the page-a-day format keeps you motivated and accountable to achieve it within the six-month length of the planner (for longer-term aims, you'll need to opt for their bundle of multiple planners). Our tester found the 'doing' part of the process really helpful. Daily evidence-based, productivity-boosting techniques include being encouraged to write down what you're grateful for, as well as the 'rule of three'—where you limit your to-do list to a trio of things—and 'time blocking', in which you break down your day into particular tasks.
What's particularly commendable about this planner is, as well as helping you tick off the tasks you're always tempted to push back, it aids you feel really good too. You're encouraged to prioritize your physical and mental health, by keeping track of your water intake and scheduling in a daily 'mood booster', be that a stretch (perhaps on one of these best yoga mats) or a takeaway hot chocolate. To top it all off, the stylish design (our tester went for pink) won't look out of place on any desk—whether WFH or back in the office.
2. Lethally Her 2022 Productivity Planner
Best planner for balancing personal and professional goals
Specifications
RRP: $40/£30
Length: One year
Reasons to buy
+
Beautiful illustrations
+
Budget planning section to help you take control of finances
+
Handy elasticised band to keep closed
+
Acts as a gratitude journal
+
Accompanying stationary, such as stickers and daily planner sheets
Reasons to avoid
-
Hefty in size, so may not fit as easily into some handbags
-
No habit tracker
This goal planner goes far beyond your average diary, really encouraging you to think about how to enhance your life for the better and reach both personal and professional goals. The first page is all about self-awareness with a mini self-assessment form to help you understand important things about yourself—such as what type of person you are, what type of person you want to be, what makes you happy, what your strengths and weaknesses are, how you respond to stress, and what your 'non-negotiables' are in relationships and friendships—a vital question for anyone who feels like they're often taken advantage of or who tends to settle in friendships and relationships and not speak up.
This planner focuses on turning your dreams into a reality. Each month has a space for you to write down your manifestations for the month, to encourage a more positive attitude. Our tester found the daily pages helpful for planning, with a affirmation/manifestation for each so that you can set your intention each morning, schedule and to-do list sections for the practical bits, and daily gratitude and self-care boxes to keep your body and mind healthy. You could even schedule in your at-home workouts, morning breathing techniques to aid anxiety and block out time to pamper yourself.
3. Lovendu Happiness Journal
Best planner for boosting your mood
Specifications
RRP: $28/£20
Length : One year
Reasons to buy
+
Specifically designed to boost wellbeing
+
Mental exercises to encourage healthy though processes
+
Goal-setting exercises
+
Slim and attractive design
+
Habit tracker
Reasons to avoid
-
Less detailed sections than some guides
Laura Schmidt, founder of Lovendu, started the brand in the UK with just £10 and a dream in 2020, after she started journaling to improve her own wellbeing after the mental stress of the pandemic. Almost immediately after picking up her new habit, Laura felt she had more self-awareness, was becoming more productive and was feeling happier in herself. She explains, "I began to realise the benefits of journaling and wanted to share this with others. This is how my own dream of starting a business began."
The Happiness Planner from Lovendu is specifically aimed at helping anxiety, overthinking, depression, confidence, and productivity, using principles from cognitive behavioral therapy (CBT) to help users become a master of their own thoughts. Our tester found the focus on mental wellbeing helpful for feeling more mentally strong and helpful when dealing with the stresses of daily life. The planner also includes amazing goal-setting exercises, organisational checklists, habit trackers and financial planning.
4. Yes Studio Power Planner
Best planner without specific dates
Specifications
RRP: £10
Length: 384 pages (no set dates)
Reasons to buy
+
No set dates, day-to-day format
+
Less rigid structure
+
Space for daily notes, doodles and to-do lists
+
Secret pocket for 'sneaky stuff' and page keeper with ruler
The perfect goal planner for those who don't work to specific dates, this handy diary still has everything you need to get organized—from hourly scheduling areas, and sections for daily doodles, notes and to-do lists. If you do want to add dates and use this planner like a regular diary, there is the option to do so.
Our tester liked the freedom of not having to commit to this diary every day, instead blocking out periods of their week to focus on planning and organizing their time. They also commented that little doodle box at the bottom was a great way to spend a mindful moment.
What is a goal planner?
"A goal planner or journal is essentially a record of progress towards your goals, helping you to achieve them whether they are short, medium or long-term aims," says Moyra Mackie, a qualified executive coach, also known as The Journal Coach. "It helps you to think about the end point—what it is that you want to achieve? It then encourages you to break down the journey into smaller steps, working back from the future to the present moment." She adds that this process also helps remove distraction and declutter our mental space in order for us to focus on what we want to get done.
Susie Pearl, psychologist, coach and author of The Art of Creativity, notes, "It helps you to break through the barrier of not knowing where to start with your thoughts and ideas." She explains that it will guide you in working out what your priorities are in life, and tracks routines day-to-day, helping you discover what are negative habits and which are good ones that you want to keep. "This can clear your mind, to reduce anxiety symptoms and stress," she adds.
How can a goal planner help you?
"Everyone is different, but a goal planner can be a great way to keep yourself on track and celebrate the steps along the way," says Emma Jefferys, qualified coach also known as Action Woman, who runs the masterclass Goal Digger at Soho House.
Jim Rees, emotional intelligence expert and author of Vicious Cycle, agrees that they are effective when it comes to motivation. "Writing goals down and having a physical representation of them can help you keep you accountable," he explains. "They can also help you to make your goals time-bound, which is crucial for success."
So, what's stopping you? Perhaps for good measure, you can mark down these astrological events in 2022, too.
---
w&h thanks Moyra Mackie, qualified executive coach, also known as The Journal Coach, Susie Pearl, psychologist, coach and author of The Art of Creativity, Emma Jefferys, qualified coach, also known as Action Woman, who runs the masterclass Goal Digger at Soho House, Jim Rees, emotional intelligence expert and author of Vicious Cycle, for their time and expertise.
Sign up to our free daily email for the latest royal and entertainment news, interesting opinion, expert advice on styling and beauty trends, and no-nonsense guides to the health and wellness questions you want answered.
Lauren is a freelance writer and editor with more than six years of digital and magazine experience. In addition to Womanandhome.com she has penned news and features for titles including Women's Health, The Telegraph, Stylist, Dazed, Grazia, The Sun's Fabulous, Yahoo Style UK and Get The Gloss.
While Lauren specializes in covering wellness topics—ranging from nutrition and fitness, to health conditions and mental wellbeing—she has written across a diverse range of lifestyle topics, including beauty and travel. Career highlights so far include: luxury spa-hopping in Spain, interviewing Heidi Klum and joining an £18k-a-year London gym.