Astrological events in 2022—mark your diaries for retrogrades, eclipses, and more
These astrological events in 2022 are opportunities to open new chapters and close others—but watch out for certain dates!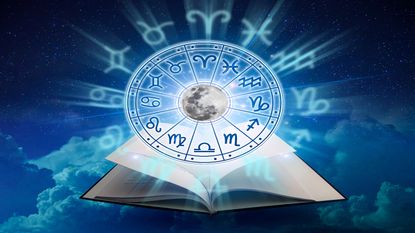 (Image credit: sarayut/Getty Images)
woman&home newsletter
Sign up to our free daily email for the latest royal and entertainment news, interesting opinion, expert advice on styling and beauty trends, and no-nonsense guides to the health and wellness questions you want answered.
Thank you for signing up to . You will receive a verification email shortly.
There was a problem. Please refresh the page and try again.
Each year's astrological events are charged with all kinds of energy that often only make sense in retrospect. However, if you're armed with the knowledge of which dates are important ahead of time—you can harness these energies and make the most of them.
Knowing your 2022 horoscope is vital and it goes without saying that knowing how to read your astrology birth chart will enhance this experience even more.
However, in terms of the collective experience, it's pretty important that you know about all of the events that will collectively hit us all. If you're still feeling the brunt of Venus in retrograde 2021 and the cosmic call to action of Jupiter in Pisces 2021—2022 you know exactly what we're talking about!
As the saying goes, knowledge is power and there are certain dates to remember—for both good and bad reasons. Specifically, here are the five astrological events that are sure to make for a game-changing 2022.
When is Mercury retrograde 2022?
Mercury retrograde in Aquarius and Capricorn: January 14-February 3, 2022
Mercury retrograde in Gemini and Taurus: May 10-June 2, 2022
Mercury retrograde in Libra and Virgo: September 9-October 2
Mercury retrograde in Capricorn: December 29, 2022-January 18, 2023
---
In the coming year, each Mercury retrograde will be moving through two zodiac signs.
This is an energetic shift for Mercury retrograde, we've been experiencing them in air signs and now we are re-entering the earthly realm. Miscommunication and themes to revisit will be related to our resources, our processes, and structures. There is a deeper need to rethink and reprioritize our values, how we expend our energy, and what we are hoping to build and create for the future.
---
When is Jupiter in Pisces 2021—2022?
January 1—May 10, 2022
October 28—December 20, 2022
---
Jupiter in Pisces is one of the luckiest transits in the sky. Jupiter adores being in the zodiac sign of Pisces, it's Pisces ruling planet in traditional astrology. This means that it's better able to achieve its Jupitarian goals of expansion, opportunity, learning, and fortune as it moves through the double-bodied sign of the Two Fish.
This combination makes for more empathy and compassion, but can also create a desire to disconnect and dissociate. As our psychic sensitivities open up, we may find ourselves more overwhelmed and eager to unwind via streaming shows or getting lost in vices.
The last time Jupiter was in Pisces was 12 years ago, and this is a rare meet-up. It has the ability to assist us in accessing our inner power and magic. This is a magical transit that you will want to make the most of. It's time to bring your manifestations into the tangible realm.
You will have two windows to access this portal of energetic opportunity before Jupiter enters Aries. Jupiter will be in the sign of the warrior and pioneer from May 11 to October 27, 2022. Jupiter's energy is generally considered a benefit, or positive, influence in astrology, but it doesn't have the same magic as it does while in Aries that it does in Pisces.
When are Taurus and Scorpio Eclipses 2022?
April 30, 2022: Solar Eclipse in Taurus
May 16, 2022: Lunar Eclipse in Scorpio
October 25, 2022: Solar Eclipse in Scorpio
November 8, 2022: Lunar Eclipse in Taurus
---
In astrology eclipses, like the solar eclipse on December 4, 2021, track cosmic patterns and happenings that occur in the earthly realm. They bring fated events, destined meetings between people, and remind us that we aren't always in the driver's seat.
This year, our eclipses shift from Gemini and Sagittarius into Taurus and Scorpio. The Taurus/Scorpio axis revolves more around the physical world, financial institutions, worker's rights, nature, human suffering, loss, and the concept of sorting through our shadow sides as a collective.
The last time we experienced eclipses with the North Node in Taurus and the South Node in Scorpio was in November 2004. Think back to that time period and reflect on what was going on in your life. That will give you insight as to what your personal eclipse story might entail this time around.
When is Mars retrograde in gemini 2022?
October 30, 2022—January 12, 2023
---
In astrology, Mars is the planet of action, anger, sex, and motivation. When it stations retrograde, these areas in our lives are affected and there is an energetic shift toward the internal.
Projects may slow down. We may repress our anger and stew in frustrations. We may lose some of our sexual prowess or desire to be desired. Our closest relationships are tested: Have we been direct about what we need? Are these issues that have been marinating under the surface that need to be addressed?
This doesn't have to be a hellacious period of time, it's an invitation to slow down. To rethink our approach and to craft a plan that is sustainable and fulfilling. This is a reminder that rest is a universal given right, and something we all need as humans.
When is the North Node Conjunct Uranus in Taurus?
---
Here's the thing—The North Node is a point of fate in astrology. When planets cross the Nodal path, destined events may occur. On July 31, the North Node in Taurus will meet with Uranus in Taurus at 18 degrees.
Uranus is the planet of sudden events, shock, rebellion, and breakthroughs. This is a course correction for the collective. A reminder that old structures need improving and must go.
It's possible we'll see big, surprising headlines around this time. The following day of August 1, Mars, the planet of war, anger, and motivation, will join the other two to make a trio. This is a very erratic and volatile energy. It's a breakthrough in a combative sense. We will need to release in order to move forward.
Stephanie Campos-Powell is a Mexican-American astrologer, modern mystic, writer, editor, and serious cat lover. She's got four obnoxious planets in Leo and thanks the stars every day for her grounding Virgo moon. Reading celebrity birth charts just puts the wind in her sails, and so does Zumba. In her spare time, you can find her helping others step into their power with the help of magic, spellwork, astrology and various healing modalities. And creating passive-aggressive astrology memes about her loved ones.