Jupiter in Pisces 2021—2022: here's why your Zodiac sign is about to get lucky
Jupiter in Pisces 2021 might herald the much-needed boost of positivity that you've been waiting for as the year comes to a close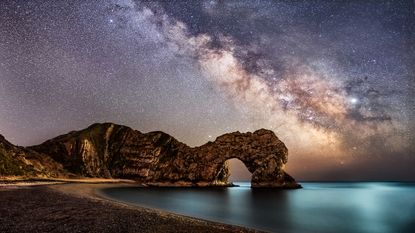 (Image credit: Ben Harrison/Getty Images)
Jupiter in Pisces 2021 may be just the injection of positivity you've been waiting for. Jupiter is the planet of luck, abundance, growth, opportunity, and wisdom. In our birth charts, the house location of Jupiter can speak to where we experience our luck.
If you read your weekly horoscope, wondering when a little extra luck will come your way, get ready for a serious cosmic glow-up when Jupiter enters Pisces on December 28.
For example, is your Jupiter located in your 7th house of marriage? Perhaps you found a fulfilling partnership early on in life. Each planet in astrology has a specific sign or two that it is at 'home' in, and where it operates with its peak potential.
For Jupiter, it gets an extra boost and thrives while moving through the zodiac sign of Pisces, and here's why.
What does Jupiter in Pisces mean?
Jupiter and the sign of Pisces have a lot of similar interests—spirituality, growth, and wisdom. As a collective, we will experience an influx and increase of Piscean themes during this time.
Following the final solar eclipse in Sagittarius, the solar eclipse on December 4, 2021, you may have felt a noticeable shift. The great news is that the best is yet to come.
Pisces operates from a compassionate perspective that can oftentimes be self-sacrificing. They are intense feelers in the zodiac, and can easily soak up others' energy. The ability to pick up on others' energy can translate into psychic gifts, but it can also create a desire to escape—to avoid the constant pain and realities that others face in the world.
Jupiter's sojourn through Pisces will likely bring up changes related to travel restrictions and escapist tendencies. These could be via streaming services, our devices, social media, and an increased curiosity of the intangible world and spirituality.
Our sensitivities may be heightened, but we also have the capacity to operate from a more compassionate place and lead with respect and kindness for others. Jupiter in Pisces offers us a chance to look into the mysteries of the universe and explore the meaning of life.
It's a reminder that there is so much beyond our daily trivial matters and it's an invitation to go deep within, commune with nature, explore your subconscious, and embrace the connection between all living things.
Jupiter is a slow-moving planet and only enters Pisces every 12 years. This is not a transit to ignore, but one to actively take advantage of. This is a time to ask the universe for what you want and channel your energy intentionally.
Although this transition isn't related to the lunar cycle, consider something along the lines of a full moon ritual—harness that energy and manifest bliss!
Your manifestations can and will come to fruition as long as you take steps to work toward your goals. Take a look at which house Pisces rules in your birth chart for clues on what themes may come up and how this transit will affect you on a personal level.
---
When will Jupiter be in Pisces?
Jupiter enters Pisces on December 28, but we had a preview of what this transit will have in store for us back in 2021! Jupiter first entered Pisces on May 13, 2021 and stayed there until July 28, 2021. Look back to this time period and reflect on what events or themes were taking place. This will serve as your cosmic thesis for what may unfold next in your Jupitarian storyline.
Jupiter will remain in Pisces for most of 2022, but will have a quick rendezvous in the sign of bold and assertive Aries. Jupiter will remain in Pisces from December 28, 2021 until May 10, 2022, when it will enter the sign of Aries and stay there until October 27, 2022. Another Jupiter retrograde will happen, moving back into Pisces on October 28, 2022 and finish its final lap in the ethereal sign until December 19, 2022.
How will Jupiter in Pisces affect my zodiac sign?
The Mutable Signs: Gemini, Virgo, Sagittarius, and Pisces
Jupiter in Pisces will deliver a different flavor of blessings based on your zodiac sign. The zodiac signs that will experience the most notable shifts will be the mutable signs—Gemini, Virgo, Sagittarius, and Pisces.
Jupiter will be moving through the most prominent sectors of your chart, calling your attention to themes related to your identity, your partnerships, career and reputation, and your living situation and family ties.
For Virgo and Pisces, you will feel the shift most prominently in your relationships. People you meet now may feel fated. The love you've dreamed of may be on its way. For Gemini and Sagittarius, this asks you to focus on your dream job or living situation. Life-altering changes are on the way. It will be hard to ignore Jupiter's blessings as you find expansion and welcome revolutions to these areas of your life.
The Fixed Signs: Taurus, Leo, Scorpio and Aquarius
The fixed signs in the zodiac, Taurus, Leo, Scorpio and Aquarius, will bring in opportunities related to financial matters and personal pursuits. For Leo and Aquarius specifically, this is a cosmic upleveling of your finances—a time to reconsider your investments and get serious about adopting an abundance mindset.
It's time to explore your relationship with money and release any blocks. If you're operating from a scarcity mindset, this is your opportunity to release that patterning. Taurus and Scorpio will be tasked with realigning with their personal joy—be it hobbies, creative pursuits, time spent with friends and within community.
One of the greatest expansions we can experience is by honoring and loving our inner child. What lights you up? How do you want to spend your time? Making room to please yourself will bring a deeper fulfillment.
The Cardinal Signs: Aries, Cancer, Libra and Capricorn
Aries, Cancer, Libra, and Capricorn have a more unique opportunity for expansion under this Jupiter transit. This tasks the cardinal signs with expanding their ways of communication, their belief systems, as well as their physical and emotional health.
For Cancer and Capricorn placements, Jupiter's pitstop in Pisces is all about mental expansion. How have you been limiting yourself with rigid perspectives? What knowledge, courses, or classes could you invest in for your future?
It's time to reconsider that we are eternal students of the universe. For Aries and Libra, there is an emphasis on our work/life balance and how it impacts our physical, mental and spiritual health.
What are your daily practices and how do they serve you in the long run? Prioritizing your health and wellbeing doesn't mean focusing on one area of life, it requires a blend of energetic practices. Are you ready to intuitively listen to your body and your mind? It's time to make a change.
Stephanie Campos-Powell is a Mexican-American astrologer, modern mystic, writer, editor, and serious cat lover. She's got four obnoxious planets in Leo and thanks the stars every day for her grounding Virgo moon. Reading celebrity birth charts just puts the wind in her sails, and so does Zumba. In her spare time, you can find her helping others step into their power with the help of magic, spellwork, astrology and various healing modalities. And creating passive-aggressive astrology memes about her loved ones.