The best at-home workouts for every fitness goal
From the time-poor to the early risers, we've got you covered with the best at-home workouts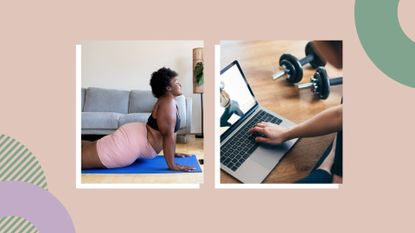 (Image credit: Future/Getty Images)
woman&home newsletter
Sign up to our free daily email for the latest royal and entertainment news, interesting opinion, expert advice on styling and beauty trends, and no-nonsense guides to the health and wellness questions you want answered.
Thank you for signing up to Woman & Home. You will receive a verification email shortly.
There was a problem. Please refresh the page and try again.
The internet isn't short of at-home workouts, to suit every fitness goal whether you're looking to lose weight, build strength, or tone up.
As well as helping you achieve your fitness goals, at-home workouts are great for your mental health too—they'll boost those feel-good endorphins and leave you feeling strong, physically and mentally. All you have to do is roll out your exercise mat (see our roundup of the best yoga mats if you're in the market for a new one), and get moving!
To reap the full benefits of at-home workouts, health and fitness guru Annie Deadman recommends doing at least three workouts a week and mixing it up every session to ensure you're working all your muscles.
"Don't stick to the same; squats, lunges, press-ups—find a way to bring in other muscles. Also, some short bursts of high-intensity cardio (which doesn't have to be high-impact running, it could be low-impact walking or spinning) are very valuable. Though they may not seem it at the time!" Deadman adds.
Whether you've got 15 minutes to sweat or a whole hour to work out with one of the best workout apps, here we share the best at-home workouts.
The best at-home workouts
15 minute at-home workouts
1. Ultimate Beginners Workout by The Body Coach
If you're a total newbie, The Body Coach's 15-minute Ultimate Beginners Workout is one of the best workouts for kicking off your exercise journey. With 15 low-impact exercises in 15 minutes, you'll get your heart rate up and learn some popular exercise moves (think squats, planks and lunges) that will help you get fit and build strength.
2. 15 Minute Happy Dance Workout by Pamela Reif
Mix up your usual at-home workouts and try something new with this fun and challenging dance routine. The no-equipment workout may look easy—but don't be fooled, it will make you sweat. You'll be burning calories and boosting endorphins while moving to hit tunes by the likes of Ed Sheeran, Jason Derulo and Jennifer Lopez.
3. 15 Minute Morning Yoga Flow by Alo
If you want to try yoga for beginners, look no further than this energizing 15-minute yoga flow from yoga brand Alo. We love this routine for a morning workout. As you gently flow through the poses, you'll warm up your muscles and release any tension that's built up overnight. Yoga is also a great way to build strength, which is so important for combating loss of bone density, during and after menopause (see our guide to strength training for women to learn more).
4. 15 Minute Resistance Band Workout by MrandMrsMuscle
The best resistance band workouts challenge you to work all your muscles, burn fat and build strength. If you're a total beginner, the modified moves in this 15-minute workout will help you ease into this style of exercise, while still reaping the benefits of using a resistance band. It's a tough one, and your legs will certainly be burning the next day! Don't have resistance bands? Our guide to the best resistance bands on the market has got you covered.
30 minute at-home workouts
1. 30 Minute Strength Workout by Swift Wellness
Strength training is more important than you might think. Not only does it help you tone up, burn calories and lose body fat, but it also protects your bones and joints, boosts your mental wellbeing, and improves your biological age. This 30-minute no-equipment workout is a great introduction to strength training at home. It's been created specifically for runners, but the bodyweight exercises can be done by anyone, anywhere! If you're a runner, strength training will help you run faster and for longer by improving stability, posture and endurance.
2. 30 Minute Upper & Core Workout by Annie Deadman
Annie's 30-minute upper body and core workout requires light weights or dumbbells to help you work your muscles, build strength and tone up. Core workouts train the muscles in your pelvis, abdomen and lower back, promoting better stability and balance. If you don't own dumbbells, see our guide to the best dumbbells out there, from adjustable dumbbells to traditional hex dumbbells.
3. 30 Minute Ultimate Pilates Workout by Lottie Murphy
A 30-minute at-home Pilates routine will have you working your whole body, from your abs to your glutes to your back. Mat Pilates is a great introduction to Pilates for beginners and there are so many benefits of this workout. Combining aerobic exercises with resistance and balance training, Pilates will help you build strength, move more freely, tone up and improve coordination, posture and concentration.
45 minute at-home workouts
1. 45 Minute Full Body Workout by Emi Wong
If you've got the time, a 45-minute full-body workout will help you burn calories, tone up, build strength and feel great. No equipment is needed for this at-home workout, just grab a thick yoga mat to support your body as you sweat. Remember to stay for the stretches at the end to allow your body a chance to cool down after this intense routine!
2. 45 Minute Power Vinyasa Flow by Alo
If you're looking to yoga for weight loss, try this 45-minute power yoga routine. Taking things up a notch, power yoga focuses on engaging the core, working all the muscles, building strength and improving flexibility. It's also great for strengthening weak or tight pelvic floor muscles. This workout is a lot more challenging than restoring yoga flows but it will help you burn fat and feel invisible.
3. 45 Minute Kettlebell Workout by Caroline Girvan
You might be surprised by how much you can incorporate a kettlebell into your workouts. This 45-minute at-home kettlebell routine will show you exactly how you can challenge yourself with just one weight. You'll fire up every part of your body in this workout, and certainly feel the burn as you work through the routine.
1 hour+ at-home workouts
1. 1 Hour Full Body Workout by Caroline Girvan
This one-hour workout is low impact and requires no equipment, but don't be fooled—it will still have you working up a sweat! You'll work your lower body, upper body, core and abs in this routine. Catering to all fitness abilities, this at-home workout features alternative moves for more complex exercises. And, you can always take a break and pause this sweaty session as and when you need to.
2. 1 Hour HIIT Full Body Workout by Heather Robertson
You'll need to crack out your best workout leggings for this one, as this at-home workout is a little more intense but great for those looking to build strength and tone up. It requires some equipment and combines cardio HIIT with strength-building exercises, so is best for those who are already working out at home and want to take things up a level.
3. 1 Hour Vinyasa Flow by Cat Meffan
There are so many benefits of yoga, whatever level you're at, from aiding fat loss and building strength to reducing stress and anxiety. The great thing about this one-hour Vinyasa flow is that it's suitable for all levels. Whether you're a newbie or a seasoned yogi, you can practice this flow at home and reap the benefits of this mindful exercise.
w&h thanks personal trainer and fitness guru Annie Deadman for her time and expertise.
Sign up to our free daily email for the latest royal and entertainment news, interesting opinion, expert advice on styling and beauty trends, and no-nonsense guides to the health and wellness questions you want answered.
Ciara is the former digital health editor at womanandhome.com and has covered all things health and wellbeing from fitness to sleep to relationships. She's always on the lookout for new health trends, innovative fitness gadgets and must-read wellness books.
Originally from Ireland, Ciara moved to London to study journalism. After graduation, Ciara started her career at Goodhousekeeping.com. Ciara qualified as a meditation teacher with the British School of Meditation in 2020, and outside of her day-to-day now runs her own meditation school called Finding Quiet. She is all about bettering that mind-body connection but believes wellness looks different to everyone.