The best workouts for getting fit and feeling good
Get moving with five of the best workouts for women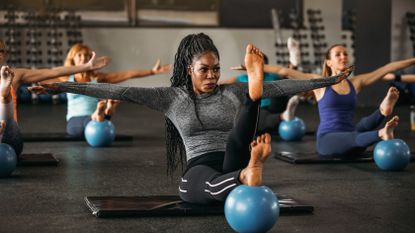 (Image credit: Getty Images)
The benefits of the best workouts are endless. Exercise not only helps us lose weight, tone up, build strength and get fit, but it also boosts confidence and self-esteem, reduces stress and anxiety and leaves us feeling strong.
But, finding a workout routine you enjoy that also suits your health and fitness goals isn't easy. Working out should be challenging, but it should also be fun and something you want to spend your time and energy on. It should push you to new limits each time, but also fulfill your mental wellbeing as well as helping you hit your fitness goals. Armed with your fitness tracker and activities you love, there's no stopping you on your journey to living a healthy lifestyle.
If you're new to exercise, or still searching for an activity that's right for you, we spoke to the experts to bring you a round-up of the best workouts. From spinning classes to boxing for women, here are five activities to try out yourself.
Spinning
Spinning is the best workout for those who want to tone up, burn calories, build stamina and increase cardio fitness. Whether you take a spin class at a studio or invest in a spin bike for your home, you'll feel challenged every time you hop on the bike.
"It's low impact which makes it accessible to most and easy to start as a beginner," says Boom Cycle founder Hilary Rowland. "As a cardio-vascular workout, spinning will strengthen your heart, lungs and immune system, promote neurogenesis, promote better circulation, better sleep and higher energy levels and help prevent diseases such as Alzheimers, many cancers, heart disease and diabetes."
What's more, there are as many mental wellbeing benefits as there are physical. Spinning along to upbeat music can help combat depression and mitigate the effects of stress, improve memory and thinking and even improve confidence and self-esteem, Hilary explains.
If you join a spin class at a studio, you'll also get a real sense of community cycling alongside other like-minded people, with no judgment or competition.
Strength Training
Strength training workouts not only help you build strength, but will also improve your overall fitness, balance, and posture and help reduce your chances of injury.
As we age, we lose bone density due to a loss of oestrogen during the menopause. Strength training is one of the best workouts you can do to counteract this loss, says Greta Goodman, trainer at F45.
"By adding more weight to the skeleton through strength training the bones are stimulated to strengthen – helping to reduce the risk of conditions such as osteoporosis, osteopenia and injuries such as fractures."
It may seem daunting at first, but start slow and go at your own pace. Begin with one of the best resistance band workouts, before adding light dumbbells or kettlebells to the mix. Start with a beginner's workout video or find a class or a coach who can support you on your strength training journey.
Boxing
"Physically, boxing is probably the front-runner in full-body workouts," says KOBOX COO Kris Pace. "Boxing power comes from your legs, hips and core. It's not as upper-body focused as people may think, but those shoulders and arms will feel the burn. Boxing classes will allow you to strengthen your legs, do wonders for your core and work up one big sweat."
Mentally, boxing is one of the best workouts for releasing stress and tension, helping you feel powerful as you master a new skill. There's also the social aspect of boxing classes, where you'll meet new people who challenge you as you work out.
Whether you start out with some at-home workouts or sign up for a boxing class at a studio like KOBOX, if you're new to the exercise Kris stresses you shouldn't overthink it or fear it. There's no judgment in boxing classes, everyone is there to sweat it out, learn a new skill and have fun.
Pilates
If you thought Pilates was all about stretching, you're in for a surprise! In reality, it's a challenging full-body workout that will have you working up a sweat and feeling the burn long after you step off the mat or the Reformer.
"It's a high-intensity yet low-impact workout designed to build and maintain strength, whilst also improving posture, flexibility, mobility, balance and coordination," says Pilates teacher Lotty Somers.
It's one of the best workouts for building functional strength through slow controlled movements, that target specific muscle groups. "No matter how fit or strong you are, it's an incredibly challenging workout," Lotty adds. "However, it's not about immediate results and Pilates can be a slow burner. If you commit to a regular practice though, you'll start to see and feel results in just a few weeks."
To get started, try at-home Mat Pilates classes online, or take a beginner's class at your local Pilates studio.
Outdoor Swimming
Aerobic but easy on the joints, swimming is a great all-rounder workout. Open water swimming means no lane-hoggers or splashing kids to contend with, while cold water can help ease chronic pain and do wonders for your mental wellbeing with its meditative elements.
Open water lifeguard, ocean advocate and founder of We Swim Wild Laura Owen Sanderson turned to open water swimming after suffering from fibromyalgia and stiff joints.
"I felt an immediate release in my joints and muscles," Laura says, "Getting out in nature helps clear your mind. You have to focus on your breath and the temperature, and the scenery is stunning. There's no time to worry about the mundane, it's great for resetting your batteries and is much healthier than pacing up and down back and forth in a chlorine tank."
If you're new to open water swimming, remember your safety is most important. Always swim parallel to the shoreline, have someone watching out for you on land and get in slowly to adjust to the cold temperature. After your swim, layer up and go for a gentle walk to keep your body moving and help you warm up again.
Sign up to our free daily email for the latest royal and entertainment news, interesting opinion, expert advice on styling and beauty trends, and no-nonsense guides to the health and wellness questions you want answered.
Faye M Smith is an award-winning journalist with over 15 years experience in the magazine industry. Her continued work in the area of natural health won her the coveted title of the Health Food Manufacturers' Association (HFMA) Journalist of the Year Award 2021. Currently Health Editor across several brands including woman&home, Woman and Woman's Own, Faye specialises in writing about mental health, the menopause, and sex and relationships.