Boxing for women—how to get started, plus key benefits and at-home boxing workouts
From how to start boxing to the best boxing workouts to do at home, here's how to kickstart your journey to feeling strong, fit and powerful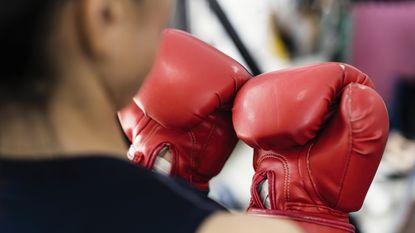 (Image credit: Getty Images)
Boxing for women is really having a moment. In the last few years, we've seen boutique fitness studios dedicated to boxing classes open up, while bigger gyms jumped on the trend and added boxing classes to their schedules. So, what's all the fuss about?
Boxing at the gym or from the comfort of your own home is not only a great way to workout, but it's also empowering. It burns fat, builds muscle, and helps you keep fit, plus it's also a total mood-booster and will leave you feeling strong and powerful.
If you're new to boxing, it might seem a little daunting and fast-paced at first. But once you nail the basics, the benefits are endless. To help you get started, three boxing experts share with us everything you need to know about modern boxing for women. So, grab your best running shoes, slip on a comfortable pair of workout leggings, pick up a pair of boxing gloves and get ready to feel confident for your next boxing workout with these expert tips and tricks.
A fresh approach to boxing
Boxing is an ancient sport that was first introduced to the Olympic Games in the 7th century BC. Since then, boxing has evolved, and long gone are the days of Ancient Greece where boxers fought their opponent until the bitter end. Now, the combat sport is regulated and amateur and professional boxers take on opponents in their weight classes.
The combat sport sees two people use a combination of different techniques to 'fight' their opponent. But, don't worry - you won't be in the firing line when you pick up this sport. Most boutique gyms and personal trainers have taken the basics of boxing and combined them with aerobic workouts to create fun strength-building classes and at-home workouts for women.
Modern boxing classes often involve HIIT or elements of strength training for women, combined with punch bag work or brushing up on your technique with a partner wearing boxing pads.
What are the benefits of boxing for women?
If you're bored of your usual workouts, switching things up and trying boxing is a sure-fire way to burn calories and keep fit. Zoe Purpuri, a trainer at KOBOX gym, says, "It depends on your height and weight, and how much you put in. But overall, boxing is one of the highest calorie-burning activities you can do."
While it's one of the best exercises to burn belly fat, this sport does more than just burn calories. According to Jay Revan, a PT and boxing expert, it's great for burning fat and toning up, but it will also improve strength, and improve muscular and cardiovascular fitness. "Boxing will definitely impact your life positively," Jay adds.
"Many people think boxing is an upper-body workout but in fact, it works your whole body. To power a punch you don't just rely on your upper body. If doing it correctly you will use the strength in your legs and core to drive your punches," says Anna Samuels, owner of Boxxldn.
While boxing can help you understand how to lose belly fat and build muscle, it's also an empowering sport that has lots of mental health and wellbeing benefits for women. "The beauty of boxing is that there are so many mental benefits," says Anna, "From helping with confidence and low mood to improved coordination and reduction in stress."
Boxing can help women feel strong, confident and powerful in and out of the ring. It's also a great exercise for helping relieve stress, allowing you to take your frustrations from the day out on the punch bag in front of you.
The techniques you learn in boxing provide you with self-defence skills you may never have had before. While we hope you never have to use them, it's always good to be prepared, and knowing the basics of boxing will have you feeling confident should you ever be in a situation you need to physically defend yourself.
What do I need for boxing?
If you go to a boxing class at a gym or fitness studio, they will have all the gear you need to get started. Make sure you wear comfortable workout clothes and invest in the best leggings and the best sports bra for support, so you can focus solely on the instructor or punch bag in front of you.
If you're doing an at-home boxing workout, as well as workout gear you feel comfortable in, you might also want to invest in boxing gloves or a boxing punch bag. If you're working out with a friend, use some boxing pads for a padded target.
How do I start boxing?
If you're feeling a little nervous about attending your first boxing class or trying a boxing workout at home, you can start by learning the basic moves and stances, says Zoe.
"For your stance, it's important to think about weight distribution and twisting your hips. Set your feet a little wider than hip-distance apart, with your weaker side forward. Ensure you have a slight bend in your knees, put your hands up and your chin tucked in and relax the shoulders. Weight should be evenly distributed between the front and back foot. Then keep practicing it."
Jay also suggests getting to know the types of punches you'll be using in class. "The first punch we all learn is the jab. The jab is a straight punch thrown with your lead hand. The jab is a very simple punch used to keep your target or opponent at arm's length."
After you've perfected the jab, Jay suggests learning the cross punch. "The cross is a straight power punch thrown with your rear hand. The power produced for this punch comes from a solid base through your lower body and good mobility through the hips."
Other punches you can practice at home or expect to learn in class include the front-hand hook, the back-hand hook and the back-hand uppercut.
As well as becoming familiar with the main boxing moves, according to Jay there are three things you need to work on as a beginner.
Balance "You need to work on your balance and coordination, to create a strong stance and encourage good footwork." Yoga for beginners could help improve your balance and build a strong core - both of which will benefit your boxing practice.
Timing "Timing is also key as you'll need to throw your punches at the right moment"
Distance control "This is also important as you'll need to know how to measure your distance and to control your punches so you hit your target effectively."
Boxing workouts to do at home
If you're not quite ready to attend a boxing class, you can hone your skills and build confidence at home with some at-home workouts. There are lots of YouTube videos that can teach you the basic moves before moving onto boxing cardio workouts. From no-equipment boxing workouts that will help you nail the most common moves to punch bag workouts that will help you get a sweat on, here are some of our favorites:
15 minute boxing workout
20 minute boxing workout
30 minute boxing workout
In-person boxing workouts
When you're ready to attend your first boxing class in-person, Anna reminds us there is nothing to worry about. "Don't be scared to give it a go. We get so many first-time customers, who are really apprehensive about trying a boxing class for the first time. Don't expect to get it right the first time - you will get better the more you do it and before long you will be hooked," she says.
Jay adds, "For those new to boxing, I would advise approaching the sport with an open mind. You should work hard, keep those hands up, listen to your coach, and most importantly, enjoy the process of learning a new skill".
Sign up to our free daily email for the latest royal and entertainment news, interesting opinion, expert advice on styling and beauty trends, and no-nonsense guides to the health and wellness questions you want answered.
Sarah is a freelance journalist - writing about the royals and celebrities for Woman & Home, fitness and beauty for the Evening Standard and how the world of work has changed due to the pandemic for the BBC.
She also covers a variety of other subjects and loves interviewing leaders and innovators in the beauty, travel and wellness worlds for numerous UK and overseas publications.
As a journalist, she has written thousands of profile pieces - interviewing CEOs, real-life case studies and celebrities - interviewing everyone from Emma Bunton to the founder of Headspace.