The best running shoes for women—for casual jogs, long runs and beautiful trails
Our round-up of the best running shoes for women will help you make the right decision before parting with your cash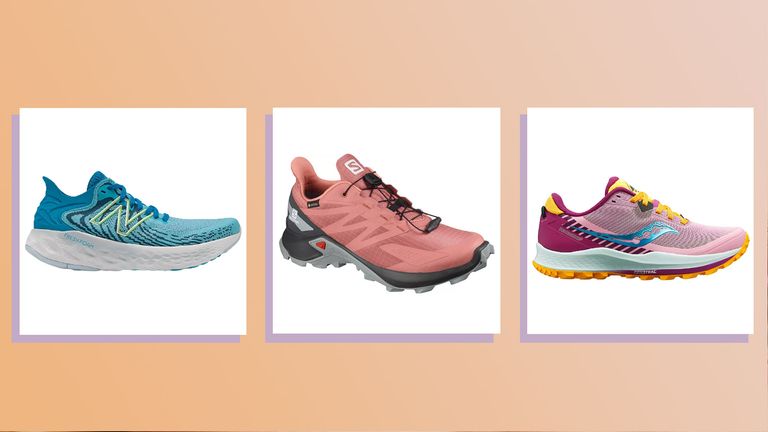 (Image credit: Future)
Investing in the best running shoes will allow you to make the most out of your workout, whether you're an avid runner or a 'Couch to 5k' beginner. We've reviewed the top trainers on the market, to bring you this ultimate guide to the best running shoes for women.
Owning the best running gear, from running shoes to one of the best fitness trackers and a pair of the best workout leggings, is essential to improve your overall performance. Not only will the best running shoes provide you with the correct support to ensure you're looking after your body properly while you're exercising, but they can even give you the comfort and stability you need to work that little bit harder and hit a new personal best.
To help you with your search, we tried and tested a range of trainers from some of the best running shoes brands, including Salomon, Saucony and New Balance. While all the women's running shoes in our round-up fared well in our tests, it was the Salomon Supercross Blast GTX W trainers that came out on top.
But, for those who aren't quite ready to splash out on an expensive pair of trainers, don't worry. We've also got some great budget options, to help you kickstart your running journey.
How we tested and selected the best running shoes for women
From the moment we unboxed the running shoes, we considered how well they fitted and performed, and how they benefited us during each workout. All the trainers were tested several times during different activities, from long and short runs to at-home workouts.
Putting top brands through their paces, we looked for all the key features good running shoes have, including:
Good fit: Your foot should sit on top of the insole without spilling over the edges. You should never buy shoes with the mindset that you'll wear them in. They should fit perfectly from day one.
Supportive cushioning: This is key for protecting joints while doing a high-impact activity like running. Good cushioning reduces the impact each time your foot hits the ground.
Lightweight: Owning a lightweight shoe with the right amount of cushioning is the goal. You want to run freely without worrying about heavy shoes holding you back.
Breathable material: A build-up of sweat can cause blisters, so light breathable mesh material is ideal in running shoes.
Arch-support if needed: If you have overpronated aka your foot rolls inward as you move and your foot flattens, then you may benefit from a shoe with built-in arch support.
Suitable stack height: The distance between the ground and the bottom of your foot comes down to how thick the sole of the shoe is. It will be a personal preference, so try a few trainers to find out what you like best.
The best running shoes for women as chosen by our experts
1. Salomon Supercross Blast GTX W
Best running shoes for women overall
Specifications
Size range: US 5-12 / UK 3.5-10.5
Offset: 10mm
Terrain: Muddy and soft
Waterproof: Yes, Gore-Tex
RRP: $130 / £120
Reasons to buy
+Great grip+Very supportive+Great for most terrain+Waterproof
Reasons to avoid
-One-pull laces-Poor breathability
Of all the trainers we tested, the Salomon Supercross Blast GTX W trainers came out on top as our overall best running shoes for women. Lightweight, comfortable and with great grip even in treacherous conditions, these running shoes tick all the right boxes. They are especially great when it comes to exercising outside (which could be a game-changer if you're weighing up running on a treadmill vs outside).
In fact, the grip is so good you never have to worry about slowing down or losing focus again. Plus, thanks to the Gore-Tex technology, these running shoes stay 100% waterproof, whatever the weather. With just the right amount of arch support, your feet won't slip around and your ankles will stay cushioned and supported throughout workouts.
Currently available in either black, green or pink, the colors are muted and mature instead of garish, so you could wear them with jeans post-workout and wouldn't look out of place. The only thing you'll have to get used to is the one-pull laces but, over time, you'll never want to go back to manually tying them ever again.
See our full Salomon Supercross Blast GTX review
2. 361 Strata 4
Best premium running shoes for women
Specifications
Size range: US 5-12 / UK 3-9
Offset: 8mm
Terrain: Road
Waterproof: No
RRP: $155 / £135
Reasons to buy
+Great for long-distance+Comfortable+Sleek look+Secure lacing system
Reasons to avoid
-Irregular sizing-Not waterproof
Stop running when your feet start to hurt? Then the 361 Strata 4 running shoes are the pick for you. Yes, they are slightly more expensive than the rest, but you're paying for comfort, especially if you want to run further.
Every detail has been thought through carefully. If you find you often have to stop running to reposition the tongue on your shoe, you'll be glad to hear the 361 trainers have it integrated with the laces (via the Morphit lacing system), so it won't move at all. These trainers are ultra-versatile too, and great for protecting joints no matter what sport you're doing, from road running to burpees. Plus, they're definitely not too clunky for the treadmill.
Looks-wise, these running shoes are more about practicality than being bang on trend, but being sleek, and not overbranded or brash means you won't need to upgrade for a long time.
See our full 361 Strata 4 review
3. Merrell Antora Gore-Tex Trail Running Shoes
Best trail running shoes for women
Specifications
Size range: US 5-12 / UK 2.5-8.5
Offset: 8mm
Terrain : All
Waterproof : Yes, Gore-Tex
RRP: $140 / £120
Reasons to buy
+Incredibly comfortable+Very adaptable to different terrains+Waterproof material
Reasons to avoid
-Perhaps more support in the heel needed-Some trail runners may not like the 'barefoot' feeling of the shoe
Slipping on the Antora Gore-Tex shoes from Merrell feels akin to putting on a slipper. The trainer is incredibly soft, comfortable and lightweight, especially when compared with other shoes.
The Antora is made with a Vibram outsole and a foam insole, so your foot is well protected. It feels almost as if you're running with a sock on—but with all the security and cushioning of a trail shoe. For those who enjoy the foot-to-ground barefoot feeling while running the trails, this could be the pick for you.
What's more, they are very adaptable to different terrains. Our tester was just as confident running in the woods as they were on the grass, and even on the pavement. A little more support in the heel might have helped, but this is a very small concern and something that other runners may not even notice. There is very little movement of your foot within the shoe, leaving you feeling protected and ready to jump between hills, pavements and grass.
These trainers are the best trail running shoes for women and ideal for those who want to get out on the trails and tackle an off-road run.
4. New Balance Fresh Foam 1080v11
Best running shoes for shin splints
Specifications
Size range: US 5-13 / UK 3-11
Offset: 8mm
Terrain: All
Waterproof: No
RRP: $150 / £135
Reasons to buy
+Well-cushioned for joint support+Comfortable +Lightweight +Stylish
Reasons to avoid
-Not waterproof-Small fit, best to size up
Often experience shin splints when running? The main selling point of the ultra-light New Balance Fresh Foam 1080v11 is the Fresh Foam midsole cushioning which will have you feeling like you're running on clouds. It works by compressing each time your foot hits the floor to help protect against the force of the impact. So, however hard the terrain, joints will feel supported and comfortable, with less stress on shins.
The attention to detail makes this pair worth spending your money on, with an Ortholite sockliner and Ultra Heel technology that hugs the back of your foot for a comfortable and supportive fit. The design is super stylish too, and available in a range of colors from classic black and white to statement bright blues and corals. They're certainly a post-workout fashion statement!
The only downside to these women's running shoes is they're not waterproof and, although the traction is good and they could be used on a mix of terrain, we think it's best to stick to paths, pavements, and the treadmill in this pair. Avoid any terrain that's too treacherous. Our tester also recommends sizing up with these trainers, as they can come up a little small.
5. Saucony Peregrine 11
Most comfortable running shoes for women
Specifications
Size range: US 5-12 / UK 3-10
Offset: 4mm
Terrain: All
Waterproof: No
RRP: $120 / £115
Reasons to buy
+Comfortable+Lightweight+Great for all types of terrain+Bright colors available
Reasons to avoid
-Expensive -Not waterproof
Whether you're hitting the treadmill or the trails, comfort is guaranteed with the Saucony Peregrine 11 trainers. This is largely thanks to the brand's PWRRUN technology and air-mesh design—but, your feet won't just melt away inside these trainers. As well as providing comfort, the tech used here ensures the trainers are still flexible and responsive so you can power through each stride with ease, while the rock plate on the sole provides extra protection for joints as you tackle hills.
These trainers were specifically designed with PWRTRAC rubber lugs to offer lots of grip and support when running trails, but, we found they were comfortable and supportive when running on all types of terrain. Although, as they are not waterproof it's best to stick to dry routes.
Sleek and stylish, with a large toe box for wiggle room, they easily secured a place in our best women running shoe guide. They are on the premium side when it comes to price. But, if you're happy to invest in durable running shoes, you can expect the same support mile after mile with this pair.
6. Under Armour TriBase Reign 3 Training Shoes
Best trainers for all types of workouts
Specifications
Size range: US 5-12 / UK 2.5-9.5
Offset: 2mm
Terrain: Flat
Waterproof: No
RRP: $120 / £150
Reasons to buy
+Great support +Good cushioning +Lightweight +Good grip +Can wear for lots of workouts
Reasons to avoid
-Not very stylish -Not suitable for long runs or trail runs
For any gym bunnies out there who want an all-rounder shoe to see you through every type of workout—including short runs or HIIT treadmill workouts—the Under Armour TriBase Reign 3 could be the one for you.
A favorite of fitness fans around the world, the shoe provides support and stability for a range of workouts. It features an external heel counter to keep the rear of the foot in place while you're working out, while the full-length Micro G foam midsole provides a high level of cushioning that softens the blow every time your foot hits the ground. Plus, there's extra cushioning around the ankle for added comfort. Our tester even noticed less pressure on the calves when working out in these trainers.
With strategically placed rubber on the sole and around the toe area, this shoe also provides a great level of traction to help prevent any slips. We love the knitted bottie upper, which gives a sock-like feel to the shoe and means there is no rubbing or chafing at all—even during the sweatiest of workouts. It keeps the shoe flexible enough too, so you don't experience any tightness or foot cramping.
While great for treadmill sessions and short runs, these trainers wouldn't be suited to longer-distance runs or trails. They are best for gym-lovers who do a range of workouts and want a shoe that works for a little bit of everything, from strength training for women to the 12-3-30 workout.
7. Nike Air Zoom Pegasus 38 women's running shoes
Best Nike running shoes for women
Specifications
Size range: US 5-12 / UK 2.5-9.5
Offset: 10mm
Terrain : Road
Waterproof : No
RRP: $120 / £105
Reasons to buy
+Ideal for elite and everyday runners alike+Very comfortable +Range of colors available +Great cushioning
Reasons to avoid
-May be out of budget for some-Some customers find they come up a little small
Nike running shoes are often a go-to for many. The brand sells some of the best running shoes for women on the market, so it's no surprise the Nike Pegasus trainers have been a best seller for almost a decade. There's a reason why loyal customers keep coming back to these trainers, they are practical, comfortable, and supportive.
The updated version, the Air Zoom Pegasus 38, features a Zoom Air bag placed in the forefoot of the shoe, which is designed to cushion your step and improve responsiveness in the trainer. The foam sole also keeps you light and springy as you run, ensuring you don't feel weighed down when hitting the trails.
Some customers find the Pegasus running shoes to be a small fit, so it might be worth trying a size up in these trainers before you hit the pavements.
w&h thanks Vikash Sharma, a Doctor of Physical Therapy at New York City's Perfect Stride Physical Therapy, Saucony's Jonathan Quint, Olly Law from On Running and Ashley Scott, a technical representative supervisor at Brooks Running for their expert advice on what to look for in running shoes.