The best running shoes for women: 10 comfortable and supportive pairs, tried and tested by us
Our round-up of the best running shoes for women will help you make the right decision before parting with your cash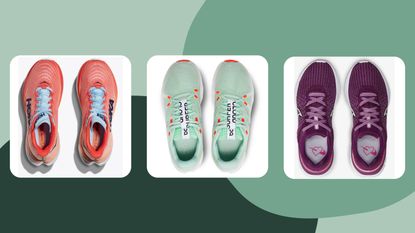 (Image credit: Hoka/On Running/Nike)
A pick of the best running shoes for women is one of the few essentials you need before heading out, whether you're aiming just to run a few blocks or compete in your first race.
While running is a sport that requires very little gear to get going, a pair of the best running shoes really makes all the difference when it comes to staying comfortable and injury-free, both on the move and in the days afterward. However, with so many brands and models out there, it can be difficult to find the right pair for you.
Our roundup focuses on the best beginner-friendly running shoes for women - trainers from big-name brands such as Hoka, New Balance, and On Running that are great for anyone new to the sport and looking for a reliable pair, along with the best running gear generally, to see them through the next year or so.
How we tested the best running shoes for women
Why you can trust Woman & Home Our expert reviewers spend hours testing and comparing products and services so you can choose the best for you. Find out more about how we test.
To discover what to look for in a running shoe, I consulted the experts, including Ben Parker, head running coach at personalized coaching app Runna.com, and performance coach Arj Thiruchelvam
Taking this advice, I then tried and tested a great selection of running shoes from across the spectrum of price, availability, and style, before whittling it down to the top ten. As woman&home's digital health editor and a regular runner myself, I was up for the challenge. Following several weeks of testing, I reviewed each pair again to analyze their plus points, who they're most suitable for, and why. In doing so, I looked at the following factors:
Good fit: Running shoes should fit perfectly from day one, with your foot sitting on top of the insole without pressing against the upper material, the top of the shoe, or the sides. However, it should also feel supported, so we made sure every shoe fit well per expert recommendations when testing and noted some advice when choosing your size in some models.
Supportive cushioning: Good cushioning reduces the impact each time your foot hits the ground, which is essential for new runners who may not be used to it. We tested a range of cushioning options, from EVA midsoles to minimal offerings to find the most supportive models out there.
Breathable material: We tested these running shoes across seasons to determine the breathability of each one and whether they stood up to the sweat test while still keeping feet relatively dry on rainier days.
Appearance: Confidence plays a significant role in running, especially as a beginner, and what running shoes look like is important for some people. We noted the color options available and any highlights in the design of all our top picks.
Price: As a beginner, there's no need to spend $200 on running shoes. However, if you want the best pair coming out of the gate and have the budget for it, that's totally fine too. We tested a range of shoes from across the price spectrum to offer a choice.
The best running shoes for women as tested by a health editor
1. Hoka Clifton 8
Best running shoes for women overall
Specifications
Size range: US 4 - 12 / UK 4 - 10.5
Terrain: Treadmill/Road
Waterproof: No
RRP: $75 / £70
Reasons to buy
+
Super supportive cushioning
+
Comfortable
+
Lightweight
+
Variety of colors
Reasons to avoid
-
Not waterproof
-
Small fit, best to go one size up
When it comes to the best running shoes for women just starting out, nothing quite beats the Hoka Clifton range. As women&home's digital health editor, I can't recommend the Clifton 8 enough. It's a lightweight and supportive shoe, especially around the ankle and heel, with soft cushioning under the entire foot. For anyone looking to take in miles on the pavement at their own pace, these are the best all-rounder running trainers.
A couple of features that make it worthy of this title are the elevated heel, which offers extra cushioning as your foot hits the ground and helps to roll you onto your next step, and the EVA foam midsole with 15% less weight than the previous versions of the shoe. These two together, I found, made running on hard surfaces easy on my joints and it was a noticeable difference from some of the other, flatter running shoes in this guide where you can really feel every step. I struggle with ankle pain when running but even over a half-marathon, I never found that to be an issue in the Clifton 8s. The breathable mesh upper is another highlight, especially during long runs where I sometimes find my feet getting sweaty and uncomfortable, potentially causing blisters. On rainy days, however, your feet will be getting soggy as these trainers aren't waterproof.
The Clifton 8 is no longer available to buy direct from Hoka as the brand has released an even-newer version but various retailers still have plenty of stock. Also, as these are no longer the latest model, the various colorways of the Hoka Clifton 8 are often reduced dramatically in price from over $150 / £130 down to about $75 / £75.
If you're looking for the latest model, even more cushioning, and a fantastic new range of colorways (but you love the sound of the Clifton 8 overall), it's worth considering the new Hoka Clifton 9 running shoes. These shoes feature a re-engineered midsole with firmer foam that brings the stack height (the amount of material between your foot and the ground) a little higher, increasing the stability of the shoe and softness under the foot.
2. On Running Cloudsurfer
Best road running shoes for women
Specifications
Size range: US 5 - 11 / UK 3 - 9
Terrain: Road/Terrain
Waterproof: No
RRP: $159 / £150
Reasons to buy
+
Unique cushioning underfoot
+
Supportive material upper
+
Great range of colors
Road running shoes need to be durable, and supportive, with loads of cushioning around the heel and arch of the foot to take on the impact of repetitive foot-to-pavement striking. If they're even slightly water-resistant enough to contend with puddles, even better. Enter, the new On Running Cloudsurfer.
Now in its seventh generation, the Cloudsurfer offers the ultimate spring to any runner's step. I tested out these running shoes over several weeks on the roads, in all weathers, and was very impressed with how they moved. Unique in design, the Cloudsurfer uses CloudTec Phase technology with so-called 'Cloud pods' in the sole of the shoe. These are essentially small gaps in the foam that collapse when you run, offering supreme cushioning. The new design also has a pronounced rocker shape, more so than any of the other shoes on this list, which helps to naturally make you move a little faster (if that's what you want to do)
While these are advanced features in a running shoe, the Cloudsurfer is still a great choice for beginners thanks to its cushioning and the material on the upper, which helps to lock the foot into position so it's stable. There's also padding around the back of the heel and ankle, for even more support.
The color range is also a huge plus point for these shoes, with stunning blue, black, white, and green options available. I loved testing the Creek / White pair (pictured above) as it's a unique colorway and the fluorescent orange details make for a little extra safety measure on the road. Much like the Lululemon Blissfeel 2, however, I'd suggest going up a size in these if you have wider feet as they are a narrower shoe.
3. Saucony Triumph 20 Runshield
Most comfortable running shoes for women
Specifications
Size range: US 5 - 12 / UK 3 - 10
Terrain : Road/Treadmill
Waterproof : Water resistant
RRP: $170 / £155
Reasons to buy
+
Great cushioning under heel
+
Water resistant
+
Unique design detail
Reasons to avoid
-
Only available in one colorway
Looking to glide along for miles and miles? Whether you're running for weight loss or training for your first half-marathon, you'll need a comfortable shoe and it doesn't get much more comfortable than the Saucony Triumph 20 Runshield. They are the perfect fit for anyone looking for a water-resistant alternative to the Hoka Clifton 8, our top pick of the best women's running shoes.
I wore this pair repeatedly for a week during half-marathon training and the PWRRUN+ foam is a game changer in my opinion. It offers super soft support underfoot, especially around the heel where it's slightly elevated, while also being stable enough to move quickly on thanks to the minimal rocker-like design. The curve up towards the toe and behind the heel lightly propels you forward as you run, without feeling like you're being pushed off your feet. Support-wise, the light padding around the top of the opening presses against the ankle to provide a 'locked-in' feeling and there's a casing around the back of the heel that doesn't budge, keeping the entire foot in place without limiting natural shifts in the shoe. The Saucony Triumph 20 Runshielf even has a water-resistant shell for the ultimate ride, keeping your feet comfortable (and dry) until the very end of the run.
As well as comfort and support, the smaller details of the Saucony Triumph 20 Runshield makes it a winning shoe in my books. There's not a huge range of colors to choose from, with 'Frost' being the only option, but that's for a special reason. The design is inspired by the closing sentiment of poet Robert Frost's 'Stopping by Woods on a Snowy Evening', with a line from the poem etched into the tongue. Other color options are available with the classic (non-water resistant) Saucony Triumph 20 running shoes, as seen below.
4. Lululemon Blissfeel 2
Best jogging shoes for women
Specifications
Size range: US 5 - 12 / UK 3 -10
Terrain : Road/Treadmill
Waterproof : No
RRP: $148 / £138
Reasons to buy
+
Lightweight
+
Designed for women's feet
+
Good range of sizes
Reasons to avoid
-
Better suited to those with narrower feet
Jogging shoes are much the same as running shoes in many ways and every one of these on this list will be suitable for both. If you're looking for a shoe perfectly designed for a lighter and slower pace, one that just gets the basics done, the new Lululemon Blissfeel 2 running shoes are a top choice.
They offer great support around the foot with a strong material upper and sides to lock the ankle into place, plus a 3D-molded midfoot for added stability. I originally thought I'd have a hard time on the pavements as the sole feels hard to the touch but this wasn't the case in practice. The combination of the slightly elevated heel and wider width at the back of this shoe makes it feel stable on the move and even slightly springy.
Designed with women's feet specifically in mind, these shoes are ideal for anyone who wants to run casually a couple of times a month or take in some easy miles in their local area and look great while they're doing it. For the same reasons, we feature Lululemon shorts on our roundup of the best running shorts for women. These running shoes also make a good alternative to the Hoka Mach 5 for a shoe to take from running to another workout, thanks to the more neutral footplate. However, I wouldn't suggest them for anything longer than a 10km run as the cushioning is minimal and if you're anything like me, your joints need a little more.
However, there are a couple of things to note about the Lululemon Blissfeel 2 running shoes. Firstly, if you're someone with wider feet, you'll need to go up a size as they're fairly narrow in design. The size displayed online is also the US size so if you're coming from the UK, be sure to do the conversion. Secondly, some of the colors won't be suitable for anyone who likes their running shoes pristine and clean. I was testing the White / Light Vapor colorway and they were grimy within just two runs outdoors. Although this wouldn't be the case if you were only running on treadmills, for example.
5. Nike ZoomX Zegama
Best trail running shoes for women
Specifications
Size range : US 7- 14 / UK 6 - 12
Terrain : Trail/Gravel
Waterproof : No
RRP: $160 / £144.99
Reasons to buy
+
Very supportive
+
Extra cushioning around the heel and ankle
+
Wide-grip sole for technical terrain
+
Stylish
Reasons to avoid
-
Not waterproof past the toe
For running on uneven ground like gravel or trails, the Nike Zegama trail shoes are a great choice and among the best trail running shoes for women. Complete with ZoomX foam in the sole that offers responsive cushioning on impact, padding around the heel and ankle, and specialist-engineered mesh for even-better support up top, they're our top pick for any newcomers to trail running.
As a new trail runner myself, I often feel unstable on the wet leaves, gravel, and grass, but the 'strapped-in' feeling these offer in combination with the support given by the mesh upper, padding around the heel, sock-like support for the ankle, and wide grooves in the bottom of the shoe that allows for more tricky routes, puts those fears at ease.
For me, the highlight of these trail running shoes is this supportive feeling and cushioning. They are a little firm underfoot as a result of this, but I appreciated it given the unstable terrain I was testing these shoes on. Anyone who prefers a gentler landing may be suited to a different shoe though, as it does take some getting used to.
One failing of the Nike ZoomX Zegama trail running shoes is that they're not waterproof past the top of the toe. Compared to roads, trails tend to be naturally a little more wet and muddy, and over my time testing these (otherwise excellent) shoes, I have got very wet and cold feet. Definitely a pair for those running in drier climates or anyone who only runs in the summer.
6. Asics Gel Kayano 29
Best supportive women's running shoes
Specifications
Size range: US 5 - 13 / UK 3 - 11
Terrain: Road/Treadmill
Waterproof: No
RRP: $160 / £175
Reasons to buy
+
Lightweight
+
Supportive around the ankle and heel
+
Great for overpronators
+
Good range of colors
Reasons to avoid
-
May not be suitable for those running with supination
If you're looking for a super-supportive shoe that'll get you through any distance, you can't get much better than the Asics Kayano 29.
The engineered mesh upper is a special feature of this model as it offers a tighter fit around the ankle and heel, loosening up towards the midfoot and toes, which provides plenty of room to spread out your toes as you run. While there's no springy, cushioned heel under the Asics Kayano 29 running shoe, unlike the Hoka Clifton 8 or New Balance Fresh Foam, I didn't find it impacted the support or running comfort at all - even on longer 10km and 15km distances. This is likely down to the lightweight cushioning around the midsole, which supports the foot on the move and helps to add an extra spring to your step.
These shoes are made traditionally for those who overpronate (when feet naturally turn inwards when running) but I'm a fairly neutral runner and find them perfectly suitable for when I run every day. However, if supination (feet turning outward) is a problem for you, these may not be the best pair.
7. Nike React Infinity 3
Best Nike women's running shoes
Specifications
Size range: US 3.5 - 15 / UK 4 - 8
Terrain : Road/Treadmill
Waterproof: No
RRP: $160 / £144.99
Reasons to buy
+
Supportive
+
Good for all distances
+
Extensive color range
Reasons to avoid
-
Limited range of sizes for women
When it comes to running, many people will naturally turn to Nike for a pick of the best running shoes - and for good reason. While there are hundreds of pairs to choose from with this brand, the Nike React Infinity 3 stands out to me as the best contender for new runners thanks to the supportive feel, bouncy cushioning, and sleek design. For a shoe that'll help you rack up the miles over time, these are a great option.
The Nike React Infinity 29 running shoes have a narrow (but not too-tight) feel to them thanks to the flexible flyknit material on the upper and sides, starting around the heel and going through the midfoot while allowing for space around the toes. Similar to the Asics Kayano 29, the cushioning in these running shoes is excellent, most supportive around the midfoot with the arch support and EVA foam cushioning.
Much like the On Running Cloudsurfer, Hoka Clifton 8, and the Lululemon Blissfeel 2 running shoes, I found I had to size up with the Nike React Infinity 3. In all other ways though, this pick of the best Nike running shoes fits well. Plus, the extensive range of colors offers everyone the chance to find a design they like.
8. New Balance Fresh Foam X 860v13
Best running shoes for treadmill workouts
Specifications
Size range: US 5 - 13 / UK 3.5 - 9
Terrain: Road/Treadmill
Waterproof: No
RRP: $139.99 / £140
Reasons to buy
+
Suitable for everyday running
+
Very stable in the midfoot
+
Stylish design
Reasons to avoid
-
Less ankle support than other models
It's no surprise the much-loved New Balance Fresh Foam X 860v13 running shoes made it into our top picks. The main selling point of these is the Fresh Foam midsole cushioning, which had me feeling like I was running on clouds. There's perhaps not as much need for this much cushioning on a treadmill, which isn't as hard as pavement, but I really felt the benefit after about 10 minutes on the move.
One of the other highlights of these running shoes is the medial post on the midfoot, offering an extra element of stability to every step, which I found was essential when running on the treadmill. The upper is made from engineered mesh and feels supportive across the entire foot, compressing it each time your foot hits the treadmill to protect against impact. However, the support around the ankle in particular is lacking compared to other shoes on this list like the Nike Zoom X Zegamas or On Running Cloudsurfers.
The attention to detail makes this pair worth spending your money on, whether you're running or doing the 12-3-30 workout, with reflective features on the exterior designed to catch the light - perfect if you want to take these running shoes outdoors. The overall design is super stylish too, and available in a range of colors from classic black and white to bright blues and corals. I'd also recommend sizing up with these trainers, as they can come up a little small.
9. Hoka Mach 5
Best cross-training shoes for women
Specifications
Size range: US 5 - 11 / UK 3.5 - 9.5
Terrain: Road/Treadmill/Gym
Waterproof: No
RRP: $140 / £130
Reasons to buy
+
Flat base across the foot
+
Minimal rocker design for stability
+
Lightweight
+
Good variety of colors available
Reasons to avoid
-
Not suitable for running longer distances
Looking for a pair perfectly suited to do just about everything? I'd suggest the Hoka Mach 5 running shoes. The bottom of the shoe feels almost completely flat, despite the slight rocker design, making them ideal for workouts where you need to be stable but also be on the move, like circuit training or boxing. They're also supportive enough for shorter runs of a maximum of 10km.
The Hoka Mach 5 running shoes are traditionally race shoes though and immediately after slipping them on, I could tell. They're super lightweight and springy, without the high cushioning EVA foam sole of many other shoes on our list. The flared end reaches out around the back of the heel, offering extra stability and support, which helps both during runs and other workouts to keep the foot still.
However, I wouldn't take these shoes on longer runs with me as they don't offer quite as much cushioning around the heel or support around the ankle as I'd personally need. If you feel the same, opt for the Hoka Clifton 8 shoes instead, for example. I have felt twinges in my ankles and knees running in these shoes over more than 5km, but if you're a fan of flatter pairs then these could be perfect for you.
10. ZR S
Best sustainable women's running shoes
Specifications
Size range: UK 4 - 12 / EU 37.5 - 47.5
Terrain: Road
Waterproof: No
RRP: €149
Reasons to buy
+
Great support around foot and ankle
+
Good range of women's sizes
+
Sustainably made
+
Free shipping within EU
Reasons to avoid
-
Only available to buy in UK and EU
Zen Running Club's lightweight, reactive running shoes aren't only good for your feet, but they're good for the planet too. Anyone looking to invest in sustainability with their pick of the best women's running shoes should certainly consider this high-performance, comfortable pair.
Totally vegan and approved by The Vegetarian Society, Zen Running Club's S shoes have a sock-like material fit made from eucalyptus tree fibers, with a sugarcane-based foam rocker design, a castor bean foam with eucalyptus fabric to cradle the foot, and an outer sole made from FSC-certified natural rubber.
My tester for the shoes was woman&home's digital beauty editor, Fiona McKim, who is also a keen runner in her spare time. "I basically never stray from my go-to, very mainstream running shoe brand (rhymes with 'crikey') so I wasn't sure what to expect with these upstarts, but I was pleasantly surprised," she says. "The best thing about them is the soft, lightweight, and stretchy fabric, which really grabbed and cosseted my whole foot right up to the ankle. I felt super-supported from the off and there was no chance of my usual 'first run Achilles blister' which I appreciate."
But these running shoes don't only feel great, says our tester, they look great too. "I love the black knit with a fun little pop of orange."
However, much like all the other shoes on our list, there's something to consider with these trainers. "The sole was a little inflexible on the first few runs, so my arches needed a bit of stretching after, but I soon softened them up and now they feel like they were made for me," says Fiona.

How to choose the best running shoes for you
Find comfort: Almost as soon as you slip your running shoes on, they should be comfortable. "It's a common myth that a shoe needs to be worn in," says running coach Ben Parker of Runna, one of our top-rated running apps. "I find any good pair of running shoes that suit me feel great right away. Try them on in the shop (this is also a great place to get a running gait analysis) or out of the box and you'll quickly know if they're not good for you. If running around your front room or the shop floor doesn't feel comfortable, you're not going to enjoy running around your local park regularly in them."
Make sure they're fit for purpose: Find a running shoe that's designed to take on the movement and terrain you're going to be putting them through, says Parker. "Make sure you're buying shoes in line with what you plan to use them for. A nice generalist trainer with plenty of cushioning and some grip, if you mix up the terrain, is a great place to start."
Prioritize durability: Get a pair of running shoes that are built to last, otherwise, you'll be spending a lot more money over the next couple of years. "The top-of-the-range fastest race shoes might be light and loaded with a springy carbon plate but they last a fraction of the time of a normal running shoe while they cost two-to-three times more too. These are clearly not the best choice for someone starting out," says the coach.
Combine practicality and a design you love: As noted, having a pair of shoes that looks great and performs well is a winning combination for getting your running confidence up. "Make sure you like how they look and you'll be proud to rock them around your local neighborhood. Have a think about the seasons too, if you're going into winter, don't go for a white option as they won't stay white for long."
Is it better for running shoes to be too big or too small?
It'll be best to size up when buying many of the best running shoes for women, especially online, as even the top brands tend to come up a little small. However, you'll still want shoes that fit true to size rather than being too big or too small.
"You want to make sure your sock leaves no part of your heel exposed to the shoe or this friction will lead to blisters or bleeding," says Parker. "Most good shoe brands do a wide fit option, go for this if you find your daily shoe is normally tight."
How often should you replace running shoes?
Most people should find their running shoes last between six to nine months, or around 500 to 800km. While this doesn't sound like a lot, it will vary from shoe to shoe depending on how durable they are and the terrain.
The way to tell, Parker says, is "if you start to notice they're losing their tread or the cushioning, then it's worth replacing them as running on worn-out shoes will increase your risk of injury."
When it comes to replacing your running shoes, the coach also has a tip: "Buy what you already have. If you've been getting on well with your running shoe and now need a replacement, just buy them again or the latest version of the same shoe. You've heard the saying: if it's not broke, don't fix it."
What's the difference between men and women's running shoes?
It might seem like running is the same technical movement for women as it is for men and in many cases this is true, but there are very subtle differences in the way we move that impact technique.
"The difference between men and women when it comes to running technique is largely due to the structure of the pelvis and lower parts of the body [knees and ankles]," explains performance coach Arj Thiruchelvam. "This impacts the knee, which often collapses inwards as the heel moves outwards. This results in stress on the joint and to the landing of the foot."
Our hips also play a factor. "The hips and subsequent Q angle (the force exerted on the knee by the thigh muscles] is wider for women," he adds. "There has been some research to suggest that women are more likely to overpronate [arches/ankles roll inwards], more so than men, and women often have a faster or shorter cadence [stride length and frequency hitting the ground] often resulting in better energy and stamina."
To help combat running injuries, Thiruchelvam recommends female runners focus on glute and hip strength, with the aid of resistance bands, lunges, and squats. "I also suggest implementing basic running drills and hopping exercises to improve biomechanics."
A digital health journalist with over five years experience writing and editing for UK publications, Grace has covered the world of health and wellbeing extensively for Cosmopolitan, The i Paper and more.
She started her career writing about the complexities of sex and relationships, before combining personal hobbies with professional and writing about fitness. Everything from the best protein powder to sleep technology, the latest health trend to nutrition essentials, Grace has a huge spectrum of interests in the wellness sphere. Having reported on the coronavirus pandemic since the very first swab, she now also counts public health among them.