The best women's walking shoes for weekend walks and hiking trips, as tried and tested by our health team
Rocky trail or muddy field, these are the tried and tested best women's walking shoes to invest in this season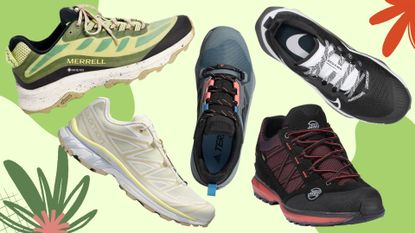 (Image credit: Merrell/Salomon/The North Face/Adidas)
Finding the best women's walking shoes for you and your feet will make a huge difference to your outings this year. To help you find the right ones for your feet, we've tried and tested a range from some of the most popular brands out there including The North Face, Merrell, Salomon, and more.
Whether you're heading out on a long hike or just for a rainy walk down the street, having the right footwear makes the world of difference. Not only will your feet stay warm and dry, even in the middle of winter, your feet and ankles will thank you too as you'll find that you feel more supported when you move.
Everyone's feet are different though and just like choosing the best walking socks, you may find that what you need in a walking shoe is different to someone else. From lightweight trail trainers to heavier weather-resistant shoes, these are the best women's walking shoes to buy this season.
How we tested the best women's walking shoes
Why you can trust Woman & Home Our expert reviewers spend hours testing and comparing products and services so you can choose the best for you. Find out more about how we test.
To discover what makes a great walking shoe, we consulted the experts and followed their advice on everything from sizing to materials when it came to making our selection. We then gathered a collection of walking shoes from popular brands like The North Face and Hoka, along with more specialist picks, and our team of expert testers headed out to test the shoes themselves over several months.
When testing the pick of the best women's walking shoes, we considered:
Comfort: Comfort really is key when it comes to walking shoes. As a top priority, we noted whether the walking shoes had lots of cushioning, a sizeable toe box to allow our feet to move and swell comfortably and whether they were generally comfortable to wear over many hours.
Support: Walking shoes should feel secure around the ankle and have great traction, the experts told us. So, we tested the shoes on various terrains to see whether they were up to scratch - from rocky trails to muddy fields, and even out and about in the city.
Fit: It's best to try on walking shoes before going out in them to ensure you're investing in the right size. We always tested these shoes with walking socks on to make sure they fit well around these and noted whether it was best to size up in certain brands.
Material: We tested a range of shoes made of different materials, including classic leather walking shoes and modern GORE-TEX-lined boots designed to be worn in heavy rainfall. Whatever terrain you're tackling this year, we've got you covered.
Versatility: If you're just looking for a pair of walking shoes for taking the dog to the park, a cheaper fabric option might be all you need. But, if you plan to trek in your walking shoes, opt for durable waterproof shoes with grippy soles for stability. We tested a whole range of boots for different uses and price points to give you a variety to choose from.
The best women's walking shoes tried and tested by us
1. Merrell Moab Speed GTX X SB Trainers
Best women's walking shoes overall
Specifications
Size range: US 6.5-10.5 / UK 4-8
Weight: 647g per pair
Material : GORE-TEX lining
Sole: Rubber
Waterproof : Yes
RRP: $172 / £125
Reasons to buy
+
Lightweight
+
Perfect for multi-terrain walking
+
Stylish colour
Reasons to avoid
-
Limited ankle-specific support
Merrell's collaboration with Sweaty Betty launched these stylish walking shoes earlier this year and since testing them out myself, I haven't been able to take them off my feet. As well as being reliably waterproof thanks to the GORE-TEX lining, as I was reminded on a particularly rainy trail walk one weekend recently - they're lighter than previous versions of the Moab and some of the lightest on our list.
Support wise, the overall stiffness of these walking shoes in the heel and sides of the show make me confident going over rough terrain in them. While I normally wear hiking boots in rockier terrain as I tend to get ankle pain on longer walks, I've never had an issue wearing these. Merrell's Moab Speed GTX Trainers are also incredibly comfortable with soft foam insoles and arch support.
With concerns over fashion's impact on the environment, it's good to know that these Merrell Moab Speed GTX X SB Trainers are made with plenty of recycled materials. The laces and the mesh lining, for example, are 100% recycled as they're made from plastic bottles. The footplate uses 50% recycled material and the rubber step is made from at least 30% recycled materials.
And while many of the other best walking shoes will struggle when it comes to style points, the bright green and cool cream color options of these make them a winner. So whether you're walking on a city break or taking on trails, these will be the best accompaniment in our books.
2. Nike ZoomX Zegama Women's Trail Running Shoes
Best lightweight women's walking shoe
Specifications
Size range: US 5-11 / UK 2.5-8.5
Weight: 266g per pair
Material : Textile and synthetic
Sole: ZoomX midsole, rubber outer sole
Waterproof : No
RRP: $160 / £144.95
Reasons to buy
+
Lightweight material
+
Double upper layer keeps dirt and dust out
+
Supportive lacing system
Nike ZoomX Zegama Women's Trail Running Shoes might be some of the best trail running shoes technically but when I tested these out for myself on a long, dry, dusty walk in the summer, I found them to be just as good as many of the other walking shoes on the list.
For starters, they're incredibly comfortable to move in, with an internal heel and super cushioned midsole made of the brand's own ZoomX foam. In combination, they offer a surprising bounce when you walk with a great feeling of support under the heel. On my trail walk, I found I was moving along a lot quicker than I would normally thanks to this, while the supportive lacing system and sock-like ankle support held my foot in place. I took these out running one day too, so I can also attest to their success as trail running trainers.
While they won't be suitable for rainy winter walks as they're not waterproof and have a breathable upper with perforations in the material, they're a great walking shoe for drier weather and gritty trails.
3. Ariat Skyline Low H20 Walking Shoe
Most durable women's walking shoes
Specifications
Size range: US 5.5-11 / UK 3-8.5
Weight: N/A
Material : Leather with mesh lining
Sole: Dual-density Duratread sole
Waterproof: Yes
RRP: $122.95/£110
Reasons to buy
+
Extra protection at toe and heel
+
Made from durable leather
+
Easy to move around in
Reasons to avoid
-
Leather takes time to wear in
From the lightest walking shoe on our list to the most durable, the Ariat Skyline Low H20 Walking Shoe is excellent for anyone looking to weather the rain in their pick of the best women's walking shoes.
On the inside, your feet have a lightweight EVA midsole so your feet are supported everytime you strike the ground. On the outside, the thick leather may feel a bit old-school but it's sure to keep your feet dry and warm in even the most inclement conditions. The shoes' outer dual-density Duratread sole also offers multi-directional traction to keep you stable as you move. However, you won't be paying the price for this in the weight of these shoes, our tester says.
"I loved the extra protection at the toe and the heel of the shoe when I wore these on a particularly rough and rocky route. They definitely saved my toes from the rocks a couple of times," she explains. "Despite this, they're super lightweight still and really easy to move in, which I was surprised by. Although I would suggest wearing them around the house for a couple of weeks before you head outside as the leather takes some time to wear in."
4. Salomon S-LAB Xt-6 Walking Shoes
Best women's walking shoes for beginners
Specifications
Size range: US 4 - 13 / UK 3.5 - 12.5
Weight: 365g per pair
Material: Synthetic and textile
Sole: Rubber outer sole, textile inner sole
Waterproof : No
RRP: $190 / £155
Reasons to buy
+
Super lightweight
+
Ideal for flat terrain
+
Comfortable footbed
+
Unique lacing system
Salomon's XT-6 may have become the latest addition to the must-have Gorpcore wardrobe but it's an excellent walking shoe in its own right. Available in a whole range of colors from monotone black to colorful purples, blues, greens, and yellows, it's the perfect beginner walking shoe.
While they're not waterproof, meaning these will be a better pick for the summer and drier weather just like the Nike trail trainers, they have a dust-proof textile upper that keeps feet clean and away from the dirt of the trail. The rubber toe cap also works brilliantly for rockier climbs and protects the toes. While the sole isn't as thick as the Merrell X Sweaty Betty walking shoes, for instance, the EVA cushioning in the midsole really feels like it protects the foot and there's only ever a soft landing with these shoes.
"I wouldn't wear any other walking shoes apart from these now," says our tester, who's been trialing out Salomon's XT-6 walking shoe for the last couple of months. While she recommends avoiding the lighter colors if you're walking through a lot of muddy or dirty conditions - we went for white, rightly or wrongly - the comfortable fit and easy pull-on-pull off design makes them a great pick for beginners.
"The lacing system really makes them the best pick for me as well. It's a simple cord system that sits on the upper of the shoe and all you have to do is pull the toggle to tighten the whole shoe. It also adds a unique aesethic feature that a lot of other walking shoes don't have, which is probably why they're so fashionable now," she adds.
5. Hanwag Belorado II Tubetec GTX
Best waterproof women's walking shoes
Specifications
Size range: US 6 - 11.5 / UK 3.5 - 9
Weight: 710g per pair
Material: Fabric
Sole: Hanwag TubeTec
Waterproof: Yes
RRP: $240 / £165
Reasons to buy
+
Sporty style
+
Great for a range of activities
While our Nike trail running shoes and Salomon's stylish XT-6 shoe will be ideal for summer weather, sometimes you really just need a shoe that'll stand the test of a real rainfall - enter the Hanwag Belorado II Tubetec GTX. These walking shoes have a GORE-TEX membrane and lining so they'll keep your feet dry whatever the weather, as our tester discovered.
"I tried these shoes out on a rainy walk down by the coast, so they really experienced all the elements - and sand. Overall, I thought they were great! Not only did they keep my feet warm and dry through the whole day, they were still comfortable after five hours of walking and kept out the sand equally as well as the rain," she says.
Hanwag prioritizes a good fit when it comes to its walking shoes and boots and the Hanwag Belorado II Tubetec GTX shoes have laces that start much further down the toe box - so simple, but it can make a great deal of difference, especially if you have any type of injury and need to take special care of your feet.
"These shoes are so versatile," our tester adds. "They would also work well at normal altitudes for long walks in the countryside or strolls through the city, I believe. However, I would say to perhaps size down with this pick as I found these shoes came up slightly big."
See our full Hanwag Belorado II Tubetec Lady GTX review
6. Adidas Terrex Swift R3 GORE-TEX Hiking Shoes
Best women's walking shoes for winter
Specifications
Size range: US 5 - 11 / UK 3.5 - 9
Weight: N/A
Material: GORE-TEX lining
Sole: Rubber
Waterproof: Yes
RRP: $150 / £140
Reasons to buy
+
Well-cushioned
+
Lightweight
+
Excellent grip
Reasons to avoid
-
Not suitable for summer months
While these aren't quite trail running shoes, they almost measure up to the Nike trail running trainers on our list in terms of their ability to navigate rocky scrambles, ridges, and (because these ones are waterproof) damp trails. Created to be well-cushioned, lightweight, and easy to move in like a trail running shoe, but with the stability of a hiking boot. If you're looking to explore all the health benefits of walking, consider these as one of your top picks.
This pick of the best women's walking shoes has an EVA midsole and molded sock liner, making them ultra-supportive and comfortable. They also have great traction underfoot, as you'd expect from a shoe in the Terrex range, thanks to the continental rubber outersole. While the deep heel cup and lacing system keeps feet securely in place.
"I'd suggest these for the best winter walking shoes overall," says our tester, who is a fan of Nordic walking. "While you could wear them in the summer, they don't have a particularly lightweight feel and layers of the trainers make them feel super weatherproof and not too breathable, which probably isn't needed so much in the summer. They're definitely waterproof though. I walked through a muddy former-lake on my most recent hiking trip and while the shoes came out covered, my feet stayed completely dry."
However, if you are looking to wear these in summer, Adidas has a solution. They offer a waterproof and non-waterproof version of these shoes because waterproof membranes can sometimes reduce the breathability of shoes.
7. The North Face Vectiv Exploris Futurelight Boots
Best women's walking boots
Specifications
Size range: US 5 - 11 / UK 3 - 9
Weight: 714g for pair
Material: Fabric
Sole: VECTIV technology
Waterproof : Yes
RRP: $169 / £155
Reasons to buy
+
Super lightweight
+
Comfortable
+
Provide lots of support around the ankle
+
Great traction
Reasons to avoid
-
Tricky to clean lighter colors
Not sure if a walking shoe is for you or want something with a little more ankle support? You might be interested in our top pick of the best hiking boots for women. And when it comes to lightweight, supportive walking boots, there's no pick better than The North Face's VECTIVE Exploris Futurelight Boots.
"Not only are these walking boots comfortable and easy to move around in, the lightweight material provides excellent breathability and waterproof protection. I wore them throughout the summer and then into the rainy autumn this year and found they kept me cool and dry in all the different weather conditions," says our tester.
She hiked steep terrain at one point as well and noted these shoes felt safe and supported along the route, thanks to the 4mm lugs, VECTIV midsole and toe caps that provide ultimate protection on tough rocky terrain. Our tester also rated the shock absorption technology, and it felt these boots reduced the impact on their joints during steep climbs.
Available in a standard shoe or mid-top boot for more support around the ankle, this model comes in four colors and is pretty stylish if you ask us. Our tester loved the look, but they found the light color did get dirty quickly - much like the Salomon XT-6 trainers - a point worth noting if you're debating what color to buy and are planning to hit muddy trails.
How to choose the best walking shoes for you
Make sure your walking shoes are waterproof: "Waterproof shoes will be useful for all weathers, not just big puddles. Brands like Merrell that use GORE-TEX are great as it provides innovative wet weather protection and is the gold standard for waterproofing," says Annelie Pompe (opens in new tab), an experienced hiker and professional adventurer who is also a member of Merrell's hiking club.
Ask yourself whether they're really comfortable: If you buy walking shoes online, be sure to wear them around the house to begin with to check they're comfortable. If they're not, send them back. "Walking or hiking shoes need some space in front of the toes, about 0.5 to 1cm is enough," she says.
Think about heavy vs lightweight shoes: When choosing your pick of the best women's walking shoes, how much they weigh is an important - and often overshadowed factor. "For example, lightweight walking shoes are often deemed to be less tiring and more comfortable," says Pompe.
Choose the material carefully: While most waterproof walking shoes are made from a lightweight textile or leather, there are others to consider. "The material of the inner lining is especially important," the hiking expert explains. "What one person considers comfortable might be very different to what someone else considers comfortable, so it's important to try on the shoes before going for a long walk."
Consider what kind of support you need: Think about whether you need low, medium, or high-support. "Will you be carrying a heavy pack? If so, you'll need mid to high support. If you need maximum ankle mobility then low will be better and if you need more support for your ankle, high support will be best," she says.
Are the shoes sustainable? "If you love hiking/nature, make sure the footwear you chose to embrace nature is made sustainably," Pompe says.
How long do walking shoes last?
It depends on much you walk around on rocks and unstable terrain where the shoes will be put under pressure, says Pompe. "And also how well you take care of them, but between four and 10 years is typical."
This may be more than you were expecting, considering that running professionals suggest swapping out even the best running shoes every six months - depending how often you run. However, hiking shoes and trail shoes tend to be sturdier as as this guide on the best of them shoes, made from materials such as leather and textiles that don't wear out as easily.
Walking shoes vs hiking boots
The benefit of walking shoes vs hiking boots is that walking shoes are usually much more lightweight, breathable and flexible than your average walking boot. This helps to keep you moving easily on long days while hiking steep terrain, particularly in warm weather.
With a low-cut ankle, walking shoes are best for long-distance hikes and walking workouts, providing a better range of movement to navigate tricky terrain. Many of the options on the market right now offer great traction, with grippy soles that keep you stable and secure as you move. What's more, walking shoes are often more affordable than hiking boots and can be used in all conditions, across a range of terrain from rough and rocky mountains to open and flat grasslands. If you're planning to wear your shoes in rainy conditions, lookout for waterproof options with GORE-TEX lining.
How to clean walking shoes
Always clean them after each use: You can clean all walking shoes with a damp cloth or water if they are really muddy. After a major clean or after they've been worn for a couple of years, you may find they need to be reproofed if they're waterproof - but you can buy products online for doing this at home.
Brush them down if they're dirty: However, if your shoes have taken a hit with a dusty trail, there may be no need to give them a full bath. Just brush them down with a bristled brush, taking care not to nick the fabric if the shoes have a thin fabric upper.
Apply wax to leather shoes: A leather boot will benefit from a wax application, such as Nikwax or Grangers G Wax. Shoe polish will also help keep the leather from drying out.
Dry them out: Try to let your walking shoes dry naturally, rather than placing them in an airing cupboard or on a radiator. Place newspaper inside the shoes to make sure they retain their shape as they dry.
A digital health journalist with over five years experience writing and editing for UK publications, Grace has covered the world of health and wellbeing extensively for Cosmopolitan, The i Paper and more.
She started her career writing about the complexities of sex and relationships, before combining personal hobbies with professional and writing about fitness. Everything from the best protein powder to sleep technology, the latest health trend to nutrition essentials, Grace has a huge spectrum of interests in the wellness sphere. Having reported on the coronavirus pandemic since the very first swab, she now also counts public health among them.
With contributions from