What is Gorpcore? The fashion trend that's stylish and practical
Wondering what is Gorpcore? Here's everything you need to know about this fashionably functional style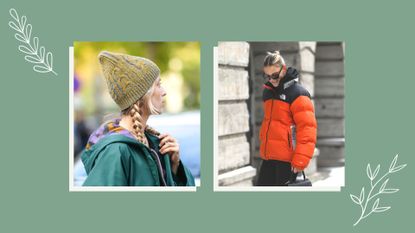 (Image credit: Getty Images)
A trending term, if you're wondering what is Gorpcore, you've come to the right place. Finally, a trend that is both stylish and practical, this look has created quite a frenzy amongst those who like to look cool without compromising on comfort.
Stylish and functional, the term Gorpcore was first coined by The Cut in 2017 to describe the rise in popularity of functional, outdoors-inspired gear normally only seen on hikers and mountain climbers. Named after the colloquial term for trail mix - Good Ol' Raisins and Peanuts or GORP for short - it basically elevates practical items as super stylish must-haves.
Technically, when discussing what is Gorpcore, you're talking about items that aren't fashion-first but instead have been designed for outdoor activities such as skiing, running, and hiking. They keep you warm and dry, rather than showing off your fashion credentials... until now that is.
WHAT IS GORPCORE - AND WHY IS IT SO POPULAR RIGHT NOW?
So, why is this trend having a resurgence again five years down the line from its original outing?
Megan Watkins, Head Stylist at the online destination for independent fashion brands SilkFred (opens in new tab), believes the reason so many people are asking what is Gorpcore and why is it so popular is because of its timeless appeal.
"While Gorpcore has been around for a few years now, its revival every fall/winter is no huge surprise because it absolutely oozes Gen-Z coolness," she says.
"This is largely thanks to high-profile celebs and influencers constantly posting in their oversized fleeces and gilets on Instagram. Also, the functionality and comfort of Gorpcore pieces make them timeless in your wardrobe."
When working out what is Gorpcore, you need to roll back aesthetics and start with practicality. When it comes to Gorpcore, layers are essential, so you're looking for items that are designed for keeping you warm. The best waterproof jackets fit nicely into this trend too, as it hones in on the practical element of dressing. And don't forget the best winter hats, such as cozy beanies, thermal socks and nylon bags. And while aesthetics come into play later, it's all about function first. Gorpcore is also very much a unisex look which means that you can shop from all categories for this look.
While you can wear it top-to-toe, you can also dip your toe into the water and make like celebrity fans of Gorpcore such as Rihanna, Billie Eilish and Bella Hadid, and incorporate elements into your everyday look. Team a huge puffer jacket with flared leggings. Slip-on hiking boots with a sweet floral dress, or throw on a fleecy jacket over a pair of dungarees.
As well as bright colors, such as orange and pink, featuring heavily in this look, it's also about the logos. Just like the '90s fashion trend for branded crossbody bags, logos signify that you're a Gorpcore insider and you know the brands to wear whether that's Patagonia, Arc'Teryx or The North Face.
Even the top luxury designers are now understanding the power of Gorpcore brands. Just take a look at Gucci's collaboration with The North Face in 2020 or Jill Sander's range designed for Arc'Teryx in 2021. And while designers such as Prada and Lanvin have created their own more fashion-led interpretation of Gorpcore, the true aesthetic isn't about high fashion iterations. Rather it's about embracing the functionality, technical fabrics, and practicality (and some may say slightly ugly element) of clothes that offer stormproof fabrics and thermal layers - making this look ideal for injecting into winter outfit ideas.
WHAT IS GORPCORE: HOW TO WEAR IT WITH STYLE
You're more likely to wear your Gorpcore gear out at the weekend for a casual brunch than you are hiking, but the basics still remain the same. Think practical, embrace the normality of the look, and perhaps throw in an unexpected touch or two to make it truly unique to you.
1. Best coats for Gorpcore
The mainstay of the Gorpcore trend is a coat, and the most ubiquitous one is the down-filled puffer jacket. Once only the preserve of those battling below-freezing temperatures, puffer jackets have become a must-have in every stylish woman's winter wardrobe, becoming one of the best coat trends for 2022.
While black is the most popular shade, earthy, natural shades are also popular within this trend so look for khaki or beige for a minimal look. Bright colors have also long been used by outdoor brands, perhaps in an attempt to jazz up the practical nature of the clothing, so if you want to stand out from the fashion crowd, try an orange or bright green iteration.
"Gorpcore is all about functionality, so it's important that your puffer jacket is versatile and easily adaptable to any ensemble," says Megan.
"Puffer jackets can often be bulky. If you're prone to overheating, go for a jacket that uses a synthetic feather fill and a nylon outer layer. The fill creates air pockets that keep you warm, while the nylon is lightweight and durable."
"We're actually seeing gilets reigning supreme on SilkFred right now. They allow more versatility when it comes to layering versus your typical puffer jacket."
As well as the puffer, bright, functional raincoats are also an option. They may not provide the cozy warmth of a puffer jacket, but they can be layered over a fleece and base layers to create a true Gorpcore look.
(opens in new tab)
Superdry Longline Puffer Coat
RRP: $169.95 / £164.99 | When the weather turns, it's time to bring out the dopamine dressing. This bright orange puffer coat is bound to make any wintery day feel brighter, plus it will literally feel like you're wearing the coziest duvet ever.
(opens in new tab)
H&M Drawstring Waist Puffer Jacket
RRP: $64.99 / £39.99 | If your budget doesn't stretch to brands like Patagonia, H&M are all over the Gorpcore trend. This waisted jacket is great for creating a bit more shape. Ideal with jeans or leather pants, this will also work with dresses or leather skirts.
(opens in new tab)
North Face Waterproof Jacket
RRP: $184.22 / £160 | With fabrics that are waterproof, windproof and breathable, this is one of the best waterproof jackets out there. The black and white version is chic, adding a sporty element to your look. A great addition to leggings outfits too.
2. Best trousers for Gorpcore
Ditch the jeans for this look as it's all about the technical trouser, paired with hiking boots and fleece, you've got the ultimate Gorpcore look.
Whether they're made out of water-repellent material or are stretchy for ultimate comfort, these trousers are the sort of wardrobe essentials that provide a basic background for more fashion-forward pieces.
The top Gorpcore trouser has to be the humble cargo pant. Not sure how to style cargo pants for this look? Make like French fashion editor Carine Roitfeld and team them with chunky soled boots and an oversized puffer jacket for a look that says camping... but make it fashion.
(opens in new tab)
Finisterre Cotton Trousers
RRP: $130 / £110 | Founded in the UK to make clothing for surfers, Finisterre's clothing combines style with practicality to the tee. In this ecru shade, these jeans add a touch of light to dark winter days. Team with a cream sweater for a luxe finish.
(opens in new tab)
RRP: $88 / £99 | With a high waist and slouchy legs, these cargo pants are ideal for the Gorpcore trend - and your wardrobe. Give a nod to the boot trends 2022 with some chunky boots and a plain t-shirt for an example of how to dress simple, but stylish.
RRP: $54.40 / £47.40 | Fed up of mom jeans outfits? These skinny pants are ideal. Fitted, they're made out of a fabric that is breathable and they're waterproof meaning you can go from a rainy dog walk directly to the pub without that soggy jean feel.
3. Best tops for Gorpcore
The controversial top that is popular for this trend is one that's not been cool for many, many years - the humble fleece.
"Fleeces used to be worn exclusively by dads on 'serious walks', but now they are worn by the likes of Bella Hadid and Kendall Jenner," says Megan.
Her advice? Take a cue from the celebs and style them with suit trousers and a mini handbag if you don't want to go full-on Gorpcore.
Aside from your fluffy friend, other tops to try are slim, long-sleeved t-shirts, such as those you might wear as base layers for skiing, or oversized sweatshirts, or the best hoodies. Go plain, but with brand logos or monograms - a mainstay of Gorpcore - or with a nature-inspired motif. Whatever style of top you choose, they make the basis for some great fall outfit ideas.
(opens in new tab)
Patagonia Reclaimed Fleece
RRP: $54.40 / £140 | Made from recycled polyester and wool, Patagonia is one of the best sustainable brands out there. A perfect item for layering. Add a slim-fit polo neck underneath for extra warmth, it's also a great way for how to style leather pants for a cooler finish.
(opens in new tab)
RRP: $46 / £32 | Layering is a key component of the Gorpcore trend, which is great as it's also the best way to keep snug once the lower temperatures hit. This funky base layer top, made for skiing, is too cool to cover up and can be teamed with jeans, cargo pants or jogging bottoms. Available in plus sizes too.
(opens in new tab)
H&M Loose Fitting Sweatshirt
RRP: $24.99 / £14.99 | If you're on a budget and don't want to splash the cash to wear this trend, go for sweatshirts or hoodies with appropriate logos on them. They're the perfect way to show you're outdoorsy without the high price tag. This pink sweatshirt can work with pants or skirts.
4. Best shoes for Gorpcore
The best winter boots are ideal for the Gorpcore trend. Think chunky soles, and in particular, hiking boots.
"Hiking boots remain a staple in our wardrobe because they are so versatile," explains Megan.
"They are perfect for winter walks and festive activities. Pair them with skinny jeans and an oversized checked shirt for that ultimate off-duty look. It's best to avoid wearing wide-leg jeans which will create a bulky silhouette.
These are not boots that you'll work into your work Christmas party outfits, but they will take you on a long dog walk or a mammoth shopping session with comfort.
As an alternative to boots, 'technical' trainers are your next best bet. These aren't trainers to pose in. These are trainers to go on a full-on hike - think padded insoles, chunky gripped soles and waterproof uppers. They may not be the prettiest of trainers, but they come with lots of attitude. The brands to shop from include the Nike ACG range and celeb favorites Salomon and Grenson.
(opens in new tab)
RRP: $725 / £485 | Chunky styles still reign when it comes to the boot trends 2022, and the ridged sole of these Moncler boots is really on trend. For an unexpected look, pair them with a dress. The best midi dress for this look is something floral and floaty to juxtapose the style.
(opens in new tab)
RRP: $190 / £155 | Loved by Bella Hadid and Rihanna, these Salomon trainers are the ultimate in Gorpcore style. Available in a range of shades, not only are they super fashionable but they're also one of the best running shoes for women. Great for going from the gym to brunch.
(opens in new tab)
RRP: $225 / £195 | These boots are definitely not for muddy hikes. The faux shearling trim gives these hiking boots a fashionable twist, while the padded interior will keep toes cozy during the colder months. A perfect choice when it comes to what shoes to wear with leggings.
5. Best bags for Gorpcore
Would you ever go on a long hike or a camping trip without a backpack? This is why it's the primary bag style for the Gorpcore trend.
Whether you choose one that comes with all the technical add-ons or a simpler style, this is a design that works whatever your lifestyle. In fact, they're the best work backpacks for women - large enough to fit your laptop and workday essentials in, with added benefits of padded straps and rainproof fabrics, ensuring everything is kept dry.
If you're looking for something smaller, try crossbody or waist bags, the latter often worn slung across the body for a more directional feel.
Regardless of the style, this is no place for leather or patent when discovering what is Gorpcore, think more about practical fabrics such as nylon. And while black is perfect for going with everything in your wardrobe, modern Gorpcore is all about colors, so a bright bag is a great way to inject a pop of color into every outfit.
(opens in new tab)
RRP: $85 / £60 | Made from water-resistant and tear-resistant nylon, this backpack actually folds down into its front packet, meaning it's the ideal vacation bag, as well as being great for toting your stuff down a mountain - or when heading to the shops. The logo design is so very Gorpcore and will add interest to plainer outfits.
(opens in new tab)
RRP: $45 / £47 | A bag that can be worn two ways – at the waist or crossbody - it has twice the wear appeal. The pretty mint color of this bag would go well with fall neutrals or other pretty pastel shades and its minimal '90s styling is very much one that tallies with the latest handbag trends, helping to bring any outfit bang up-to-date.
(opens in new tab)
Arc'teryx Mantis Waistpack
RRP: $50 / £35 | Canadian brand Arc'teryx is one of the core brands for Gorpcorp lovers, excelling at highly functional clothing and accessories. This waist bag is a cost-effective way to buy into the brand, making it one of the best Gorpcore bag choices for those on a budget. The sunset shade is also a great way to add a pop of color to your look.
7. Best accessories for Gorpcore
The ultimate finishing touch for this practical look is a hat - preferably a beanie. If you're wondering how to wear a hat, Megan says it's all about confidence.
"The golden rule of hats is: Wear the hat and don't let the hat wear you," she says.
"It's important to shop around and try different styles. Luckily, beanie hats are easy to style with any winter outfit without going too bold, so are a great starter hat."
Start with neutral shades of grey, blue and black. Once you've got your nerve up go bolder with bright colors and logos. Baseball caps work as well if you want a sportier vibe.
Other essential accessories include thermal socks and oversized sunnies as if you've just been skiing in Aspen, once again tapping into the latest trends.
RRP: $16 / £12.60 | When it comes to the colder months, you can't go wrong with a classic beanie. This one in grey will go with everything and will suit pretty much every face shape. Just pull it on and you're good to go, knowing you'll be cozy while out and about.
Danish Endurance Hiking Socks
RRP: $20 / £21 | You might be tempted to pull on your best cashmere socks, but merino wool is your friend here, keeping feet cool in the summer and warm in winter. Make a feature with these bright socks by pulling them up high.
(opens in new tab)
Moncler Diffractor Sunglasses
RRP: $547.50 / £365 | If you're looking for the best designer sunglasses to get you through the winter months (and potentially a touch of skiing), look no further than these Moncler beauties. Inspired by traditional mountaineering eyewear.