The best backpacks for working women—make your commute easier (and prettier!)
The best backpacks for working women are practical, comfortable, and fabulous. Here are the 8 brands to know...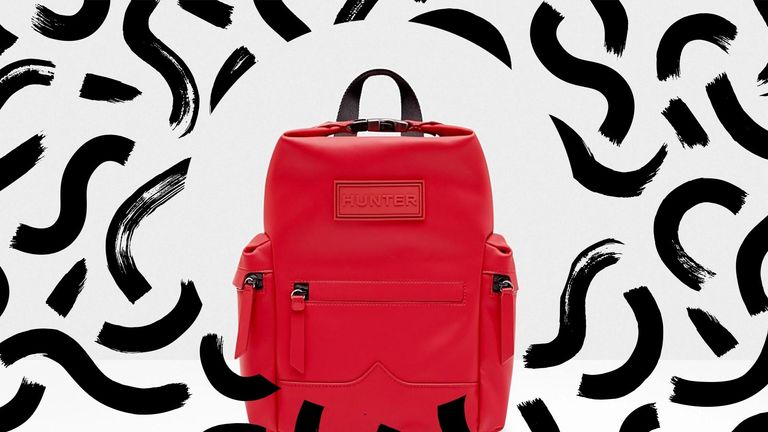 (Image credit: Future | Hunter)
Forget any schoolwear connotations, the best backpacks for working women are a stylish and sensible way to carry your essentials.
Compared to lugging around a bulging, filled-to-the-brim tote bag, a backpack or rucksack is the perfect choice for anyone on the go. There are laptop-friendly backpacks smart enough to wear to work that are roomy and durable enough for an intense commute.
One of the best things about a backpack, aside from evenly distributing the weight across your shoulders so you're not leaning to one side, is that they come with plenty of different compartments. Say goodbye to rummaging desperately for your purse, and hello to knowing exactly where all of your valuables are. It really is the little details that make all the difference when getting from A to B, so look out for backpacks with padded straps, waterproof coatings, and zip-tops too.
According to the British brand Aspinal of London (makers of some of the best designer bags), the average woman carries 17 items in her handbag at any one time, which is the equivalent of three bags of sugar. If you needed convincing that it was time to invest in a backpack, let that statistic be it. No wonder so many of us are suffering from back pain.
So, who makes the best backpacks for women? For work, we like Longchamp for their sleek yet functional designs. Fjallraven and Hunter are our top picks for commuting and weekend adventures (though if you need something for down days, see our round-up of the best weekend bags). If you're in the market for a fashionable backpack that delivers on substance too, Katie Loxton and Zara have got you covered.
Best backpacks for working women, as chosen by our fashion team
We've rounded up the best backpacks for working women. These stylish bags will work equally as well on weekend wanders as they will in the office too.
1. Hunter
Best water-resistant backpacks
Reasons to buy
+Water-resistant+Gorgeous design+Highly practical
Reasons to avoid
-Some designs not as smart
From the people who make the chicest wellington boots comes Hunter's equally practical and stylish backpacks. Perfect for any soggy commutes, their cleverly designed backpacks will withstand any sudden downpours keeping all your belongings safe and dry. They don't skimp on style either, with pared-back designs that will stand the test of time. If our experience is anything to go by, you'll get compliments on this bag every time you use it.
Hunter backpacks—fashion editor's picks
---
---
---
2. Sweaty Betty
Best sporty backpacks
Reasons to buy
+Can be used for running+Versatile
Reasons to avoid
-Limited colors
For those who like to dash from work to workout, athleisure brand Sweaty Betty is certainly one to consider. From water-resistant running backpacks to multi-use tote bags all with a sleek sporty aesthetic. Light and durable they'll work seamlessly with your 9-5 outfit and your Sweaty Betty Power leggings, the attention to design details means they are enough to make the cut of one of the best backpacks for working women.
Sweaty Betty backpacks—fashion editor's picks
---
---
---
3. Fjallraven
Best durable backpacks
Reasons to buy
+Very practical+Popular
Reasons to avoid
-More casual
With a sleek minimalist design, it's easy to see why Fjallraven have sold over three million of their classic Kanken backpack. Lightweight and roomy, the Kanken backpack comes in 18 colors and multiple sizes, meaning you can find the perfect backpack for your needs. As well as the Kanken, they have a plethora of other designs all with practicality in mind—from sleeves for your laptop to padded protection and handy pockets.
Fjallraven backpacks—fashion editor's picks
---
---
---
4. The Cambridge Satchel Company
Best classic backpacks
Reasons to buy
+Long-lasting+Vintage style+Classic, timeless design
Reasons to avoid
-More expensive
Looking for a backpack with vintage-inspired style? Cambridge Satchel Company is our go-to. Top quality bags that have serious longevity in them, their designs blend the old with the new with all of the quintessential retro style but with modern requirements. The classic satchel designs are timeless, with an added dose of personality from color popping hues to statement buckles.
The Cambridge Satchel Company backpacks—fashion editor's picks
---
---
---
6. Zara
Best stylish backpacks
Reasons to buy
+Super sleek designs+Affordable
Reasons to avoid
-May not last as long
Zara rarely puts a foot wrong when it comes to fashion-forward pieces at affordable prices and their backpack range is no different. Featuring chic minimalist designs with a cool edge, they have all the practicalities of a backpack with a more glamorous edge. Perfect for coordinating with your office attire, these bags are smart enough to take from desk to drinks too.
Zara backpacks—fashion editor's picks
---
---
---
6. Longchamp
Best designer backpacks
Reasons to buy
+Investment piece+Lots of colors+Desirable brand
Reasons to avoid
-High-end price tags
From their best weekend bags to the best tote bags, French label Longchamp are pros at creating high quality accessories with a dose of luxe and their popular Le Pliage backpack is a cult buy. Guaranteed to keep you looking stylish on the go, their bags are definite investment pieces. But thanks to their never-date chic style, you will hold on to their bags for years to come.
Longchamp backpacks—fashion editor's picks
---
---
---
7. Herschel
Best work to weekend backpacks
Reasons to buy
+Affordable+Lots of colors
Reasons to avoid
-Not as smart
Founded in 2009, Canadian brand Herschel are experts at creating functional backpacks with a cool edge. From the instantly recognizable Little America buckle design bag to a more luxe-looking Orion, they have everything covered from nights away to everyday commuting. There's plenty of room for your laptop too in most designs with 13" sleeve and extra padding to keep it safe.
Herschel backpacks—fashion editor's picks
---
---
---
8. Katie Loxton
Best smart backpacks
Reasons to buy
+Chic colors+Smart designs
Reasons to avoid
-May not fit all laptops
All Katie Loxton designs are created in-house by Katie and the team so expect cute details, chic colorways and high quality craftsmanship. The backpack collection looks way more pricey than the tag suggests and many bags can be personalised too for that extra unique touch (they make great gifts too!). Although they may not all fit your laptop in, they are roomy enough for the essentials and make chic day to night bags.
Katie Loxton backpacks—fashion editor's picks
---
---