What is Dark Academia style? The book-smart trend taking over social media
Wondering what is Dark Academia? Here's our guide to this intelligent fashion trend and how to wear it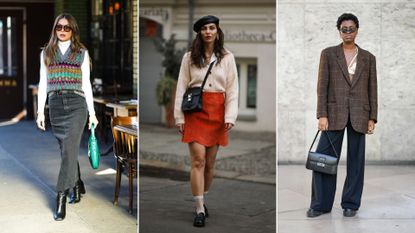 (Image credit: Getty Images)
woman&home newsletter
Sign up to our free daily email for the latest royal and entertainment news, interesting opinion, expert advice on styling and beauty trends, and no-nonsense guides to the health and wellness questions you want answered.
Thank you for signing up to Woman & Home. You will receive a verification email shortly.
There was a problem. Please refresh the page and try again.
If you're wondering what is Dark Academia, to really understand this trend, you need to look to its origins on social media. As with many modern fashion styles, this look began its life on TikTok and Instagram last year.
Heavily inspired by vintage designs of the '30s and '40s, Dark Academia is a romantic style that packs an intellectual punch. Think of a student from yesteryear attending Oxford or Cambridge, and you've got a rough idea of the direction of the trend. With nearly 2 million #darkacademia posts on micro blogging platform Instagram right now, Tayla, a photographer, and creator of the social account Cosy Academia, says its resurgence is due to the time of the year, with students returning to school and university and looking for inspiration as they prepare to make an impression on classmates.
"I think Dark Academia has an especially strong popularity with students who want to romanticize their everyday school life and it also thrives within the gloomy days of fall and winter. I think it definitely makes a big comeback around the back-to-school season for those reasons." she says.
What is Dark Academia?
If you've ever dreamt of studying at a prestigious university or enjoy debating the merits of a Jane Austen novel, nailing what is Dark Academia could be the style for you. The fashion style includes lots of preppy basics and in that sense is similar to the Coastal Grandmother trend, as many of the items for this look will probably be nestled in your capsule wardrobe. From knitted tank tops, and tailored trousers to Oxford loafers, trench coats, and knee-high socks, Dark Academia is preppy with a dark twist.
As with many of the new social media-inspired fashion trends, Dark Academia is more than just a look though, it's a lifestyle and Tayla believes at the heart of this trend is a desire to learn.
"I would describe Dark Academia at its core as a romanticization of learning," she explains. "A lot of people strive to live a 'Dark Academia lifestyle' which can include things like romanticizing studying into the late hours of the night or reading in a library."
Being heavily inspired by vintage, advocates of this look encourage searching second-hand and vintage shops for items, rather than buying new. Instagram and TikTok posts also feature older technology - such as typewriters and record players, harking back to a simpler time. Modern-day shows such as The Queen's Gambit, The Irregulars and The Umbrella Academy have also played a part in influencing and driving this new trend.
To truly embrace what is Dark Academia, you'll have to put aside the majority of the fashion color trends 2022 as this look is moody and not one to invest in if you favor bright color clothes. But, the darker palette of forest green, black, grey, navy blue and various shades of brown are perfect for Fall outfit ideas. Throw in some checks or argyle and you've got the look summed up.
"Dark Academia fashion stems from the 'preppy school girl' look but it's done in a very sophisticated, and often, moody way. Dark colors and plaids are a must!" says Tayla.
Favored by celebrities such as Bella Hadid, Olivia Rodrigo and Blake Lively - who really know how to rock a plaid three-piece suit - the trend has also been picked up on the runway by designers such as Ralph Lauren, Vetements, Christian Dior and Miu Miu sending fall checks, argyle sweaters and academic-inspired attire down the runway.
How to dress for the Dark Academia trend
1. Best dresses for the Dark Academia trend
One of the best dresses to nail this trend is a simple pinafore silhouette. Whether you go for classic corduroy or a check in fall colors, pinafore dresses are super versatile. Team a longer-length pinafore with a crisp white blouse if you want a more polished look, while a roll-neck under a shorter version is perfect for weekend mooching and ideal for brunch outfit ideas.
Other alternatives that tap into this trend are plaid dresses, those with cute collars, or anything that comes in a nice fall shade. Brown in particular is a great choice - especially as it's great for the fall and slots nicely into the season's trends. Just add a book tucked under your arm for that final flourish.
Style tip: Accessories can really help imbue your outfit with more than a flourish of Dark Academia. Choose a vintage-style brooch or tie a leather belt around your waist to change your dress up.
Collusion Check Pinafore Dress
RRP: $46.90 / £27.99 | For low-maintenance dressing, a pinafore is where it's at. Teamed with a simple polo neck or a pussy bow blouse, it's a simple way to look pulled together. Just add boots or chunky loafers and you're good to go with minimal fuss.
Maje Dress With Contrast Collar
RRP: $231 / £279 | This organic cotton dress is the perfect addition to your fall wardrobe. The contrast collar makes it office-appropriate when teamed with a loafer or ankle boot. Add your best leather jacket and trainers for a dressed-down feel.
Warehouse Check Midi Dress
RRP: $54 / £59 | One of the best midi dresses, it can be worn for various occasions, just by switching up your accessories. The dark check gives a nod to the trend while the drawstring feature is perfect if you want to define your waist or add curves.
2. Best tops for the Dark Academia trend
"Knits are also a huge part of Dark Academia fashion, and most looks are tailored to cooler weather so lots of layers are essential," explains influencer Tayla.
Throw a chunky cardigan over a preppy dress or team a sweater vest with a crisp white shirt. Argyle knits in particular are bang on trend for the Dark Academia style - pair with plain trousers or clash with a plaid skirt for a more modern take. If pattern isn't your thing, you can't go wrong with a roll-neck in a muted tone such as brown, burgundy, or forest green.
For a more sophisticated take on the look, which is ideal for a fall work outfit too, opt for a blouse or shirt that can be buttoned up to the top, large or Peter Pan collars get extra style points.
Style tip: Blouses with cuffed or bell sleeves help give a vintage feel to your overall look.
Cider Knitted Argyle Vest
RRP: $26 / £23 | A key item in the Dark Academia trend is a sweater vest or knitted tank top. To avoid looking like a professor, team with a simple blouse and a pair of trousers and throw on a smart trench coat over the top for a modern take.
3. Best skirts and trousers for the dark academic trend
Skirts, whether long and pleated or short and checked, are the mainstay of this look, but if you really have an aversion to skirts, trousers also work. If you're opting for trousers, choose a vintage-style wool blend or corduroy - preferably in a baggier, more androgynous silhouette - to really nail the style. If your bottom half is looser, make sure that your top half is more fitted to avoid drowning your shape – team with a collared blouse to add some femininity to the look.
Styling tip: Tayla says you can adapt this trend to suit your personal style.
She says: "My Dark Academia look leans a little more vintage, channeling a lot of 1940s fashion with longer skirts and dresses. The 1990s aesthetic is huge right now and that grunge look would be perfect to incorporate with Dark Academia fashion as well, like sporting a cute pleated mini skirt!"
H&M Check Pleated Mini Skirt
RRP: $24.99 / £14.99 | A little bit grunge, a little bit Clueless, this cute pleated mini skirt is a fun addition to any wardrobe. One of the big fashion trends 2022, miniskirts needn't be scary to wear. Ditch the socks for opaque tights to make it more sophisticated.
RRP: $269 / £169 | Corduroy has come a long way in terms of fashionability as this stylish brown pair shows. Made from Italian woven cord, the elasticated waist makes them easy to pull on, while the slightly tapered legs give them a flattering fit.
RRP: $58 / £35 | Available in petite and regular sizes, these checked trousers are a great way to inject some interest into a black ensemble. If you usually love the best petite jeans, try these with black ankle boots to give the illusion of longer legs.
4. Best blazers for the Dark Academia trend
Think androgynous styling when it comes to blazers for this trend. Oversized, slightly masculine silhouettes tick all the trend boxes for this look, this is no time to choose super fitted. Often reminiscent of blazers worn by men in the '30s or '40s, look for tweeds, checks and if possible, go for double breasted.
How to style a blazer for this look? The right blazer will automatically give your outfit a Dark Academia look regardless of whether you're wearing it with jeans and trainers or a checked skirt and loafers.
Styling tip: Mix a masculine blazer with a girly blouse - think high neck and ruffles - for a look that exudes class. The contrast in styles, which might seem like total opposites, creates a super stylish result when worn together.
RRP: $569 / £425 | If you're looking to upgrade your blazer, look no further. The crystal buttons give it a touch of sparkle, which come the darker months is no bad thing. Expensive yes, but it will literally go with everything in your wardrobe.
RRP: $91 / £60 | As the days get cooler, you sometimes need more than a blazer, which is where this wonderful double-breasted blazer coat comes in. The check is timeless and will look equally great worn over a chunky knit or a crisp white shirt.
5. Best shoes for the Dark Academia trend
A befitting style related to academic life, the perfect shoes for this trend all have more than a touch of back-to-school about them. Brogues, chunky boots and loafers are all popular choices - this is no time for delicate, dainty styles.
Wondering how to style loafers for women? A chic smart-casual shoe they look great worn with jeans or wide-legged trousers. For a youthful nod to the trend, team them with a pair of sock, or alternatively, they look fabulous with opaque tights and a midi skirt for work.
Styling tip: Another shoe choice if you want something a bit more feminine is the Mary Jane shoe. One of the Fall Winter shoe trends 2022 has to offer, choose a platform style for a totally modern take on this classic shoe trend.
ASOS Chunky Gold Bar Heeled Loafers
RRP: $45 / £30 | If you're looking for a flat shoe that gives comfort and style, this loafer is it. It will literally go with anything in your wardrobe, and the chunky design brings it bang up-to-date.
La Redoute Burgundy Brogues
RRP: $80 / £40.80 | Who doesn't love a shiny new pair of shoes? These burgundy brogues make a stylish change to classic black shoes and will be just as compatible with all your fall outfits.
6. Best bags for the Dark Academia trend
What is Dark Academia when it comes to bags? Well, they need to be large enough to carry around a dissertation or some books, and preferably look like it's been well loved for a semester or two. The great thing about bags for the Dark Academia trend is that not only are they stylish, but they're practical too. Satchels, messenger bags, briefcases and backpacks will all work for this look.
While softer structured bags were one of the biggest handbag trends 2022 on the runways. When it comes to Dark Academia bags, rigidity is key. If you want to draw inspiration from the best designer bags for work, think of bags like Prada's reissue of its 1995 tote, you're looking for structured and sleek.
Styling tip: Buy second hand if you can. Not only will it fit in with the vintage vibe of the trend, but it also means you might be able to grab a style steal, such as one of the best designer bags at a fraction of the price. Check out Vinted, eBay or Depop.
RRP: $83.50 / £74 | To look sharp and on trend, this vegan briefcase ticks all the boxes. The combo or black and tan go with everything, while the bow adds a cute touch. It's also got all the compartments you need to ensure the 9-5 goes smoothly.
RRP: $83.50 / £165 | A bag that will last you a lifetime, it can also be worn as a backpack. Combining old fashioned romance with modern functionality, this bag will hold your essentials, whether you're going back to uni or the office.
Accessorize Green Backpack
RRP: $48 / £37 | The best backpacks for women are ones that are roomy, yet still stylish and this green iteration ticks both those boxes. If your wardrobe is mostly black, it's also a great way to inject some color into your everyday looks.
7. Best hats for the Dark Academia trend
"A hat can definitely complete the look," states Tayla about the Dark Academia trend. She recommends a beret as it works with every outfit, although she says a newsboy cap is a stylish alternative to give your overall look a vintage feel.
If hats really aren't your thing, but you still want to accessorize, try a ribbon or hair bow. Tied around a low ponytail or used to secure a half-up, half-down style to give the finishing touch to your look.
Styling tip: Try tucking your hair behind your ear or putting your hair up before you put your hat on.
RRP: $18 / £12 | Inject a touch of Parisian chic into your outfits with a black beret. For winter, it's one of the best winter hats, and looks fabulous with all outfits. Suiting most face shapes it will also keep your head nice and toasty when the cold weather hits.
&OtherStories Baker Boy Cap
RRP: $31 / £27 | A good balance between structure and slouchy, the baker boy hat is a true classic. This one in green has a nice fall-ready feel to it. Wear with your favorite chunky knit sweaters and dark wash jeans for an easy and cozy outfit.
Sign up to our free daily email for the latest royal and entertainment news, interesting opinion, expert advice on styling and beauty trends, and no-nonsense guides to the health and wellness questions you want answered.
With over 22 years' experience in journalism, Jayne has written about a variety of subjects. She spent the start of her career within the world of film, interviewing Hollywood stars, attending premieres and lusting after red carpet outfits, and then moved into fashion, launching websites for big magazines such as Look, Woman's Own and Wedding and working with top fashion brands such as Westfield, LK Bennett and Hunter.
Career highlights include dressing up as Kylie (in gold hot pants!) for a national newspaper and working on big fashion events alongside Giles Deacon, Henry Holland and Naomi Campbell.