What is the Coastal Grandmother trend? All you need to know about the clean and classic aesthetic
The Coastal Grandmother trend is the style sweeping through all age groups this summer - here's what it is and how to wear it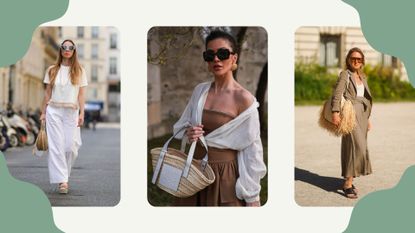 (Image credit: Getty Images)
The Coastal Grandmother trend at first glance might feel a little offensive, however, the latest look sweeping the world of fashion is just further proof that mature women have been serving up the best style all along.
If you're not one of the 100 million plus TikTok viewers who have been acquainted with the Coastal Grandmother trend, it's actually inspired by movies, particularly the work of Nancy Meyers, and the look and feel of her films such as Something's Got To Give, It's Complicated and The Parent Trap. It's a nod to the laidback look of her female leads - think Diane Keaton, strolling by the sea in a striped jumper and linen trousers, looking relaxed, chic and totally amazing!
A celebration of female style, paired with comfort and living your best coast side life. This is a look that is utterly timeless and one many have been embracing for years. We're just pleased that it's finally getting the recognition it deserves. Involving lots of classic items, many of which most of us already own. It's a look based around interchangeable basics, tied together with accessories, and an air of someone who has a second home in Hamptons.
Coastal Grandmother trend: What does it mean, where does it come from and how to wear it
Even though the films that this trend is based on were made in the '90s and '00s, the term was only recently coined by TikToker Lex Nicoleta, who describes it as, perfect for those who love coastal vibes, cooking and cozy interiors. With the '90s and Noughties being one of the major fashion trends 2022, it's no surprise that the movies of the period have also had an effect on our fashion sensibilities. In comparison to discovering what is Barbiecore - which is brash and bright, the Coastal Grandmother trend is the total opposite, effortless to wear and packed full of muted hues.
Grayson DiFonzo, fashion designer and CEO of BuddyLove believes the trend has become popular because it's so easy to wear.
She says: "The Coastal Grandmother vibe is all about being comfortable, yet chic while on vacation! Everyone has been stuck in sweats and PJs for a couple of years so now people are ready to put their best self forward. The tailored, preppy style is giving all the Diane Keeton vibes and who doesn't want be as iconic as her?"
When Anne Hathaway posted a photograph of herself in a bucket hat, white shirt and cream trousers, the Coastal Grandmother trend went mainstream, with the actress captioning her image with: "I have been ready for #coastalgrandmother chic since before TikTok was born. May this moment never end."
A rather odd turn of phrase, while some find the Coastal Grandmother trend an offensive term, Anne Hathaway has shown the look is worn by all ages and is actually about admiring more mature women's style and self-confidence and champions those all-important wardrobe essentials too. But not everyone embraces the terminology of the trend.
"I know several women who refuse to use the term,' says over 50s style blogger, Megan Saustad.
"I have a friend who refers to the aesthetic as 'Coastal Glam'. It's definitely a state of mind and not an age thing though. Women of all ages have embraced the trend."
While the Coastal Grandmother aesthetic has a foot in preppy, it's more minimal and laidback than that. The key is simple, good-quality basics such as oversized shirts, great jeans, and a sun hat all in luxury neutral shades such as white, tan, and beige, and feel-good fabrics such as linen, cashmere, silk and cotton. And in the same way as discovering what is Cottagecore is a lifestyle not just a style choice, the Coastal Grandmother trend is way more than just an aesthetic, according to Megan, many of those that follow the trend also embody the lifestyle.
"They love to garden and cook fresh meals in their open concept kitchens, with goods they picked up at the farmers' markets. They love chic interiors and entertaining and they might sip wine every afternoon," she says.
If the Coastal Grandmother trend sounds perfect for you - and let's be honest, who would argue with classic style and time spent by the ocean sipping Chablis - we've got the must-have style essentials that will ensure you channel a little beach chic into your everyday life even if you live in the middle of a city!
1. Best Coastal Grandmother dresses
While this look is mostly created from a neutral, pattern-free palette, one fabric that is definitely on the list is gingham. It has a retro, easy-breezy charm to it, especially if you choose a loose-fitting dress. The same goes for floral - but stick to more neutral or blue colors for an authentic feel. And if neither of those float your coastal boat, stripes are a Hampton-style must-have that never go out of fashion - especially when paired with a tunic-style dress.
As for silhouette, it's all about being minimal and body con is also out. Loose t-shirt dresses, sun dresses or the best shirt dresses in soft tones make for the best summer dresses. For evening, choose a '90s pared-down aesthetic, and learn how to style a slip dress, in black, cream or blush and add simple accessories like a minimal pearl necklace or small, tasteful gold hoops.
Crew Clothing Gingham Dress
RRP: $99 / £75 | While gingham might remind some of school uniforms or picnics, there's no doubt that this retro fabric has become a summer classic in recent years. Learning how to wear a wrap dress will open up your style choices and they suit every body type. Incredibly versatile, they can take you from Wimbledon to weddings with just a change of accessories.
Albaray Linen Stripe dress
RRP: $158 / £130 | The fact that this dress is so easy to wear makes it one of the best dresses around right now. You can literally throw it on and go about your day - all while looking super chic. Bonus points are given for upper arm coverage and cute the low back detail, which isn't so low that it interferes with your wearing a bra. The vertical stripes will help to elongate your silhouette too.
RRP: $69.99 / £49.99 | Little black dresses aren't just for fall and winter as this lovely cotton sundress shows. An ideal holiday outfit idea, It's perfect with flip flops for vacation, or add mules, a little bag, and statement pearl earrings for a stylish, yet relaxed, evening look. The fitted bodice will flatter all bust sizes, while the nipped in waist and full skirt flatters midriffs and thighs.
2. Best grandmother coastal trend tops
Luckily, this look is packed with style staples, so the tops you get now will still be wearable for seasons to come. Opt for natural fabrics such as linen, cotton or cashmere.
Learn how to style oversized shirts, as a way of perfecting this trend. One of the best beach cover-ups, or worn tucked into cream jeans, this is one of the best shirt styles you can have in your wardrobe, regardless of trends.
Megan says: "Coastal Grandmothers love loose-fitting silhouettes that are sophisticated but never fussy."
Invest in simple cable knit or crew neck sweaters, preferably worn casually over your shoulders. Tie it over the aforementioned shirt, a floral dress or even a blazer to add a touch of preppy chic to your look. Some of these pieces can also transition into your fall outfit ideas.
Above all of these though, the items that really nail the coastal look are Breton tops. These tops not only have a maritime history (they were originally made for the French navy) - the loose, square fit and clean stripe, perfectly fit into the clean and crisp aesthetic of this trend.
The Breton Shirt Co Striped Top
RRP: $49 / £40 | A true Breton needs to be slightly boxy, made out of cotton and have full-length sleeves. The longer length of this iteration also makes it more versatile as you can wear it loose over skinny jeans or tucked into high-waisted trousers for a smarter look. For a touch of cool, roll up the sleeves.
Uniqlo Linen Oversized Shirt
RRP: $42.50 / £34.90 | For quality linen that won't break the bank, Uniqlo is the place to shop. Its classic shirt comes in 12 colors, making it a vacation essential. Sling over your bikini, knot at the waist and team with some linen shorts or incorporate it into your long skirt outfit ideas for effortless summer dressing.
RRP: $255 / £150 | The best cashmere sweater for this trend is a roll neck, after all, it's not a Nancy Meyers movie without one making an appearance! This blush pink version is flattering for all complexions and will lighten up your fall wardrobe while going well with more summery colors such as cream and beige.
3. Best Coastal Grandmother skirts
These skirts may not set the fashion world on fire, but you will turn to them year after year as they go with literally everything, making them a closet essential. Linen and cotton are the fabrics to gravitate towards and just like with the Coastal Grandmother style dresses, they should be loose and flowing for a breezy and relaxed feel.
If A-line or tiered skirts aren't your thing, go for a slimmer fit column style, but make sure it has laidback details like a belt tie. This look is definitely not formal and while you could wear it with an unstructured blazer, it will look more on trend with your best white t-shirt or best sweater.
And don't forget your accessories advises Megan. "A bucket hat, vintage sunglasses and neutral tone sandals complete every (Coastal Grandmother) look," she recommends.
H&M Broderie Anglaise Skirt
RRP: $48.69 / £39.99 | Nothing says luxury like white clothing - and every summer wardrobe needs a white cotton skirt. If you're wondering what is boho style, then this skirt sums it up – flowing and tiered with a Broderie Anglaise hem. It's ideal for pairing with your best sandals, and a vest top for a low-key bohomian feel.
RRP: $159 / £69 | With more than a nod to '70s styling, this denim colored, linen A-line skirt is a great choice for petite figures and pear body shapes. The stripes give it a nautical nod, but teamed with a boho blouse and a pair of ankle strap sandals, and you've got a cool, laidback look worthy of any Coastal Grandmother.
Reserved Linen Midi Skirt
RRP: $159 / £69 | Linen doesn't have to be floaty and relaxed though. Choosing a linen skirt in a smarter cut like this, pencil shape-inspired one makes it ideal for a summer occasion, such as a wedding or garden party. Fantastic for hourglass body shapes, add heels, a silky vest top and a blazer to nail that smart casual outfit.
4. Best coastal grandmother trousers
When it comes to comfort, a Coastal Grandmother always reaches for her wide-legged linen trousers first. And while learning how to style wide leg pants can feel daunting, it's surprisingly easy and the sartorial reward is huge.
"A relaxed fit, wide leg pant can turn any outfit into a chic ensemble so stick to those," implores Grayson.
During the day, team with a vest top and flip flops, then come evening, throw on a linen shirt, blazer and some mules for a look that nails smart-casual. If linen isn't your bag, go for a cropped jean in a pale blue denim, cream or beige. Remember this is a tonal look - no bright colors or dark denim here.
Nobody's Child Linen Trousers
RRP: $51.13/ £42.00 | These wide-legged linen trousers are given an update by the cute tie waist. Easy to wear, this style of trouser is best with a tucked-in top - either a t-shirt or cute blouse - and paired with some trainers or espadrilles for a laidback look.
Madewell Striped Trousers
RRP: $79.99 / £65.70 | Like a bit of pattern in your wardrobe? Then these Madewell stripey linen trousers are the perfect choice for you. Super comfy to wear, easy to pull on but a more stylish alternative to your best joggers, it's time to put your pandemic leisurewear to one side.
H&M Paperbag Twill Trousers
RRP: $27.99 / £17.99 | If you want a bit more structure to your Coastal Grandmother outfit, then cream twill or denim is the way to go. These paperbag waist pants are a nice alternative to more traditional jeans - just make sure you balance the looser fit on the bottom with a tighter fit top.
5. Best Coastal Grandmother shoes
Finally, a trend that embraces comfortable flats. Pared-down, simple slip-on sandals are ideal for this trend, after all, you need to be able to kick them off with ease for those long walks on the beach. Simple styles, in neutral colors such as tan, black or beige are key, and if you're feeling a little more daring, try a raffia sandal.
For those occasions when a dressier shoe is required, choose a slim-fitting and directional loafer or a flat mule. The key here is that the shoe never dominates the look, it's merely the perfect finishing touch.
Birkenstock Two Strap Mule
RRP: $110 / £65 | If any shoe screams Coastal Grandmother trend, it's the Birkenstock. While Crocs may have become uber trendy, these two-strap sandals are a much more classic choice for those that want style and comfort. They also come in regular and narrow fit, meaning they won't fall off as you wander along the ocean front.
RRP: $110 / £45 | These are a holiday in a sandal! The raffia is a huge nod towards the Coastal Grandmother trend, but they're a bit dressier than Birkenstocks or flip-flops. Team with your fave summer dress for a stylish warm-weather look. Ideal for pairing with wide-leg trousers or as part of a white jeans outfit with a relaxed-fit linen shirt.
RRP: $51.99 / £23 | Want the ease of a flip flop without showing off your toes? Try a mule instead. They're easy to slip on and off but give your foot more coverage and look more formal than many sandals. A big shoe trend 2022, for maximum style team them with linen trousers or tailored shorts as part of your summer outfits for work too.
6. Best Coastal Grandmother bags
When it comes to the Coastal Grandmother trend, bags are oversized, falling very much in line with the handbag trends 2022. You're looking for the best tote bags - to carry all those farmers' market purchases obviously - that will also double up as the best beach bags for those sand-filled days by the ocean.
Once again, natural fabrics reign here, think straw baskets, raffia designs, canvas shoppers and soft buttery leather totes. These are classic bags that never date, and are always a prominent look for the summer season, so invest wisely in well-crafted pieces as you'll be wearing them long after this trend has disappeared.
Loewe Raffia & Leather Tote Bag
RRP: $620 / £395 | The ultimate Coastal Grandmother bag has to be this gorgeous raffia Loewe shopper. One of the best designer bags this season, the leather details elevate it from an ordinary, everyday shopper to something much more luxe, making it the perfect accompaniment to the best midi dresses.
H&M Oversized Canvas Shopper
RRP: $49.99 / £39.99 | Can a bag ever be too big? We don't think so! This canvas shopper is perfect for making a statement when you're out and about and also means you won't need a plastic bag for any of your purchases. The off-white color also makes it look more expensive, which is always a plus point.
French Connection Slouchy Tote Bag
RRP: $62 / £46 | A tan tote is a classic design that will never date and this one, without the obvious logos or flashy accessories, will carry you from summer to fall, year after year. A nice change from black, tan leather gives a luxe feel to any outfit. We love the soft and slouchy feel of this design.
With over 22 years' experience in journalism, Jayne has written about a variety of subjects. She spent the start of her career within the world of film, interviewing Hollywood stars, attending premieres and lusting after red carpet outfits, and then moved into fashion, launching websites for big magazines such as Look, Woman's Own and Wedding and working with top fashion brands such as Westfield, LK Bennett and Hunter.
Career highlights include dressing up as Kylie (in gold hot pants!) for a national newspaper and working on big fashion events alongside Giles Deacon, Henry Holland and Naomi Campbell.