Best beach cover-ups 2022 - including beach dresses, kaftans, sarongs, shorts and beach trousers
Best beach cover-ups - the styles to invest in for your vacation this summer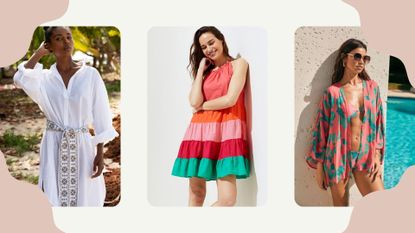 (Image credit: Future / Rae Feather / M&S / Next)
Travel is back, and if you're getting ready for a summer vacation you'll want the best beach cover-ups in your style arsenal. Offering instant poolside glamour, the best beach cover-ups range from chic pieces for just out-of-the-sea style, to versatile items that can be dressed up for evenings sipping cocktails at the bar.
A holiday essential, the best beach cover-ups have the ability to underpin your travel capsule wardrobe. A wide-reaching term, beach cover-ups encapsulate everything from sarongs to sling around your waist as you get out of the pool to stylish kaftans, button-down shirts and floaty beach trousers that can comfortably cover your best swimsuit but will also double-up as evening looks, making packing a breeze.
While the idea of 'covering-up' at the beach can feel quite negative, the best beach cover-ups should be used to enhance your style and for practicality rather than making you feel self-concious about getting into your best bikini this summer. Light, airy, often sheer, the best beach cover-ups also offer sun protection in the heat of the day or help you to feel more dressed if you're partaking in lunch by the pool. When it comes to the swimwear trends 2022, many brands have created beach cover-ups to match their swimsuits and bikinis, helping you to create an effortless look. As with the fashion trends this season, you can expect plenty of color as the love of mood-boosting brights continues into beachwear with a heavy dose of dopamine dressing. While bright color clothing is very much on-trend if you want real versatility opt for neutral hues such as white, black and navy as these can pair with most items.
Best beach cover-ups 2022 - chosen by our fashion team
1. Best Beach Dresses
Seafolly Satin Midi Dress
Our favorite beach dress
Specifications
RRP: $188 / £120
Size: XS - L
Reasons to buy
+
Can be worn in the day
+
Great color palette
+
Good coverage
Reasons to avoid
-
Handkerchief hem is a difficult silhouette to wear
In a lightweight satin-crepe, this dress will take you from sandy shores to sipping cocktails in no time. A handkerchief hem can be tricky to wear, particularly for petites as the uneven hemline and heavy central drape can feel overwhelming. This dress can be easily slipped over your swimwear or team it with some spring-ready mules for a pretty dinner look.
Best of the rest...
(opens in new tab)
M&S Colorful Striped Beach Dress
RRP: $60 / £25 | The bright colors and carefree shape are what holidays are made for. Offering a delightful pop of color, this dress can be worn again for a sunny weekend look or for a bold first date outfit.
(opens in new tab)
Mango Pink Puff Sleeved Dress
RRP: $59.99 / £35.99 | We're loving the best pink dresses this summer and if you're hunting for an LPD (little pink dress) that can work for both vacation and every day, then this could be the one. We love the directional puff sleeve.
2. Best Beach Sarongs
Seafolly Lemon Print Sarong
Our favorite sarong
Specifications
RRP: $74 / £65
Size: One size
Reasons to buy
+
Fun, fashion print
+
Sizeless
+
Ideal for poolside lounging
Reasons to avoid
-
Won't necessarily work for plus sizes
One of the best Australian swimwear brands, Seafolly is known for great swimsuits and bikinis that really evoke that sunny weather vibe. Zesty prints are always popular in the summer months and we love this lemon print for its fresh feel. Versatile enough to work over a well-edited, neutral swimwear wardrobe, it will add a pop of color to navy, black, brown, green and white swim ensembles.
Best of the rest...
(opens in new tab)
Fisico Sheer Purple Sarong
RRP: $118 / £98 | Closer to a traditional sarong, this sheer lilac piece is enough to cover thighs and bum post-swim. One of the biggest color trends for 2022, this shade is sure to dress up any swimwear look. For those who want to ensure they're maxing on tan time.
(opens in new tab)
RRP: $261 / £216 | Versace played with sarong skirts on the runway for spring/summer 2022 and you too could get creative this season. This oversized Tory Burch sarong offers a little more coverage, meaning you could team this with black sandals and your best white t-shirt for an evening out too.
Missoni Gradient Fringe Sarong
RRP: $685 / £450 | The handbag trends 2022 have embraced artisanal design in droves, with tassel and crochet being a key look. This beautiful sarong with ombre fringing evokes the same mood and you'll be hard pushed not to sashay like a runway model everytime you wear it.
3. Best Short Kaftans
Tory Burch Purple Kaftan
Our favorite short kaftan
Specifications
RRP: $358 / £340
Size: XXS-XXL
Reasons to buy
+
Trend-led color
+
Can be worn as top
+
High-end design
The best beach cover-ups should feel both stylish and versatile. This chic Tory Burch kaftan can be worn thrown over your favorite swimsuit but could easily be styled as a top for a white jeans outfit, making it a great kaftan for the beach and beyond. The lilac hue gives a nod to the fashion color trends 2022, while the chic tassel detailing adds extra luxe.
Best of the rest...
(opens in new tab)
Ted Baker Cold Shoulder Kaftan
RRP: $159 / £89 | Super light, this pretty Ted Baker kaftan is ideal for slipping on for a beach stroll. With a relaxed fit, the floral print renders it summer-ready.
(opens in new tab)
Caroline Constas Linen Kaftan
RRP: $386 / £315 | Add a pair of denim shorts and you've got a great day outfit for traveling down to the beach or for a spot of site seeing. Don't forget your best sunglasses too.
(opens in new tab)
RRP: $187 / £165 | With coordinating trousers, this vacation-ready look can slide straight into your suitcase. Dress up for the evening with sparkly comfortable flats and statement bangles.
4. Best Long Kaftans
LemLem Fringed Cotton Kaftan
Our favorite long kaftan
Specifications
RRP: $325 / £290
Size: One size
Reasons to buy
+
Timeless style
+
A neutral hue, will go with everything
+
Harder to dress up for the evening
Reasons to avoid
-
One size, won't fit everyone
The cotton fabric will ensure this kaftan keeps you cool as temperatures soar. Slightly thicker, your swimsuit is less likely to peer through this fabric, meaning you get a bit more coverage. A relaxed and timeless style, you can rely on this piece summer after summer, and paired with your best sandals you'll look effortlessly chic as you cooldown on your lounger.
Best of the rest...
(opens in new tab)
RRP: $129.99 / £79.99 | A linen robe is a brilliant choice for poolside style. Easily slipping on and off, linen is fast drying, making it ideal after a swim. This uber glamorous design with kimono sleeves will look gorgeous over any of the best black swimsuits.
(opens in new tab)
Ted Baker Spot Ombre Kaftan
RRP: $159 / £125 | Give your look a '70s feel with this super chic kaftan from British clothing brand Ted Baker. The psychedelic spot print will look gorgeous over a swimsuit or worn as a dress with a silky black slip underneath, making it al fresco dinner ready.
(opens in new tab)
Emilio Pucci Draped Kaftan
RRP: $750 / £660 | Italian clothing brand Emilio Pucci exudes elegance and this chic beach cover-up wouldn't look out of place teamed with any of the best designer heels for an eveningwear outfit. Pick up on the bold yellow in the swirl pattern to inform your accessories.
5. Best Beach Overshirts
Whistles Blue Cover Up Shirt
Our favorite overshirt
Specifications
RRP: $139 / £69
Size: XS-L
Reasons to buy
+
Can be worn as a top (not just beachwear)
+
Good arm coverage
+
Tummy flattering shape
This Whistles top offers plenty of versatility. The flattering V-neckline will work for small or large busts and we love that this top offers good upper arm coverage, ideal for when you're out in the mid-day sun. The kimono-inspired, squared sleeve will also ensure this top keeps you cool as temperatures soar. For apple body shapes looking for a tummy-flattering beach cover-up, the pleat detailing under the bust gives this top an empire line silhouette, helping it to skim over a midriff. Not specifically designed as a beach top, you can also team it with your best skinny jeans for a spring-ready look for every day too.
Best of the rest...
(opens in new tab)
RRP: $35 / £28 | If you've been wondering how to wear oversized shirts then as a beach cover-up is just one of the many sartorial options for this relaxed piece. We love the scalloped cuff on this light green design for added style points.
(opens in new tab)
Wolf and Badger Poplin Shirt
RRP: $71/£38 | Leopard print is the print that the fashion crowd swears by and this longline sheer shirt can be paired over a swimsuit or bikini for a fashion-worthy beach cover-up, or paired over leggings, jean shorts, or trousers for a chic day to evening look.
6. Best Plus Size Beach Cover-Up
Anna Scholz Silk Slip Dress
Our favorite plus size cover up
Specifications
RRP: $368 / £275
Size: US 12 - 24 / UK 16-28
Reasons to buy
+
Great for plus sizes
+
Can be worn as a dress all year through
+
Lots of detail
Reasons to avoid
-
Not available in smaller sizes
When it comes to the best plus-size clothing brands you can always rely on Anna Scholz to deliver. This beautiful Santorini-inspired blue and white kaftan dress is a must-piece to pack this summer. Easily styled over any of the best plus size swimwear brands, it can also be worn as a dress all year, so when it comes to cost per wear, this is definitely an investment piece. In the summer, pair with your favorite sandals, before swapping them out for your best Chelsea boots come spring or fall.
(opens in new tab)
ASOS Curve Split Black Skirt
(opens in new tab)
Yours Black Sheer Trousers
RRP: $40 / £22.99 | The best beach cover-ups often give a glimpse of what's underneath, and these trousers are a perfect example of a poolside-friendly piece that still lets your swimwear shine - ideal if you're wondering what to wear on a cruise.
Marina Rinaldi Viscose Poncho
7. Best Black Beach Cover-Up
Arket Linen Tunic
Our favorite black beach cover-up
Specifications
RRP: £59 (International shipping available)
Size: XS-L
Reasons to buy
+
Timeless style
+
Linen keeps you cool
+
Good price point
When packing for a trip abroad, you don't have to max out your luggage allowance, instead opt for items that can work at different times of day, simply by swapping accessories. Made from linen, this long kaftan will keep you cool, whatever the weather. Although it might crease easily (pack folded with tissue paper and hang immediately on arrival), it can be worn for everything from the breakfast buffet to lounging around by the pool, or dressed up with heels and jewelry for an evening look.
Best of the rest...
(opens in new tab)
RRP: $65 / £28 | A button through shirt is the easiest poolside piece. Wear open for a relaxed feel, or buttoned up for extra coverage. This shirt will also work brilliantly as a comfortable plane outfit too.
(opens in new tab)
Miracle Suit Draped Dress
RRP: $94 / £90 | We love the Miracle suit range for their figure flattering fits and this clever beach cover-up is no exception. In a chic wrap style, with a draped front, this dress is ideal for all body types.
8. Best Beach Shorts
Emilio Pucci Silk Shorts
Our favorite beach shorts
Specifications
RRP: $825 / £525
Size: 36-50 (Italy)
Reasons to buy
+
Can be worn for evening
+
Runway-worthy look
+
Luxurious fabric
Reasons to avoid
-
Designer level price points
Natural fabrics are a smart choice in warm weather and these silk shorts from Pucci will raise your style kudos without soaring your body temperature. In a classic Pucci pastel print, these pretty shorts can be paired with heels and a t-shirt or white shirt for a directional evening look. Of course, water can damage silk, so these shorts should not be paired with a wet swimsuit or bikini. Think cocktail hour by the pool rather than soaking up the sun in the day.
Best of the rest...
(opens in new tab)
RRP: £56 (international delivery available) | Slightly higher waisted, these comfy elasticated shorts with smart navy and white stripe will look great teamed with white, blue or red swimwear. Ideal for a memorial day outfit.
(opens in new tab)
Good American Terry Shorts
RRP: $65 / £62 | Terry woven fabric is a great choice post-swim and these nifty shorts will work both as a beach cover-up and as a day look for sightseeing.
9. Best White Beach Cover-Up
Rae Feather Cotton Shirt Dress
Our favorite white beach cover-up
Specifications
RRP: £125 (International shipping available)
Size: S/M-M/L
Reasons to buy
+
Fashion-crowd favorite
+
Classic style
+
Works with any swimwear
Indie clothing brand Rae Feather are already loved by the fashion crowd for their personalized straw beach bags. A lifestyle brand with a vacation twist, Rae Feather was born out of a desire for luxury travel basics. One of the best white shirt dresses, we love the half button front, the dipped hem silhouette, and the relaxed fit. Wear this in the day with a waist-cinching belt, tan flat sandals, and any of the best crossbody bags for a vacation-ready look, or wear over your swimwear for a stylish beach outfit.
Best of the rest...
RRP: £38 (international shipping available) | Wondering what to pack for your honeymoon or destination wedding? This sheer white beach cover-up offers effortless elegance and designer style at a pocket-friendly price.
RRP: £130 (international shipping available) | This dobby spot design in light chiffon demands a luxury location. The kaftan features a split front, allowing you to flash your developing tan as your holiday unfolds.
10. Best Crochet Cover-Ups
Anna Kosturova Crochet Midi Dress
Our favorite crochet beach cover-up
Specifications
RRP: $451/£369
Size: XS - L
Neutral hues remained key to the runway this season and while high summer might long for bold pops of color, a beige crochet dress will never date. Team with this season's hottest shoe trend, gladiator sandals and an oversized woven tote bag for maximum style points.
Best of the rest...
(opens in new tab)
Missoni Wrap Striped Skirt
RRP: $355 / £220 | Crochet and open knits are a classic Missoni style, with the fashion house being world-renowned for its multi-colored zig-zag knits. This wrap-over skirt can be worn in the autumn with opaque tights, boots and a fine cashmere knit too.
(opens in new tab)
Solid & Striped Crochet Midi Dress
RRP: $258 / £235 | If you fused the best shirt dress with the best beach cover-up, we're pretty sure this is what you'd get. We love the stylish rope belt too, giving a nod to the summer nautical trend. The buttons add a chic finish.
11. Best Kimonos
Next Pink and Green Kimono
Our favorite kimono
Reasons to buy
+
Great price point
+
Matching swimwear available
+
Relaxed fit
Reasons to avoid
-
Won't pair easily with all swimwear
This silhouette comes in a multitude of colorways and prints and even has matching swimwear available so you can get fully styled up for your vacation this summer. Team with oversized sunglasses, one of the biggest sunglasses trends for 2022 and a new season anklet for that added touch of sparkle.
Best of the rest...
(opens in new tab)
River Island Pink Floral Kimono
RRP: $111 / £60 | Make an entrance this summer in this striking pink floral kimono. Whether you slip it over your curve-loving bikini or pair it with shorts or trousers for dinner, one thing is for certain, you'll be winning in the style stakes. Add some sleek aviator sunglasses to finish the look.
(opens in new tab)
All Saints Tropical Woven Kimono
RRP: $154 / £109 | Embrace the tropics with this boldly printed kimono. The longer sleeve makes a great casual jacket when you're back from your vacation. Simply team with a pair of jeans or tailored trousers and style over a cami or fine sweater for cooler days.
RRP: $569 / £425 | If you're on the hunt for luxury this summer, then look no further than Anna Scholz's plus size 100% silk kimono. In a bold orange-based print, you're sure to turn heads. Swap the self-fabric belt for a leather or suede design and spin one of the best robes of the season into a dress.
12. Best Beach Trousers
H&M Cropped Linen Trousers
Our favorite beach trousers
Specifications
RRP: $24.99 / £17.99
Size: S-XL
Reasons to buy
+
Great summer fabrication
+
Vibrant color
+
Elasticated waist for comfort
Reasons to avoid
-
Not available in plus size
We love an elasticated waist on a beach trouser. Easy to pull on and off, they also offer added comfort, particularly as we can all feel a little uncomfortable in sweltering temperatures. In a breezy linen fabric, these trousers will work well for a pear-shaped body as they should give a good fit at the waist and skim past hips thanks to their wide-leg silhouette.
Best of the rest...
(opens in new tab)
Tiger Lily Wide Leg Trousers
RRP: $199 / £129 | White is a popular color on vacation as it reflects the sun and should help to keep you cool as temperatures soar. For an understated and elegant outfit team these trousers with neutral hues or add a pop of color to give a nod to the new season trends.
(opens in new tab)
Accessorize Beach Trousers
RRP: $43 / £30 | In an appropriate sandy hue, these striped trousers, with adjustable drawcord waist are easy to dress up or down. The striped design instantly elongates your silhouette, drawing the eye up and along the body. Throw over swimwear or team with a camisole and kimono for a smarter finish.
13. Best Petite Cover Ups
ASOS Petite Lattice Skirt
Our favorite petite beach cover-up
Specifications
RRP: $35 / £25
Size: US: 00-12 / UK: 2-16
Reasons to buy
+
Bold color
+
Great for petites
+
Glamorous look
With an elasticated waist, this beach cover-up is easy to slip into as your lazing around the pool or soaking up the sun at the beach. With a sultry, leg flashing cut, this petite design is ideal for those under 5'3 who usually struggle with maxi-length skirts and sarongs. The bold color is ideal for ushering in warmer weather, although it is only available up to a size 16, and not suitable for plus-size petite women.
Best of the rest...
RRP: $61 / £42 | With the option to purchase in a petite fit, this Next pink and blue kaftan with tassel detail and frilled v-shaped neckline will get you in the mood for summer. It can also be worn as a dress with sandals.
Kitten Beachwear Petite Kaftan
RRP: $67 / £50 | Kitten Beachwear may only have a small selection of petite clothing, but this stunning silky kaftan is a great option for those under 5'3 looking for a stylish embroidered kaftan.
14. Rompers and Jumpsuits
Missoni Colorful Jumpsuit
Our favorite beach jumpsuit
Specifications
RRP: $1210 / £720
Size: US 4-10 / UK 8-14
Reasons to buy
+
Amazing colors
+
A classic Missoni piece so won't date
+
Can be worn for evening
Reasons to avoid
-
Small size range, not plus size friendly
This dreamy flattering jumpsuit from designer brand Missoni can slot straight into your capsule wardrobe. Although it is a statement outfit, the classic Missoni rainbow design will never date and is a look the brand turns to season after season. With a halterneck, waisted design, it elongates the silhouette with the relaxed, straight-leg trouser. Offering unparalleled poolside glamour, you can add heels to this ensemble for a stylish, holiday, evening look.
Best of the rest...
(opens in new tab)
Free People Sarong Romper
RRP: $108 / £88 | Turn the promenade into your own personal runway with this designer-ready look. This quirky romper features an additional sarong over a bandeau romper shape for a look that is certain to turn heads.
(opens in new tab)
Good American Terry Romper
RRP: $99 / £94 | Size inclusive, Good American is an American clothing brand we can rely on for practical and stylish wardrobe staples. Made of terry fabric, this romper is ideal for slipping on after a dip in the pool.
Rivkie is a fashion editor, writer and stylist with over fifteen years' experience in the industry. Having studied design and pattern cutting at the London College of Fashion, Rivkie fell in love with styling and journalism, covering fashion weeks in London, Paris and New York.
Specialising in plus size fashion, Rivkie has long championed that style is for everyBODY and has been a regular talking head on a host of radio stations and television shows, pushing for greater representation for plus size women and fashion throughout her career.