Elegant shirt dresses that nip and skim in all the right places
Versatile, flattering and effortlessly stylish, make a shirt dress your wardrobe staple this year...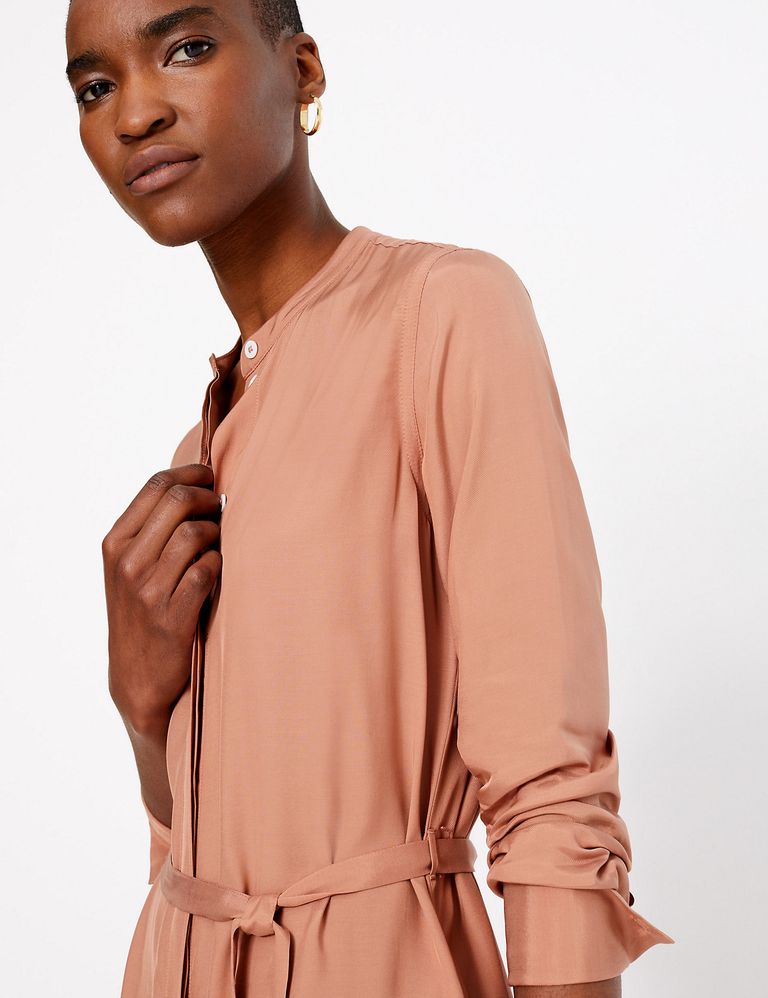 Sometimes we're surprised that great poetry hasn't been penned in honour of the shirt dress. It's both versatile and chic. You can wear a good one with sandals and spangly jewellery in warmer months, and with chunky tights and boots when the weather cools. And if you're one of those people that likes to do a cost per wear analysis, a shirt dress is usually a pretty savvy wardrobe addition.
However you prefer to wear your shirt dress, it's not just it's adaptability that makes it a great purchase. It also suits every body shape. They look great worn loose if you're athletically built, belt them up if you have an hourglass figure, or throw one on unbuttoned over your jeans if you're pear shaped (actually, do this anyway for a cool, unique take on the style).
But the best feature of a shirt dress is arguably the sleeves, they're comfortable and add flexible coverage in the right place. Simply push them up to expose as much, or as little arm as you like.
MORE:Gorgeous Marks & Spencer dresses in store and online that we love
Basically, the shirt dress is everything we love about fashion - light enough to keep you cool, comfortable enough to wear all day and flattering enough to make you feel fabulous! And because it's easily found in a range of colours and textures this year, it's the hit of the season for us. You'll find new shirt dress styles in almost every high street shop, but for ease we've picked our favourites so you can browse from your sofa.
Scroll through the gallery to see our pick of stylish shirt dresses in the shops right now. Whether you need a new work style, something you can dress up in the evenings or just a simple weekend wardrobe update, our fashion team have got you covered...
Shirt dress edit
Reiss floral printed shirt dress
Turn workwear on its head with this gorgeously vibrant - but infinitely wearable - Reiss shirt dress. It's bold and stylish with the colourful floral print, but the black base colour ensures that it's sensible enough for the workplace. Pair with stilettos and go! BUY NOW for £225
Mint Velvet spot print midi dress
Keep it simple with this chic but stunning monochrome option. It's got a relaxed fit that will emphasise your waist - e.g, show off your figure in all the right places! This Mint Velvet number would be perfect for work and play. BUY NOW for £119 at John Lewis
Next camel belted shirt dress
We LOVE Emma Willis' next collections, and this shirt dress is one of our favourite pieces from her latest one. It's totally elegant, and the chunky belt is a great feature to set your outfit apart from the crowd. It's also made from lightweight cotton, so will be a breathable pick for those stuffy summer days. BUY NOW for £48
Warehouse denim shirt dress
It couldn't be easier than this denim shirt dress from Warehouse. Simply chuck it on with some heels or trainers and you're good to go! It's a great choice for a casual day out - or, if you're simply wanting to relax around the house in something other than pyjamas... BUY NOW for £39
Marks & Spencer shirt dress
With button up detail and an elegant silk waist tie, this delicate and timeless dress is a must in every wardrobe. It's flattering and flowing, meaning it'll suit almost all body types. BUY NOW for £59
Dorothy Perkins khaki shirt dress
Fabulously stretchy at the waist, this Dorothy Perkins dress is flattering and easy to wear. The khaki colour goes with almost anything - so pair it with your favourite shoes, your preferred jacket, and a bag of your choosing! BUY NOW for £31
Warehouse utility shirt dress
A sleeveless dress is the perfect option for summer, and adds a playful twist to this neutral, button-up dress. You can channel the Duchess of Sussex is this option too - we can totally see Meghan wearing this on an official engagement. BUY NOW for £42 at John Lewis
Whistles ditsy midi dress
Go bold with this vivid green shirt dress. It's fun and playful with its subtle floral print, but its modest colour and long, midi length means it's graceful and sophisticated; an ideal option for summer/autumn weddings, garden parties or christenings. BUY NOW for £155
Hush long-sleeve shirt dress
This Hush dress will take you from summer to autumn in a flash. We love the draped asymmetric hem, which will allow you to swish to your hearts content, and the long sleeves which will come in handy as the weather starts to cool down. BUY NOW for £75
Mango cotton shirt dress
This short option is great for the last of the summer! But even when October rolls around, this Mango shirt dress would also be brilliant worn over jeans or another pair of your favourite trousers. It's light, breathable, and we love the stylish v-neck and tortoiseshell buttons. BUY NOW for £35.99
Monsoon floral print dress
The high, ruffled collar on this chic floaty shirt dress is what really makes it stand out. Unbutton the collar for a more relaxed look, or do it up for a more professional setting. Paired with some stylish black leather boots (and tights when the winter rolls around), this'll be your next wardrobe go-to. BUY NOW for £70
Uniqlo short-sleeved shirt dress
Proving that bigger isn't always better, this delightfully simple and well cut shirt dress creates a beautiful silhouette on the body. The material is gentle and flowy, so it should fit like a dream, and best of all, it costs under £35! BUY NOW for £34.90
L.K.Bennett cotton shirt dress
Channel the Duchess of Cambridge in this 50s inspired, very classic shirt dress. In a fitting regal blue colour, it would be ideal for any more formal occasions you might be attending. The full, stylish skirt and bow sleeves are our favourite parts! BUY NOW for £250
New Look white check dress
A lovely long shirt dress, this will be a in style for a while to come - because lets face it, who doesn't love a check print? It's only £25.99, and it'll work well in the colder months, because of its long sleeves. BUY NOW for £25.99
Matalan stripe midi shirt dress
We adore this nautical chic shirt dress - a fabulous pick for casual days out! It's got pretty bow sleeves, and the vertical stripes will flatter your figure easily. We can picture this with a pair of espadrille wedges or pretty sandals, strolling down the beach on the English (or Mediterranean) coast somewhere... BUY NOW for £18