Kate Middleton's dresses: 11 brands the Princess of Wales wears that deliver on style and elegance
Kate Middleton's dresses are almost always a sell-out success. Here's the inside scoop on her most-worn brands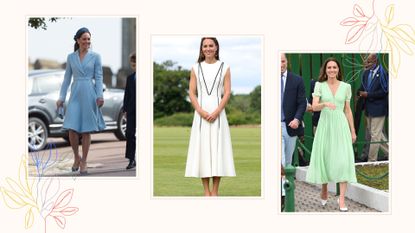 (Image credit: Getty Images/Future)
The Royal Family has provided us with many style icons, and the newly crowned Princess of Wales is up there with the best of them. Kate Middleton's dresses, in particular, have gained an immense following, with her sartorial choices often selling out within hours.
Every royal family member is known for their own signature fashion staples. From the late Queen and her neat skirt suits and Balmoral attire (the latter of which has often provided runway inspiration for designers) to Princess Diana's myriad looks. But there's one royal who reigns as everyone's favorite style icon: The Princess of Wales. Interest in her fashion choices ramped up since marrying Prince William in 2011, when Kate Middleton's wedding dress thrust her into the spotlight, and since then she has served up non-stop stylish looks.
Miranda Holder, royal fashion expert, summarised Catherine's style, explaining, "The Princess manages to navigate the tricky line between working Royal (and all the associated sartorial etiquette) and international celebrity (with all its glamour) with grace and elegance. When you think of Kate, you usually picture the 'Kate Silhouette' – a fitted waistline and a fuller skirt to perfectly balance her willowy figure. It's a 'style uniform' formula that works for Kate, and is even more vital in her new role as Princess of Wales."
As much as we love her trusty off-duty jeans, best gilet, and boots combo, it's her dresses that are always knock-out. With a penchant for the British designer brands, from Alexander McQueen gowns to the electric blue Issa wrap she wore for her engagement announcement, the Princess of Wales' dresses have become synonymous with chic, feminine polish. Coined "the Kate effect," her immense selling power means an endorsement of any brand - whether it's high-end or affordable - see it catapulted into the fashion conscience, creating sell-out styles.
11 places to shop Kate Middleton's dresses
If you've ever found yourself wondering, 'Where does Kate Middleton buy her clothes?' From designer to straight-to-market brands, Kate Middleton's favorite dresses span a wide range of labels. Here are her 11 go-to dress brands, with look-a-like styles and our editor's top picks from each.
1. Alexander McQueen
Alexander McQueen
Kate Middleton's dress choice for formal occassions
Reasons to buy
+
Flattering silhouettes
+
Timeless designs that won't date
Though a keen supporter of more affordable fashion options, Kate does have a collection of designer dresses, particularly for big occasions. Well known for re-wearing looks, some of these pieces might be pricey but the Princess of Wales does get her wear out of them. One of Kate's favorite labels is, of course, Alexander McQueen, creators of her infamous wedding dress and many of her best dresses there-after. The brand, which regularly shows on the runway, has become one of the most famous British clothing brands for good reason.
Alexander McQueen Blue Sky Poplin Midi Dress
RRP: $2,990 / £1,970 | This fit and flare silhouette is a flattering shape that Kate often leans towards. The bold chevron print on this dress also gives it that unique, designer look that's worthy of any special occasion. Add a black blazer for a tailored finish.
Alexander McQueen Bustier Dress
RRP: $3,690 / £2,490 | The Queen loved a bright color and we know Kate loves a pop of color too. This soft pink dress pulls out all the stops. The silk fabric adds a luxe touch, while the draped detailing makes it look like it's cascading down like a waterfall.
---
What to buy from Alexander McQueen...
Take a leaf out of the Princess of Wales's book and look for dresses that you'll want to reach for time and time again. McQueen's ready-to-wear collection features a lot of structured collars and waist-cinching designs that are flattering and feminine, and will be the answer to what to wear to a wedding and what to wear to a christening every time. In fact, Kate wore McQueen to Princess Eugenie's wedding to Jack Brooksbank back in 2018, and she also chose to wear the designer to the christening of her youngest child, Prince Louis.
When the Princess of Wales has worn Alexander McQueen...
Kate has worn Alexandra McQueen countless times, often recycling her gowns and wearing them more than once.
Her most famous McQueen moment though has got to be the stunning ivory gown she wore for her marriage to Prince William in 2011, designed by McQueen's then-new creative director Sarah Burton. The plunge-front lace gown with a nine-foot train sent shock waves (of the best kind) down Westminster Abbey. It's arguably the most iconic of Kate Middleton's dresses too. Since then, McQueen has become a go-to for the royal.
Miranda Holder explained that, "This design house is the best of British design, and their razor-sharp tailoring is the talk of the industry. Besides creating Kate's fairytale wedding gown, this brand is the perfect go-to for Kate when she needs to look smart for formal occasions."
---
2. Beulah London
Beulah London
Kate Middleton's dress choice for royal duties
Reasons to buy
+
Pretty floral prints
+
Ethical brand
As well as championing a sustainable approach to fashion via recycling her wardrobe, the Princess supports lots of ethical and sustainable clothing brands, including Beulah London. The British-based brand, founded in 2009, offers employment to vulnerable women, and promotes sustainable artisan handicrafts.
Beulah London Yahvi olive green midi dress
RRP: $760.85 / £640 | Catherine has worn a design very similar to this lightweight olive green midi dress, meaning this is your chance to snap up a piece of her wardrobe for yourself. We predict this dress will quickly become an essential part of your wardrobe - and we love the fluted sleeves for extra style kudos.
Beulah London Button-Front Eden Floral Dress
RRP: $653.85 / £550 | The A-line silhouette on this frock gives it a delicate, romantic feel, while also ensuring it is universally flattering, nipping you in at the waist before fluting out over hips and thighs. The floral design is easy to wear, and the button-down detailing adds a more relaxed feel to the dress.
Beulah London Darsha Navy Daisy dress
RRP: $588.47 / £495 | Crafted from navy crepe de chine, this is one of the best midi dresses for all season wear, pairing well with the best knee high boots or heels. We adore the oversized sleeves and statement cuffs, and the figure flattering self-tie waist ensures you can adjust this dress for your silhouette.
---
What to buy from Beulah…
Much like Kate's signature style, Beulah London's dress collection is effortless and ladylike, full of sweet pastel hues, puff sleeves, and pretty floral prints - though the brand does also sell clothes in darker, more industrial shades. The brand is chock full of elegant midi dresses - ideal for adhering to royal style rules - and can easily be dressed both up or down, depending on the occasion.
When the Princess of Wales has worn Beulah…
Kate often wears Beulah London during official royal duties. She first wore the raspberry-red Calla Rose floral silk dress with contrasting white collar (image to the left) during the Mental Health Minute television broadcast. And in true Kate style, she then confirmed her love for the dress in September 2020, when she re-wore it on a day of royal duties including a visit to the London Bridge Job Centre and the Beigel Bake Brick Lane Bakery with Prince William.
More recently she wore the brand's blush pink Ahana dress to the Men's Singles final at Wimbledon in July 2021.
---
3. Emilia Wickstead
Emilia Wickstead
Kate Middleton's dress choice for injecting color
Reasons to buy
+
Pretty color palettes
+
Tailored designs
Much to the delight of fashion fans, the last few years have seen the Princess of Wales introduce a handful of on-the-pulse designers into her wardrobe, one of which is Emilia Wickstead. The British designer brand is based in London (and is a mainstay at London Fashion Week), but Emilia herself was born in New Zealand. As a designer, she is known for interpreting the latest fashion trends into ladylike silhouettes, romantic prints, and feminine color palettes.
Emilia Wickstead Aisha Belted Floral-Print Midi Shirt Dress
RRP: $1,670 / £1,260 | With a whimsical floral print, we could easily see this white/green/yellow midi shirt dress on the Princess of Wales. The soft pleated skirt paired with button-fronted detailing and a subtle, self-fabric belt is everything the royal opts for when choosing dresses for her everyday duties.
Emilia Wickstead Anatola Pleated Textured-Georgette Midi Dress
RRP: $2,290 / £1,735 | Lean in to florals once more in this baby blue design with sharp pleated folds, that will move elegantly as you sashay your way to your next event. There's also an artistic and vintage twist to this dress, as it is patterned with hydrangeas kept by photographer Cecil Beaton at his home in Wiltshire.
Emilia Wickstead Switzy Cape-Effect Crepe Pink Midi Dress
RRP: $2,225 / £1,680 | The dramatic cape sleeves on this pink midi dress are fit for a royal, while the soft, crepe material ensures a flattering, close fit. This is a fabulous choice for a wedding guest dress, and would work in both summer and winter. Add a striking costume jewelry necklace to complete the look.
---
What to buy from Emilia Wickstead…
If you invest in one thing from the New Zealand designer, then make sure it's colorful. Kate tends to lean towards vibrant dresses, from sweet lavender to emerald green. The designs are usually perfectly tailored to Kate's style, with a fitted bodice and an A-line skirt.
When the Princess of Wales has worn Emilia Wickstead...
Nicknamed the 'Kate' dress, the Princess has worn three versions of the brand's long-sleeved wool dress - in lavender and forest green in May 2019 and royal blue in November 2019.
Aside from her defining dress, she has also worn many of the brand's more tailored looks whilst on official royal duties, including at an official Easter Sunday service in St. George's Chapel, Windsor, and at the National Service of Thanksgiving at St Paul's Cathedral in London. Though Kate has reached for Wickstead's dresses on numerous occasions, in September 2021, the Princess also wore one of the brand's incredibly chic purple suits for a tour of the Ulster University Magee Campus in Derry, Northern Ireland.
4. Eponine London
Eponine London
Kate Middleton's dress choice for winter dressing
Reasons to buy
+
British brand
+
Winter-ready coat dresses
Eponine London was launched back in 2011, but Catherine didn't start wearing its designs up until a few years ago. Since then however, she has worn both its dresses and coats (and Eponine coat-dress combos) on a regular basis. Another fashion brand with eco-credentials, the British label produces its designs in its London-based studio using locally sourced wool and vintage materials. Sadly for those Stateside, this brand is only available to purchase in the UK.
Eponine London Blue Spot Printed Dress
RRP: From £750 | Made from soft cotton, this dress oozes retro opulence. The bouncy A-line skirt is graceful, while the Peter Pan collar gives the dress added structure, for a vintage look that retains its modern feel. The 3/4 length sleeve makes it an all-year wear
Eponine London Lady Grey Coat Dress
RRP: £3,822 | Cut from soft boucle fabric, this striking pink Lady Grey coat dress treads the line between the masculine and feminine. With a tailored, sculptural look up top, and an A-line skirt, it's sleek and sophisticated. This can be worn as a dress or layered over a dress.
Eponine London Lemongrass Coat Dress
RRP: £3,600 | This luxurious wool boucle coat-dress is similar to one from the brand's AW18 collection, which Kate has worn multiple times. The allure is all the in the details with this outfit, from the gold rimmed buttons and waist pleats to the wrist skimming sleeves.
---
What to buy from Eponine London…
Famous for coat-dress hybrids, Eponine London will add a plush touch to your wardrobe. Packed full of wintery fabrics such as wool and corduroy, its small ready-to-wear collection is best suited to the colder months. Opt for a color-block dress or a classic coat-dress - one of our favorite winter outfit ideas.
When the Princess of Wales has worn Eponine London...
The royal has worn Eponine London a handful of times, most recently during a visit to Cardiff Castle in Wales, as part of the Platinum Jubliee celebrations in July 2022, where she donned a stunning vibrant red coat-dress.
Kate's also worn Eponine's designs to important diplomatic events, including at a COP26 evening reception in Glasgow in November 2021, where she chose an elegant blue coat dress from the brand's Spring/Summer 2021 collection. And is wasn't the first time she'd chosen a royal blue dress from Eponine. Kate wore a very similar style from the brand back in 2017 whilst visiting a Child Bereavement Centre in Stratford, London. She then re-wore this dress in 2018 on a visit to the McLaren Composites Technology Centre. As well as its dresses, Kate has also twice-worn a red and white tweed skirt suit from the brand.
---
5. Jenny Packham
Jenny Packham
Kate Middleton's dress choice for important occasions
Reasons to buy
+
Sequin embellishments
+
Red-carpet designs
Much like Alexander McQueen, Jenny Packham is a designer the Princess of Wales comes back to time and time again for special occasions. Known for creating some of the top wedding dress trends and best cocktail dresses, it's unsurprising that Kate turns to Packham for big galas and parties that require a glamorous look and the designer is responsible for some of Kate's best red carpet moments.
EXACT MATCH
Jenny Packham Wonder Off-The-Shoulder Ruffled Crystal-Embellished Tulle Gown
RRP: $5,025 / £3,635 | This is the exact dress Catherine wore to dinner in Jamaica (above), and we can see why she chose it. The layers of lightweight tulle and crystal embellishments make it the perfect choice for a Princess. A statement piece, this royal-approved gown is guaranteed to turn all heads at any ball.
Jenny Packham Hummingbird Feather-Trimmed Embellished Crepe Gown
RRP: $3,470 / £2,515 | Get red-carpet ready with this deep red 'Hummingbird' gown. A superbly glamorous evening dresses, this column style is ideal for athletic figures as it will continue to elongate your frame. The sleeves embellished with feathers, sequins, beads and crystals elevate this show stopper to new heights.
Jenny Packham Feather-Trimmed Sequin-Embellished Tulle Gown
RRP: £3,780 (UK only) | The feather and bead detailing makes this dress a real knockout. In a gorgeous, navy-gray color, it's stylish, mysterious, sexy and elegant. As the beading is so heavy across the center of the dress, minimal styling is needed with this gown - just add some diamond stud earrings and simple heels.
---
What to buy from Jenny Packham…
Show-stopping evening gowns is what Packham does best. Think sparkly sequins, feathery details and tulle skirts for the ultimate head-turning outfit. Miranda said, "Loved by stars and Royals all over the globe and setting the standard for sparkles on the red carpet, Jenny Packham is the ultimate designer to wear when Kate needs to dazzle at a high profile event, whilst still championing a very British brand."
Kate has also worn a more understated number from Jenny Packham (right in the above photo), which was likely designed bespoke for her.
When the Princess of Wales has worn Jenny Packham...
There are almost too many times to count, but Kate's most recent appearance in Jenny Packham was at an official dinner hosted by the Governor General of Jamaica at King's House in Kingston, Jamaica (middle photo above). The royal's stunning green gown featured a tulle neckline and a sequinned body, which the Princess of Wales highlighted by tying her hair back.
Kate clearly trusts the designer to dress her during the most momentous occasions too, as she has worn a Packham dress the first time she has introduced each of her three children to the world. She famously chose a blue polka dot dress by the designer in 2013 when she debuted Prince George to the public. In 2015, she stepped out with a newborn Princess Charlotte wearing a sunny yellow floral Packham dress - and for Prince Louis it was a red knee-length number with a cute Peter Pan collar.
---
6. Kate Spade
Kate Spade
Kate Middleton's dress choice for affordable daytime dressing
Reasons to buy
+
Affordable daytime dresses
+
Cute prints
Both Kate and her sister Pippa Middleton are fans of Kate Spade. This American clothing brand really delivers on feminine pieces with a retro feel. Both Kate and Pippa have been spotted donning everything from the brand's dresses to jewelry, and with a slightly more affordable price point, it's one we can certainly introduce into our wardrobes too.
Kate Spade Autumn Floral Tie Neck Dress
RRP: £250 | A tie-neck and floral design are the defining features of this sophisticated mini dress, which also has a flounce hem for plenty of swirling! It offers a loose fit so it's comfortable for all seasons and will pair well with tights or bare legs.
RRP: £350 | We could see the Princess of Wales wearing this preppy, versatile sweater dress on royal outings. It's brilliantly suited to a range of events, be it a work dinner or a brunch outfit idea - dress it up with some statement heels and pretty jewelry.
---
What to buy from Kate Spade…
Royal-approved dresses don't stick around for long, so although you can't get your hands on Kate's exact dresses, Kate Spade has heaps of similar feminine and floaty designs that are just as swoon-worthy. Stick to floral prints if you want that Kate Middleton look look, and A-line silhouettes for a flattering finish. And while you're at it, why not snap up one of its best designer bags too.
When the Princess of Wales has worn Kate Spade…
"Known for their sophisticated styles, friendly feminine shapes and unexpected color combinations, Kate Spade is a firm favorite of the Princess of Wales," Sue Shields, Buying Manager at Fenwick, explained. "The brand's graphic prints and the polished ease of their designs make them stand out from the crowd."
"And the Princess has worn the brand's designs on multiple occasions, favoring floral prints, light chiffons and A-line silhouettes."
In fact, Kate has worn two Kate Spade dress designs, both with similar ladylike silhouettes that are easy to wear. She was first spotted wearing the designer in 2016 at a World Mental Health Day celebration. The floral frock was unapologetically Kate, with a pussy-bow neckline, romantic floral design and a flattering A-line silhouette. She later wore a Kate Spade number for a visit to The Foundling Museum, London, November 2017. We're looking forward to her wearing the designer again. The Princess has also often worn accessories from Kate Spade, including its drop earrings.
---
7. L.K. Bennett
L.K. Bennett
Kate Middleton's dress choice for sporting events
Reasons to buy
+
Affordable designs
+
Classic and contemporary
L.K. Bennett has long been a go-to for the Princess. Not only is she a big fan of the brand's classic court shoes, but she has also often regularly been spotted in its dresses, cut in ultra-flattering silhouettes that perfectly complement her figure.
L.K. Bennett Elowen Pink Animal Dress
RRP: $500 / £279 | Although this isn't the Madison dress worn by Kate, L.K. Bennett has released a newer version called the Elowen which looks pretty much identical. With a soft animal print and flattering cape sleeves, it's ideal for what to wear to a winter wedding.
L.K. Bennett Tallis Navy And Yellow Spot Shirt Dress
RRP: $500 / £279 | The Princess of Wales is a fan of polka dots, and although she hasn't officially worn this dress before, we'd say this is something that would slot in with her existing wardrobe. Team with tights and boots for now and heels in summer.
L.K. Bennett Avery Basket Print Midi Dress
RRP: $500 / £279 | An LKB fave, this pleated midi is a style that is forever on-trend, so will make a worthy addition to your dress collection. Lightweight and feminine, we love the vintage-inspired print. Team with a raffia bag and a pair of neutral hued wedges.
---
What to buy from L.K.Bennett…
Arguably one of the best UK fashion labels, L.K. Bennett was launched back in 1990. Its clothing, shoes and accessories range all work seamlessly together infusing classic styles with a contemporary spin. For Princess-worthy style, look to the brand's timeless prints such as polka dots and tailored A-line dresses in bright colorways.
When the Princess of Wales has worn L.K.Bennett...
The most recent outing from Catherine's L.K.Bennett selection was when she visited the Fitzwilliam Museum during an official visit to Cambridgeshire on June 23, 2022, alongside Prince William. She wore the brand's soft pink and blue midi dress, which she paired with a matching powder blue coat duster coat, and pale blue heels.
An advocate of recycling her wardrobe, Kate has also worn many of her L.K.Bennett dresses more than once. She wore the Cayla, a bold red midi with elbow-length sleeves during a video call with veterans to mark VE day in 2020 - and was first seen in the dress in 2015, when she made her Wimbledon debut.
---
8. Reiss
Reiss
Kate Middleton's dress choice for tailored classics
Reasons to buy
+
Muted color palette
+
Affordable wardrobe classics
Another British brand the Princess has relied on time and time again, Kate became an unofficial ambassador for Reiss during the early 2010s, stepping out in its figure-flattering dresses on numerous occasions. Sue explained, "Since the early years of her marriage, the Princess's name was synonymous with Reiss, highlighting her love of high street brands."
She doesn't wear the brand's dresses as much anymore, but she is regularly spotted in many of the brand's other tailored pieces, such as Reiss coats, or the brand's best blazers and trousers.
RRP: $640 / £348 | A classic and classy silk shirt dress that you'll be able to wear for work and play, just sling over a tailored blazer for added polish. The neutral tone makes it super easy to style, just add one of Kate's go-to shoes; a pair of classic courts.
Reiss Fallon Wool Blend Dress
---
What to buy from Reiss…
Sue told us, "Reiss is known for delivering modern clothes with a timeless appeal, creating elegant and refined pieces, that help form the backbone of your capsule wardrobe." Think high-end fabrics such as the best cashmere sweaters and wool jumpers, all in a muted color palette of beige, cream and black, making it easy to mix and match. Go for more fitted styles such as a knitted dress or a classic LBD. Finish off with one of its elegant coats.
When the Princess of Wales has worn Reiss...
Kate still regularly wears Reiss - both new items, and previously worn pieces. The most notable, however, was her appearance in their blush-hued Shola dress while meeting the Obama's in 2011 (above left). The dress sold out in hours and the surge in public interest crashed the brand's website.
The last dress from Reiss that the Princess wore was an electric blue belted dress whilst visiting the Treehouse Hospice. More recently, Kate has worn a Reiss beige blazer to visit Disasters Emergency Committee HQ in April 2022, and outerwear from Reiss, specifically, its Houndstooth Check Coat, to visit Action on Addiction's Centre in Warminster, Wiltshire in 2015.
---
9. Zara
Zara
Kate Middleton's dress choice for casual occasions
Reasons to buy
+
Affordable designs
+
Trend-led pieces
It would seem that almost no one is immune to the allure of Zara, even the Princess of Wales. Throughout her tenure, she has been spotted several times in clothes - not just dresses - from the Spanish clothing brand, from the red tweed jacket she wore to a Euro's 2020 game to the myriad skinny jeans and more casual dresses she favors for less formal events.
RRP: $69.90 / £49.99 | We love the gathered detailing at the front of this wine-colored dress, as well as the front slit which adds a hint of allure. Pair this with one of this seasons top boot trends - thigh-high boots and you're guaranteed to steal the show.
RRP: $69.90 / £49.99 | Can you ever have enough midi dresses? From the office to formal events, it's packed with considered yet subtle details that give it edge, whether that's the puff sleeves or front pockets. Pair with white trainers for a dressed-down look.
---
What to buy from Zara…
We expect you're already familiar with Zara's sought-after styles, but if you want to get yourself some royal-approved pieces, look to its chic blazers as well as the brand's fashion-forward midi dresses.
When the Princess of Wales has worn Zara…
Aside from Zara's jeans and jackets, the Princess favors the Spanish clothing brand's dresses too and has been spotted in at least three of its styles. The internet went wild when she rocked a simple striped summer dress from the Spanish brand whilst attending a Charity Polo Trophy in 2018. Of course, the dress sold out almost immediately.
More recently, she opted for a grey checked midi dress with pussy-bow neckline during a visit to the University College London in October 2021. She also wore a green floral midi dress with a lace-trimmed neckline for a video call for the Hold Still portrait project with the National Gallery in 2021.
10. Self Portrait
Self Portrait
Kate Middleton's dress choice for timeless elegance
Reasons to buy
+
Super glamorous details
+
Timeless designs
Self Portrait is a brand Kate Middleton has discovered in more recent years, first wearing one of its creations in 2016, and more consistently from 2020 until now. Also favored by her sister-in-law Meghan Markle, Self Portrait's evening and occasion-wear is almost unrivalled, full of flattering silhouettes, statement features, and glittering embellishments.
Self Portrait Bow-Embellished Pleated Woven Midi Dress
RRP: $370 / £370 | Make an impression in this show-stopping red dress. The embellished bow detailing at the front adds an touch of glitz, while the full skirt will flatter any figure. Keep the rest of your look simple, with black heels and minimal jewelry.
EXACT MATCH
Self Portrait Pleated Woven White Midi Dress
RRP: $420 / £420 | This is an exact match for the dress Kate wore at the Hold Still reception at Buckingham Palace, so you can snap up an actual piece of the royal's wardrobe. It's made up of a fitted blazer, a pleated skirt, and lace trim at the hem.
Self Portrait Praire floral-lace woven midi dress
RRP: $350 / £350 | One of the best bridesmaid dresses with romantic floral lace and a semi sheer design, this looks is both sexy and sweet. The fitted neckline and short sleeves keep it sophisticated. While the mixed lace pattern keeps in modern.
---
What to buy from Self Portrait…
Reserve a Self Portrait purchase for when you're on the lookout for something really special - they excel at occasion dressing with luxe and embellished designs, so its best suited for glam parties, weddings, charity balls or red carpet events. But, dresses aren't all they do; you'll also find on-trend tweed blazers, button-up mini skirts, woven tops and diamante shoulder bags across the range.
When the Princess of Wales has worn Self Portrait...
Catherine has worn Self Portrait a handful of times, most recently over the past two years. But perhaps her most striking look was when she wore the brand's Pleated Crochet Maxi Dress to a film festival in 2016, where the royal wowed in the brand's sheer bodice.
Since then, the Princess of Wales has worn a couple of its white numbers to official engagements, including its Cream Tailored Bouclé and Chiffon Midi Dress, which she wore to a Hold Still reception at Buckingham Palace, and most recently, a Cream Midi Dress to visit the headquarters of the Royal College of Midwives in April 2022.
11. Alessandra Rich
Alessandra Rich
Kate Middleton's dress choice for polka-dot perfection
Reasons to buy
+
Elegant polka-dot designs
+
Classic tailoring
Alessandra Rich is a label the Princess of Wales has turned to religiously in recent years, and we can see why. The Italian-born designer is an expert in crafting uber-feminine and flattering designs, with vintage, retro touches that really set her clothing apart.
Alessandra Rich Bow-Detailed Pleated Polka-Dot Milk Midi Dress
RRP: $1,925 / £1,490 | We could absolutely see Kate wearing this silk polka-dot dress, which simply oozes vintage glamour with a pleated skirt and structured shoulder pads, to give a retro, hourglass silhouette. The sweetheart neckline is cute too.
Alessandra Rich Chiffon-Trimmed Button-Embellished Polka-Dot Silk Dress
RRP: $2,035 / £1,575 | Another classic silhouette, this blue polka-dot midi features stunning vintage detailing such as the chiffon sailor collar with ruffles, and matching frilly pockets. Wear it to formal functions or relaxed weekend dinners.
Alessandra Rich Draped floral-print duchesse silk-satin mini dress
RRP: $1,640 / £1,265 | This ruched floral mini dress, cut from duchesse silk-satin, is a serious nod back to the '80s, where puffed sleeves and floral patterns were all the rage. The plunging neckline makes this a Christmas party dress winner.
---
What to buy from Alessandra Rich…
The Italian label perfectly embodies vintage glamour, so head to Alessandra Rich for pleats, ruffles and '80s polka dots - a style that Catherine goes for time and time again. Her designs involve lots of patterns, from florals to zebra prints, so it's not the brand for you if you prefer neutral and minimalist. But if you're wondering what to wear in Rome and need an ultra-glam mini or midi dress, there's no better place to shop.
When Princess of Wales has worn Alessandra Rich...
As mentioned, Kate usually opts for the brand's more muted midi dress designs, most regularly wearing its polka dot dresses for important social events including Wimbledon and Royal Ascot. In fact, she most recently wore their Chelsea-Collar Dress In Blue Polka Dot to the Wimbledon Men's finals, where she presented the trophy to Novak Djokovic. Though she mostly favors its dresses, she's previously worn a blue polka dot skirt from the brand too.
And the Princess did once veer away from the safety of the polka dots, with an '80s-inspired yellow floral gown for an engagement in the Bahamas. Full of ruffles, pleats and big patterns, it was a bit of a departure from the royal's usual muted style - but the more exuberant look suited her down to the ground. Because lets face it, Kate can pull off pretty much any outfit.
Amy Hunt is an experienced digital journalist specialising in homes, interiors and hobbies. She began her career working as the features assistant at woman&home magazine, before moving over to the digital side of the brand where she eventually became the Lifestyle Editor up until January 2022. Amy won the Digital Journalist of the Year award at the AOP Awards in 2019 for her work on womanandhome.com.