Kate Middleton's dresses—9 places the Duchess shops
We reveal which fashion labels many of the Duchess of Cambridge's dresses are from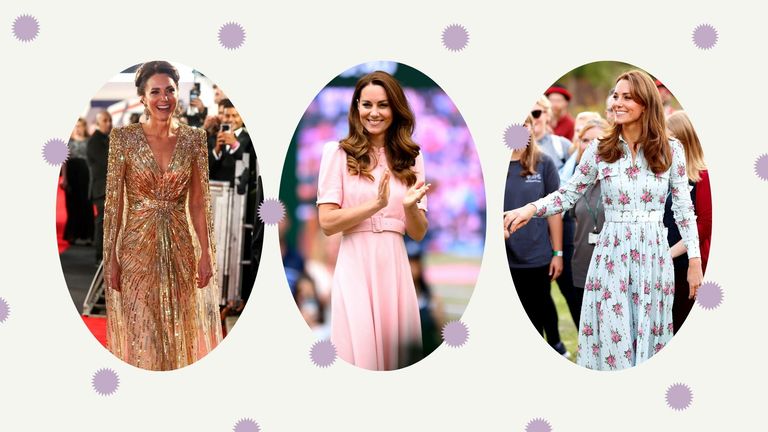 (Image credit: Getty)
The Royal Family has provided us with many style icons, and the Duchess of Cambridge is up there with the best of them. It's hard to pick just one fashion style we love on her, but Kate Middleton's dresses, in particular, have gained an immense following.
Every royal family member is known for their own signature fashion staples. From the Queen and her neat skirt suits and Balmoral attire (the latter of which has often provided catwalk inspiration for designers), to Princess Diana's myriad looks throughout her sartorial evolution, from demure debutant (think jumper vests and pearls) to fully-fledged vamp.
But there's one royal who reigns as everyone's favorite style icon: The Duchess of Cambridge. Interest in her fashion choices ramped up since the Duchess wed Prince William in 2011, when Kate Middleton's wedding dress thrust her into the spotlight. Since then she has served up non-stop stylish looks.
As much as we love her trusty off-duty best jeans and boots combo, it's her dresses that are always knock-out. From Alexander McQueen gowns to the electric blue Issa wrap she wore for her engagement announcement, the Duchess of Cambridge's dresses have become synonymous with chic, feminine polish.
Her dresses have become so popular that several have instantly sold out after a royal appearance. Coined "the Kate effect," her immense selling power means an endorsement of any brand—whether it's high-end or high street—see it catapulted into the fashion conscience and sales rocket.
Where to buy Kate Middleton's dresses in the UK sales
Where to buy Kate Middleton's dresses in the US sales
9 places to shop Kate Middleton's dresses
From designer to thrifty, Kate Middleton's favorite dresses span a wide range of labels. Here are her nine go-to dress brands, with look-a-like styles and our editor's top picks from each.
1. Alexander McQueen
Alexander McQueen
Kate Middleton's dress choice for formal occassions
Reasons to buy
+
Flattering silhouettes
+
Timeless designs that don't date
Though a keen supporter of the high street, Kate does have a penchant for the odd designer dress. One of her favorite labels is, of course, Alexander McQueen, which has become one of the most famous British clothing brands for good reason.
When the Duchess of Cambridge has worn Alexander McQueen...
Kate has worn Alexandra McQueen countless times, often recycling her gowns and wearing them more than once.
Her most famous McQueen moment has got to be the stunning ivory gown she wore for her marriage to Prince William in 2011. It was designed by McQueen's then-new creative director Sarah Burton. The plunge-front lace gown with a nine-foot train sent shock waves (of the best kind) down Westminster Abbey. It's arguably the most iconic of Kate Middleton's dresses too. Since then, McQueen has become a go-to for myriad occasions.
Earthshot Prize, October 2021, re-wore her Alexandra McQueen lavender dress
Princess Eugenie's wedding, October 2018, a fushica frock with a pleated waist
BAFTAs, February 2020, re-wore an Alexandra McQueen white and gold gown
The designer appears to be her go-to when she is deciding what to wear to weddings and what to wear to christenings. She wore McQueen to Princess Eugenie's wedding to Jack Brooksbank back in 2018 and she also chose the designer for her youngest child, Prince Louis's christening.
Her most recent McQueen look was a blue floor-sweeping gown worn to the 2021 Earthshot Prize at Alexandra Palace, London which made headlines not only for its starry quality but also for its sustainable credentials being a piece the duchess had already worn to the 2011 BAFTAs.
What to buy from Alexander McQueen...
Take a leaf out of the Duchess' book and look for dresses that you'll want to reach for time and time again. McQueen's ready-to-wear collection features a lot of waist-cinching designs that are flattering and feminine and will suit a special occasion such as a wedding or christening.
Alexander McQueen Panelled Midi Dress
RRP: $4,640 | £3,180 This fit and flare design is super flattering and a silhouette Kate always leans towards. Worthy of any special occasion.
Alexander McQueen Floral Folded Drape Dress
RRP: $1,970 | £1,390 Kate enjoys a floral print and we can totally see her in this. The simple pencil style is one of the most wearable designs that you can wear on a dinner date or at a wedding.
---
2. Beulah London
Beulah London
Kate Middleton's dress choice for royal duties
Reasons to buy
+
Pretty floral prints
+
Ethical brand
As well as championing a sustainable approach to fashion via recycling her wardrobe, the Duchess supports lots of ethical and sustainable clothing brands, including Beulah London. The British-based brand, founded in 2009, offers employment to vulnerable women and promotes sustainable artisan handicrafts.
When the Duchess of Cambridge has worn Beulah…
Kate wore the pale blue Sabitri dress back in 2012 when she visited a mosque during a tour of Malaysia with Prince William. Since then she has worn the brand several times including in May 2020, when she wore the raspberry-red Calla Rose floral silk dress with contrasting white collar during the Mental Health Minute television broadcast.
In true Kate style, she then confirmed her love for the dress in September 2020 when she re-wore it on a day of royal duties including a visit to the London Bridge Job Centre and the Beigel Bake Brick Lane Bakery with Prince William.
More recently she wore the blush pink Ahana dress to the men's singles final at Wimbledon in July 2021.
Malaysia tour, September 2012, pale blue Sabitri dress
Royal duties in London, September 2020, raspberry-red floral frock
Men's singles final at Wimbledon, July 2021, blush pink Ahana dress
Beulah ticks a lot of boxes, from its ethical credentials to its relative affordability with dresses starting around $399.92/£295.
What to buy from Beulah…
If you want to steal Kate's identical style, you're in luck! Both the Calla Rose dress and the Ahana dress are still available to buy online. But you'd better be quick, we doubt they will stick around for long. Much like Kate's signature style, the dress collection is effortless and ladylike, full of sweet pastel hues and pretty floral prints. Perfect for dressing up or down.
Beulah London Ahana Blush Crepe Midi Dress RRP
$937.35/£695 | Sizes: US 2-12/UK 6-16 Channel the Duchess herself in this exact match dress. With a flattering belted design and sweeping skirt, it's refined and polished. Finish off with tan accessories for an oh-so-chic look.
Beulah London Calla Rose Red Floral Dress RRP
$741.78/£550 | Sizes: US 2-12/UK 6-16 Another exact match, the contrasting collar on this frock really gives it the edge. The floral design is instantly wearable and the balloon sleeves offers a modern touch on the classic shape.
---
3.Emilia Wickstead
Emilia Wickstead
Kate Middleton's dress choice for injecting color
Reasons to buy
+
Pretty color palettes
+
Tailored designs
Much to the delight of fashion fans, the last few years have seen the Duchess introduce a handful of on-the-pulse designers into her wardrobe, one of which is Emilia Wickstead. A mainstay at London Fashion Week, the Newzealand-born designer is known for interpreting the latest clothing trends into ladylike silhouettes, romantic prints, and feminine color palettes.
When the Duchess of Cambridge has worn Emilia Wickstead...
Though Kate has reached for Wickstead's dresses on numerous occasions, it's the powder blue and pink floral Aurora dress that proves the most stylish.
First worn at the 2019 Chelsea Flower Show, the Duchess re-wore the piece in August 2020 during a trip to Wales with her husband William. She teamed the midi dress with her favorite Castana wedge espadrilles and floral face mask.
Global Ministerial Mental Health Summit at London County Hall, October 2018, lavender a-line dress
Women's singles final at Wimbledon, July 2021, emerald green dress
Back to Nature festival at RHS Garden Wisley, September 2019, pink and blue floral Aurora dress
Nicknamed the 'Kate' dress, the Duchess has worn three versions of the long-sleeved wool dress—in lavender, forest green in May 2019 and royal blue in November 2019
And it's not just the dresses Kate has a penchant for. In September 2021, the Duchess wore an incredibly chic purple suit for a tour of the Ulster University Magee Campus in Derry, Northern Ireland.
What to buy from Emilia Wickstead…
If you invest in one thing from the New Zealand designer, then make sure it's colorful. Asides from the floral number, Kate tends to lean towards vibrant dresses from sweet lavender to emerald green. The designs are perfectly tailored to Kate's style, with a fitted bodice and an a-line skirt
Emilia Wickstead Aisha Midi Shirt Dress
RRP: $1480/£1,120 | Sizes US 2-24/ UK 6-18 Not an exact match, but a gorgeous dupe of the floral Aurora dress. The classic shirt dress style is flattering and feminine and the vintage-inspired floral print adds a romantic twist.
Emilia Wickstead Malinda cloqué gown
RRP: £1,125 | Sizes: UK 6-10 A slightly longer version of the emerald green dress Kate wore to Wimbledon, this one has more of a special occasion vibe. This one is only currently available to buy in the UK.
4. Eponine London
Eponine London
Kate Middleton's dress choice for winter dressing
Reasons to buy
+
British brand
+
Winter-ready dresses and coats
A relatively new brand on the Duchess' radar, Eponine London was launched back in 2011. Another one with eco-credentials, the British brand produces its designs in its London-based studio using locally sourced wool and vintage materials.
When the Duchess of Cambridge has worn Eponine London...
The Duchess has worn Eponine London a handful of times, most recently in November 2021 at a COP26 evening reception in Glasgow. She chose an elegant blue coat dress from the brand's Spring/Summer 2021 collection. It's not the first time she's chosen a royal blue dress. Kate wore a very similar style from the brand back in 2017 whilst visiting a Child Bereavement Centre in Stratford, London. She then re-wore this dress in 2018 on a visit to the McLaren Composites Technology Centre.
COP26, Glasgow, November 2021, tailored blue dress
Lavender Primary School, London, in support of Place2Be's Children's Mental Health Week, February 2019, green knee-length dress
Visit to a Child Bereavement UK Centre, London, January 2017, belted blue coat dress
As well as their dresses, Kate has also twice-worn a red and white tweed skirt suit from the brand. She also wore a red longline coat in May 2021.
What to buy from Eponine London…
Famous for their coat-dress hybrids, Eponine London will add a plush touch to your wardrobe. Packed full of wintery fabrics such as wool and corduroy, their small ready-to-wear collection is best suited to the colder months. Opt for a color-block dress or a classic coat.
Eponine London Dahlia Dress
RRP: £570 | Sizes: US 4-12/ UK 8-16 The Duchess often wears a burgundy hue and the pompom detailing on this design adds a playful touch. Cut from faux suede, it's perfect for winter and would look stylish teamed with boots. It has pockets too!
Eponine London Delphinium Coat
RRP: £900 | Sizes: US 4-12/UK 8-16 We can't resist including a coat in the roundup too, especially as the Duchess is such a huge fan of their coat dresses. This wool coat will keep you warm whilst the colour block design helps to elevate any winter look. We love the secret printed design that lines the inside collar too.
---
5. Jenny Packham
Jenny Packham
Kate Middleton's dress choice for momentous occasions
Reasons to buy
+
Sequin embellishments
+
Red-carpet designs
Much like Alexander McQueen, Jenny Packham is a designer the Duchess comes back to time and time again for special occasions.
When the Duchess of Cambridge has worn Jenny Packham...
There are certainly too many times to count but Kate's most recent appearance in Jenny Packham is worth noting for being the glitziest look yet. The Duchess wore a gold sequinned cape gown by the designer as she walked down the red carpet at the UK premiere of the new James Bond film No Time to Die. Like the rest of us, she must have missed getting dressed up this past year and decided to go all-out.
No Time To Die UK premiere, September 2021, gold sequined gown with cape
Outside the Lindo Wing of St Mary's Hospital, London, with her third child Prince Louis, April 2018, red dress with contrasting collar
Tusk Conservation Awards at Banqueting House, November 2018, floor-sweeping teal gown
Kate clearly trusts the designer to dress her during the most momentous occasions and has worn a Packham dress the first time she has introduced each of her three children to the world. She famously chose a blue polka dot dress by the designer in 2013 when she debuted Prince George to the public. In 2015, she stepped out with a newborn Princess Charlotte wearing a sunny yellow floral Packham dress and for Prince Louis it was a red knee-length number with a cute Peter Pan collar.
What to buy from Jenny Packham…
Show-stopping evening gowns is what Packham does best. Think sparkly sequins, feathery details and tulle skirts for the ultimate head-turning outfit. Fancy creating that Kate Middleton meets Bond Girl look? Jenny Packham has also created a shoppable 007 capsule collection in honor of James Bond's 60th anniversary featuring a dazzling gold dress that is almost identical to the one Kate wore to the premiere.
Jenny Packham Embellished Bias-Cut Gown
RRP: $5,409/£3,196 | Sizes: XS-XXL Channel Kate's 007 style with this stunning embellished gown. It has a flattering bias cut and long sheer sleeves, all topped off with sequins aplenty. Get the red carpet ready!
Jenny Packham Dr. No One-shoulder Silk-chiffon Gown
RRP: $4,482/£2,902 | Sizes: XS-XXL From the 007 collection, this takes inspo from the scarlet dress worn by Sylvia Trenchin (played by Eunice Gayson) in the 1962 film 'Dr. No'. Incredibly glamorous, it features drape detailing and a bow design, finished off with an embellished belt.
6. Kate Spade
Kate Spade
Kate Middleton's dress choice for daytime dressing
Reasons to buy
+
Affordable daytime dresses
+
Cute prints
Both Kate and her sister Pippa Middleton are fans of the American designer, donning everything from dresses to jewelry and with a slightly more affordable price point, it's one we can certainly introduce into our wardrobes too.
When the Duchess of Cambridge has worn Kate Spade…
Kate has worn two Kate Spade designs, both with similar ladylike silhouettes that are easy to wear. She was first spotted wearing the designer in 2016 at a World Mental Health Day celebration. The floral frock was unapologetically Kate, with a pussy-bow neckline, romantic floral design and a flattering a-line silhouette.
World Mental Health Day celebration with Heads Together at the London Eye, October 2016, purple floral dress
Visiting The Foundling Museum, London, November 2017, diamond-print dress
In 2017, the Duchess looked to the designer again, wearing a diamond printed dress with a similar a-line silhouette and pleated detailing. Kate clearly knows what shapes work for her, so if it ain't broke, don't fix it!
What to buy from Kate Spade…
Royal-approved dresses don't stick around for long so although you can't get your hands on Kate's exact dresses, Kate Spade has heaps of similar feminine and floaty designs that are just as swoon-worthy. Stick to floral prints if you want that Duchess of Cambridge look, and a-line silhouettes for a flattering finish. And while you're at it, why not snap up one of their best designer bags too.
Kate Spade Viney Floral Matinee Dress, RRP: £350 | Sizes: US 00-16/ UK 2-20
Kate will most certainly be a fan of this bold floral frock. The self-tie belt helps to cinch you in at the waist for that all-important flattering silhouette and the silk-blend fabric keeps it looking luxe.
Kate Spade Apple Toss Smocked-waist Dress, RRP: £325 | Sizes XXS-XXL
Switch up florals for this sweet apple design - a signature motif from the iconic New York-based brand. It has a smocked waist and a fit and flare design that makes it easy to throw-on and go.
---
7. L.K. Bennett
L.K. Bennett
Kate Middleton's dress choice for sporting events
Reasons to buy
+
Affordable designs
+
Classic and contemporary
L.K. Bennett has long been a go-to for the Duchess. Not only is she a big fan of the brand's nude courts, but she has also often been spotted in its flattering dresses.
When the Duchess of Cambridge has worn L.K.Bennett
The most recent was the Cayla, a bold red midi with elbow-length sleeves, which she wore during a video call with veterans to mark VE day in 2020. An advocate of recycling her wardrobe, the Duchess was first seen in the dress in 2015 when she made her Wimbledon debut.
Visiting the Evelina London Children's Hospital, December 2018, green polka dot dress
Day nine at Wimbledon, July 2015, red midi dress (worn again in 2020)
Charity Polo Match, July 2019, red Madison print dress
Kate wore the Madison in May 2020, a pretty red midi with delicate floral print, for a video call she made with Prince William to care workers. Just like the Cayla, this is an old favorite that she first wore in 2019 at the King Power Royal Charity Polo Day.
What to buy from L.K.Bennett…
Arguably one of the best UK fashion labels, L.K. Bennett was launched back in 1990. Its clothing, shoes and accessories range all work seamlessly together infusing classic styles with a contemporary spin. For Duchess-worthy style, look to their timeless prints such as polka dots and tailored a-line dresses in bright colorways. Finish off with a pair of nude courts, just like Kate herself.
L.K. Bennett Marianne Green and Cream Spot Pleated Dress
RRP: $550/£279 | Sizes: US 2-14/UK 6-18 A very similar style to the green polka dot dress worn by the Duchess, this is lightweight and floaty and a great day-to-night dress. Wear with box-fresh white trainers for a sporty twist.
L.K. Bennett Elowen Pink Animal Print Midi Dress
RRP: $500/£279 | Sizes: US 2-14/UK 6-18 Although this isn't the Madison dress worn by Kate, L.K. Bennett has released a newer version called the Elowen which looks pretty identical. With a soft animal print and flattering cape sleeves, it would be perfect for a wedding or christening. Make like Kate and team with a clashing red bag.
L.K. Bennett Dee Pale Blue Crepe Shift Dress
RRP: $370/£225 | Sizes: US 2-14/UK 6-18 The Duchess is also a fan of the shift dress design and this pretty pale blue number is a winner. As part of the brand's Royal Ascot collection, it has a cute sweetheart neckline and figure-hugging design that flatters in all the right places.
8. Reiss
Reiss
Kate Middleton's dress choice for tailored classics
Reasons to buy
+
Muted color palette
+
Affordable wardrobe classics
Another British high street brand the Duchess has reached for time and time again, she became an unofficial ambassador for Reiss during the early 2010s, stepping out in their figure-flattering dresses on numerous occasions.
When the Duchess of Cambridge has worn Reiss...
Kate still regularly wears Reiss—both new and re-wearing previously worn pieces. The most notable, however, was her appearance in the blush-hued Shola dress while meeting the Obama's in 2011. Not only did the dress sell out in hours, but such was also the surge in the public interest that the brand's website crashed. Having had a tough few years, Reiss' subsequent uptick in sales has widely been attributed to being known for stocking Kate Middleton's dresses.
Meeting former US First Lady Michelle Obama at Buckingham Palace, May 2011, blush-hued Shola dress
Opening The Treehouse Children's Hospice in Ipswich, England, March 2012, belted blue dress
Visiting the Canadian Museum of Civilization, July 2011, white Nanette dress
Kate also wore the brand's white Nanette dress for her official engagement photographs in 2010 which she then re-wore during a royal visit to Canada in 2011.
In September 2020 she recycled her blue belted dress, first worn when opening The Treehouse Children's Hospice in 2012, during an Instagram video.
As well as dresses, Kate has worn a Reiss beige blazer, and Reiss coats on numerous outings.
What to buy from Reiss…
The British high street store is pro at crafting timeless classics that help form the backbone of your capsule wardrobe. Think high-end fabrics such as the best cashmere sweaters and wool jumpers, all in a muted color palette of beige, cream and black, making it easy to mix and match. Go for more fitted styles such as a knitted dress or a classic LBD. Finish off with one of their elegant coats.
Reiss Olivia Sweetheart Neckline Midi Dress
RRP: $320/£188 | Sizes: XS-L This royal blue dress deserves some attention. The ribbed texture adds interest and the slit at the back makes it easy to move around in. Wear for your 9-5 with a pair of sleek mules.
Reiss May Scarf Print Midi Dress
RRP: $445/£248 | Sizes US 0-12/UK 4-16 A shirt dress is a wardrobe classic and the chic scarf print on this one is a stylish switch from florals. Finish off with black heeled ankle boots and an oversized blazer.
9. Zara
Zara
Kate Middleton's dress choice for casual occasions
Reasons to buy
+
Affordable designs
+
Trend-led pieces
It would seem that almost no one is immune to the allure of Zara, even the Duchess of Cambridge. Throughout her tenure, she has been spotted several times in clothes from the high street brand, from the red tweed jacket she wore to a Euro's 2020 game to the myriad skinny jeans she favors for less formal events.
When the Duchess of Cambridge has worn Zara…
Aside from their jeans and jackets, the Duchess favors the Spanish brand's dresses too and has been spotted in at least three of their styles. The internet went wild when she rocked a simple striped summer dress from the Spanish brand whilst attending a Charity Polo Trophy in 2018. Of course, the dress sold out almost immediately thanks to it being affordable and getting that royal stamp of approval.
University College London, October 2021, monochrome checked dress
Charity Polo Trophy, Gloucester, England, June 2018, blue striped summer dress
More recently, she opted for a grey checked midi dress with pussy-bow neckline during a visit to the University College London in October 2021. She also wore a green floral midi dress with a lace-trimmed neckline for a video call for the Hold Still portrait project with the National Gallery. This one was part of the Spanish brand's Join Life collection, which means at least 50% of the materials used to make the piece were from sustainable sources.
What to buy from Zara…
We expect you're already familiar with Zara's sought-after styles but if you want to get yourself some Duchess-approved pieces look to their chic blazers as well as their fashion-forward midi dresses.
Zara Print Dress
RRP: $149/£99.99 | Sizes: XS-L Another versatile shirt dress silhouette, this time in a fierce snake print. Kate is yet to embrace much animal print, but with its waist-enhancing design, we're sure this would be a hit.
Zara Plaid Satin Effect Dress
RRP: $49.50/£29.99 |Sizes: XS-XL Slightly shorter than perhaps Kate would got for but the plaid print is very similar to the design was spotted in. It has a flattering v-neckline too.
Frankie Graddon is a fashion and beauty journalist and co-founder of @thewingwoman, a weekly podcast and newsletter about thirty-something life, honestly.
Frankie has over a decade of experience working as a writer, editor, podcaster and consultant. She got her start at 10 Magazine before moving to The Telegraph in 2010 as a junior fashion editor. A few years later she became head of fashion & beauty at The Pool, the Webby award-winning platform for millennial-minded women. That website sadly closed in 2019, and since then she has been a regular contributor to a number of high-profile publishers including The Telegraph, The Times, Grazia, You Magazine, Glamour and woman&home.
Frankie has interviewed numerous industry experts and celebrities, from Claudia Schiffer and Karlie Kloss to Sam McKnight and Trinny Woodall. She has also created content for numerous fashion and beauty brands including Liberty of London, Whistles, Kitri, Hush, Boden, Madewell, John Lewis, Michael Kors, Kate Spade, Pandora, Marks & Spencer, Mint Velvet, Clinique, Caudalie and Neom.