10 minimalist wardrobe essentials to help build your style base
These staple wardrobe essentials will help you nail your signature style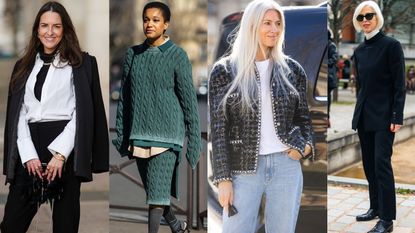 (Image credit: Getty Images)
Wardrobe essentials are the items you need to have in your closet. They're the building blocks, the pieces that will help you simplify getting dressed and streamline your style.
Wardrobe essentials never go out of fashion. They're the staple items that will eventually allow you to build the elusive, but much-desired capsule wardrobe. To achieve this, you'll need to go back to the beginning and source the best jeans, a simple white shirt, a classic white t-shirt—pieces that won't date and can easily be paired together, or mixed and matched with more trend-led pieces for when you want to switch up your look.
A more minimalistic approach to fashion is great if you want to lower your carbon footprint too. Invest in wardrobe essentials from the best sustainable clothing brands and seek out high-quality items that will last, underpinning your looks for seasons to come. A smartly tailored camel coat and the best cashmere sweaters in neutral hues are just a few examples of ideal investment buys. If it's the minimalism that appeals to you and you desire for a more stripped-back approach then check out Scandinavian clothing brands as they do this style of dressing particularly well.
Minimalist wardrobe essentials to create any look
These are the 10 wardrobe essentials that you need to ensure you're ready for any occasion. Many of these pieces are key to your wardrobe whatever the weather and while there might be some seasonal switch-outs, generally these will remain in your closet for most of the year.
1. White T-shirt
A white t-shirt is one of the most understated fashion items you can own. A firm wardrobe essential, the white t-shirt comes in many forms, and ultimately the perfect one for your closet will be down to your body type and preference.
Relaxed fit, crew neck iterations are great for wearing under sweaters, but if you want to retain your shape, opt for a more fitted silhouette with a good level of elastane to help with stretch and contour. V-necks are ideal for those with a fuller bust, although a deep scoop can also be really flattering. Fashionable, boxier shapes can be half-tucked into jeans and skirts for a nonchalant finish. While there are numerous high quality and designer iterations, a decent white t-shirt can be found for just a few dollars or pounds from ready-to-wear brands.
How the experts wear it:
"A white t-shirt is the ultimate outfit building block and every wardrobe needs at least one," says w&h's acting deputy fashion editor Charlie Bell. "I tend to go for a fitted crewneck style as they are the easiest to layer and tuck in. Wear under a slip dress or dungarees for a '90s vibe or with your jeans and blazer for a casual take on tailoring.
"They also look great tucked into a printed midi skirt to give it a cool edge. It pays off to spend a bit more on your white tees as cheaper ones can get misshapen easily in the wash. Shops such as Arket, Cos and Selected Femme are good places to start. It's worth getting a couple so you always have one to hand when one is in the wash."
Fashion editor picks...
(opens in new tab)
Zara White Oversized T-shirt
RRP: $25.90 / £15.99 | For a relaxed feel size up or shop around for boxier t-shirts. Adding a half-tuck into the waistband of your skirt or trousers helps to give you back your silhouette.
(opens in new tab)
M&S Linen Crew Neck T-Shirt
RRP: $26 / £15 | Linen is a great fabric for the summer. Keeping you cool in the warmer weather, this t-shirt has a retro turn back and relaxed fit for added comfort.
(opens in new tab)
Sunspel Classic White Tee
RRP: $90 / £65 | If you're a lover of a good t-shirt then chances are you'll already know about Sunspel. Makers of some of the best white t-shirts, this classic fit will always come in handy.
2. Classic jeans
A great pair of jeans is a wardrobe must-have. While there are some key denim silhouettes that should be in your wardrobe, you need to work out which fit is most flattering for your shape. Universally loved, a mom jean is a high-waisted style that gives a nod to fashion, without being too trend-led. The best skinny jeans can really help to sculpt your shape, while a classic straight leg will pair well with absolutely everything. Once you have the basic jean shapes sorted, you need to think about washes. Darker washes such as black and dark indigo tend to be smarter and more versatile, while light washes are ideal for casual summer dressing.
How the experts wear it:
"The key is to find the perfect style and fit for you," advises style editor Joely Chilcott, "and it may mean spending a little more to ensure you bag jeans that will last for years to come. As a starting point, try a pair of high-waist straight-leg jeans. They are a timeless style that is smart enough for dressier events but can easily be paired with a simple t-shirt and trainers for daywear. If you don't feel like this fit is quite right for you, then give mom shapes, skinny jeans, flares and wide-leg designs a go. It might take a bit of leg work, but we promise it will be worth it."
Fashion editor picks...
(opens in new tab)
Topshop Jamie Recycled Cotton Jeans
RRP: $74 / £40 | The jeans loved by the fashion crowd, Jamie jeans are the wardrobe staple for those in the know. A great straight-to-market purchase, this classic Topshop pair can underpin your wardrobe, grab them in black too.
(opens in new tab)
Levi's 501 Straight Leg Jeans
RRP: $69.50 / £95 | You can't get more of a denim wardrobe essential than a pair of Levi's. The 501 is the most classic of the brand's styles, but this ankle grazing finish gives this classic straight leg a modern edge.
Beauty in Curves Black Jeans
RRP: $194 / £145 | Beauty in Curves specialize in sculpting jeans. In three cuts and two washes (black and indigo), these jeans are ideal for apple shapes or those with a pear shaped body who want a little extra lift and contour.
3. Oversized knits
The best sweaters are a great dressing tool to have in your arsenal. From oversized knits, to easy, block color and neutral-hued iterations, a selection of easy, wear-with-everything jumpers can see you through autumn to spring. While cashmere versions will help to regulate your body temperature and are a worthy investment—particularly in classic shades or Breton stripes—more trend-led colors and slogans can be added seasonally from more cost-effective brands.
How the experts wear it:
"The kind of throw-on-and-go piece that will never let you down, a chunky knit in a neutral tone like black, grey or beige will more than earn its keep in your wardrobe," says w&h's former deputy fashion editor Jessica Beech. "I like to buy mine slightly cropped, to make tucking into high-waisted skirts and trousers easy."
Fashion editor picks...
(opens in new tab)
Zara Breton Striped Sweater
RRP: $49.90 / £32.90 | A Breton striped jumper is always on-trend and this lovely slouchy style in classic cream with a navy stripe is a great look for casual weekend wear.
(opens in new tab)
RRP: £49 (UK only) | A cable knit sweater is a piece you can wear all year through. This light blue iteration can be styled over a white blouse for a spring-ready feel.
(opens in new tab)
RRP: $505 / £315 | A classic cashmere sweater in a neutral hue will never go out of style. Look after your cashmere and clean appropriately to ensure maximum wear.
4. White button-up shirt
The best shirts are always a worthwhile purchase. A great white shirt is ideal for everything from what to wear to an interview to more casual occasions, where it can be styled oversized and half-tucked loosely into jeans for a relaxed '90s nostalgic aesthetic. For smarter occasions, you'll want your white shirt to be a crisp cotton number, well-tailored to your frame. Those with a larger bust might find a white shirt that fits well hard to come by. Look for specialist brands that have adapted shirts for larger busts, offering this button-fronted item in more ergonomically cut styles.
How the experts wear it:
"Crisp and clean, the white shirt has the power to make even the shabbiest outfit suddenly feel put together," says Jessica. "Go form-fitting for work, or opt for over-sized for laid-back weekends. Just don't forget to iron."
Fashion editor picks...
(opens in new tab)
Hawes & Curtis White Shirt
RRP: $79 / £39 | A tailored white shirt will always come in useful. Sharpen up a pair of jeans or look meeting ready and pair with some tailored trousers.
(opens in new tab)
Cos White Oversized Fit Shirt
RRP: $120 / £69 | An oversized tailored shirt is ideal for nailing smart/casual dressing. Opt for a half tuck into a pair of mom jeans for a modern take.
5. Smart trousers
If you think of wardrobe essential trousers, you'd be forgiven for only thinking about jeans. But a tailored pair of smart trousers can solve a multitude of 'what to wear moments'. Transitioning you easily from casual to smart events, a smart pair of trousers can be easily styled up with one of the best blazers, or made evening-ready with a sequin top. Look for pleated fronts, suiting styles or cigarette trousers in black, navy, and/or grey as these will cross the seasons and be easy to style.
How the experts wear it:
"Sometimes, just sometimes, your jeans just won't do—even your black skinny ones," says Jessica. "For those occasions—think job interviews, work and fancy evening dos, a pair of high-waisted trousers are your best bet. Choose a tailored cut in a heavy (and importantly anti-crease) fabric for a premium look."
Fashion editor picks...
(opens in new tab)
Massimo Dutti Split Hem Chino
RRP: $89.90 / £59.95 | A chino is a timeless trouser style that can easily be dressed up or down depending on occasion. The split hem offers a modern twist.
(opens in new tab)
RRP: $165 / £79 | A slim-fit tailored trouser is great for apple body shapes, as the tapered leg will highlight slender legs. Pair with t-shirts, shirts and blazers.
6. Roll neck sweater
The roll-neck sweater is an ideal layering piece making it a wardrobe essential. This streamlining piece can be worn alone as a sweater but it really comes into its own to add warmth to spring dresses and blouses that might otherwise be packed away, awaiting sunnier days. If any of your best midi dresses are hanging idly, waiting for some summer rays to make them wearable, just layer a roll neck, tights and boots underneath and suddenly your wardrobe is working that little bit harder for you.
How the experts wear it:
"Evoking a touch of Parisian class, a roll-neck sweater will always be a stylish addition to your wardrobe," says Jessica. "A failsafe layering piece, wear with everything from silky slip skirts to your favorite jeans. Lightweight or chunky knit, the choice is yours."
Fashion editor picks...
(opens in new tab)
RRP: $29.90 / £24.90 | One of the best places to head for your wardrobe essentials, Uniqlo stocks plenty of classic silhouettes in a host of colors.
Lipsy Camel Roll Neck Jumper
RRP: £26 (UK only) | A fitted ribbed roll-neck makes for a good layering piece as it follows the contours of the body and doesn't add extra bulk underneath clothing.
7. Flattering coat
While a cozy puffer might be one of the be best winter coats, a structured or tailored piece of outerwear will never fail to smarten up your look. Whether you're throwing it over your best joggers for a quick dash around the shops or wearing it over an evening look, make sure to invest in a smart coat in a good fabrication. For winter you'll want to invest in wool, wool mix, or cashmere iterations, while for spring, the trusty trench coat really comes into its own. Springs answer to tailored, structured outerwear, go classic with a Burberry trench coat or invest in a straight-to-market brand in a neutral hue. This is one of fashion's most enduring looks and you can easily wear these items again and again.
How the experts wear it:
"A quality winter coat is a smart investment," says Jessica. "Choose a classic color and shape, and you could be wearing yours for years to come. My trusty woolen camel coat is on its 6th winter as we speak..."
Fashion editor picks...
(opens in new tab)
RRP: $119.99 / £69.99 | Available in plus sizes, this cotton trench coat in fresh spring green offers a new take on a well-loved style. Pair over your favorite pair of jeans and a Breton stripe for a nod to the best French clothing brands.