Best Oscars dresses—the most fashionable moments from the last 20 years
The best Oscars dresses that have lit up the red carpet over the last 20 years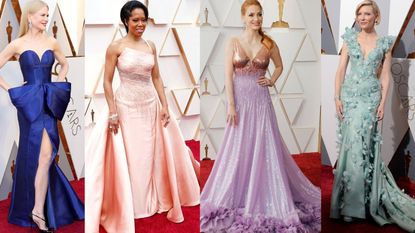 (Image credit: Getty Images)
The best Oscars dresses are almost as memorable as the nominated and prize-winning films, with the Academy Awards' red carpet playing center stage for some of the most exceptional fashion moments over the last 20 years.
When it comes to getting red carpet ready, no night in the fashion calendar commands as much attention as The Oscars. An army of stylists, make-up artists, and hairdressers will have spent weeks getting their talent coiffed for the big night, liaising with brands, selecting outfits, and practicing and negotiating on hair and make-up looks. This isn't as simple as pulling out any of your best dresses, or your most flattering jumpsuit and the best designer heels (although this last one is important). For many stars, the process of getting ready for the Oscars red carpet will start hours before the event itself, as fashion editor, Antonia Kraskowski found out.
"Attending the Oscars in 2015 was a dream come true, as I accompanied my mum, costume designer Anna Sheppard (nominated for Best Costume for Maleficent) down the red carpet. What no one tells you though, is that getting ready for the Oscars is not the same as getting ready for a party, or perhaps a wedding—those are style sprints and this was a fashion marathon. Our preparation started as soon as my mother's nomination was announced, while she attended a slew of events in the lead-up, I flew out two days before. Without a huge dress budget to play with or a designer willing to dress me, I had to get inventive, scouring stores until I found a contender. I opted for a navy tulle maxi dress with a fitted bodice from ASOS that had all of the timeless glamour a red carpet event like this needed. After alterations to make it fit me like couture and to fill out the skirt for maximum drama, I added a grosgrain belt for detailing and finished with a Chanel brooch at my waist.
Next comes the pre-prep as I called it, a series of appointments in the run-up to the day itself. The ideal golden glow courtesy of a spray tan by St Tropez followed by fresh highlights meant that I was halfway there before a shellac manicure and pedicure to complete my meager preparations (when compared to an A-list celebrity's). On the day itself, the hair and makeup artist arrived at 8am. What followed was a flurry of hot rollers, fake lashes, and makeup for both our faces and bodies. We were buffed and preened to perfection, all in time for our 1.30pm limousine. There's nothing quite so surreal as sliding into evening dress and diamonds in the middle of the day and parading past hotel guests eating lunch."
Best Oscars dresses from the last 20 years—as selected by our fashion editor
When it comes to a fashion trip down memory lane, the Oscars best dressed list offers up some true gems. A walk through fashion history, the Oscars red carpet looks of the last two decades visually show how times, styles and tastes have changed. From breathtaking beadwork to daring cutaways and sheer panels, the Oscars red carpet is a true delight of fashion trends old and new and plenty of statement style.
1. Jessica Chastain—2022
Picking up the award for Best Actress at the 2022 Oscars, Jessica Chastain also stole the hearts of the fashion crowd in this magical Gucci number. The fully sequined gown literally dazzled on the red carpet, with the fitted bodice offering a flattering deep v-neckline before cascading into a full, sequinned, a-line skirt. The top bodice was embellished with rose gold sequins that flowed into lavender sequins in an almost ombré style effect. A striking and unusual color combination, the two hues worked beautifully together. The gown was finished with a deep ruffle around the hem to add one final statement to what will go down, for us, as one of the best Oscars dresses in red carpet history.
2. Laura Dern—2021
While the Oscars may have felt a little more low-key last year, the dresses certainly weren't. Laura Dern kept it classic in monochrome but upped the ante with a beautiful feathery white skirt, attached to a sleek and fitted black top bodice. Wearing Oscar de la Renta, the look was light-hearted, playful and ever so elegant—everything we needed in the midst of the global pandemic.
3. Regina King—2020
Regina King absolutely dazzled in Versace at the 2020 ceremony. The soft baby pink dress featured a stunning sculptural shape and gorgeous embellishment that showed Regina really understood how to make a red carpet moment.
The asymmetric bodice that finished in a sharp point, paired with the curved beading that snaked around Regina King's waist highlighted and enhanced the actress's silhouette. Just the perfect amount of drama.
4. Olivia Colman—2019
Snapping up an Oscar and a spot on the best dressed list, Olivia looked resplendent in custom-made Prada back in 2019, undoubtedly one of the best Italian clothing brands. While green is largely considered an unlucky color at the Oscars, in Prada and scooping an award, Olivia clearly proved everyone wrong.
The figure-skimming, a-line dress with modest turtleneck looked extremely elegant, while the smokey grey sash, with dramatic bow back, decorated in Swarovski crystal flowers, took this outfit to couture heights.
5. Nicole Kidman—2018
A dab hand at red carpet dressing, this Armani Privé dress is certainly up there as one of Nicole's own personal best looks. This curve-creating, Jessica Rabbit style dress, gives Nicole the most amazing hourglass body shape. The striking deep blue hue stands out against the red carpet and the fitted bodice with sweetheart neckline screams old Hollywood glamour. A memorable outfit for all the right reasons, the front pleating and bow detailing is exceptional.
6. Kirsten Dunst—2017
You can't beat the classics and while it's tempting for stars to go for something over-the-top to get noticed, sometimes all you need is the perfect 'little black dress', it helps when it's a Christian Dior one of course. Kirsten Dunst wore a strapless gown with fitted, slightly ruched bodice, nipped-in waist and full skirt. The timeless and elegant design was originally created by the French fashion house in 1952. Playing with proportions can easily change perceptions. Featuring a dipped hem that falls gently into a train and a higher hem height at the front, giving the dress an ankle-grazing finish, automatically lengthens Kirsten's silhouette. Also, the dress has pockets, and you know we love a dress with pockets.
7. Cate Blanchett—2016
Cate Blanchett is one of those celebrities that could fill a best dressed list all by herself. Utterly flawless, you can tell her and her team really understand what works when it comes to red carpet dressing. With a slender frame and a rectangular body shape, Cate can carry a column, or straight up and down dress particularly well and often opts for simple silhouettes with added embellishment to help her look stand out on the red carpet. In seafoam green, Cate looks like she has stepped out of a fairy tale, and we particularly love the jewel-centered flowers growing and climbing across the Armani Privé gown. The deep v-neck adds to Cate's height, while the simple small train adds gravitas to the look.
8. Rosamund Pike—2015
Wearing red on the red carpet always feels like a daring move, but Rosamund Pike certainly pulls the look off. Wearing a beautiful lace gown from Givenchy Haute Couture—one of the best French clothing brands, the dress is perfectly balanced. Strapless, the delicate scallop detailing across the chest is given the space to shine, while the illusion silk paneling at the waist highlights the star's slender frame. The star also gains a few easy inches in height through the straight lace skirt with front slit that draws the eye along and up the body. Allowing the dress to do the talking, Rosamund keeps jewelry to a minimum and ties her hair up to really emphasize that bare shoulder detail.
If you're opting for a fitted dress like Rosamund's for an occasion, you might want to invest in some of the best shapewear to help sculpt and smooth your figure. Offering the final element of polish to your look shapewear can help fitted clothes sit smoothly against your body.
9. Sandra Bullock—2014
Navy is often seen as a hard color to wear, but when it comes to evening attire, it makes a stylish and flattering alternative to black. Sandra Bullock looks amazing in this deep navy evening dress from Alexander McQueen. Another star that is no stranger to the red carpet, Sandra channels old-school glamour with this sleeveless, sweetheart neckline design. The asymmetric drape, gathering from the middle helps to create an amazing hourglass silhouette, narrowing the waistline and creating a fuller and more rounded hip area. We love the way Sandra Bullock has swept her hair to one side, with her cascading locks mimicking the style of the dress. Finishing her look with a statement diamond earring, this look is Oscars red carpet perfection.
10. Catherine Zeta-Jones—2013
Catherine Zeta-Jones looks dazzling in this gold sequin and tulle mix dress by Zuhair Murad. The fitted bodice highlights the star's curves, while the fluted tulle detailing adds the right layer of frothiness for the occasion. The clever gold beadwork forms a column of illusion patterning that draws the eye up and down the body and in at the waist, creating an incredible hourglass silhouette. This dress is the perfectly balanced level of drama and glamour that the best Oscars dresses require.
For a special occasion dress, illusion paneling and patterning is ideal if you're looking for a flattering dress to hide a tummy or simply want to emphasize your curves.
11. Meryl Streep—2012
As golden and glamorous as the Oscar award itself, this enchanting look from Lanvin is one of Meryl Streep's best Oscar dresses ever (in our humble opinion) the gold lamé draped gown highlighted Streep's amazing curves and the deep v-neckline lengthened the stars frame. Incredibly elegant, this was such a statement and fun look, but like Streep, still utterly classy.
Gold is a great color option for occasionwear. If you're looking for what to wear to a wedding with an evening party, then a gold dress will always be ready to celebrate.
12. Dame Helen Mirren—2011
While many stars opt for heavily beaded frocks or frothy tulle dresses, Dame Helen Mirren looks chic in this grey, tailored dress. The work of British clothing brand, Vivienne Westwood, the look gives a nod to period dressing—historical referencing being a specialty of the brand, with its bust enhancing square neckline. The slender fitting, ruched body gently skims over the star's silhouette, offering timeless style. The dress and Mirren both exude elegance.
13. Cameron Diaz—2010
Cameron Diaz is another star who really understands how to dress for her body type. This beautifully beaded Oscar de la Renta dress wouldn't look out of place on a bride, but this sleek shoulder-baring silhouette with a-lined skirt is just right for Diaz. Offering a nipped-in waist and fuller hips, this pretty dress combines a white base with silver beadwork for a look that will never date and never not make it to a best dressed list.
If you're looking for a wedding dress, the best Oscars dresses alongside the latest fashion trends 2022 are a great place to gather research from. Many of the finer design nuances for occasionwear will be played out on the runway and interpreted by stars on the red carpet, giving perfect gown inspiration.
14. Beyoncé—2009
Black and gold is always a winning combination and this striking color pairing is always going to turn heads. But pulling off a fishtail with such grace and style, that's certainly a Beyoncé specialism. Designed by the House of Deréon, a label set up by Beyoncé and her mother, a fishtail gown is not an easy silhouette to wear, but Beyoncé looks incredible in this dramatic and sculptural gown. The foil floral print really makes this dress sing and the strapless detailing and bare shoulders help to balance out the fullness of the hem.
15. Renee Zellweger—2008
Renee Zellweger was a clear winner for us in 2008. Wearing a Carolina Herrera gown, the actress looked absolutely exquisite. Opting for full head-to-toe embellishment, this dress ensures Renee really shines. With a distinctly 1920s feel to it, the gown featured a central jewel at the bust line and a series of curved lines of beading drawing the eye up and down the body of the dress. The ruche detailing at the waist helped to create fuller curves, giving a nod to the classic Hollywood hourglass silhouette.
A beaded dress is an easy way to immerse yourself in occasionwear. If you're looking for a fully embellished gown, be aware of just how delicate these styles are, as they can snag and break easily. Make sure to pack beaded items into your wardrobe with a cover on top to avoid them catching on other items.
16. Penelope Cruz—2007
Penelope Cruz is a regular when it comes to the Oscars and certainly knows a thing or two about picking the best Oscars dresses. We're utterly in love with this Atelier Versace, feathered skirted dress with silk chiffon pleated bodice that the star rocked in 2007. In a peachy hue, the dress is light and frothy but has plenty of style gravitas for the such a big occasion.
17. Jennifer Lopez—2006
Jennifer Lopez is as striking today as she was back in 2006, but this incredible green tulle dress, with flattering gathered detailing sticks in our memory as one of the best Oscars dresses. A really striking color, the delicate and precision pleat detailing works in the same way as illusion block color paneling. Pleating vertically and diagonally in at the waist to draw the eye to the narrowest part, before vertical pleating down the skirt appears to widen the hips, this incredible dress is the ultimate hourglass creator. The dress was a vintage number from Jean Dessès, showing just how classic and timeless a style this was as it would still look great on the red carpet today.
18. Halle Berry—2005
Chiffon pleating was definitely having a moment round about this period as we see it in a lot of the best Oscar dresses over a period of five years. While it wasn't suddenly a new technique, there was certainly a nostalgic mood on the runway and a real enthusiasm for the Hollywood golden era and delicately pleated and ruched chiffon evoked this mood perfectly. This stunner of a dress was, like Penelope Cruz's in 2007, another Atelier Versace number, and the fashion house has long been champions and experts at this particular technique.
This silver silk dress seemingly glided across Halle's curves and the asymmetric detailing snaked around the star's silhouette effortlessly. Using a series of panels, including a beaded mesh cut out, a silky skirt and pleat detailing, this dress combines different elements and textures creating a magnificent work of art.
19. Charlize Theron—2004
While we associate the slip dress with '90s fashion, when it comes to evening wear, this style remained popular in the early 2000s too. The simple silhouette lends itself well to a focus on beadwork and looks fantastic here on Charlize Theron. This Gucci slip dress is ideal for rectangular body shapes as the style really does like to just glide into place. For occasions, this look is often enhanced, as it is here with delicate embellishment that mimics the fragility of the dress. With a plunging and v-shaped back and slender straps, this simple dress has a timeless feel.
With the '90s back in fashion, expect to see similar styles available right now from both runway and straight-to-market brands.
20. Renee Zellweger—2003
This Carolina Herrera gown mimics the shape of Charlize Theron's a year later, reinforcing that this was indeed the shape of the time. While in 2022 you're likely to see more plunging necklines, back in the early 2000s it was all about backless designs with slim strap details. This punchy red dress with lace frontage and simple train was an elegant and timeless choice. The lace adds a central column lengthening Renee's frame. Bright color clothes are always a strong choice for the runway. Exuding confidence, a bold red dress is guaranteed to get a star noticed.
21. Halle Berry—2002
Not only one of the best Oscar dresses of all time, but also one of the most memorable, Halle Berry stunned when she took to the red carpet in this Elie Saab gown. Using delicately and cleverly placed embroidery to protect Halle's modesty before falling into a full silk satin skirt, this was a pretty dramatic look for the Oscars in 2002. Picking up an award that night for Best Actress in a Leading Role for 'Monster's Ball', Halle Berry's head-turning outfit choice remains one of the most loved Oscars dresses of all time.
22. Renee Zellweger—2001
It's rare that a star makes it to a best dressed list every year, but Renee Zellweger is someone we can rely on to always deliver in the fashion stakes. This vintage sunshine yellow dress by Jean Desses with front chiffon drape detailing is very much of its time. The bandeau dress was having a real moment in the early 2000s and many of you will have at least back then owned a straight-to-market iteration in a similar silhouette to Renee's Oscar dress. In a mood-boosting yellow, Renee was ahead of her time, in rocking this season's Dopamine Dressing trend. A simple and pretty silhouette in a standout hue is a really easy way to make a splash on the red carpet.
23. Lucy Liu—2000
Wowing in red Lucy Liu opted for an asymmetrical, one-shoulder Versace dress that mixed red tones together. The diagonal sequin detailing cleverly curves the eye around the body, narrowing at the waist before filling out again as the embellishment travels down the skirt. This striking look might have been over 20 years ago but it still feels fresh and modern. If it made an appearance on the red carpet in 2022, we'd still fall in love with it.
Rivkie is a fashion editor, writer and stylist with over fifteen years' experience in the industry. Having studied design and pattern cutting at the London College of Fashion, Rivkie fell in love with styling and journalism, covering fashion weeks in London, Paris and New York.
Specialising in plus size fashion, Rivkie has long championed that style is for everyBODY and has been a regular talking head on a host of radio stations and television shows, pushing for greater representation for plus size women and fashion throughout her career.
With contributions from