How to wear bright color clothes—add color to your wardrobe, with stylist Gemma Sheppard
Celebrity stylist and fashion expert, Gemma Sheppard explains how to wear bright color clothes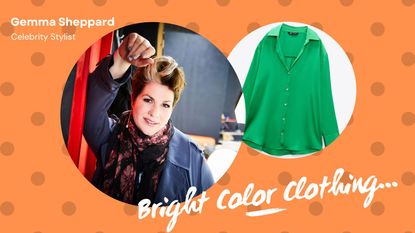 (Image credit: Gemma Reynolds / Future)
With spring around the corner, now is the moment to embrace bright color clothes. It's time to pack away the winter woollies and dark colors of last season and explore a whole new color palette.
Many people are hesitant about adding vibrancy into their capsule wardrobes, and on this week's episode of 10 Years Younger in 10 Days, we saw how prison officer Adeline got lost in a monochrome hole for two decades. I showed her how to zone in on her good points and look at incorporating small pops of color in these areas as a means of highlighting them. Adeline had the most incredible ankles so we showed them off with a fabulous pair of colored heels and also added a bright jumper beneath a chic blazer to introduce color without it dominating the outfit.
"But black is slimming," I hear you cry, it's also a socially safe option. In a room full of strangers, you'll stand out less wearing darker hues, which understandably might appeal to anyone who's lost a bit of confidence over these past two years. But I'm a firm believer in the power of change—and now is the time to shine. As we enter a new season it's time to bolster your wardrobe essentials but instead of opting for a camel coat, inject some brightness instead.
Is wearing bright color clothes good for you?
This year one of the hottest fashion trends is 'Dopamine dressing'—choosing clothes that intentionally boost our mood. It's no secret that wearing color affects our mindset and energy levels, in fact, there are whole studies on color psychology and how wearing different hues positively influences our thoughts, feelings, and behaviors. For example, people wearing red generally feel more confident and studies show that rouge-clad sports players tend to win more matches.
The spring/summer shows saw models walking for Christian Dior and Versace clad head-to-toe in brights but if that's a tad outside your style comfort zone, follow these tips to start injecting bright color clothes into your closet and style yourself happy.
How to wear bright color clothes this season
Firstly you need to consider 'what color suits me' to figure out what colors you like and how those colors feel and fit into the context of your lifestyle. While you might want to know what colors the fashion trends of 2022 have in store, it's more important to be true to your aesthetic, than simply following trends and rules.
1. Start with colorful accessories
Accessories are a great starting point to inject color into any outfit and the handbag trends 2022 has to offer will really light up the room. Opt for a great pair of shoes, one of the best tote bags; a belt, or a piece of jewelry in a bright shade that you wouldn't dare to wear as a full garment. When you see and feel the impact of adding a color pop you can introduce an item of clothing in the same shade—it's ok to ease yourself in slowly.
2. Experiment with a spectrum of color
Another trick is to swap out neutral pieces for the closest color match until you get used to wearing color. How about aubergine instead of black? Pale blue instead of grey?
Alternatively, try wearing a simple t-shirt in a bright color and see how it makes you feel. Keep an open mind. 'Red' is not just 'red', there is a range of different hues out there so take your time and experiment until you find the shade that compliments your skin tone and hair color. The best way to do this is to hold a piece of clothing up to your face to see whether it drains you or enhances how you look—do you look ill or healthy?! If it drains you but you really, really love the color, use it on your bottom half and stick to colors that brighten your face on top!
Don't forget, color experimentation isn't just reserved for clothes and accessories—give it a whirl with your make up too. A coral lipstick is a great starting point as it suits all skin tones. I love Blaze by Illamasqua which is a gorgeous warm coral and is halfway between a matte and satin finish.
3. Try patterned clothing
Introducing patterns to your wardrobe may also seem daunting but if you start off with a subtle design that includes a pop of color, you'll be surprised how much it can lift a neutral outfit. You could try a simple stripe—such as a Breton top, or check if you're not used to wearing patterns, or if you fancy being a bit more daring, introduce some animal print—my favorite!
Fashion color trends for 2022
If one color encompasses 2022, it's green! The hues on the runway ranged from light lime to saturated neon and all the shades in between! Team a basic green shirt with your best jeans for a gentle introduction.
To inspire feelings of wellbeing, nothing hits the spot like fiery sunset orange, and the color suits anyone because it instantly warms every skin tone. Wear head-to-toe as a dress or separates (trousers/skirt and a top in the same shade) or as part of a pattern—be that floral, stripes, checks. If you're looking for dresses to hide a tummy, then remember that dense, non-repeating patterns, such as animal print, have a more slimming effect.
Hot pink has been dominating the runways and this summer it's expected to make an impact across swimwear and occasion wear too, so stock up on pink-spirational bikinis and fluorescent party-ready dresses.
Bright color clothes—Gemma Sheppard recommends
---
Gemma Sheppard's Must-Haves
Each week Gemma will highlight her three fave things of the week. Whether that's a must-buy or must-do, this is what Gemma is championing this week.
(opens in new tab)
RRP: £22 | I've been crushing on this makeup hero since I tried it a few weeks ago in Liberty. Bobbi Brown products work effortlessly on all skin types but as I age I like cream blush as it adds much-needed dewiness!
(opens in new tab)
RRP: £95 | I'm a huge fan of scent but adore essential oils they have such a calming effect on your nervous system. I've been using his to help me relax before bed because, like many, I struggle to switch off!
Follow Celebrity stylist and fashion expert Gemma Sheppard @Sheppard Style (opens in new tab)
Gemma Sheppard is an international fashion stylist with a successful consultancy business working with luxury and high street fashion brands. Resident stylist on Channel 5's award-winning makeover show 10 Years Younger in 10 Days, Gemma is a TV regular and frequently dominates the news headlines.
Gemma's ability to defy trends and shatter expectations means her extensive roster of clients stay at the forefront of style conversation. Whether a platinum-selling pop star, a talent show judge or award-winning, prime-time TV presenter, Gemma's fashion-forward styling gets her clients noticed for the right reasons.