The best tote bags for every occasion
We've rounded up the best tote bags for every occasion and budget, to help you shop without scrolling.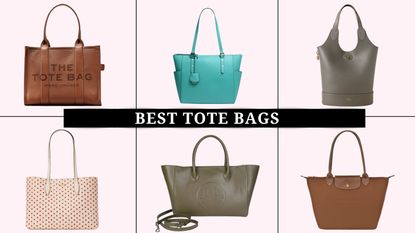 (Image credit: Future / Marc Jacobs / Aspinal of London / Mulberry / Kate Spade / Hill & Friends / Longchamp)
Tote bags have really stood the test of time. The perfect combination of style and practicality, the best tote bags are roomy enough for your essentials and ergonomic enough that you can carry them comfortably all day long.
A wardrobe essential, the tote bag is a style that never goes out of fashion. Constantly reinvented, the latest handbag trends 2022 introduced us to both supersize and micro editions of fashion's most useful bag. Identifiable by its often, medium to large size, with two handles, long enough to sling over your shoulder, tote bags are usually without a fastening, or with a simple clasp for easy access.
"Our continued love affair with the tote bag begins with it simply doing what it says on the tin, with its name routed in the North American terminology for 'carrying around'," says Emma Hill, Creative Director of Hill & Friends. "Totes obviously play a huge part in our working lives, serving as both mobile office and the all-important day to night transformer carry-all, but they also are pivotal in our leisure time, acting as the star player in trips to the beach and picnics."
So whether you're splashing out on one of the best designer bags or looking for a budget-friendly version, much like your best jeans, a tote bag is a capsule wardrobe necessity for busy women.
The best tote bags—shopping links
The best tote bags hand-picked by our fashion team
Whatever the occasion, we've found the best tote bags for you
1. Marc Jacobs
Reasons to buy
+
Statement styles
+
Good price range
We couldn't compile our best tote bags without a shout-out to American clothing brand Marc Jacobs. The canvas tote became a great marketing asset for brands who could add their logo to the fabric and allow people to experience the brand at a more affordable price. Marc Jacobs has had fun with it, giving each bag its own title. Buy into this cult trend, or opt for one of their leather options for longevity.
Marc Jacobs Tote Bags–Fashion Editor's Picks
RRP: $215 / £220 | With a classic shape, this statement, branded tote bag comes in multiple iterations. Choose from several hues, sizes and fabrications to get the style that's just right for you—there's even an XL version.
RRP: $450 / £460 | Soft and slouchy, this tote will elevate even your most laid-back weekend outfits. In this show-stopping navy, it will stand the test of time and this particular shade will look amazing contrasted with black.
---
2. Kate Spade
Reasons to buy
+
Eye-catching designs
+
Wide choice of vibrant colours
Looking for a tote bag that puts the fun into functionality? We've found it. US brand Kate Spade became synonymous with quirky accessories, bold prints and colorful clothing after it launched in 1993, so the best Kate Spade bags will always be a hit. Let your bag do the talking and keep the rest of your outfit muted or tonal to allow the Kate Spade prints and colors to really sing.
Kate Spade Tote Bags—Fashion Editor's Picks
Kate Spade All Day Tote Bag
RRP: $228 / £225 | Roomy enough for a laptop, books, make-up bag and whatever else you might want to throw in, the shape is classic while the heart print is oh-so-cute.
Kate Spade Knott Large Tote
RRP: $328 / £325 | Knots at the side make for a pretty design feature, and allow you to adjust the sides of your bag depending on how much you're carrying.
---
3. Radley
Reasons to buy
+
Playful designs
+
Good choice of shapes and shades
Instantly recognizable thanks to their iconic Scottie dog logo, Radley offer a range of shapes and sizes in classic colors as well as quirky prints. Expect smooth, quality leather too.
Zizi Hill, Director of Design at Radley, says: "On your busiest day, when you need to carry everything from a spare pair of shoes to your laptop, you deserve a handbag that is chic, spacious, and designed to last."
Radley Tote Bags—Fashion Editor's Picks
Radley Dukes Place Large Bag
RRP: $268 / £219 | Seriously spacious, this is a practical purchase you won't regret. The Scottie dog charm is the perfect finishing touch.
Radley Silk Street Large Shoulder Bag
RRP: $188 / £179 | Practical side pockets and a zipped top make this a spot-on choice for busy days. Ideal for work, the studs at the base help to avoid scuffs.
---
4. Longchamp
Reasons to buy
+
Made to last
+
Classic designs
Luxury accessories and French clothing brand Longchamp have been making bags since 1948. Although they make some of the best backpacks for working women, their most iconic style is the Longchamp Le Pliage Original.
The bag has been around for 28 years and, reportedly, 30 million have been sold during that time. Durable and spacious with a minimalist style, it folds away to a smaller size making it one of the best weekend bags or great to pack away in a suitcase and pull out for a day of sightseeing.
Longchamp Tote Bags—Fashion Editor's Picks
Longchamp Le Pliage Original
RRP: $125 / £90 | An understated icon. A canvas body with leather handles and easy clasp makes for an everyday essential. From work to nipping to the shops, this timeless classic will serve you well.
Longchamp Roseau Top Handle Bag
RRP: $1,165 / £825 | If you like to take everything bar the kitchen sink with you when you leave the house, this oversized bag, in super soft supple leather is the one for you. This color is also utterly timeless.
---
5. Mulberry
Reasons to buy
+
Heritage brand
+
High quality materials
Mulberry bags have been spotted on the arms of some of the world's most influential tastemakers, including the Duchess of Cambridge, Alexa Chung and Kate Moss. One of the most recognizable British clothing brands, their iconic Mulberry Bayswater bag achieved cult status in the early noughties, and its popularity continues today. We're also fans of the newer Lily and Portobello too. The best thing about a Mulberry tote bag? They look better with age as the leather toughens up so you can rest assured you'll be using yours for years to come.
Mulberry Tote Bags—Fashion Editor's Picks
Mulberry Bayswater Tote Bag
RRP: $850 / £695 | One of the most classic Mulberry styles, available in nine colors, it also comes with a removable pocket for you to store your valuables and find them with ease.
Mulberry Lily Grey Tote Bag
RRP: $1,075 / £895 | Sleek and spacious, this tall tote makes space for all your essentials—even a laptop. While it is one of the new Mulberrys its simple silhouette won't date.
---
6. Aspinal of London
Reasons to buy
+
High attention to detail
+
Will last forever
If you're looking for a bag smart enough for work, in a classic shape, or a tote with a pop of color to brighten up your outfit, then the search is over. British brand Aspinal of London prides itself on quality leather products that are so durable they will last a lifetime. Plus, you can even get your tote personalized with your initials to ensure no one 'borrows' your best tote bag.
Aspinal of London Tote Bags—Fashion Editor's Picks