Best jeans for women that you'll wear again and again
Want to know where to find the best jeans? You've landed in the right place…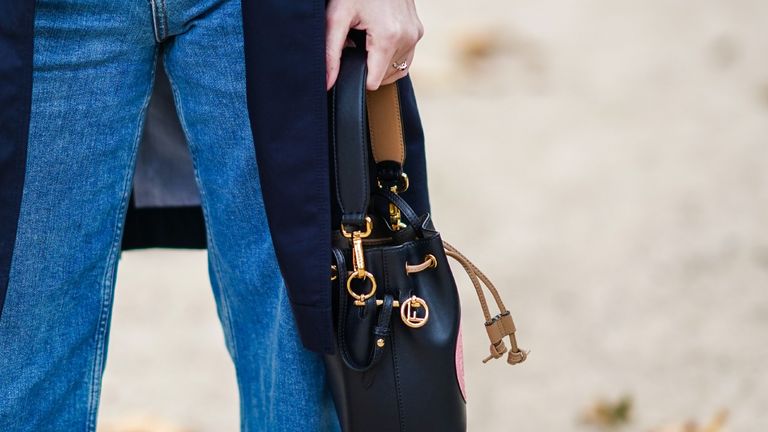 (Image credit: Getty)
Be honest: How many pairs of jeans do you have in your wardrobe right now? And of those, how many do you actually wear? Finding the best jeans can sometimes feel more like luck than design.
If you're anything like us, your cluttered denim collection probably reads like a catalogue of failed relationships. There are the jeans that always let us down by bagging at the knees, the restrictive pair that never quite sit right and the ones we go back to time and time again in the hope that one day they'll finally fit.
One thing for the denim-hoarding among us to remember is that we're not alone. According to research by Mintel, women are more than twice as likely than men to find it difficult to find jeans that fit them properly. And of course, men don't have the sartorial struggle of tracking down the best bras or the best shapewear either.
Whether you've recently changed sizes, feel stuck in a denim rut or simply want to switch up your trusty skinnies for a new style, we've put pairs upon pairs of denim through their paces to find you the very best jeans on the market.
How we selected the best jeans
Shopping for jeans is a personal decision. But to help you find your perfect pair, we started with a list of the most popular denim brands within the w&h team. Then, we chatted to colleagues, friends and family to see which brands they loved, and which ones were sitting on their wardrobe wishlists.
Once we had an extensive list, we got our hands on as many different styles from as many different brands as we could to try them for ourselves. It's no exaggeration to say our fashion editor's home was overflowing with jeans samples – she had to store the excess in her car!
We wore them for working and walking, and our ratings and reviews are a reflection of:
What we believe are the star pieces from each brand
The quality of the denim
Whether the sizing is reliable
How comfortable they are to wear
We're 100% confident that these are the best jeans worth spending your hard-earned pennies on...
The best jeans you can buy right now
1. Citizens of Humanity Olivia High Rise Slim Jean
Best high-waisted jeans
Specifications
RRP: £260
Collection size : 140+
Size range : 23in-34in
Leg lengths : 26in-33in
Collection starting price point: £230
Reasons to buy
+Sustainable processes+Wide range of styles
Reasons to avoid
-Come up a little small
Founded in 2003, Citizens of Humanity does denim a little differently.
Instead of outsourcing the manufacturing of their jeans, nearly all pieces are designed and produced in Citizens of Humanity's very own sewing and laundry facilities in LA and Turkey.
A standard pair of five-pocket jeans can take up to 50 different steps to produce, meaning each pair made by Citizens of Humanity has been carefully crafted by 250 of their sewing experts. Impressive, eh?
Tiptoeing the line between clothes and shapewear, a good pair of high-waisted jeans will draw attention to the smallest part of your waist, not to mention making your bum look perkier and your stomach smoother.
Citizens of Humanity's Olivia High Rise Slim Fit high waisted jeans are a thing of beauty. Thanks to the slim leg, they're slightly more forgiving than a skinny jean, but without adding any extra volume to your frame. The fabric composition varies slightly from wash to wash, but you can expect them all to be super soft and comfortable to wear.
Even better, Olivia is available in tall and petite leg lengths, too, making them suitable for all heights.
See our full Citizens of Humanity jeans review
2. Levi's 311 Shaping Skinny Jeans
Best plus-size jeans
Specifications
RRP: £80
Collection size: 140+
Size range: 23in-34in waist, plus sizes 14-24
Leg lengths: 26in-34in
Collection starting price point: £60
Reasons to buy
+Inclusive sizing +Wide range of styles
Reasons to avoid
-No cons that we can find!
You will not find a more authentic denim brand than Levi's. They are the original jeans brand and, more than 150 years since their launch, you can't accuse Levi's of resting on their denim-clad laurels.
They make some of the best jeans for curvy women and moving with consumer wants and needs, they have made great progress towards more sustainable fabrics and manufacturing processes, as well as offering a wide and inclusive range of sizes.
It's true, you can buy good jeans cheaper than Levi's, especially if you're a standard size. But if your proportions don't fit what the industry deems as "the norm", they're the place to go for a fantastic fit – and if for some reason you can't find that straight off the shelf, their in-store tailoring service has got you covered.
Their plus-size range offers a wide range of jean shapes, from the classic straight 501 to bootleg. Our top pick is the 311 Shaping Skinny Jeans. Made from a cotton and lyocell mix with a dash of elastane and viscose thrown in, too, they stretch in four different ways for a comfortable, flattering fit.
See our full Levi's jeans review
3. Wrangler Mom Jeans
Best mom jeans
Specifications
RRP: £70
Collection size: 50
Size range: 24in-34in waist, 34in-44in waist plus-size range
Leg lengths: 30in-34in
Collection starting price point: £65
Reasons to buy
+Made from quality denim+Available in plus sizes
Reasons to avoid
-Come up small
An oldie but a goodie, Wrangler jeans might have been outshone by the high street in recent years, but they're well worth revisiting if you're after structured, classic denim that won't sag, bag or stretch.
Easy to spot, thanks to the logo-embossed leather patches on the back pocket or waistband, copper-toned stitching and hardware, all pairs have a distinctly retro feel, with a splash of cowboy cool thrown in, too.
Of all their styles (and there are plenty, from flares to skinnies), we think Wrangler's Mom Jeans deserve the spotlight. Crafted from 99% cotton, they hold their shape really well, making the most of the straight, tapered leg. They do come up small and require a little wiggling to get into the first time around, but quickly give the more you wear them.
See our full Wrangler jeans review
4. Weekday Voyage High Straight Jeans
Best cheap jeans for women
Specifications
RRP: from £30
Collection size: 180+
Size range: 24in-44in
Leg lengths: 28in-44in
Collection starting price point: £30
Reasons to buy
+Fashion-forward styles+Affordable prices
Reasons to avoid
-Certain leg lengths sell out quickly
Part of the H&M family, Swedish brand Weekday specialises in streetwear. The bulk of their womenswear collection features androgynous shapes and bright colours, but don't let that put you off exploring their jeans offering.
Weekday has quickly become the affordable denim brand for those in the know, letting you experiment with different styles and washes without making a huge financial investment.
Their denim collection is even bigger than Levi's, with more than 180 styles currently on their website. This much choice can be overwhelming, so allow us to point you in the direction of Voyage.
A classic high-waist, straight-leg jean, Voyage will flatter almost all figures. They hold their shape well too, thanks to the rigid, stretch-free denim.
Fussy about colour? Weekday's colour range is extensive (the Voyage jeans come in five different blue washes), so you're sure to find exactly what you're looking for. They really are some of the best cheap jeans on the market.
5. Gap Mid Rise Boyfriend Jeans
Best boyfriend jeans
Specifications
RRP: £54.95
Collection size: 250+
Size range: 2-18
Leg lengths: petite, regular and tall
Collection starting price point: £44.95
Reasons to buy
+Wide range of jeans+Often on sale
Reasons to avoid
-Sizing can be inconsistent
Launched by style-conscious couple Don and Doris Fisher in 1969, rumour has it that the Gap brand was first created in response to Don's struggle to find well-fitting jeans.
And although they might be better known for their namesake hoodies that boomed through the 90s and 00s, Gap's denim offering is still well worth exploring.
Their speciality is laid-back designs that'll help form the building blocks of a great outfit or capsule wardrobe. They do make structured skinnies and statement flares, but it's their boyfriend jeans that get our vote.
Slouchy but never saggy, the fitted, mid-rise waist stops the roomy shape from overwhelming your frame. In fact, we found them more flattering than some figure-hugging skinnies. Buy yours in a light blue wash and wear with a white T-shirt for a fuss-free everyday outfit. Girlfriend fit provides the same feel, with a slightly tapered leg.
Want to get your jeans even cheaper? Gap regularly runs site-wide sales, so keep an eye out to bag a bargain.
6. Frame Ali High Rise Cigarette
Best skinny jeans
Specifications
RRP: £225
Collection size: 250+
Size range : 23in-34in waist
Leg lengths: Varies by style, on average 29in
Collection starting price point: £149
Reasons to buy
+Good mix of classic and fashion-forward styles +Super-soft fabrics
Reasons to avoid
-Amount of choice is a little overwhelming!
If you've never heard of Frame before, let us fill you in. Dreamt up by branding experts Erik Torstensson and Jens Grede, they launched in 2012 with just a single pair of jeans – the blue skinny.
Celebrity fans followed, with A-listers including Kate Bosworth, Miranda Kerr and Katie Holmes all spotted in their jeans.
Frame might have branched out from being a denim-only brand over their years, but their jeans remain topnotch.
We've tried on an eye-watering number of jeans for these reviews, but found you just can't beat Frame's skinnies when it comes to comfort. Stretchy and soft, these are jeans for people who hate wearing jeans, letting you hop, skip and jump without even a hint of restriction.
Sitting at the top of our wishlist is a pair of their Ali High Rise Cigarette jeans. Not only are they a joy to wear, but they work miracles to create the illusion of slimmer legs and a perkier behind – no gym time required. They are slightly shorter than their Ali High Rise Skinny though, so might not work for longer legs.
See our full Frame jeans review
7. PAIGE Sarah Straight
Best straight-leg jeans
Specifications
RRP: £250
Collection size: 150+
Size range: 23in-34in waist
Leg lengths: 28in-34in depending on style
Collection starting price point: £136.99
Reasons to buy
+Wide range of styles to choose from+Good selection of washes
Reasons to avoid
-Can't select a different leg length for each style
Style and wash is obviously important, but the fit of your jeans is the real deal-breaker.
Paige is all about fit. In fact, their founder, Paige Adams-Geller, launched the brand after working as one of the fashion industry's top fit models. Being hired by brands to try on a wide range of clothes, she saw first-hand just how hard it was to find brilliantly fitting denim.
Breaking in a new pair of jeans can make for an uncomfortable job, but the thoughtful folk at Paige have done the hard-work for us. Every pair has been prewashed and treated for that 'lived-in' softness, long before you've slipped them on.
A classic shape that'll more than earn its keep in your wardrobe, the Sarah Straight is made predominantly from sturdy cotton, with just 2% elastane providing just enough stretch to keep them comfy.
They boast everything you'd expect from a straight-leg jean, as well as a high waist and slightly cropped length. Bag yours in light blue for a retro feel.
See our full Paige jeans review
8. 7 For All Mankind Kind To The Planet Mid Waist Bootcut Jeans
Best flare jeans
Specifications
RRP: £160
Collection size : 240+
Size range : 23in-32in
Leg lengths: No options
Collection starting price point: £190
Reasons to buy
+Exhaustive range +Soft fabrics
Reasons to avoid
-Amount of choice can be overwhelming
Founded in LA 2000, 7 For All Mankind pioneered the trend for premium denim, taking jeans from an everyday staple to something to be coveted.
Often referred to as "Sevens", the brand is a household name in the US and has been worn by a host of A-list stars, including Emma Stone and Jessica Alba. Prince Harry has even been seen in their menswear.
Doing their bit, 7 for All Mankind has recently launched a Kind To The Planet range. Instead of cotton, these jeans are crafted from Tencel (made from wood pulp) and recycled polyester. This change in fabric, combined with more eco-friendly laundry techniques, has enabled them to cut their water consumption by an impressive 7,000 litres per pair.
Our favourite piece in the range is a revamp of their bestselling bootcut. In our opinion, they're more of a flare than a bootcut, but whatever you call them, we're huge fans of this Jane Birkin inspired style.
While petites will need to have them taken up, the retro shape is surprisingly flattering. They do something magical to your figure, making your frame look longer and your thighs look slimmer.
9. Arket Wide Cropped Jeans
Best wide-leg jeans
Specifications
RRP: £58
Collection size : 25+
Size range: 25in-32in
Leg lengths: All one length
Collection starting price point: £59
Reasons to buy
+Available in odd waist sizes for a reliable fit +Trend-led styles
Reasons to avoid
-All one leg length
One of the high street's best-kept secrets, if you're yet to enjoy a little browse round Arket then you're missing out.
Another member of the H&M family, the brand is all about Scandi minimalism, producing the kind of pieces you'll wear over and over again. Think muted colours and fuss-free shapes.
Of course, one of the cornerstones of a capsule wardrobe is a great pair of jeans and Arket has got us covered with high-quality, classically cut denim.
That's not to say they're not into trends. Their Wide Cropped Jeans (there's a non-cropped option, too, for the taller among us) have been a staple for a while now, flaring out from the fitted waist into wide, structured legs.
Great for anyone looking to make more eco-friendly fashion choices, all Arket jeans are made from organic cotton that's grown and harvested without the use of chemical fertilisers and pesticides.
10. Topshop Jamie Skinny Jeans
Best black jeans
Specifications
RRP: £40
Collection size: 380+
Size range: 24in-36in
Leg lengths: 28in-34in
Collection starting price point: £29.99
Reasons to buy
+Wide range of styles+Fashion-forward shapes
Reasons to avoid
-Can sell out quickly
Once you've found a great pair of jeans, there's always the temptation to snap up a spare. But unlike some high-street stores, Topshop stocks the same signature styles season after season, so you can rest assured you can always get your hands on a replacement.
While we'd rate all of Topshop's jeans offering, they are our go-to for an affordable pair of black skinny jeans.
The first thing to remember when buying black jeans is that the more you wash them, the quicker the colour will fade. The good news is that black jeans won't show stains in the same way a white or acid-wash pair will, but if you do notice a mark, try to spot-treat the stain instead of putting them straight in the machine.
Topshop jeans in plain black hold their colour really well, but if you like that lived-in look, buying one of their deliberately faded, washed black pairs will save you the trouble.