How to style oversized t-shirts: The looks you need to add to your wardrobe stat
A versatile summer must-have, here's how to style oversized t-shirts according to the street style set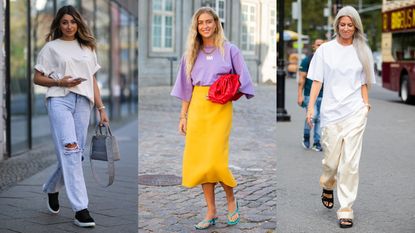 (Image credit: Getty)
The key to how to style oversized t-shirts is all about playing with shape and proportion. So much more than a humble base layer, an oversized t-shirt has can be easily dressed up or down for numerous occasions.
Your morning Americano, cinema popcorn, handbags - most things are better when you size up and t-shirts are no exception. When it comes to how to style oversized t-shirts the sartorial possibilities are endless when you step away from form-fitting styles. How oversized you go, is down to you, and the spectrum is broad, spanning from a one-size-up-from-your-usual to long enough to pass as a tunic or a dress.
Although t-shirts are traditionally more associated with casualwear, oversized t-shirts can also be worn in a way that feels evening appropriate too. Instead of teaming with relaxed fabrics like jersey and denim, and footwear like your trusty trainers, elevate your tee with pieces like luxe leather pants, silk slip skirts, and a strappy heel. The high-low mix will create a cool contrast, giving your look an interesting edge.
How to style oversized t-shirts
When it comes to nailing your oversized t-shirt outfit, there are a number of choices. As the look has grown in popularity there are an increasing number of specifically designed pieces from both designer and straight-to-market brands. However, you can also simply size up on a regular tee for a less dramatic look.
"There are brands that offer oversized t-shirts in their ranges, which means you don't have to think about it too much, as they're designed intentionally for an oversized look," explains Farrah May Archer Boadi, Styling Team Lead at Stitch Fix (opens in new tab). "However if you're shopping standard t-shirts in a larger size then there are various factors to consider - from body and sleeve length, to shoulder seam and neckline."
"The good thing about buying standard t-shirts in different sizes is that you can control just how oversized you go. Cropped t-shirts are a great style to embrace in larger sizes as they will be wider on the body, with longer-length sleeves and a dipped shoulder seam, but, most importantly, the body length won't overwhelm your frame." - says Farrah. This tip is especially handy for petites, who can feel swamped in swathes of excess cotton.
But don't feel limited to your usual brands and categories.
"It can also be fun to experiment with oversized t-shirts by shopping in the menswear section," continues Farrah. "A lot of menswear styles aren't fitted, so they already have a slightly looser fit. Experiment with a few sizes and once you've found what menswear size works for you, try French tucking the t-shirt into your jeans and roll up the sleeves for an effortlessly cool look." Not au fait with a French tuck? It's a styling trick that involves just tucking the front of your top in and leaving the back out, drawing attention to your waist without the added bulk of a full tuck. This is a great styling trick for all shapes but is also useful for how to style an oversized t-shirt for plus sizes as the gentle half tuck creates more of an hourglass silhouette, skimming your frame whilst lighting contouring.
1. How to style oversized t-shirts with a blazer
When it comes to how to style a blazer with an oversized t-shirt, the sharp cut, structured shoulders, and longline length of a classic blazer will make even the baggiest of oversized t-shirts feel smarter. To avoid overwhelming your frame, it's best to keep your blazer true to size, as long as there's enough room for your t-shirt to sit comfortably beneath it without ruching the sleeves or adding unwanted volume at the shoulders.
Robing (wearing your blazer over your shoulders like a cape instead of putting your arms through the sleeves) is a chic way to style a blazer if you find your t-shirt is too oversized for straightforward layering. When opting for a colorful or patterned blazer, choose a t-shirt in the same hue, or, keep it simple and chic with black or white version beneath.
(opens in new tab)
V by Very Single Breasted Blazer
RRP: $57 / £48 | Who said blazers were boring? This zingy green shade is anything but stuffy, one of the big fashion color trends 2022, green is the hue to be seen in right now and the slightly more fitted silhouette will help contour a more relaxed fit tee.
(opens in new tab)
H&M Oversized Printed T-Shirt
RRP: $17.99 / £12.99 | Already oversized, stick to your regular size in this design. Ideal for wearing with a more fitted blazer to add a relaxed feel to your look, this will pair well with slim-fitting pants or leggings to balance out the looser fit on top.
(opens in new tab)
RRP: $219 / £139 | Struggling with how to style leather pants? Leggings are a great way to experiment with the tougher fabrication. The streamlined shape is ideal for learning how to style oversized t-shirts as they stop your frame from being swamped.
2. How to style oversized t-shirts with boots
The category of boots is pretty broad, with a vast number of designs coming under the same fashion umbrella. Your boots could be a directional stompy pair of Doc Martens, an elegant knee-high iteration with a pointed toe and a block heel, or even a pair of cowboy boots (one of the biggest fall winter shoe trends 2022).
The kind of boots you choose to pair with your oversized t-shirt will depend on the overall feel of your look, the length of your t-shirt and your signature style. Offset oversized t-shirts and chunky boots with a slinky slip skirt, or double-down with straight-leg dark wash jeans.
If you're looking to wear your oversized t-shirt as a dress but don't want to have a lot of leg on show, try a pair of knee-high or over-the-knee boots to add extra coverage.
(opens in new tab)
RRP: $39 / £25 | There are plenty of tees with the oversized style already built in, befitting the look of the season. Drop shoulders add to the already relaxed fit and will work well tucked into waistbands of jeans and skirts. The hot pink hue will help you discover what is Barbiecore this season.
(opens in new tab)
Jigsaw Satin Bias Midi Slip Skirt
RRP: £110 (UK Only) | Adding a dressed-up feel to the oversized t-shirt, the bias cut makes for a flattering fit, while the silk fabric ensures it falls and flows beautifully. The burgundy hue of this skirt means it will be wearable well into the fall season. You can even add a belt to highlight your waist.
(opens in new tab)
Dr Martens 1460 Lace Up Boots
RRP: $170 / £159 | Dr Martens boots have seen a resurgence in popularity in the last few seasons, mainly thanks to the return of '90s nostalgia. One of the best Chelsea boots, this lace-up style offers a tougher finish to skirt and dress outfits and are practical for every day.
3. How to style over-sized t-shirts with shorts
Fashion's love affair with the '80s and '90s was one of the big fashion trends 2022 and shows no signs of waning, keeping oversized t-shirts and cycling shorts very much on-trend.
"A chic way to wear an oversized t-shirt is with tight cycling shorts, ankle socks, and trainers," comments Farrah. "Diana rocked this look and it remains on trend today. The key to this outfit is balance, and the oversized t-shirt works in perfect partnership with a tighter garment on the bottom half to balance out the silhouette."
That's not to say form-fitting shorts are a necessary requirement. There's plenty of potential for tailored, utility, and longline city shorts too. To keep the balance, choose a style with a nipped-in waist, or color block with a darker shade on either your top or bottom half.
(opens in new tab)
RRP: $25 / £17 | This t-shirt comes up pretty true to size, so size up by one or two sizes for a roomier fit. The blue and white stripe design offers instant summer brightness to your look.
(opens in new tab)
Me + Em Satin Cotton City Short
RRP: $265 / £150 | The city short gets an upgrade in a softly-sheened satin and cotton blend fabric, making them ideal as part of a summer outfit for work that can be worn with shorts too.
4. How to style oversized t-shirts with jeans
If two pieces were to form a sartorial sisterhood, it would be oversized t-shirts and jeans. The fabrics work perfectly together for an effortless and relaxed feel. But that's not to say this look can't cut it for evening or smarter occasions too - you just need to consider the color, fabrication and silhouette of both pieces.
For daytime, go as oversized as you like with your t-shirt, rolling up the sleeves to exaggerate the effect, and team with wide-leg or boyfriend jeans in mid to light washes (think stone blue through to white).
When it comes to how to style oversized t-shirts for the evening, on the other hand, this requires a slightly more structured silhouette and darker tones. Ideally, your t-shirt should be more subtly oversized (think one or two sizes up from your regular size) rather than all-out baggy. Looking for silk jersey fabrics for added luxe and tuck your oversized tee into tapered straight jeans or your best skinny jeans in black or indigo and finish with a pair of on-trend heeled mules.
(opens in new tab)
Zara T-Shirt With Shoulder Pads
RRP: $29.90 / £19.99 | Shoulder pads not only make jersey pieces feel smarter but will also help to balance out pear-shaped bodies. The pleated shoulder detail gives the impression of rolled sleeves adding to the relaxed vibe and we love the soft drape through the body.
(opens in new tab)
RRP: $248 / £329 | Straight-leg jeans are the ideal shape to complement an oversized t-shirt, preventing your outfit from overwhelming your frame, but often offering a more gentle balance than skin-tight iterations. The ankle-skimming hemline will lengthen legs too.
(opens in new tab)
Mango Leather Shopper Bag
RRP: $79.99 / £49.99 | Crafted from 100% suede, this deliciously soft bag is a great size for stashing all your essentials. The khaki hue ensures that this is one of the best tote bags to take you into next season too as earthy tones return to the fore for the fall 2022 fashion trends.
5. How to style oversized t-shirts with trousers
We've fallen hard for the wide-leg trouser trend, but choosing what to wear with wide leg pants can prove tricky. The best shirts can feel too formal, and a billowing blouse too fussy, but have you tried learning how to style oversized t-shirts with a pair?
For the whole look to work in synergy, select a t-shirt in the same hue as your trousers, or, if they're patterned, pick just one color out from within the print, or opt for a neutral hue to tone the look down. How oversized you can go with your t-shirt is dependent on the fabric of your trousers. If they're lightweight, with enough swish and movement to allow them to allude to the shape of your legs when you walk, you can get away with a long-line t-shirt, worn loose over the waistband of your trouser. Alternatively, if the fabric of your pants is starchy or structured, a cropped or shorter t-shirt is best to help you regain your shape by giving a flash of your waistband to nip you in.
(opens in new tab)
Arket Boxy Oversized Neutral T-Shirt
RRP: $22 / £17 | Cut with a boxy fit, this neutral t-shirt can be worn all year round. The boxy fit actually adds to the structure despite the overall slouchy, relaxed feel, making it easier to pair with a wide leg trouser.
(opens in new tab)
& Other Stories Wide Press Crease Trousers
RRP: $79 / £65 | Keep it tonal with a similarly earthy-hued pair of trousers. The creased front helps to add structure to the wide leg and will elongate your silhouette in the process, drawing the eye up your frame.
(opens in new tab)
Birkenstock Arizona Big Buckle Sandal
RRP: $160 / £125 | Birkenstocks have seen a serious revival this season and we're not mad about it. Lean into the casual and relaxed feel that an oversized silhouette evokes by pairing your look with comfortable flats.
6. How to style oversized t-shirts with skirts
Want to add a cooler edge to a pretty skirt? An oversized t-shirt grounds a skirt look, making them feel slightly more androgynous in the process. For the most flattering fit, make your skirt a high-waisted one. Anything with a low or drop waist will not only make tucking your t-shirt in tricky but means you lose definition around your middle. To make this look work you'll want the kind of oversized t-shirt that says you've sized up once or twice, rather than going for something overly baggy, it should feel gently relaxed. This look is also ideal for what to wear in the heat, as you'll get greater airflow to your skin in an oversized t-shirt.
Not sure what color t-shirt to wear with a printed or color-pop skirt? You can't go wrong with a classic neutral such as the best white t-shirts or a basic, plain black design.
"In terms of color, I always suggest that my clients have an oversized white t-shirt in their wardrobes," says Farrah. "It will go with everything, from midi skirts to jeans, and can easily be dressed up with chunky gold jewelry and a slick of lipstick."
(opens in new tab)
Uniqlo Drape Boat Neck T-Shirt
RRP: $15.50 / £12.90 | Uniqlo is unrivaled when it comes to great value basics. Available in six shades, stock up on these t-shirts as the building blocks to your summer capsule wardrobe.
Rixo Kelly Boho Scarf Print Skirt
RRP: $223 / £185 | A skirt with huge potential, swap your t-shirt for a silky camisole and gold hoops for a special occasion. A great heat wave-ready look for what to pack for a beach vacation.
(opens in new tab)
Whistles Marie Slip On Mule
RRP: $269 / £135 | Think pink, think these statement mules. One of the big shoe trends 2022, the block heel makes them a doddle to walk in and we love the added securing secret toe post.
7. How to style oversized t-shirts with trainers
Fully embrace the sporty feel of an oversized t-shirt by teaming yours with trainers - all you need to do is pick a side. The fashion industry is currently divided into two teams when it comes to trainers: sleek and streamlined, or super chunky. The former works best with long trousers, while the latter works well with anything that finishes mid-calf or above, such as the best midi dresses.
Both styles of trainers are not only extremely practical, making hot-footing around town an all-around comfortable experience, but will keep your oversized t-shirt look feeling suitably relaxed.
(opens in new tab)
RRP: $18 / £15 | The low-key abstract design sets this apart from plainer t-shirts without stealing too much focus. The white base, teamed with lighter colors means this will go with multiple looks.
(opens in new tab)
RRP: $15 / £21.99 | Soft fabric? Tick. Elasticated waist? Tick. Practical pockets? Tick. In one of this season's hottest hues, these shorts work for casual weekends as well as being one of the best beach cover-ups over your fave swimwear.
(opens in new tab)
RRP: $146 / £110 | Loved by the likes of Kate Middleton and Meghan Markle, Veja trainers have a cult following. A gold metallic trim elevates these classic white kicks, making them some of the best white trainers around.
Jess Beech is an experienced fashion and beauty editor, with more than eight years experience in the publishing industry. She has written for woman&home, GoodtoKnow, Now, Woman, Woman's Weekly, Woman's Own and Chat, and is a former Deputy Fashion & Beauty Editor at Future PLC. A beauty obsessive, Jess has tried everything from cryotherapy to chemical peels (minus the Samantha in Sex and The City-worthy redness) and interviewed experts including Jo Malone and Trinny Woodall.