'Rich Mom' is the new Quiet Luxury trend - here's how to get the latest Stealth Wealth look
The latest Stealth Wealth look, 'Rich Mom' is the Quiet Luxury look to shop right now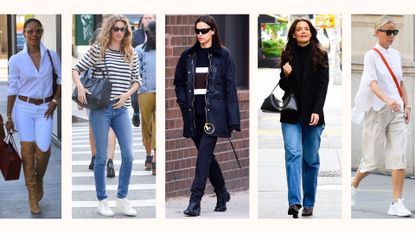 (Image credit: Getty Images)
Rich Mom is the latest in a line of Quiet Luxury trends that focuses on making outfits look subtly expensive, rather than overtly showy. Part of a group of trends, coined Stealth Wealth, the Rich Mom aesthetic has an elegantly relaxed feel to it that is easy to add to your wardrobe for the season ahead.
Inspired by a host of chic celebrity moms, the Rich Mom trend is a continuation of the Quiet Luxury fashion trend. Devoid of obvious branding and instead made of timeless pieces, this is the ideal trend to adopt if you're looking to create a chic minimalist capsule wardrobe that will take you this season and beyond. Thanks to the lack of obvious labels, the Rich Mom trend is also easy to get without breaking the bank, as you can create a similar aesthetic with straight-to-market pieces.
To start building your Rich Mom wardrobe, look to the off-duty ensembles of stars such as Angelina Jolie, Gisele Bündchen and Gwyneth Paltrow, who do this look so well. Neutral palettes, classic tailoring and timeless silhouettes are all key to this look, here's how to get it on a budget.
How to shop the Rich Mom trend
Ideal for smart casual outfit ideas, Rich Mom is the newest Stealth Wealth look to inject into your spring capsule wardrobe. Made up of silhouettes that many of us will have in our wardrobes already, it's about teaming timeless pieces together for a subtly expensive ensemble. Ignoring OTT branding and super trend-led pieces, here's how to get the look.
Rich Mom Outfit Ideas
Rivkie is a fashion editor, writer and stylist with over fifteen years' experience in the industry. Having studied design and pattern cutting at the London College of Fashion, Rivkie fell in love with styling and journalism, covering fashion weeks in London, Paris and New York.
Specialising in plus size fashion, Rivkie has long championed that style is for everyBODY and has been a regular talking head on a host of radio stations and television shows, pushing for greater representation for plus size women and fashion throughout her career.