26 best designer tote bags that will up your style game this season
Discover the best designer tote bags that are practical, stylish and able to carry everything you need.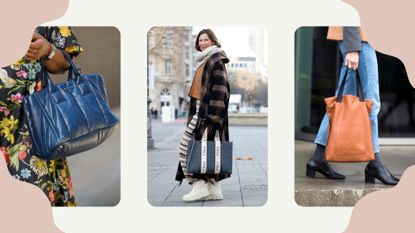 (Image credit: Getty Images)
The best designer tote bags are those that carry all your everyday essentials, but still look stylish. One of the most spacious bag designs, every closet needs a tote, as they're practical for work or play.
A classic design, tote bags never truly go out of style. But, thanks to the Y2K fashion influence, they are definitely having a moment right now. Oversized shoppers are back with larger-than-life bags being toted down runways at Gucci, Loewe and The Row. And while trend-led iterations might come in a host of directional prints and fabrications, the best designer bags will always stand the test of time, and this is particularly true with the new tote. Minimalism is key, with simple styling features, ensuring longevity. However, that doesn't mean that some of the best designer tote bags are subtle! Logomania is back with a bang in 2023 and that means showcasing who you're carrying in a major way.
As with much of the fashion world, one of the big spring/summer handbag trends 2022 has seen is a move towards sustainability, and while leather bags are always a great investment, the best Kate Spade bags and designers such as Stella McCartney and Anya Hindmarch are leading the way with vegan or recycled alternatives.
26 best designer tote bags to invest in this season, according to a fashion editor
Why you can trust Woman & Home Our expert reviewers spend hours testing and comparing products and services so you can choose the best for you. Find out more about how we test.
1. MARC JACOBS DENIM LARGE TOTE BAG
Best denim designer tote bag
Reasons to buy
+
Nice and large, could fit a small laptop in
+
Can be zipped up
+
Affordable
Reasons to avoid
-
Might be too casual for some outfits
With Y2K fashion becoming hip once more, it's no surprise that big designer logos are also back on the agenda. This bag by American clothing brand, Marc Jacobs taps into this trend big time, offering a slice of affordable luxury.
While the totes come in different finishes, this denim one gives a casual, utilitarian vibe. It's also reasonably lightweight, which is exactly what you need from a tote bag if you're going to fill it with things.
The patchwork denim does mean it might not be smart enough for all workplaces, but it could easily fit a small laptop in, plus there's an interior zipped pocket for keeping small items separate. It has a top zip closure for added security and its size makes it one of the best weekend bag - large enough to fill with what you need, but stylish enough to tote around on a city break.
Don't be afraid to lean into the denim trends 2023 either with a little double denim. This bag is made to be worn with jeans and a tee, but will also add a cool and casual edge to high-waisted black trousers and a crisp white shirt.
2. STELLA MCCARTNEY FALABELLA FOLD-OVER TOTE
Best vegan designer tote bag
Reasons to buy
+
Can be worn two ways
+
Vegan friendly
+
Unique design
Reasons to avoid
-
The faux suede may get stained easily
First debuted back in 2010, the Falabella continues to be a popular style for Stella McCartney. This one is made from a light grey shiny faux suede delightfully known as Shaggy Deer. The shine gives it the perfect day-to-night finish, while the grey makes a stylish change to black, while still being a versatile shade that will go with most fall outfit ideas.
The big bonus with this designer tote is that it can be worn two different ways – either as a tote bag or as a shoulder bag, making it one of the best tote bags around because you can style it up or down, for work or play.
Named after one of the designer's favorite horse breeds, the other major win for this tote is that it's vegan-friendly. Crafted consciously in Italy, the black diamond-cut chain used as a handle and a trim adds a stylish edge to the bag, making it perfect for any wannabe rock chick.
3. TORY BURCH PERRY TRIPLE-COMPARTMENT TOTE BAG
Best Tan Designer Tote Bag
Reasons to buy
+
Perfect for work
+
Four inner compartments, including one for a laptop
+
Removable charm
Reasons to avoid
-
Day bag, rather than a day-to-night bag
Proving that the best laptop bags can also be stylish, this Italian pebbled leather tote bag is not just a great tote, it's also one of the best designer bags for work. It includes three compartments for those small items that can get easily lost in the body of the main tote, as well as a zippable inner compartment that fits a 13inch laptop. The handle can be carried like a tote but is also long enough to be thrown over the shoulder, all of which makes it great for the 9-5.
It comes in three classic colorways and, while it may not be particularly directional in style, this is a bag that will last - especially if you choose the tan version. Sophisticated and classy, a tan bag will work with anything in your wardrobe and is not restricted by seasons or trends.
4. MULBERRY BAYSWATER Classic Grain TOTE
Best Bright Designer Tote Bag
Reasons to buy
+
Available in 12 colors
+
Comes with a removable pouch
+
Iconic Mulberry styling
Reasons to avoid
-
Comes with a lock, rather than a full zip
One of the best British designer brands, Mulberry makes luxury bags that will be cherished for a lifetime. This Mulberry tote bag is the perfect all-rounder, practical and stylish, it's spacious enough to fit everything in. With iconic Mulberry detailing, such as the infamous Postman's Lock, it is a desirable choice for those who want something they can carry around day in, day out.
The classic styling means it won't date, however, the new season colors – such as cornflower and Barbie pink (ideal for nailing what is Barbiecore this season) – give it a more modern touch for those wanting something a little more trend-led.
This designer tote bag also gets extra bonus points for coming with a matching internal pouch, ensuring all your valued bits and bobs, such as keys and purses, are kept safe. As it's removable, you can also use it on its own for those outings that only need the essentials.
5. CHANEL LARGE TOTE BAG
Best Chanel Tote Bag
Reasons to buy
+
The classic Chanel styling
+
Can be carried or worn over the shoulder
+
Comes with a removable purse
Chanel knows how to make bags, and its large tote may well just be one of the best Chanel bags yet. It combines the iconic Chanel styling - the chain handle, the double C logo, the address of Coco Chanel's first shop – along with the practicality of a tote bag. It even comes with a matching purse.
As it is a large single-compartment bag, you can fit plenty in it, including a slimline laptop, however, if you want to carry smaller items, you may want to invest in a bag liner to keep them in. As would be expected of a Chanel bag, the leather is soft and luxurious and as it's made out of calfskin, it's generally a little more resistant to scratches than other leathers, however, you'll want to make sure that you look after it properly and keep it in a dust bag when not using it.
Available in five different colorways, including gold and tweed, there's a bag to suit every taste. While there's no denying this is a Chanel bag, and an expensive one at that, it's a long-term investment piece, that will never date and will hold its value should you ever wish to part ways with it (although why would you?)
6. ANYA HINDMARCH I AM A PLASTIC BAG TOTE
Best Sustainable Designer Tote Bag
Reasons to buy
+
Eco-friendly, made from recycled bottles
+
Unique and fun style
+
Good size
Reasons to avoid
-
Might be too kitsch for some occasions
Part of the 'I Am A Plastic Bag' collection, this Anya Hindmarch tote bag is eco-friendly. Not only is it made from plastic bottles, but it's coated in a material made from car windshields to give it a weather-resistant finish. Even the leather trim and handles come with green credentials - they're from a Gold Standard Working Group Tannery to ensure full traceability of by-product skins with no deforestation.
As well as hitting all the green boxes, it's also a great bag for travel, especially when deciding what to wear on a plane, thanks to its size. It has a zipped-up inside pocket for valuables, with a tie fastening on the main bag.
With its quirky eye features, it's instantly recognizable as Anya Hindmarch, and while the best designer tote bags are often classic, this fun bag makes is a great way to inject some personality into your outfits.
7. KATE SPADE DOTTIE TOTE
Best Small Designer Tote Bag
Reasons to buy
+
Unusual shape
+
Unique and fun style
+
Reasonably priced for a leather bag
Reasons to avoid
-
Slightly on the small side
Made from smooth Italian leather, this designer tote bag is perfect for the autumn/winter fashion trends 2023 - the different colors of tan, burgundy, navy, orange and mustard are the perfect shades for the season. The unusual shape gives a fun spin on the usual boxy tote bag, and while it's not as big as some totes, it's definitely roomy enough to be the perfect day-to-day bag.
Away from the look and feel of it, the bag comes with some nice extra touches, including an interior zip pocket and detachable wristlet pouch for storing valuables, as well as a magnetic closure to keep your tote snug and secure. The handle is long enough to be carried or worn over the shoulder, making it versatile for many occasions.
8. SAINT LAURENT SHOPPING E/W BAG
Best Unlined Designer Tote Bag
Reasons to buy
+
Classic shape
+
Available in 10 stylish shades
+
Subtle YSL branding
Reasons to avoid
-
Quite expensive for an unlined bag
Not surprising for one of the most beautiful French clothing brands, this Saint Laurent bag is understated, chic and timeless - important elements when investing in the best designer tote bag.
Available in 10 fashionably muted shades, the bag is unlined, but it does come with a detachable purse to keep valuables in. Finished with subtle branding, including a removable logo keyring, the tote bag closes with a press stud.
This is perhaps not the tote bag for you if you want to carry around a super on-trend bag, however, it is the one for you if you like classic accessories that won't date quickly. You'll certainly be able to use this design for years to come.
9. BAO BAO ISSEY MIYAKE PRISM TOTE BAG
Best Quirky Designer Tote Bag
Reasons to buy
+
Unusual design
+
Adjustable handles
+
Day-to-night bag
Reasons to avoid
-
Unusual styling means it might not go with everything
If you're looking for a designer tote bag that also looks like a work of art, this Issey Miyake one is it. A sculptural design that will make any fashionista's heart flutter, the signature tessellating triangular structure of the bag means it looks different from every angle.
While it comes in a variety of colors, white is the shade that's not letting go. The matte version is a super stylish choice, and even in winter, it will look great teamed with dark separates or slung over a knitted midi dress.
The single zip compartment has been designed to fit a large wallet, while the adjustable top handles mean you can change up the look from carry-on tote to slung over-the-shoulder tote in an instant. One truly unique designer tote bag.
10. VALENTINO GARAVANI TOTE BAG
Best Studded Designer Tote Bag
Reasons to buy
+
Classic design with an edge
+
Versatile
Reasons to avoid
-
Doesn't have the most secure clasp
With biker chic being one of the major trends for this season, this Valentino bag fits in nicely with it thanks to the adornment of platinum studs along the top. Made out of calfskin leather, Valentino Garavani's iconic Rockstuds have become a defining feature of its handbags since first appearing on bags and shoes over a decade ago.
This is a tote bag for those that don't want splashy designer logos though. The branding is discreet and aside from the stud embellishments, the styling is simple and elegant.
While there is only a small, zipped pocket inside, this tote bag is nice and spacious with plenty of room to carry around your everyday essentials. And thanks to the edgy studs, this is one tote that can take you from day to night quite easily.
11. GUCCI OPHIDIA MEDIUM GG TOTE
Best Monogrammed Designer Tote Bag
Reasons to buy
+
Fashion forward
+
Instantly recognizable as Gucci
+
Will likely hold its value
Reasons to avoid
-
The heavily monogrammed design might not be to everyone's taste
Gucci is one brand that dominates the luxury market, especially when it comes to handbags. And if the resale market is anything to go by, it seems the best Gucci bags are those that have a vintage feel and play on the brand's heritage.
The Ophidia is one such bag. Mirroring the material's historic origins, it features the iconic inlay Web detail for a pop of color, alongside the sought-after GG Marmont tab.
While it is pricey for what is essentially a canvas bag, the iconic styling makes it a must-buy for any designer fan. It's a good size, includes a zipped inner pocket, and also has a magnetic snap closure to ensure all your belongings are safe inside. With logo detailing still important for the fashion trends 2023, this is a bag you can get plenty of wear out of.
12. GANNI MEDIUM TOTE BAG
Best Long Designer Tote Bag
Reasons to buy
+
Reasonably affordable
+
Sustainably made
+
Adjustable handles
Reasons to avoid
-
The color may not be versatile enough
The fashion pack's favorite Scandinavian clothing brand has reinvented the tote bag. Ditching the usual wider tote bag style for a vertical silhouette instantly refreshes this classic shape, making it much more fashion-forward than some of the contemporary styles.
Made from 100% recycled leather, this minimal bag also ticks all the sustainability criteria. With orange being one of the big fashion color trends 2022, this paprika shade will instantly make you stand out from the fashion crowd.
With two handles - one of which is adjustable - it means you can wear this in a variety of ways to suit the occasion and outfit.
13. BALMAIN B-ARMY CANVAS TOTE
Best Branded Designer Tote Bag
Reasons to buy
+
Simple, classic design
+
Many variations and colors to choose from
+
Not too heavy
Reasons to avoid
-
Canvas is a seasonal fabric, more suited to spring and summer
Balmain's 'B-Army' tote is crafted from canvas and adorned with smooth pink leather trims. There's no getting away from who's designed this bag and is perfect if you like to show your allegiance to a brand.
While the canvas does make this more of a causal bag, there is plenty of space inside for spare shoes or a laptop. The benefit of the canvas is that despite being hard-wearing, it's also light, ensuring that this is not a heavy tote bag (well, not until you've filled it with the kitchen sink).
This colorway in particular is the perfect vacation bag, but if pink isn't your thing, it also comes in a much more muted, and probably more versatile, gray-green shade.
14. PRADA RE-NYLON TOTE BAG
Best Nineties Style Designer Tote Bag
Reasons to buy
+
Durable
+
Classic design
+
Secured with a zipper
Reasons to avoid
-
Expensive for a nylon bag
Prada is undoubtedly one of the most iconic Italian clothing brands around and its discreet triangle logo is instantly recognizable on this tote bag.
Harking back to its popular '90s style, this roomy tote is made of nylon. However, this is no ordinary nylon - it's a fully sustainable version produced from recycled material collected in the ocean.
Proving that sometimes less is more, the simple shape of this tote bag is timeless. While it's expensive for a non-leather bag, nylon is very durable and easy to wipe clean, which has many benefits if this is going to be your main go-to bag. It also is one of the best designer tote bags for security as it has a proper zip across the top.
15. ALEXANDER MCQUEEN BOW TOTE BAG
Best Design-Led Tote Bag
Reasons to buy
+
Unique, structural design
+
Could take you from day to night
+
Available in seven variations
Reasons to avoid
-
Bow handle may be awkward to hold
One of the best designer tote bags to make a statement with, this bag is for you if you like style over practicality.
The playful bow handle and fashion-forward colorways make this a truly unique designer buy. The branding is super discreet, while the soft leather and suede lining add to the luxury of this carry-all.
It can be carried by the bow handle and also worn over the shoulder, although the latter would be more difficult if wearing bulky clothing. It also comes with one of the best designer cardholders in a matching shade to the bag, which attaches to the tote and has room for valuables or cash as well as credit cards.
16. MARNI LARGE Red POP DOTS SHOPPING BAG
Best Printed Designer Tote Bag
Reasons to avoid
-
Design makes it less versatile than a plain-colored bag
Pattern is in Marni's DNA, which is why this dotty tote bag is bang on brand. Mixing prints with bright colors, the design has been kept simple so as to not be too over-the-top. Maximalism is definitely the style of this Italian designer house, and if you're wardrobe is largely made up of black clothing, this bag can help inject some fun and color into your outfits.
It's not leather, except for the trim, though the PVC means it's very lightweight, so is the perfect tote to pack for holidays or weekends away, as well as for everyday use.
While made for carrying, it fits snuggly over shoulders but could be a tight fit if wearing a chunky knit or big coat. Overall, a quirky tote that's perfect for women who like to have fun with their outfits.
17. CHLOÉ WOODY CREAM SHEARLING TOTE
Best Shearling Designer Tote Bag
Reasons to buy
+
Super cosy and laidback
+
Compact
+
Great feel
A very stylish hug in a bag, this large Woody tote bag is crafted from luxurious shearling, giving it all the winter vibes. Trimmed with brown leather and carrying the logo on the handles, this is a luxury tote that's not only stylish but practical too.
The handles are long enough to sling over your shoulder, while the spacious interior means you can tote everything you need to survive the cooler months. It also contains a flat pocket that can be zipped up to keep smaller items secure.
With a lovely soft texture thanks to the shearling body, it will feel like carrying one of your best cashmere sweaters, although for obvious reasons this bag could easily get dirty and might be hard to keep pristine.
18. MICHAEL KORS AUSTIN PEBBLED LEATHER TOTE BAG
Best Compartmentalized Designer Tote Bag
Reasons to buy
+
Lots of inner compartments for easy organisation
+
Long handle for wearing over the shoulder
+
Nice fall shades
Reasons to avoid
-
Not particularly directional
This is one of the best tote bags for organizing all of your stuff. It has two large compartments, plus a middle-zipped compartment, a back zip pocket, and two front slip pockets, ensuring you don't do the tote 'rummage' too often.
Crafted from durable pebbled leather in muted fall shades, this is a tote bag that will stand the test of time. The longer-length handles mean you can switch from carrying to slinging over your shoulder easily. Perfect for work or play, this tote will look equally at home paired with a trouser suit as it would your favorite black jeans and a new season shacket.
19. BURBERRY CHECK AND LEATHER MEDIUM TOTE
Best Checked Designer Tote Bag
Reasons to buy
+
Features the iconic Burberry check
+
Can be personalized
+
Good size
A Burberry tote bag wouldn't be complete without the brand's signature check. Made from at least 30% of bio-based materials, this spacious tote has leather handles and is detailed with topstitched leather trims, which give it a luxury edge. Finished with a leather-wrapped mirror charm, it can also be personalized to make sure your designer tote bag is totally unique to you.
Classic and iconic, this tote would look great paired with a timeless Burberry trench coat and tailored trousers for a smart casual outfit idea that could take you to the office or out for brunch. While the check version is not made of leather, there are elegant tan and black leather versions, which also sport the Thomas Burberry Monogram. An iconic print for a reason.
20. THE ROW DREW CONVERTIBLE PADDED SHELL TOTE
Best Sporty Designer Tote Bag
Reasons to buy
+
Versatile - can be worn as a backpack or tote
+
Great for the gym
Reasons to avoid
-
Too casual for more formal occasions
The best backpacks for working women are those that look sleek and professional, but what about if that backpack could also be worn as a tote bag? That's exactly what The Row has created with its convertible shell tote bag. Ideal for day trips or gym sessions, it has plenty of space inside for all the essentials and the drawstring top ensures everything stays inside.
The special straps mean you can carry the tote or they can be split so the bag can be worn as a backpack. The shell fabric gives it a cool, sporty vibe - wear with wide-legged joggers and a chunky knit for a laidback weekend look.
21. TELFAR LARGE LEAF SHOPPING BAG
Best Affordable Designer Tote Bag
Reasons to buy
+
Celebrity favorite
+
Hard to get hold of
+
Affordable
A cult favorite among celebrities such as Solange Knowles, Bella Hadid, and Dua Lipa, this is one 'it bag' that won't break the bank and was spotted on plenty of arms at NYFW this past season. But unlike many of the best designer tote bags, it's not that easy to get hold of. It's so sought after that Telfar had to launch its Bag Security Program, a limited-time pre-sale for shoppers to acquire their own bag, 100% guaranteed.
Available in a rainbow of colors, the faux leather bag, which was originally based on a Bloomingdale's carrier bag, comes in three sizes. The largest of the three not only has a main compartment, but also an internal laptop compartment. It comes with a double strap - one to carry it with, the other to make it one of the best designer crossbody bags, making it super versatile.
22. FENDI SUNSHINE SHOPPER
Best Detachable shoulder strap designer Tote Bag
Reasons to buy
+
Available in four classic colors
+
Simple and stylish design
Reasons to avoid
-
No internal compartments or fastenings
While Fendi may be better known for its smaller Baguette bag, its Sunshine shopper ticks all the boxes for a designer tote. Stylish, made of leather, with elegant finishing touches such as gold finish hardware, this is one tote made to show off.
It has plenty of room inside, however, there are no internal pockets or fastenings to help keep your belongings secure. It does however have a stylish tortoiseshell-effect plexiglass handle to carry it with, as well as a detachable shoulder strap for those days when you want to be hands-free.
23. BOTTEGA VENETA POINT BASKET LEATHER TOTE
Best Woven Designer Tote Bag
Reasons to buy
+
Unusual design
+
Label of the moment
+
Will keep its value
Made from strips of leather woven together in a unique version of Bottega Veneta's signature intrecciato technique, this tote bag is perfect if you want to make a style statement. The interior is lined with a drawstring pouch, which helps keep items secure.
While this isn't a tote to carry around major items such as laptops or shoes, it makes for a great everyday bag with unique design details, such as the triangular handles that replicate the brand's logo.
It won't win prizes for practicality, but it does win prizes for style and will give any of your outfits a designer lift.
24. J W ANDERSON BELT TOTE BAG
Best Non Leather Designer Tote Bag
Reasons to buy
+
Available in nine wearable shades
+
Unusual details, such as the belt handle
Reasons to avoid
-
Fabric might not be as durable as leather
Showing that belts aren't just for the waist, this tote bag has plenty of character. One of the British brands favored by fashionistas, JW Anderson often imbues its designs with quirky touches - in this case, using a belt as a bag handle. It's still very much a wearable bag, perfect for everyday life, the wide silhouette roomy enough to fit in everything you need.
It also ticks the green box, having been crafted from recycled bottles and, while it does have only one main compartment, there is a small leather slip pocket to put valuables in. Coming in a variety of very wearable and versatile colors, this would look great styled with a midi dress or jeans and a blazer for a day out shopping.
25. DIOR BOOK TOTE BAG
Best Statement Designer Bag
Specifications
RRP: : $3,700.00 / £2,600
Reasons to buy
+
Comes in several unique patterns
+
Can be personalized
+
A statement bag
You know a designer bag is good when it's so widely replicated. Such is the case for Dior's Book Tote, but nothing is a match for the real thing though. Introduced by Maria Grazia Chiuri, Creative Director of Christian Dior, the Dior Book Tote has become a style staple and is available to buy in a variety of gorgeous, unique patterns that tap into the latest trends.
It's roomy enough to hold all your daily essentials and comes adorned with the Dior logo on the front. For a personal touch, you can add your initials on the back, and while it has a long enough handle to wear over the shoulder, this is definitely a bag that needs to be carried.
Despite the price, it's very basic inside with no lining or pockets to you may need to invest in a bag liner, but that's the price you pay for true luxury style.
26. LOEWE ANAGRAM MEDIUM LEATHER TOTE
Best Understated Designer Tote Bag
Reasons to buy
+
Classic styling
+
Has two different handles. so it can be carried or worn over the shoulder
The perfect bag to finish off any smart casual look, this Loewe tote is a classic style that you'll be happy to carry around for years to come. Fashion insiders have long been fans of the label, thanks to the elegant leather styles that have also made them popular with many a celebrity.
Handmade at Loewe's Spanish atelier, the beautiful tan leather features the label's instantly recognizable Anagram logo at the front. A 'grown-up' bag, this is no shouty logo. While the tote is probably not as Insta-famous as Loewe's basket bag, it's ideal for everyday life with more than enough room to fit all your bits and bobs in.
The double handle also means it can be carried or slung over the shoulder, making it more versatile than some other totes out there. Furthermore, you can personalize your Loewe bag, by adding on a bag charm featuring tassels, initials, and even a pig.
How to choose the best designer tote bag
The best designer tote bags don't come cheaply, so if you're going to invest in one, what should you look out for? According to celebrity fashion stylist Miranda Holder, quality is key.
"Leather quality (unless you are opting for a vegan model) is paramount," she states. "A good material will only improve with age and, with care, becomes even more handsome as it weathers."
Another major factor she advises to consider includes handles. Will you only carry the bag? Or will you need a hands-free option? Are the handles wide enough to sit comfortably on the shoulder? Is the 'drop' of the handles long enough to accommodate bulky coat sleeves in the winter?
Miranda also says that stud feet on the bottom are important as they stop the base of the bag from getting dirty, while security is also something to think about.
She says: "There is no point having a pricey bag on your arm containing your favorite things, only for it to gape wide open as a seductive invitation to every passing pickpocket. One petty theft and you'll be on the rebound selling it on a preloved website."
A purchase like this should be a considered one and Miranda believes taking your time is the most important part of the buying journey.
"Think of your handbags as trusted friends and be discerning about which you allow to join your cherished collection," she states.