19 best designer crossbody bags that will add a touch of luxury to every outfit this season
Best designer crossbody bags for ultimate hands-free style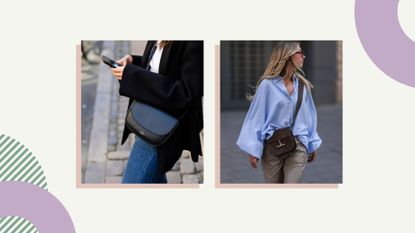 (Image credit: Getty Images)
The best designer crossbody bags are the fashion finds that lend an extra hand. Allowing you to carry your essentials without lifting a finger, this is the most practical and stylish handbag silhouette to invest in this season.
If you're looking for the best designer crossbody bags you've come to the right place. Stylishly efficient, the crossbody bag has stormed the runways, as designer brands acknowledge that we want accessories that not only look good, but ergonomically improve our day too.
A luxury crossbody bag means you can have your essentials - such as wallet, keys and phone - easily accessible but still keep your hands free. And while you might still use a tote back or backpack to carry larger items, like a laptop or your gym kit, the best designer crossbody bags can easily transition from daytime to commute to weekend leisure and many can sit stylishly on your hip for the evening too. While we aren't ready to banish the rest of our handbag collection just yet, the best designer crossbody bags are well worth the investment.
Best designer crossbody bags to invest in this season - according to a fashion editor
The best luxury crossbody bags are works of art. Crafted from beautiful materials and finished with top of the range hardware, they're built to last and to enhance your style too. Whether you're looking for one of the best designer crossbody bags to add wow factor to everyday looks, or are looking to investing in a designer bag for a special occasion or gift, the best designer crossbody bags are packed with features and personality.
For year-round wearability, opt for classic hues such as black, tan or navy that can handle every season. If you want a statement style however, try some of this season's brighter designs. For eveningwear look for sleek silhouettes and striking metallic hardware to add extra sparkle.
1. Tory Burch Fleming Double-Zip Mini Bag
Best Tory Burch Crossbody Bag
Reasons to buy
+
Timeless design
+
Can be worn for day or evening
+
Leather fabrication
Reasons to avoid
-
Quite small, might not be good for everyday
Featuring oversized diamond quilting, this bag reminds us of some of the best Chanel bags - albeit at a more pocket friendly price. One of the best designer crossbody bags for under $400 / £400, this cute purse has the classic embossed bombe T logo design, singling it out as a luxury bag.
Despite its small size, the bag is cleverly designed with plenty of compartments, with room for phone, keys and other essentials. The leather strap, interwoven with a gold or silver chain strap, again gives a nod to some of the best designer bags, such as a classic Chanel flap bag. Made from lambskin, for a super soft and sleek finish, this crossbody bag has a top zip closure for added security.
A timeless design, this black crossbody beauty will literally go with anything and everything. From adding extra polish when deciding how to style loafers for women (giving a feminine spin), to slipping on effortlessly with a Breton top and jeans.
---
2. Louis Vuitton New Wave MM Chain Crossbody Bag
Best Louis Vuitton Crossbody Bag
Reasons to buy
+
Available in several colorways
+
Directional quilt detailing
+
striking hardware
Reasons to avoid
-
Quilting can make this design a little bulky for evening
When it comes to the best Louis Vuitton bags, we're pretty spoilt for choice, but this new season New Wave Chain MM Bag has definitely caught our attention. Puff and quilted silhouettes were huge when it came to the handbag trends 2022 and the look shows no signs of disappearing anytime soon.
Crafted from calfskin leather, this sugary pink bag features a wave and V quilted pattern for added luxury. With gold-hardware to add an edgier feel to the look, this gorgeous bag can be carried crossbody or as a shoulder bag. With interior pockets for easy organisation, this Louis Vuitton number is available is several hues, so you can opt to go classic or for a pop of color in your best designer bag this season.
With a sporty feel, thanks to the good size crossbody bag, and quilted design, this luxury crossbody is one you can easily wear for your everyday commute.
---
3. Saint Laurent Lou Mini Leather Camera Bag
Best YSL crossbody bag
Reasons to buy
+
Timeless design
+
Will go with everything
+
Statement hardware
Reasons to avoid
-
Feels quite casual compared to some Saint Laurent bags
Made in 100% leather, this classic camera bag is a silhouette you will see across many of the best designer crossbody bags. Compact but still roomy enough for the essentials, this design also features on-trend quilting, as well as statement gold YSL hardware, making it quite the statement piece. The addition of the tasselled zip adds a nice finishing touch to the look.
With an inner zip pocket and three inner card slip pockets (so you can leave your best designer card holder at home), this bag packs both a style and practical punch, marrying the two seamlessly.
With a slightly rockier and more casual feel, this design will work well with smart casual outfit ideas, such as paired with black jeans and a pretty blouse, or with your best leather jacket for what to wear to a concert.
---
4. Gucci GG Marmont Small Matelassé Black Shoulder Bag
Best Gucci crossbody bags
Reasons to buy
+
Popular fashion style
+
Will go with everything
+
Lots of color options
Reasons to avoid
-
Not particularly elegant, so more for daywear
The best Gucci bags are on many a fashion editor's hitlist and the GG Marmont is definitely a favorite for those in the know. This small and compact camera bag, is according to experts, surprisingly roomy and the crossbody strap means it's ideal for those always on the go.
Similar to the Saint Laurent Lou, the main body of the bag is quilted leather and the designer feature of the style is expressed through the brand's iconic GG logo in gold hardware. For an added touch of luxe, you can even have your initials engraved on the inside of the strap, for subtle and chic personalization, making this an ideal gift.
While this bag comes in many colors, a classic black iteration is guaranteed to go with pretty much everything in your closet. A slightly more casual design, we recommend this style for everyday or weekend wear, rather than with the best cocktail dresses.
---
5. Mulberry Small Amberley Satchel
Reasons to buy
+
Lots of colors to choose from
+
Great everyday style
+
Luxury leather
Reasons to avoid
-
A step away from more classic Mulberry pieces
Inspired by equestrian styling, the Amberley satchel is one of the best luxury crossbody bags on the market this season. Available in 16 colorways, the Amerberley has a newer and more directional fastening - known as a Rider's Lock - as opposed to the classic Postman's lock, like other classic Mulberry bags, making it feel fresh and directional. The suede lining adds an extra luxe finish, while the internal slip pocket is ideal for cards, for added security.
With a beautifully curved shape, this satchel bag is very much a smart option for everyday and will look great with your best blazer or a fantastic dress for a commute to the office.
---
6. Jacquemus Le Grand Bambino
Best small designer crossbody bag
Reasons to buy
+
On-trend color
+
Ideal for evening or day
+
Can be carried crossbody or by a top handle
Reasons to avoid
-
Heavily trend-led so might not have longevity
Jacquemus micro bags have taken the fashion world by storm and the Le Grand Bambino comes in 16 different colors.
At a relatively budget friendly price for the best designer crossbody bags, this vibrant pink hue is ideal if you're looking to discover what is Barbiecore this season. A sweet and small silhouette, this bag can be carried by the top handle, or worn, hands-free across the body, making it easy to weave into your capsule wardrobe, and wearable for both day and evening events.
While the Le Grand Bambino is one of the trendiest bags on the market, it might not have the most longevity of all the styles, as it hasn't yet reached 'classic' status, but is definitely one of the most directional.
---
7. Loewe Mini Puzzle bag in satin calfskin
Reasons to buy
+
Customizable with different straps and charms
+
Can be worn on the shoulder or crossbody
+
Several colorways to choose from
Reasons to avoid
-
Day bag rather than evening
Instantly recognizable by those in the know, this was the first bag designed by Jonathan Anderson, upon arrival at Spanish clothing brand, Loewe, the Puzzle bag uses a cuboid shape and distinctive geometric lines to give a modern twist to an everyday crossbody bag. Crating in satin calfskin, this luxury crossbody bag uses tonal hardware and can be worn crossbody, carried by top handle or over the shoulder for added versatility. With a zip closure for additional security, this bag is also customizable as you can add charms and change up the strap for constant rejuvenation.
The slightly slouchy vibe renders this bag ready for everyday and is not one we would recommend for smart occasions. However it is ideal for pairing with work outfits to add polish to your business attire.
---
8. Kate Spade Buddie Medium Shoulder Bag
Reasons to buy
+
Classic style so won't date
+
Spacious design with inner compartments
+
Secure flap fastening
Reasons to avoid
-
Not particularly directional
Ideal for those who want excellent internal bag storage, this luxury crossbody bag from American clothing brand, Kate Spade has three inner compartments, including one with a zip closure, alongside dedicated card slots, so you can say goodbye to lugging a wallet around with you. The flap finish with magnetic seal allows for added security, making this an ideal bag for everyday. The adjustable shoulder strap offers a more personalized fit and the soft, Italian leather bag is big enough to fit the latest Iphone too.
Shoppable in three colorways: classic black, dark green and a striking red, all three hues are classic enough that they won't date and can work all year through.
---
9. Chanel Small Messenger Bag
Reasons to buy
+
Features Chanel classic quilting
+
High quality
+
Classic style
French clothing brand, Chanel, make some of the best bags and its products are considered some of the most iconic when it comes to classic handbags. With a signature CC logo fastening and the brand's statement quilting, this small messenger bag is one of the best designer crossbody bags on the market.
The timeless black leather is contrasted with a deep red lining, both accented by gold hardware. Using the same strap detail as the 2.55, leather is interwoven into a chain strap for a smart finish.
The small footprint of the bag makes it work for day or evening, with the soft black lambskin ensuring added luxe to any look.
---
10. Michael Michael Kors Lucie Small Logo Crossbody Bag
Reasons to buy
+
Good price
+
Directional
+
Timeless colorway
Reasons to avoid
-
Monogram logo print might not be for all tastes as it's not subtle
The Michael Kors monogram is one you should be familiar with as the MK handbag collection has grown in popularity in recent years. Tapping into a sweet spot of brand entry, Michael Kors bags are some of the best value designer bags on the market, as many designer pieces are now in the thousands, the majority of the Michael, Michael Kors ranges are under $500 / £500.
This designer crossbody bag features an abundance of classic Kors features. From the repeating MK monogram to the brown and tan combo coloring, this sleek and stylish design is one that will slot effortlessly into your wardrobe.
A little more sporty and casual, thanks to its horseshoe like silhouette, this crossbody beauty is ideal for wearing everyday for work or with casual denim outfits at the weekend.
---
11. Prada Saffiano Leather Mini Crossbody Bag
Reasons to buy
+
Elegant design
+
Secure flap closure
+
High quality leather
Reasons to avoid
-
Obvious gold branding might not appeal to those who want something more subtle
Italy is known for its high quality leather work and Italian clothing brand, Prada, unsurprisingly makes some of the best luxury crossbody bags. The brand's sleek side bags offer beautifully clean and sleek lines, branded with painted metal lettering on and finished with gold hardware.
The crossbody straps combine leather and gold chain for an added touch of sparkle, with the strap featuring a padded shoulder section for added comfort.
With a front flap closure, with magnetic closure, the interior of this leather side bag, further enhances why this design has made the best designer crossbody bag list. With a nappa leather lining, for a beautifully soft and hardwearing finish, there is an interior pocket with a card slot and removeable mirror - super handy when you're on the go.
The clean lines and simple but statement detailing makes this ideal for evening wear or smarter occasion.
---
12. Chloé Marcie Small Saddle Bag
Reasons to buy
+
One of Chloé's most iconic designs
+
Tactile finish
+
More unusual look
Reasons to avoid
-
Suede might be difficult in wetter weather
A decadent mix of leather and suede, the Marcie is an iconic and instantly recognizable design from Chloé. With heaps of added detail for a really luxurious feel. The front leather top stitching adds both interest and texture to the front flap of the bag. Blending femininity and '70s folklore spirit, the Marcie is a classic design that promises not to date and this burnt red hue is ideal as we head into Fall.
When it comes to the inner workings of the bag, there are two interior pockets as well as a slip pocket that is ideal for cards.
The equestrian feel taps nicely into the western trend and this saddle bag is just right for exploring what is boho style - just pair with your best cowboy boots to finish the look.
---
13. Bottega Veneta Loop Camera Bag
Reasons to buy
+
Sought after, woven style
+
Timeless colorway
+
Single compartment - roomy
Reasons to avoid
-
Slim strap might not be as comfortable as thicker, flatter varieties
A roomy design, this small camera bag features a singular, central compartment, making it perhaps a little more difficult to organize items internally, but does overall offer more space than compartmentalized styles.
Bottega Veneta has taken the fashion world by storm, with its lust-worthy handbags, spotted on the arms (or across the bodies) of celebrities and fashion editors. The intricate woven outer has become somewhat of a design signature for the brand, who have now released multiple iterations around the theme. This small basket weave design in an almond hue, with gold hardware is a timeless piece of craft that will work with everything from a camel coat to your best dresses.
With gold finish hardware, the bag has a double slim strap, knotted at the end as an added feature. Some may find the slim straps a little more difficult to wear as they aren't particularly flat or thick.
---
14. Marc Jacobs The Leather Bucket Bag
Reasons to buy
+
Trend-led design
+
Great price
+
Striking colorway
Reasons to avoid
-
Might feel a little cumbersome for a crossbody shape
The bucket bag made a return to the runway this season and this deeper and more spacious design is always a welcome addition to our capsule wardrobe. Here in a striking, rich, navy hue, Marc Jacobs explores the latest, must-have bag silhouette and gives it added versatility, offering a top handle, as well as a detachable longer, crossbody strap option.
Leaning further into the brand's well received 'tote bag' collection, this bucket bag from Marc Jacobs is aptly branded in embossed leather letters for a sleek, playful and yet still luxurious finish.
With a drawcord closure for added security, the full grain leather bag has one interior slip pocket, ideal for securing cards and travel passes.
---
15. Fendi Embossed Leather Shoulder Bag
Reasons to buy
+
Unmistakably Fendi
+
Can be worn as clutch or crossbody bag
+
Has internal organization compartments
Reasons to avoid
-
Color won't go with everything
If you've ever wanted to learn how to dress like Carrie Bradshaw, start with one of the best designer crossbody bags. The Italian fashion house is well-known for its iconic FF logo and we love the way this bag plays with embossing to add extra texture to this sleek side bag.
In a striking duck egg hue, this bag isn't subtle, but you can certainly use it as a statement piece within any outfit - smart or casual. Wearable across the body, the strap can be detached to allow you to use this bag as a clutch - ideal if you're wondering what to wear to a wedding.
With a secure front flap closure, internally the bag has good storage too. With slots for cards and bills, there is even a zipped sealed coin purse for change.
Finished with gold hardware for an added touch of luxe, this is a striking, directional piece that can be cherished for years to come.
---
16. Balmain B-Buzz 23 Leather-Trimmed Printed Canvas Shoulder Bag
Reasons to buy
+
Statement logo detailing
+
Classic color combination
+
Good size
Transportable via a top handle or by the crossbody strap, this gorgeous bag is part of Balmain's B-Buzz collection, identifiable by the oversized gold B emblem at the front of the bag.
Combining leather trims with a canvas body, this bag does definitely feel more summer to early fall than it does ready for icy temperatures, but it is certainly a design you can pull out year on year. Sturdier than rattan but still with a lightweight finish, the bag features adjustable side tabs, so you can expand or shrink the bag for different storage needs. When it comes to interior storage, there is plenty of room, as it has one main compartment, with a small inner zipped pocket for valuable.
The striking gold metal hardware works beautifully with the canvas and leather and the twist lock front, through the B adds extra security. The Balmain print on the front, does mean this bag is pretty loud, there is no shying away from this piece of arm candy.
With a more casual spin, this bag is spot on for everyday or weekend casual wear.
---
17. Versace La Medusa Small Metallic Shoulder Bag
Reasons to buy
+
Great internal storage
+
Crafted in Italy
+
Directional, on-trend design
Reasons to avoid
-
Less of an everyday piece
This is one of the best designer crossbody bags for storage, this design features an accordion silhouette, with three internal compartments, including one with a zip closure, that will expand to hold or your essentials. When collapsed, the bag still has a small footprint, keeping the chic and neat design.
The striking silver metallic finish makes this bag ideal as we head towards party season and while you can use this bag to add shine to everyday looks, we think this one is worth saving and pairing with your best cocktail dresses come the Holiday period.
The bag is secured with a flap front and the iconic Versace 'Medusa' head, sealing the deal on this luxury purchase. With a slim shoulder strap that can be worn crossbody, this bag marries together '80s styling with modern touches.
---
18. Valentino Garavani Medium Roman Stud Shoulder Bag With Chain
Reasons to buy
+
Part of an iconic collection
+
Several colorways available
+
Good size
Reasons to avoid
-
Chain strap could be longer for added comfort
Quilting is still king when it comes to accessories this season, particularly for handbags. Utilizing a full and textural quilted design, for a rounded and statement look, the stitch detailing is enhanced with the use of maxi studs - giving an extra nod to the Gladiator shoe trend 2022 that returned this season.
The deep oxblood hue is timeless and while it is a color that comes into its own in Fall it does work all year, for a versatile buy. With tone on tone stitching, for added luxe factor, this bag shuns bright metallic accents for vintage bronze hardware that works beautifully with the main body color of the bag.
Sealed with a twist lock closure, the bag can be worn crossbody or one the shoulder, thanks to the chain strap, or carried via the top handle or tucked under an arm - both straps are detachable. With one main internal compartment and a small inner zipped pocket, this bag offers roomy storage for all your essentials.
The studs certainly add interest, although they do make this bag a little more dressy, meaning you might want to reserve this one to add a rockier edge to party-ready outfits.
---
19. Burberry Vintage Check and Leather Note Crossbody Bag
Reasons to buy
+
Sleek design
+
Secure flap fastening
+
Timeless
Reasons to avoid
-
Vintage check could be too showy
If you always thought British designer brand Burberry, was only about the Burberry trench coat, it actually makes some of the best designer crossbody bags too. This sleek and relatively discreet design, with flat, front closure comes in both black and tan iterations, both of which will be wearable all year round.
Interjecting the house's heritage print into the design with a semi-hidden front pocket, the bag also features one main compartment, with an internal zipped slip pocket, to maximize storage. Wearable across the body, on the shoulder or as a clutch bag, the statement, monogrammed strap is adjustable for a more personalized fit.
With hand-painted edges, the outerbody of the bag is made from 100% leather, while the lining is a cotton-polyester mix. While the check pocket and woven Burberry strap, make this bag unmistakable, the delicately engraved press studs add a discreet and luxury finish.
Are crossbody bags still in style?
Crossbody bags aren't just in style, they're at the top of their game right now. Gaining in popularity, there's a reason designers are focusing their efforts on the silhouette. Offering hands-free carrying, a crossbody bag is practical for everyday and evening wear, allowing wearers to enjoy themselves fully and interact with the world without a bag weighing them down. But it isn't just about keeping hands-free, the latest fashion trends and themes have heavily influence the look too, as fashion editor and stylist, Antonia Kraskowski explains:
"With a '90s revival currently dominating many trends, we're seeing a return to lots of shorter strap styles that sit both on the shoulder and across the body."