What is boho style: Summer's favorite look explained
What is boho style: Where the look comes from and how to shop it, whatever your body type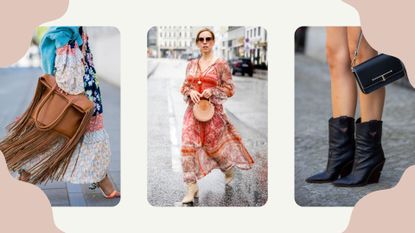 (Image credit: Getty Images)
When it comes to the summer, working out what is boho style and how to inject it into your wardrobe is a smart idea. Always on trend in the warmer months, this carefree and creative look is one you can turn to year after year and it's easy to shop from both designer and straight-to-market brands.
Boho style, or bohemian style - to give its full name, dates back hundreds of years and was a term used to refer to an 'exotic' sense of style seen on artists and writers. Evolving into a style trend that now incorporates some of the best dresses and some serious wardrobe essentials, when you ask what is boho style today, the look is a reflection of the '60s and '70s hippy movement, with Woodstock and the flower power movement playing a central part in its revival. Ideal for what to wear to a concert, modern boho incorporates artisanal elements, color and print for a look that always feels carefree and relaxed. One of the fashion trends 2022 has on offer, it is somewhat ironic, that despite boho styles modern popularity, it was originally meant to be a rejection of the mainstream and all the comes with it.
While boho style is a look that never truly falls out of fashion, it has had its fair share of peaks and troughs. In the noughties the likes of Kate Moss, Sienna Miller, Nicole Richie and the Olsen twins reinvigorated the movement, leaving shoppers asking 'what is boho style?' and wanting to buy into the look. With their maxi skirts, low-slung best designer belts, crocheted dresses and gladiator sandals, this hippy-lite celebrity trend soon made its way onto the runway and into the closets of every style-conscious woman out there. Today, thanks to French clothing brands Givenchy and Altuzarra and Italian clothing brand Etro, the look remains at the forefront of fashion and is defined by a special nod to craftsmanship, rich colors, and plenty of detailing - with relaxed and hippy inspired silhouettes.
What is boho style?
Defining what is boho style almost goes against its free-spirited nature. Often identified by a love of artisanal detailing, use of color and relaxed silhouettes, it is a look that can be worn all year but is most associated with the summer.
Celebrity stylist, Natalie Robinson (opens in new tab) believes that regardless of trends, boho will always be popular in warmer weather, owing much of its seasonal popularity to shoppers asking, 'what to wear to a festival?'
"The boho look is fun, effortless, yet somewhat innocently reckless and, for such reasons, synonymous with festival season. Boho styles like floral maxi dresses are making a comeback along with the classic white shirt, mini-skirt, and shorts coupled with a fedora hat, complementing the carefree nature of summer festivals and social gatherings," she says.
For the modern boho babe, celebrities have been pivotal in keeping this look front and center. Back in the mid-noughties, the boho look was everywhere, with actress Sienna Miller the main influencer. Channeling her luxe hippy style in denim cut-offs, layered jewelry and crochet waistcoats, with the '00s back in fashion we're seeing this look come through across runway and straight to market brands once more.
Modern boho icons include Florence Welch, Vanessa Hudgens, Fearne Cotton, Haim and Lisa Bonet, so while this free-spirited style might draw on fashion past, it firmly has a slot in fashion present and future too.
Best Boho Style Dresses
A floral or patterned dress is the mainstay of any boho look. So if you love a great dress, then this look is one that can easily slot into your wardrobe and cover you for everything from what to wear on a first date to what to wear to a bridal shower. While maxi is the preferred length of the boho trend, this can, for some be an impractical and overwhelming amount of fabric. If that sounds like you, then make friends with your tailor and get dresses shortened to the correct length, wear with new season wedges, or opt for the on-trend midaxi length that is part way between midi and maxi. For a truly authentic answer to what is boho style, choose long, flowing dresses, with embellishments such as embroidery or tassels.
(opens in new tab)
RRP: $198 / £188 | Patchwork and color is very much a key part of the boho look and the print clash on this flowy paneled maxi dress evokes the trend to the max. Just add your best sandals and your best denim jacket and you'll be summer ready in no time.
(opens in new tab)
RRP: $24 / £22.40 | Maxi dresses can swamp smaller figures, which is why it's important to choose one from a petite range if you're 5'4 or under. The simple silhouette of this design ensures it won't overwhelm smaller figures, we love the dipped hem too.
(opens in new tab)
River Island Knitted Midi Dress
RRP: $102 / £55 | Crochet or knit give any dress a boho update. This slinky taupe number would suit hourglass body shapes as it frames curves. Throw over your best swimsuit for a beach-ready look, or pair over a silky slip dress for drinks at the bar.
Best bottoms for Boho style
Along with many other Y2K styles that are popular right now, maxi skirts are having a moment. Perfect for the boho look, they're great if you want to keep cool in the summer and save your legs from midday sun. With a strong grounding in the '70s, other popular boho bottoms included flared jeans, cut-off denim shorts and embroidered miniskirts.
(opens in new tab)
Zara Embroidered Mini Skirt
RRP: $49.90 / £32.99 | With more than a nod to Isabel Marant's cool boho style, this embroidered mini is crying out to be paired with suede ankle boots or flat gladiator sandals. The embellishment detail makes it look super expensive.
(opens in new tab)
H&M High Waist Denim Shorts
RRP: $17.99 / £17.99 | While cut-off denim shorts never really go out of fashion, thanks to Givenchy and Isabel Marant, they are one of the big denim trends 2022. High-waisted styles are great for sculpting curves. Team with your best waistcoat.
(opens in new tab)
Hush Opal Printed Maxi Skirt
RRP: $94.72 / £75 | The maxi skirt really comes into its own when trying to showcase what is boho style. If you're looking for long skirt outfit ideas, then pair this blue and white design with any of the best white t-shirts and a low-slung, wide, hip belt.
Best tops for boho style
Loose silhouettes, crochet elements, vintage prints and embellishments are the way to go when you're looking for a boho-style top. While crop tops do feature in this look, if you don't want to expose your stomach, choose a tunic-style kaftan for a chic look that isn't as revealing. A universally flattering style, kaftans skim the silhouette, making them a stylish option for all body shapes. There are also lots of options for fuller figures too, with many of the best plus size clothing brands offering a wealth of designs in this trend.
(opens in new tab)
River Island Crochet Sleeveless Top
RRP: $47 / £25 | No boho wardrobe is complete without a crochet number and this sleeveless one can be worn alone or over a tee or floral dress. What's more it goes up to size 28, making sure this design is inclusive.
(opens in new tab)
Monsoon Bibbed Embellishment Blouse
RRP: $97 / £75 | The vintage floral print and the embellished bib detail make this the ultimate boho blouse. It will look great paired with denim cut-off shorts, or tucked in to some fitted cargos for a dressier and direction option.
Next Three-Quarter Sleeve Kimono
RRP: $30 / £20 | A soft fabric jacket is one of the hardest working pieces in any boho wardrobe. From wearing over swimwear or shorts for daytime chic or pairing over a flattering jumpsuit or dress it always bring the glam factor.
Best shoes for boho style
This look is definitely not for the best white trainer addicts! Boho style champions comfortable flats with a natural aesthetic. Clogs and gladiator sandals are a popular option for the trend, but if you want something that will work through spring and fall, then turn to suede and embellished cowboy boots - both ankle and full length. For added height opt for flatforms which still put comfort front and center.
(opens in new tab)
Z Code Z Studded Vegan Clogs
RRP: $35 / £22 | Clogs are one of the biggest shoe trends this season and while they may not be the easiest to walk in, they do look fabulous with everything from the best midi dresses to flared jeans. The perfect boho shoe!
(opens in new tab)
Stradivarius Cowboy Ankle Boots
RRP: $99.90 / £69.99 | Boots may not feel very summery but a cool pair of cowboy boots, like these light taupe ones, add a stylish twist to any outfit. Pair with shorts for a festival or a pretty floral dress for a brunch with the girls.
Best bags for boho style
There are no small bags allowed here! Just as with the relaxed nature of the clothes, bags should be slouchy, slung across the body and preferably big enough to carry everything you need with you. Fringes, embroidery, crochet, and patchwork all enhance the hippy vibe. Stick with natural colors, such as tan or cream, or go full on mismatch and choose a bright print or floral patterns.
(opens in new tab)
Urban Outfitters Patchwork Tote
RRP: $49.25 / £39 | This patchwork number is one of the best tote bags we've seen. Not only is it stylish, but you can fit everything you need in it with ease. The crochet, patchwork design keeps this firmly in the boho arena.
(opens in new tab)
Free People Shoshana Printed Sling
RRP: $71 / £46 | Just sling and go with this super cool printed sling bag from one of the best American clothing brands for boho style. The pattern gives it a bohemian feel, while the style is very now, ensuring a totally modern take on the look.
Next Leather Fringe Cross-Body Bag
RRP: $71 / £46 | The best crossbody bag to give your outfit a boho vibe this summer. Tan is one of the big handbag trends 2022, and the hands-free style offers easy ergonomics. Meanwhile, the added fringing gives it that extra hippy vibe.
---
How to wear boho style – whatever your body shape
A boho capsule wardrobe is easy to put together and perfect for long, summer days – whether you're chilling in the garden, attending a special event, or catching up with the latest bands at a festival. A versatile look, boho style is also universally flattering, suiting all body types including pear shaped bodies and apple body shapes says TV and celebrity fashion expert and founder of the Feel Good Fashion Coach, Miranda Holder.
"The very essence of boho is floaty and diaphanous, with loose layers that skim any body shape and be nipped in at the perfect point with an artfully placed accessory. Talking of accessories, the fashion rules from above state that more is definitely more here, so whether you want to balance out larger hips (or want a stylish dress to hide a tummy), you have a full repertoire of wardrobe weapons at your disposal," she says.
While boho looks carefree and laidback, it does require some planning to look perfectly un-coordinated (rather than you've just rolled out of bed) so it's good to have a variety of boho wardrobe essentials at your disposal.
For Natalie, this includes a range of accessories, which can give a boho feel to any outfit.
"Think a fedora or trilby hat, the best sunglasses, and a cross-over bag that shapes the identity of bohemian style," she says.
Don't like hats? A headband is your friend. Wondering how to wear headbands? You can go full-on festival with a floral wreath or choose a knotted headband in a bright pattern. Wear with loose curls for true boho style.
Festivals were made for boho – especially as you can incorporate layers for any unpredictable weather. Throw a fringed kaftan over a t-shirt and denim cut-offs – team with cowboy boots and you've got all weather angles stylishly covered.
While you may need a more formal approach to boho dressing for what to wear to a wedding, you can still create the essence of boho style by choosing floaty dresses, accompanied with jackets that have pretty tassels, embroidery, or embellishments. A must-have boho item that will take you from brunch to the beach is a kaftan. One of the best beach cover-ups, throw it on over your best jeans or a slip dress for a laidback evening look. Kaftans also make the best petite dresses as you can nip them in with a belt to avoid being swamped.
If creating a full-on boho look feels too much out of your comfort zone though, accessories are your friend says Miranda.
"Cowboy boots are always a great place to start, and the more beaten up and embellished they are, the better," she recommends,
She continues: "Don't forget to layer up your jewelry too, why have one necklace when you can have three?! This is your chance to create a truly personalized look that really reflects who you are!"
Handcrafted items and materials such as leather and wood will create an authentic boho look - the more individual and unique your accessories are, the better.
The best places to shop boho style
As the style is now commonplace, come summertime many brands stock the boho essentials from maxi skirts to flowy blouses. Some of the best dresses can be found at River Island or Free People, while the perfect gladiator sandals or clogs – two of the biggest shoe trends 2022 – can be picked up at the likes of ASOS or Office.
One of the best British clothing brands for picking up stylish boho pieces is Monsoon – they have everything covered from cute kimonos to hippy maxi skirts. If you're looking for more directional boho pieces, try one of the best Spanish clothing brands around – Zara. They have a gorgeous selection of embroidered pieces that shout summer!
With over 22 years' experience in journalism, Jayne has written about a variety of subjects. She spent the start of her career within the world of film, interviewing Hollywood stars, attending premieres and lusting after red carpet outfits, and then moved into fashion, launching websites for big magazines such as Look, Woman's Own and Wedding and working with top fashion brands such as Westfield, LK Bennett and Hunter.
Career highlights include dressing up as Kylie (in gold hot pants!) for a national newspaper and working on big fashion events alongside Giles Deacon, Henry Holland and Naomi Campbell.