Shoes to wear with wide leg pants: 12 styling ideas for the season ahead
Want to know what shoes to wear with wide leg pants? We've taken inspiration from the most stylish influencers around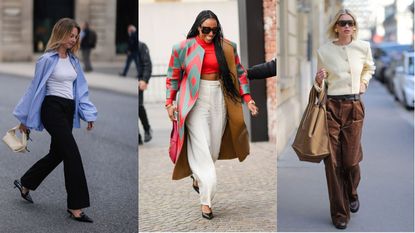 (Image credit: Getty)
Not sure what shoes to wear with wide leg pants? This silhouette shape is everywhere this season and, lucky for you, the footwear styling options are pretty much endless.
Finding the best shoes to wear with wide leg pants requires some thought as the shoes you choose need to harmoniously pair with the pants and create a balanced finish to your final look. The first consideration is the length of your pants as floor-grazing, cropped, or ankle length will require different types of shoes. Equally, wide leg pants is a fairly broad term, particularly as the look is very 'in' right now and a wide leg can cover everything from boyfriend jeans to super wide and relaxed legs.
Once these things have been established you should think about the type of occasion you're looking to dress for. While sneakers certainly are a shoe to wear with wide leg pants, they won't necessarily be appropriate for office attire, equally, you might not want to be teetering around in platforms for a casual lunch with friends. When all of these considerations have taken place you can truly start having some fun.
Shoes to wear with wide leg pants – 12 different types of shoes that will complete your outfit
To make it easy for you to decide which shoes to wear with wide leg pants, we've split them into 12 categories – from sandals and heeled mules, to stompy boots and sneakers, there is an option for everyone.
1. How to style wide leg pants with sneakers
Sneakers are no longer just for wearing with your best jeans or best leggings. Nor is wearing them with wide leg tailored pants just a stop-gap that means you don't have to wear your best designer heels on the commute to the office. There are two key sneaker trends when it comes to the shoe trends 2023.
Whether your team retro pumps, like the Adidas Gazelle or Samba, or are loyal to chunky trainers from the likes of New Balance and Asics, both are great shoes to wear with pants and are ideal for what to wear with wide leg pants. The length of the leg should ideally skim over your sneakers rather than a cropped length that shows the whole shoe. It's a nice way to make smarter pants feel more casual, helping you to max out their all-important cost-per-wear.
Adidas Originals Gazelle Bold Casual Sneakers
RRP: $120 / £90 | The Gazelle is Adidas' take on the classic soccer trainer with a flat sole and textured suede upper. This pair has a platform to add a little extra interest (as well as height).
Everlane The Organic Wide-Leg Pant
RRP: $98 / £94 | Thanks to the success of their Wide-Leg Pant, Everlane has updated this staple in organic cotton. With a super-soft fabric and flattering cut, you'll reach for these every day.
Avec Les Filles Stretch Cotton Trench Coat
RRP: $199 / £160 | One of the best trench coats, we love the contrast piping on this biscuit-toned number. The just-below-the-knee length means the proportions work with wide leg pants.
2. How to style wide leg pants with ballet pumps
The humble ballet pump is one item that we're actually quite pleased to see as part of the '90s fashion trend revival. Low-rise jeans and logo bags? Not so much. The beauty of a ballet pump is in its simplicity. You know those days when you feel like adding a shoe would ruin your outfit? That's when the understated, barely-there shape of a ballet pump really earns its keep. Make your pumps monochrome and quilted à la Chanel or use them as an opportunity to add some texture to your look with velvet, satin, or suede. Ideally, you should just see the toe poking out beneath the hem of this season's wide-leg jeans and pants, but if you are tall then pumps would just work just as well with ankle-length.
Sam Edelman Felicia Ballet Flat
RRP: $130 / £130 | Wish you could wear your slippers out of the house? These are the next best thing. The flexible elastic ensures a Cinderella-worthy perfect fit, while the padded sole keeps you comfy. Available in five shades, these work for parties too.
Free People Harlow Mid-Rise Wide-Leg Jeans
RRP: $148 / £140 | A mid-rise jean is a great compromise for anyone who finds high-rise uncomfortable but can't quite face the return of low cut denim. The pale blue shade is spot-on for spring and summer, it comes in a darker wash too for added polish.
Zara Cropped Gold Button Jacket
RRP: $49.90 / £32.99 | This jacket has the power to make a casual outfit feel pulled together. Simply slip over your best white t-shirt for a smart/casual ensemble. We love the baby pink shade, the gold buttons, and the chic patch pockets.
3. How to style wide leg pants with flat mules
This season's self-confessed 'ugly shoe' - but oh so comfortable, the Birkenstock clog is an ideal candidate for shoes to wear with wide leg pants. This comfortable flat became so popular, there was even a waiting list, but if a clog doesn't set your pulse racing, have no fear, there are some slightly more elegant options for flat mules too - with pointed toes and luxe fabrics. Wearing a mule does increase the chances of catching your shoe on the hem of your wide-leg trousers, so either choose a pair that ends on the ankle or go a bit narrower close to the hemline.
Birkenstock Boston Mules in Antique White
RRP: $142 / £115 | These clogs are a classic that can be worn with socks in the winter and bare in the summer. Just invest in a good suede protector to keep them at their box-fresh best.
Nordstrom Open Edit Linen Blend Pants
RRP: $69 / £55 | Linen pants will bring an easy-breeziness to your outfit. The cappuccino shade will go with any color on the spectrum, so don't feel you have to stick to neutrals for the rest of your look.
H&M Light Blue Oxford Cotton Shirt
RRP: $24.99 / £17.99 | Wondering how to style an oversized shirt with wide leg pants? To avoid it overwhelming your frame, half-tuck the shirt at the front or wear it open over a fitted tee.
4. How to style wide leg pants with heeled mules
They say beauty is pain, but no one wants gorgeous shoes to come at the price of blisters. We have a sneaky suspicion that's why the heeled mule has become such a popular trend – as there's no risk of rubbed heels when your shoes are backless. When it comes to shoes to wear with pants, heeled mules added a feminine feel to wide leg pants.
Thanks to brands like By Far, the heeled mule of choice among the fashion set is simple and streamlined, which makes them a good way to show off the billowy shape of wide-leg pants. You could go matchy-matchy when it comes to the hue, but we like the idea of using your heeled mules to add a pop of color to neutral pants or, to temper a bright or printed pair.
Steve Madden Syrah Brown Mule
RRP: $99.95 / £79 | Not keen on wearing leather? No problem. There are plenty of sustainable brands on the market and these heeled mules are made from a vegan fabric. The low stiletto heel makes them a great height for all-day (or all-night) wear.
H&M Wide-leg Linen-blend Pants
RRP: $49.99 / £34.99 | Thanks to the high waist and subtle pleats, these sky-blue pants deliver a leg-lengthening and waist-flattering fit. Available as part of a set with a matching blazer, or wearable as separates, they tap into this season's color trends.
Everlane The Canvas Organic Cotton Parka
RRP: $228 / £219 | Unpredictable weather means spring outfit ideas always need to center around layers. One of the best parkas, this coat is lightweight, making it a cool alternative to a trench or blazer on days when the forecast can't be trusted.
5. How to style wide-leg pants with loafers
The best loafers are shoes that mean business. Strong, sturdy, and the kind of shape you can dash from meeting to meeting in without feeling like you need to massage your arches when you get home, a loafer is one of the hardest working shoes to wear with wide leg pants in terms of styling. As the structured shape is at odds with the freedom of floaty pants so to make it work, you need to keep the rest of your outfit very streamlined. Think a tailored blazer or a narrow wool coat on top, teamed with pants that toe the line between wide and straight cut. You can get away with a shorter leg length here, and we'd recommend aiming to show your ankles if you're petite.
Coach Leah Platform Loafer in Black
RRP: $195 / £195 | The addition of a chunky track sole gives these classic Coach loafers an on-trend update. The subtle logo on the front strap nods to the brand without feeling showy.
Topshop Pleated High Waist Wide Leg Trousers
RRP: $85 / £67 | Smart enough to wear for work or play, these tailored pants can be dressed up or down. The charcoal shade will go with absolutely everything in your capsule wardrobe.
6. How to style wide leg pants with wedges
Ah, wedges. Of all the shoes to wear with wide leg pants on this list, these are among the most seasonal. The idea of a wedge conjures up images of raffia heels and lace-up ankle ties, probably teamed with some kind of Broderie Anglaise and preferably worn swanning around on vacation.
If you're going for a traditional wedge then make sure your pants are short enough to show off the detailing on the toes. If you go too long, you'll look like you could be wearing stilts.
INC International Concepts Maisie Wedge Sandals
RRP: $69.50 / £55 | The Princess of Wales is a huge fan of an espadrille wedge, and if it's good enough for royalty, it's good enough for us. This blush pair will look just as good with your best midi dresses as they will with a pair of floaty wide leg pants.
Patricia Nash Penley Small Crossbody Bag
RRP: $189 / £150 | Sturdier than your average raffia bag, this one has edges that have been reinforced with leather. One of the best crossbody bags for stashing your essentials when you're out and about this spring/summer for all occasions.
Ted Baker Maudee Floral Print Halter Neck Jumpsuit
7. How to style wide leg pants with chunky heels
If wearing stilettos makes you feel like Bambi on ice, then a chunky heel is the sturdy alternative you need to restore stability. It's a broad category that can span everything from on-trend platform Mary Janes to the latest boot trends - so there are plenty of options to choose from.
The lower the heel, the chunkier the shoe will feel, but also the easier they'll be to walk in - so all about considering where your sartorial priorities lie. In terms of the cut of your wide leg pants, everything goes. If you're wearing a statement shoe that deserves its moment in the spotlight, choose cropped pants. If you're only really wearing a heel to lengthen the lines of your outfit and give yourself a little confidence boost, then go longer - they don't need to be on show.
All Saints Ria Metallic Leather Boots
RRP: $379 / £249 | Don't just focus on All Saints leather jackets, its footwear is worth a look too. The contrasting black heel and elasticated tab break up the high-shine silver for an edgier feel.
Billabong Free Fall Stretch Crop Wide Leg Jeans
RRP: $89.95 / £85 | You might not normally associate surf-brand Billabong with jeans, but these are too good to ignore. The high waist and raw-edge cuffs give them a cool, retro feel.
8. How to style wide leg pants with stiletto heels
For party-ready style, swap the best wedding guest dresses for a wide leg pant and stiletto combo for instant fashion points.
According to the street style set, the coolest way to wear your shoes with wide leg pants is to just leave the tiniest whisper of your stiletto's toe and heel peeping out from the bottom of the hemline. Pointed courts are the most popular style, with the elongated toe working in tandem with the shape of the wide leg pants to make your legs look longer. Ideally, only team stiletto with sturdier fabrics like cotton or denim as over lightweight crepes these spiky heels do have a tendency to catch around the cuffs and push their way through. The color of stiletto heel you choose will depend on the shade of your wide leg pants and the rest of your outfit, but you can't go wrong with classic neutral hues.
DV Dolce Vita Zini Strappy Kitten-Heel Sandals
RRP: $59 / £47 | Not sure whether to wear heels or not? These slim stiletto kitten heels are a good compromise. A low heel, as opposed to the traditional sky scrapper stiletto, the square toe and cage detailing give these slip on shoes a modern edge.
Reiss Blair High Rise Wide Leg Trousers
RRP: $285 / £168 | Fitting snugly around the waist and hips before flaring out to wide leg finish, these pants will make your legs look endless. Available in petite too, for those 5'4 and under, they can be worn with or without the matching blazer.
Reiss Blair Single Breasted Wool Blend Blazer
RRP: $475 / £268 | Proof that suiting doesn't have to be stuffy, this baby pink blazer is at the top of our wishlist. The single-breasted shape means you could wear it buttoned up and sans top if you're feeling brave, or wear open over dresses for a polished finish.
9. How to style wide leg pants with slingbacks
When it comes to shoes to wear with wide leg pants, the styling advice for slingbacks is very similar to the advice for mules and heels in general. A slingback is a style of shoe characterized by a strap that goes around the ankles to the back of the heel. This strap is normally pretty narrow, giving you the support of a filled-in shoe but the look of a backless one. Slingbacks can be heeled or flat and tend to be filled in at the front - normally with a pointed or almond toe. The narrower the toe, the longer you can go with the length of your pants. If they're very round or square, make sure the pants cut is not so wide and ends just above, or just below, the ankle. An ideal look for summer outfits for work, this is a smart shoe choice that will take you from AM to PM.
Franco Sarto Racer Slingback Pointed Toe Pump
RRP: $115 / £90 | Digital Lavender was named WGSN's Color of the Year 2023 and these pastel slingbacks are the cherry on top of any outfit. The pointed toe adds polish while the block heel is the ideal height for everyday wear. Pair with whites and light denims.
Anne Klein Asymmetrical-Fly Wide-Leg Pants
RRP: $99 / £79 | A good pair of white pants is a must in any wardrobe. These are wide, but not too wide, giving you a slightly more relaxed feel without going too casual or losing your shape too heavily. The front crease will help to lengthen your silhouette.
Free People Hidden Hills Maxi Kimono
RRP: $88 / £88 | This full-length kimono can of course be worn as one of the best beach cover ups, but also over a pair of wide-leg pants and a top it transforms into a great occasionwear piece. If you're worried about it being too long, cinch in with a belt.
10. How to style wide leg pants with stompy boots
Often the combination of boots and pants gets overlooked in favor of wearing boots with your best dresses or long skirt outfits. Not everyone likes the tucked-in look either, and that only really works with your best knee-high boots or over-the-knee boots and skinny jeans or leggings that are pants.
Wide-leg pants are, by their definition, wide, which makes plenty of space for wearing chunkier, shorter boots underneath. All you see then is the tops of your boots and the sole, so you ideally want to team with a pair that has a bit of detail in these areas. Try a trendy platform track sole, a contrasting band, or buckles. Embrace the grunge vibe across your whole outfit with head-to-toe black for a streamlined look, or keep the rest prim and feminine, using your stompy boots for added edge.
RRP: $210 / £189 | Doc Martens outfits are easy because anything goes with these timeless boots. With eight holes and a stacked sole, as well as the brand's iconic yellow stitching and AirWair heel loop.
Everlane The Gardener Jean
RRP: $118 / £113 | Inspired by workwear (hence the name) they have functional pockets and contrast stitching for a utility feel. Made from organic cotton, they hold their shape and won't sag - even after washing.
11. How to style wide leg pants with platform shoes
The best thing about platforms is not only do they look great, but they're also much comfier than your average heel. When you subtract the platform front from the heel height, you'll find that your foot is far flatter than when you've committed to sky-high stilettos. Wide leg pants with a flare are everywhere at the moment (in no small part thanks to our obsession with Daisy Jones & The Six) and adding a platform into the mix only exaggerates the shape. For a classic look, stick to platforms in warm shades of brown, tan, and orange, as these colors will live on in your wardrobe for seasons to come. Bright colored clothing on the top half is optional, but a crisp white shirt will have just as much impact.
Seychelles Manilla Block Heel Platform Sandal
RRP: $119 / £95 | Made of a wood effect, rather than the real deal, these are lighter and easier to walk in than you might think. We love the mix of suede and smooth leather on the upper.
Gap High Rise Stride Jeans with Washwell
RRP: $79.95 / £63 | Made from 99% cotton with just 1% of stretch, these are the kind of jeans that hug and contour your shape. Gap offers three different leg lengths (tall, regular and petite).
12. How to style wide leg pants with sandals
If we had our way, we'd wear sandals all year round, but they're (probably) only really sensible when the weather is warmer. And, when that mercury rises, the last thing you want is to be wearing is tight, clingy clothes, making breezy wide-leg pants ideal for what to wear in the heat.
As the shape of the pants is already creating the illusion of longer legs you can go as chunky as you want with your sandals, without the risk of making your legs look shorter. Think sensible sandals, like Teva's and Birkenstocks. Or, lean into the holiday vibe of floaty pants and go all Grecian with a strappy or rope sandal instead.
Birkenstock Arizona Vegan in Matcha
RRP: $110 / £105 | Wear your greens with this milky matcha shade. You can always rely on Birkenstock for comfort, so a contoured footbed and extra padded lining come as standard.
Mango Wide Leg Printed Pants
RRP: $79.99 / £45.99 | Everyone loves a co-ord, right? Pair these matching pants with the coordinating blouse to take the stress out of getting ready. The stretchy elasticated waist earns extra marks for comfort too.
What shoes to wear with wide-leg pants in 2023
Unsure what shoes to wear with wide-leg pants for 2023? Pretty much anything goes, but there are a few factors to consider. "Depending on the length, most wide-leg pants look best with a higher shoe," says Daisy Barnett, founder, and personal stylist at The Daisy Edit. "It's also a great way to elongate the leg as the extra volume of a wide leg pant can shorten the appearance of your legs. Boots are a great option, and for a more polished look, I also like an open-toe pump to add just a touch of sophistication."
It's heels all the way for personal stylist and jewelry designer Zoé DuFour too. "Wide-leg pants are so versatile, and a staple in my and many of my clients' wardrobes," DuFour advises. "I love the juxtaposition of masculine and feminine so I would suggest a pointy-toe kitten heel or strappy sandal to add that feminine touch and take you from work to evening."
For Mathilde Mader, Chief Creative Officer at Everlane, it's all about the loafer for 2023. "Loafers are a great option for daytime," she explains. "They're smart but comfortable. Then for the evening a heeled boot or sandal is really lovely to add a bit more glamor. You can either have your pants to the ground for just a hint of shoe or do an ankle-length pant to really show off your footwear."
How do you style wide-leg pants for spring?
How you style your wide-leg pants for spring will depend on the time of day. "I love tucking a white tee or simple crew neck sweater into wide-leg jeans or pants for daytime," says Mader. "When the weather warms up, just take the sweater off and drape it over your shoulders. For an extra layer, an oversized blazer or classic trench finishes off the look. Wear with a loafer or a white sneaker for an effortless spring look."
In the evening, you can think more about adding extra details, whether that's through fabrics or prints, or with elevated accessories. "Floaty and sheer fabrics will be everywhere this spring, so pair a sheer blouse (with a bodysuit underneath) with your wide-leg pants," adds DuFour. "Then add a belt and a pointy-toe shoe or strappy sandal."
Jewelry is a great way to make your look feel more party appropriate. Just adding a pair of gold hoops and a few layered bracelets will make all the difference.
Jess Beech is an experienced fashion and beauty editor, with more than eight years experience in the publishing industry. She has written for woman&home, GoodtoKnow, Now, Woman, Woman's Weekly, Woman's Own and Chat, and is a former Deputy Fashion & Beauty Editor at Future PLC. A beauty obsessive, Jess has tried everything from cryotherapy to chemical peels (minus the Samantha in Sex and The City-worthy redness) and interviewed experts including Jo Malone and Trinny Woodall.