British clothing brands to have on your radar
The British clothing brands you need to know about.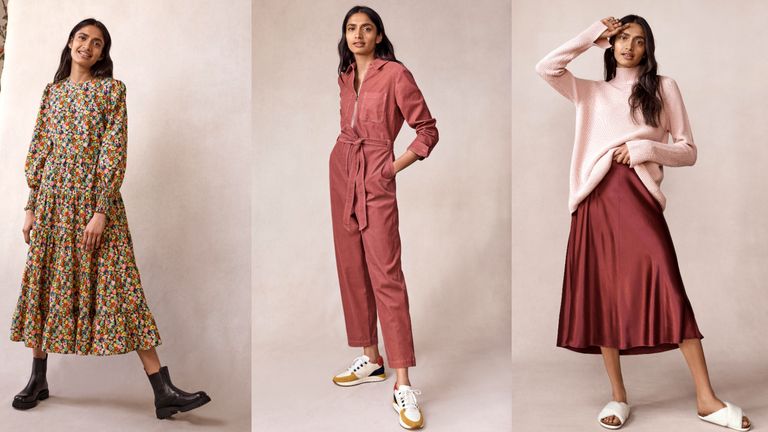 (Image credit: Boden)
Whether you're looking to create a capsule wardrobe or treat yourself to a statement piece, these British clothing brands will give your outfit a premium upgrade.
When we think of British clothing brands, shops like Reiss, Whistles, and Ted Baker instantly spring to mind. Fancier than your average store, they specialize in high-quality pieces which nod to trends, but still have longevity. As much as we love a good bargain, for wardrobe essentials like the best jeans or best winter coats, it pays to pay more. If you shop carefully, you're guaranteed to get more bang for your buck as these well-made, carefully constructed items are likely to last a lot longer than fast fashion ones.
These high-end British clothing brands are our go-to for designer-worthy looks at a far more purse-friendly price. They may not be budget, but most won't break the bank either.
"There is so much history in British clothing brands, and the heritage favorites like Burberry, Liberty, and Pringle have paved the way for many designers, both in the UK and internationally," says Katie Eastwood, Stylist Ambassador at Stitch Fix.
"At Stitch Fix, we offer customers brands, like Joules, Boden, and Whistles. I think customers are currently craving colors, patterns, and prints that are optimistic and representative of the joys that a UK summer can bring."
Which British clothing brands ship internationally?
All of the British clothing brands on this list can be shipped worldwide. Just be sure to check the shipping costs and whether there are taxes to consider before adding to basket. We'd also recommend making a beeline for the bricks-and-mortar stores if you happen to be visiting the UK.
With that in mind, here are the best British clothing brands to add a little luxury to your look—plus our favorite new-in pieces from each one.
Quick links: Best British clothing brands
Best British clothing brands as chosen by our fashion team
All Saints
Reasons to buy
+Our go-to for denim and leather+Fashion with an edge
---
Best known for their buttery-soft leather jackets, All Saints is a brand you can rely on for pieces with an edge. From luxe hoodies to well-cut denim, they make putting together a failsafe weekend wardrobe easy.
---
---
---
Barbour
Reasons to buy
+Heritage brand+Long lasting fabrics
A heritage British brand with country living at its core, the Barbour brand launched in 1894. They are best known for their wax jackets, which are still made by hand in their factory in the north of England. Expect hard wearing fabrics and timeless pieces.
---
---
---
---
Baukjen
Reasons to buy
+Designs that won't date+Sustainable brand
Baukjen is a London-based womenswear brand with sustainability at its core, helping us look and feel good about our purchases. Their designs are timeless, with a cool, unique edge, putting their own stamp on each piece. Sure to be firm favorites in your wardrobe for years to come.
---
---
---
---
Boden
Reasons to buy
+Playful designs+Move towards more eco-friendly fabrics
---
Dreamt up by founder Johnnie Boden from his kitchen table, this quintessentially British clothing brand is sure to bring some joy to your wardrobe. They're big on color and prints, crafted from seriously luxe fabrics.
---
Desmond & Dempsey
Reasons to buy
+Vibrant prints and patterns+Classic silhouettes
---
Nothing quite beats changing into your pajamas after a long day, especially when they look this good. In fact, we'd merrily wear a set from Desmond & Dempsey out of the house too. Expect vibrant, joyful prints and quality fabrics from our go-to British clothing brand for all things lounge.
---
---
---
Hobbs
Reasons to buy
+High quality fabrics+Attention to detail
---
For fancy occasion outfits to smart and stylish workwear, Hobbs knows a thing or two about dressing well. Even their basics feel premium, the kind of pieces you'd imagine Kate Middleton dresses in on her days off from royal duties.
---
---
---
Hush
Reasons to buy
+Laid back aesthetic +Investment pieces
---
Hush is about relaxed dressing at its best and has been slowly amassing a loyal following for a couple of years now. Their laidback designs are the perfect solution to our current isolation fashion dilemma. The brand was founded in 2003 by Mandy Watkins, an Aussie who, after moving to the UK, decided to start her own label when she couldn't find clothes she wanted to buy. Hush's signature style is cozy stay-at-home pieces to escape from the British weather.
---
---
---
Joules
Reasons to buy
+Great for off-duty styling+Practical as well as fashionable
---
Picture the British countryside and you've got the Joules aesthetic nailed. Think Breton tees, practical raincoats and denim basics to form the building blocks of the ultimate British summer wardrobe. They are big on their prints and vibrant hues, with heaps of punchy florals and colourful stripes to give your outfit a cheery boost too.
---
---
---
Kitri
Reasons to buy
+Unusual, eye-catching designs+Limited runs for eco brownie points
---
A British clothing brand with a difference, the London-based label was born out of the frustration of not being able to find well-made, distinctive designs that don't cost a fortune. Their bold and colorful pieces will be sure to add a touch of luxury to your wardrobe.
---
---
L.K. Bennett
Reasons to buy
+Gorgeous prints and vibrant colours+Feminine details
---
Another British clothing brand favored by the Duchess of Cambridge, L.K. Bennett, was launched in 1990 with the dream of bringing "a bit of Bond Street luxury to High Street." 30 years later, it continues to do just that, letting everyone enjoy a slice of London-inspired fashion.
---
---
---
M&S
Reasons to buy
+Great for basics+Trend-led designs
---
Of all the British clothing brands, there are few as iconic as M&S. Brits shop here for everything from food to homeware, and their fashion offering is always reliable. Browse basics alongside more trend-led pieces.
---
---
---
Me + Em
Reasons to buy
+Could-be-designer looks+High quality tailoring
---
If you're thinking about creating a capsule wardrobe, Me + Em is a great place to start. Tailored separates and dresses in neutral tones sit alongside a careful selection of prints to create a coordinated edit of pieces that can be mixed and matched with ease.
---
---
---
Omnes
Reasons to buy
+Sustainable fabrics+Unique prints
Not just one of the newest British clothing brands on this list, Omnes are also one of the most sustainable. From first sketch to final product, each part of the process has been carefully considered to minimise the environmental impact. Also, their pieces are so beautiful, that eco-friendly re-wearing is guaranteed.
---
---
Phase Eight
Reasons to buy
+Flattering cuts+Great for occasion dressing
---
Phase Eight has always been a go-to when it comes to special occasion outfits but the British clothing brand has really upped their game with more casual pieces too that are easily adaptable, whatever event you have thrown at you. With a strong focus on fit, it's packed full of frocks and jumpsuits that not only make a style statement but are flattering too.
---
---
---
Poetry
Reasons to buy
+Supersoft cashmere+Neutral colour palette
Poetry, in the brand's own words, is all about "understated luxury". Their hero pieces aren't necessarily eye-catching or showy, but you can guarantee they're well made and will last the test of time—both in terms of quality and design.
---
---
---
---
Reiss
Reasons to buy
+Great for work and play+Luxe fabrics
---
Favoring a muted palette of classic tones (think grey, beige and black - with a dash of pastels), anything from Reiss will slot seamlessly into your existing wardrobe. Expect high-end fabrics like cashmere and wool.
---
---
---
Rixo
Reasons to buy
+Perfect for occasions+In-house designed prints
---
Launched in 2015 from the London living room of designers and friends Henrietta Rix, and Orlagh McCloskey, Rixo have cornered the market for personality-packed prints. From their best dresses to skirts, each piece has been carefully cut to suit a range of body types for a flattering, feminine silhouette.
---
---
---
Ted Baker
Reasons to buy
+Pretty florals+Spot-on attention to detail
---
One of the first names that springs to mind when you think of British clothing brands, Ted Baker, is our go-to for something a bit special. Best known for their opulent floral prints, expect color and patterns galore, alongside high-end detailing.
---
---
---
Toast
Reasons to buy
+Clothes that are built to last+Timeless style
---
Founded in 1997, Toast's collection is fuss-free and beautifully designed. It's one of the few British clothing brands with its own full pattern room, curating original high-quality pieces that are designed to last. Every piece feels like it's created with love and thought with modern, easy-to-wear silhouettes and five star fabrics.
---
---
---
Whistles
Reasons to buy
+Fashion forward designs+Unique prints
---
One of the most premium brands on the high street, Whistles' collections always feature right at the top of our wish lists. Although you can pay more for a dress from their bridal collection, some of their pieces are much more reasonably priced and will last you for years.
---
---
---
White Stuff
---
White Stuff was created by two ski enthusiasts back in 1985 (the name refers to snow FYI) who wanted to fund their stays in the French Alps by selling t-shirts. It's evolved massively since then now with hundreds of stores across the UK and Germany. Expect quirky prints, unusual color combos and easy-to-wear silhouettes all built to last—they are big on the details. The brand has had a recent makeover and now features more trend-led pieces with the unique White Stuff stamp on them. Sustainability is also key, with 60 per cent of all clothing being made using materials that are kinder to people and the planet. White Stuff are working extremely hard to make that figure 100% by the end of 2023.
---
---