Best crossbody bags for every occasion and budget to boost your spring style
Give your hands the freedom they deserve with the best crossbody bags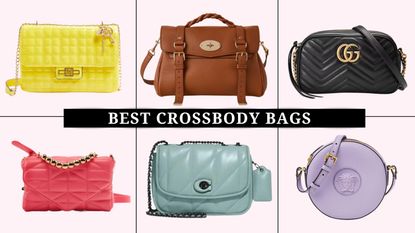 (Image credit: Future / River Island / Mulberry / Gucci / Zara / Coach / Versace)
The best crossbody bags are utterly liberating. Functional and fashionable, they offer you the opportunity to have all your essentials with you whilst remaining hands-free to get on with your day. And while the best bags might be a fashion statement, designers know they need to offer practicality too.
A timeless style, the best crossbody bags easily deserve a spot in your capsule wardrobe. When it comes to color and shape, the seasonal updates to this classic design will be dictated by the handbag trends 2022 but if you're looking to invest in one of the best designer bags, you should consider sticking to neutral colorways such as black, tan, navy or cream, as these will work for all seasons and won't go out of style. In terms of fabrication, think about how often you'll use your crossbody bag and its end use. Leather will wear well, gaining character over time, but if you're looking for the best crossbody bags for traveling, then nylon or canvas might be more practical as they're lighter and pack more easily. The right hardware can make or break a bag (literally). For statement styles and bags that will take you from day to evening, look for striking and unusual metal hardware to help your accessory stand out from the crowd.
Crossbody bags, like the best backpacks offer a hands-free finish, meaning you can easily get on with any given task without compromising on having your essentials within reach. While the best crossbody bags come in all shapes and sizes, they're usually small to mid-size, due to the fact you have to carry the weight across your body, with many sitting on the hip. Ideal for holding your basics: phone, wallet, keys and maybe your best sunglasses, this ever-enduring design is a true wardrobe essential.
Best crossbody bags as chosen by our fashion team
With a plethora of styles to choose from, our fashion team has rounded up the best crossbody bags to suit all budgets and outfits.
1. Best leather crossbody bags
Marks and Spencer Leather Crossbody Bag
Our favorite leather crossbody bag
Reasons to buy
+
Well-made leather bag
+
Available in two colors
+
Great price
+
Multiple pockets for easy organisation
Reasons to avoid
-
Not expandable or super spacious
Marks and Spencer is a British clothing brand well known and loved for its quality. This leather crossbody bag is designed with multiple pockets to help you easily navigate your bag and safely store your most important items. A slim pouch, it sits against the body, adding little in terms of bulk, making it a great bag for everyday essentials and for keeping documentation close when traveling. An excellent price point, it's available in two colorways, both of which will work all year round.
Best of the rest...
(opens in new tab)
Hobbs Hastings Crossbody Bag
RRP: $210 / £99 | Navy blue leather is so underrated but this stylish small side bag will work whatever the weather. Pairing with black and camel hues, as well as lighter summer colors, a navy leather bag is fashion insider's secret investment piece.
(opens in new tab)
Coach Pillow Madison Crossbody Bag
RRP: $562 / £495 | One of the best new bag drops of 2022, Coach's Pillow bag has been a massive hit with fashion fans. This pastel blue iteration will pair well with everything and is ideal for bagging some spring style.
(opens in new tab)
Mulberry Soft Amberley Satchell
RRP: $1,475 / £1,150 | Making some of the best designer bags, Mulberry's are a stylish investment piece. Featuring the brand's iconic Postman's Lock, this is a timeless crossbody you can wear all year. Available in several hues, we love the crimson.
2. Best designer crossbody bags
Gucci GG Marmont
Our favorite designer crossbody bag
Reasons to buy
+
Timeless classic
+
Can be worn for evening or day
+
Style statement
One of the best Gucci bags the GG Marmont can be spotted slung over the torsos of stylists and editors the world over. A real investment piece, as with many designer purchases it can be worn for years and potentially hold its value (or gain in value) on the resale market. If you've investigated how to sell clothes online, you might have noticed that second-hand designer bags are big business. As brands increase their prices on the classics yearly, depending on how long you hold onto a style like the Marmont, you could make a profit in the future.
"My Gucci GG Marmont matelassé mini bag is one of my most loved and used crossbody bags", says fashion stylist Antonia Kraskowski (opens in new tab).
"Although tiny, it's surprisingly mighty when it comes to what you can fit in it, plus it's essentially two bags in one. One side has the GG gold metal emblem and chevron design while the other has a more subtle stitched logo, perfect for those days when I want something a little more low-key. While it might be an investment, it hasn't fallen apart despite my best efforts of wearing it daily and the price has only gone up, meaning that if I dare to part with it, the resale value will be around what it cost new a few years ago".
Best of the rest...
(opens in new tab)
Longchamp Le Foulonne Bag
RRP: $470 / £335 | French clothing brand Longchamp is well known for making some of the best bags. This tan bag has an adjustable strap for a great fit and is roomy enough for all your daily essentials. Featuring discreet front branding for a chic designer bag.
(opens in new tab)
Stella McCartney Logo Mini Bag
RRP: $830 / £545 | Available in six hues, this cream iteration is surprisingly versatile. In spring, it offers a fresh and bright take on the new season, come Fall it will uplift monochromatic outfits and contrast beautifully with a camel coat.
3. Best travel crossbody bags
Eastpack The One
Our favorite travel crossbody bag
Reasons to buy
+
Great price
+
Ideal for travel documents such as passports
+
Lightweight fabric
Eastpak makes some of the best weekend bags, so it stands to reason that its crossbody bags work well for traveling too. In lightweight nylon, this crossbody bag is just the right size for your most important travel documents, phone, keys, cash, and cards. Whether you're catching a flight or jumping on a train, you'll want your belongings secure and in easy reach and this small but multi zip compartment bag is the travel companion you'll wonder how you got by without.
Best of the rest...
Fjallraven Nylon Blue Hip Bag
RRP: $65 / £60 | Marketed as a hip bag, thanks to the fashion trends 2022, this former fanny pack, or bumbag, depending on where you're from, is now worn 'side saddle' across the torso. This large version is super roomy and has internal zip pockets for excellent organisation and storage.
(opens in new tab)
RRP: $54 / £40 | Nylon crossbody bags are ideal for traveling because they are lightweight and should you need to, they can be packed relatively flatly. With a front zip pocket and inside slip pocket for easy organization, it also has an adjustable strap for a comfortable fit.
(opens in new tab)
Hunter Ripstop Sacoche Side Bag
RRP: $40 / £30 | This discreet bag is packed with practical features. From the internal and front zip pockets to keep your belongings safe to the water resistant and tear resistant fabric for whatever the day throws at you, it's also large enough to fit a 9 inch tablet.
4. Best Suede Crossbody Bags
Isabel Marant Amuko Bag
Our favorite suede crossbody bag
Reasons to buy
+
Timeless style
+
Works for both summer and winter seasons
+
Can be carried with a top handle
In cognac suede with leather trim, this gorgeous, bohemian style bag will easily become a wardrobe favorite. With a top handle, so you can sling it over your shoulder or carry it in your hand, it also has a crossbody strap, adding a level of versatility. Cognac works beautifully all year and while you might want to get the suede protected for wetter weather, you can wear this bag for all seasons. With stitched leather enforced corners you can expect this bag to be around for years to come. The gold metal hardware with subtle Isabel Marant branding adds a smart finish.
Best of the rest...
(opens in new tab)
Mint Velvet Tara Studded Bag
RRP: $179 / £109 | This chic grey suede crossbody bag with stud detailing gives a nod to one of fashion's favorite trends, boho dressing. Pair with floaty dresses and tan summer sandals for a relaxed feel.
Pom Pom London Tan Suede Bag
RRP: $120 / £89.95 | Instantly customizable, you buy your suede pouch and then decide on what straps to add to your order. With a host of colors and designs to choose from you can easily switch up this design to match your outfit.
5. Best quilted crossbody bags
Aspinal of London Lottie Bag
Our favorite quilted crossbody bag
Reasons to buy
+
Personalization available
+
Several colorways
+
Day to evening style
Aspinal of London create brilliant day to evening styles and the Lottie crossbody is smart enough to take you from boardroom to restaurant. The classic quilted front with statement tab closing, alongside the leather and chain strap, is really smart and the bag can be worn as a shoulder, crossbody, or clutch. Expandable to hold your essentials, you can also add initials to the bag making it customizable and ideal as a gift.
Best of the rest...
(opens in new tab)
RRP: $378 / £220 | American clothing brand Michael Kors make some of the best designer bags, so it's no surprise to find the brand on this list. While you might be more familiar with its large totes, the brand's small quilted cross-body bags are great for everyday style.
(opens in new tab)
Ted Baker Ayahh Quilted Crossbody
RRP: $325 / £195 | One of the larger crossbody bags in this list, the Ayahh bag from Ted Baker is just right for every day. Spacious enough for essentials plus a few extras in a pastel hue it offers spring-ready style, tapping into the fashion color trends 2022.
(opens in new tab)
Zara Quilted Crossbody Bag
RRP: $49.90 / £29.99 | One of the biggest fashion trends 2022, quilting takes this rectangle crossbody style to the next level. Offering a fun and pillowy finish, this hot pink bag also gives a nod to the bold and bright dopamine dressing trend.
6. Best colorful crossbody bags
Versace Round Camera Bag
Our favorite colorful crossbody bag
Reasons to buy
+
On trend colorways
+
Unusual style
+
Fun design
When it came to setting the color, bag, and shoe trends 2022, Versace led from the front. Sending models down the runway with color popping, mood-boosting brights, the Italian clothing brand really made yellows, purples and pinks the new black. With both micro and oversized bags making an appearance, this circular camera bag is certainly a refreshing change from the usual rectangular and square designs. A little trickier to navigate due to the shape, this style statement will add a fashion boost to any look. Available in multiple hues, while this bag might not always be considered 'on-trend', it will definitely help you stand out.
Best of the rest...
(opens in new tab)
RRP: $74 / £40 | Bright color clothes are one of the biggest trends of the season and this has been reflected in bags too. This highlighter yellow iteration is a great way of injecting the trend easily into your existing wardrobe.
(opens in new tab)
Mango Printed Baguette Bag
RRP: $49.99 / £29.99 | The baguette shape, favored by the likes of Fendi is a fashion classic. In a trend-led bold orange, this pocket friendly purchase is an ideal way to add seasonal style to your wardrobe without breaking the bank.
(opens in new tab)
Russell and Bromley Quilt Puff Crossbody
RRP: £325 (UK only) | Tapping into two trends in one this quilted bag in a summery bold hue will add a pop of color to any look. Pairing well with denim and darker hues it will also look great against the best white t-shirt.
7. Best micro crossbody bags
Jacquemus Le Chiquito Noeud
Our favorite micro crossbody bag
Reasons to buy
+
Now iconic design
+
Spring-ready color
+
Will never date
Reasons to avoid
-
Expensive for the size
-
Can't hold much
Jacquemus is one of the main design houses behind the wave of super micro bags we've seen sweep both the runways and the ready-to-wear market. While we were obsessing trying to find the biggest and best tote bags to carry as much as possible, Jacquemus offered a curveball with its barely-there bags that can just about carry your key (singular), a credit card and your favorite lippy. Wildly micro they have become an iconic bag, quickly gathering cult status. Great for a night out, the teeny purse comes with an elongated strap for crossbody use.
Best of the rest...
(opens in new tab)
Mulberry Mini Bayswater in Tan
RRP: $925 / £750 | The Bayswater, which was first released back in 2003 is perhaps one of Mulberry's most iconic and well-loved styles. This mini version of the bag offers the same timeless design. Large enough for your essentials but still neatly compact.
(opens in new tab)
Topshop Mini Leather in Green
RRP: £26 (UK only) | Another bag that offers two trends in one, bright colors and tiny sizes go hand in hand this season. If you're looking to buy into big seasonal style moments, straight to market brands will allow you to do this in a cost-effective way.
8. Best black crossbody bags
Saint Laurent Solferino Small Bag
Our favorite black crossbody bag
Reasons to buy
+
Classic brand design
+
Iconic clasp detailing
+
Will go with everything
Reasons to avoid
-
Very expensive
-
Not super roomy
Makers of some of the best designer heels, Saint Laurent handbags really will stand the test of time. This small crossbody bag features the classic YSL gold hardware closure that immediately sets it apart from other black bags. A small size, it can easily fit daily essentials and the inner sectional pockets will help you to stay organized. The flap closure and smooth back offer a sleek finish.
Best of the rest...
(opens in new tab)
Mango Flap Black Crossbody
RRP: $59.99 / £35.99 | Looking for a more budget-friendly buy? No worries, this flap-over bag with gold metal hardware offers a luxe finish at a fraction of the cost of the Saint Laurent design. The zipped inner pocket is great for valuables
(opens in new tab)
Zara Leather Black Crossbody Bag
RRP: $119 / £69.99 | When looking for a classic crossbody bag, a black leather iteration is always a timeless choice. With gold metal hardware, this bag will transcend seasons, always offering you an understated and elegant style.
(opens in new tab)
Hush Myall Black Bucket Bag
RRP: £129 (International shipping available) | If all the bags so far have left you wondering how you'll carry your life with you, then it's a bucket bag that you need. This super spacious and deep design will transform you into Mary Poppins in no time.
9. Best sustainable crossbody bags
Been London Esmé Bag
Our favorite sustainable crossbody bag
Reasons to buy
+
Sustainably made
+
Designed by Candice Braithwaite
+
Handcrafted in London
Reasons to avoid
-
Slightly pricey
-
Unusual shape
Handcrafted in East London, Been London's bags are made entirely from recycled materials. The Esmé has been designed exclusively for the brand by Candice Brathwaite and features a comfortable crossbody adjustable strap with ornate gold hardware. But it isn't just the lush detailing that has us excited, it's packed with practicality too. A washable black lining (why don't all bags have this?) and a secure interior pocket for valuables make this the top of our list when it comes to sustainable crossbody bags.
Best of the rest...
(opens in new tab)
Matt & Nat SALO Vegan Cross-Body Bag
RRP: $95 / £65 | With linings made from recycled water bottles, the Matt and Nat brand really exudes their sustainable credentials. A small but deep bag with secure fastening it comes in multiple colorways.