9 Italian clothing brands everyone should know about
Time to get these Italian clothing brands on your fashion radar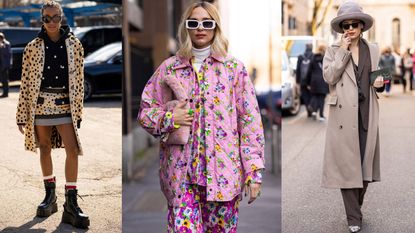 (Image credit: Getty Images)
We've hunted down the best Italian clothing brands so you can inject some of that Italian flair into your wardrobe.
The best Italian clothing brands offer unmatched elegance and style. Playful with tailoring, bold on color, Italy is home to some of the most important names in fashion, with the likes of Prada, Gucci and Fendi all hailing from the country. While we love British clothing brands for quirky statement pieces and admire the chicness of the best French clothing brands, no one does it quite like the Italians. Rather than focusing on fleeting fashion trends, Italian fashion brands are pros at crafting high-quality pieces that stand the test of time, making them a go-to if you're looking to build on your capsule wardrobe.
Whether you're after the best designer heels, or the best designer bags, Italian crafted leather goods are some of the highest quality in the world. In fact, the level of detail and workmanship in Italian clothing brands and accessories means that many big British, French, and American clothing brands also rely on Italian craftsmanship and textiles to produce parts of their collections. But it's not just designer brands that Italy has under its incredibly stylish belt. There are heaps of Italian straight to market fashion brands that deserve a look-in too. Perfect if you don't quite have that runway budget, but still want that high fashion flare.
The best Italian clothing brands - chosen by our fashion editors
Whether you want to broaden your knowledge on the best Italian straight-to-market fashion retailers or splurge on a designer investment piece, these are the best Italian clothing brands that ship to the UK and the US.
1. Calzedonia
You may already be familiar with Calzedonia as there are several stores in the UK and US. A go-to for the best leggings and top quality tights, it mixes fashion-forward thinking which some much needed comfort. These wardrobe essentials are guaranteed to last too, think cashmere tights for that luxe finish and leather-effect leggings for a dose of Italian glamour. Not forgetting the brand's desirable swimwear collections that house some of the best beach cover-ups, with easy-to-wear silhouettes and mood-boosting, dopamine dressing inspired prints for a beach-ready look.
Fashion editor's picks…
(opens in new tab)
Calzedonia Purple Active Leggings
RRP: $35 / £29.99 | Featuring four-way stretch for an utterly dreamy fit, these purple leggings tap into the fashion color trends 2022. If the bold purple shade is too bold for your workouts, the brand also has these leggings in more muted, classic tones of navy, khaki and black.
(opens in new tab)
Calzedonia One Piece Swimsuit Indonesia Eco
RRP: $90 / £60 | Every closet needs a classic one-piece and this is one of the best swimsuits around. While we often look to Australian swimwear brands for timeless designs, this swimsuit, made from eco-sustainable fibers is quick drying with adjustable straps and bow detail.
(opens in new tab)
Calzedonia Cashmere-Blend Joggers
RRP: $35 / £24.99 | We love our best cashmere sweaters for their body temperature regulating abilities and supreme comfort and coziness. These will easily become your best joggers on those days you just need comfort. Ideal for movie watching on long weekends.
2. Diesel
An Italian clothing brand with denim at its core is '90s fave Diesel. Having launched in 1978, Diesel really hit its peak in the nineties when it seemed every cool girl was donning a pair of distressed Diesel jeans. With '90s nostalgia one of the biggest fashion trends 2022 has to offer, Diesel's denim collection is right on the money right now, and still makes for a very worthy investment. With a genuine '90s spin at the heart of the brand's design aesthetic, its best jeans now benefit from a more sustainable manufacturing process that uses less water and chemicals, something less common back in the nineties. Highlights from Diesel include padded bomber jackets, vinyl skirts and logo-embellished knits all with a cool '90s edge.
Fashion editor's picks…
(opens in new tab)
Diesel Super Skinny Denim Jeans
RRP: $225 / £195 | Don't fret if you saw the denim trends 2022 championing flared legs, the super skinny jean is going no wear. This mid-wash pair from Italian clothing brand Diesel can be easily dressed up with a blazer or down with your best white t-shirt.
(opens in new tab)
Diesel De-Slimmy-SP1 Denim Jacket
RRP: $350 / £275 | If you've ever wondered what is boho style and how can you inject it into your wardrobe? This denim jacket features all the '70s styling you need. When it comes to the best denim jackets rely on heritage jean brands for quality and design.
(opens in new tab)
Diesel 2016 D-AIR 09B94 Boyfriend Jeans
RRP: $225 / £185 | When it comes to boyfriend jeans vs mom jeans, it's down to personal taste. These jeans offer a relaxed leg fit, ideal for warm, sunny days. Opt for a more fitted top half to regain your shape. Check out our white jeans outfit guide too.
3. Fendi
We're spoilt for choice when it comes to Italian designer brands and Fendi is a luxury fashion house that remains top of its game. From the iconic baguette bag to the recognizable double-F logo - adorning everything from jackets to the best designer belts, Fendi is synonymous with glamorous Italian fashion. Founded by the Fendi family in 1925, the brand launched its first ready-to-wear collection in the 1970s under the creative direction of the late Karl Lagerfeld. One of the longest-standing family-led fashion brands, granddaughter Silvia Venturini Fendi - who designed the coveted baguette bag - remains the sole family member still working for the brand. Expect sleek, tailored pieces in a neutral color palette.
Fashion editor's picks…
RRP: $3,490 / £2,450 | Another catwalk-worthy design, this short wrap dress has an elegant cape design for extra drama. Made of white silk cady and embellished with gold lurex inserts it feels extra luxe. Just add simple courts and a gold clutch.
RRP: $3,290 / £2,350 | The best blazers are a wardrobe staple so why not invest in a designer iteration that will stand the test of time. This has the signature Fendi buckle to streamline its shape and the chic beige hue will go with everything.
4. Gucci
We couldn't do an Italian clothing brands roundup without mentioning the powerhouse that is Gucci. From the best Gucci bags and best designer sunglasses, to its eclectic suiting adorned by the likes of Harry Styles, Gucci is one of the most coveted designer brands out there. Although they carry the designer price tag, these are investment pieces that are set to last. Look to its signature geek-chic designs and logo-heavy detailing, because if you're wearing Gucci, you want everyone to know about it.
Fashion editor's picks…
(opens in new tab)
Gucci and Red Heart Silk Printed Shirt
RRP: $2,250 / £1,440 | One of the best shirts, this heart printed Gucci number in red, white and blue will offer an instant lift when paired with your best skinny jeans. For a softer spin, team with pretty A-line skirts and sleek heels for an ultra feminine finish.
(opens in new tab)
Gucci Logo Short Sleeved Sweater
RRP: $1300 / £800 | The best sweaters are an absolute must in winter months. Come warmer weather swap them out for short-sleeved sweaters, which will pair easily with skirts and jeans. A light sweater offers a more relaxed finish than fitted shirts.
EXACT MATCH
(opens in new tab)
Gucci Floral Print Muslin Dress
RRP: $3,980 / £2,250 | The best dresses will live in your wardrobe for a life time and this '70s inspired frock, with pastel floral print is ideal if you're wondering what to wear to a wedding this summer. With an elegant A-line shape it's figure flattering too.
5. La DoubleJ
A relatively newbie on the fashion block, La DoubleJ launched in 2015 predominately selling vintage clothing and jewelry. The brand now repurposes archival prints into new pieces covering clothing and homeware. With bold design choices, there is nothing lowkey about this collection. The opposite of the minimalism of Scandinavian clothing brands, think vivid colors, bold prints and voluminous silhouettes, La DoubleJ has some of the best midi dresses too. It's maximalist and statement-making and perfect for commanding an entrance.
Fashion editor's picks…
(opens in new tab)
RRP: $890 / £650 | A riot of color, this button-fronted dress really takes the bright color clothing trend to heart. With a relaxed silhouette, this dress delivers on style and comfort and would also work as one of the best mother of the groom dresses for a summer wedding.
(opens in new tab)
RRP: $760 / £565 | The midi length adds a polished finish to this brightly printed skirt. Easily dressed up or down for any summer occasion, it can also be worn with tights and boots come cooler months. Pair with a tee or short sleeved knit for an everyday, cool summer look.
(opens in new tab)
RRP: $770 / £570 | Ideal for the summer, this airy, oversized shirt features a show stopping print. The design comes in several colorways and can be worn done up over jeans or open over a silky cami or swimwear. Check out our guide on how to style an oversized shirt for more ideas.
6. Marina Rinaldi
A luxury label that caters for curvy women, Marina Rinaldi's goal is to make "the elegant fashion dreams of all women come true, for all sizes". One of the best plus size clothing brands, the Italian clothing brand doesn't shy away from bold colors and attention-grabbing prints which is a welcome change in plus-size fashion. High quality fabrics with lots of added detail, the collection is expertly tailored to flatter your figure and make you feel incredibly glamorous, minimal effort required! Its accessories work seamlessly with the clothing line too.
Fashion editor's picks…
Marina Rinaldi Jewel Button Jacket
RRP: $1,285 / £720 | Finding plus size tailored jackets is surprisingly difficult, but at Rinaldi, this is no issue. In a beautiful deep blue hue, this blazer is a great option as part of the best mother of the bride outfits, adding a touch of sparkle and a smart finish.
Marina Rinaldi Ramie Pink Shirt Dress
RRP: $595 / £325 | One of the best pink dresses, you can rock this dress for everyday attire, a smart summer outfit for work, or indeed slip it into your suitcase for your next sunny vacation. Pair with sandals and your best beach bag for a holiday ready look.
Marina Rinaldi Printed Twill Shirt
RRP: $895 / £405 | With matching palazzo pants available, you can wear this striking printed shirt as part of a coord or teamed with slim leg or skinny jeans if you want to create a more defined silhouette. To dress up, add a pair of metallic heels for a touch of glam.
7. Miss Sixty
Miss Sixty provided us with many low-slung jeans back in the early noughties and we're pleased to see the Italian clothing brand is still going strong. It was brought back into the spotlight in February 2021 when model Bella Hadid fronted a campaign for the brand and with the recent resurgence in Y2K trends, it's certainly one to put back on your radar. Denim still plays a key role in the collection but you can also bag yourself a '90s inspired puffer jacket and some cute knits. The only downside of Miss Sixty is the smaller size range, making it not a great experience for fuller figures.
Fashion editor's picks…
(opens in new tab)
Miss Sixty High Waist Skinny Fit Jeans
RRP: $209 / £179 | With a distinctive three button fastening, these high waisted jeans offer a figure sculpting finish. Much like the best shapewear they will contour your frame. Utilize a half tuck to show off the waist detail and team with your best white trainers.
(opens in new tab)
Miss Sixty Denim Dress with Waist Belt
RRP: $309 / £269 | Tapping into the handbag trends 2022, this dress comes with a super cute micro waist belt bag. With a tiered skirt and figure-flattering A-line design this shirt dress can be dressed up with a pair of your best cowboy boots or down with trainers.
(opens in new tab)
Miss Sixty Embroidered Denim Jacket
RRP: $349 / £299 | In true Miss Sixty style, the brand utilizes iconic slogan detailing and retro style embroidery to create this stand out piece. The outerwear style that can see you through warmer weather, discover how to style a denim jackets with our handy guide.
8. Prada
Prada has got to be one of the most iconic Italian fashion brands. From some of the most well-recognized designer bags to its sleek ready-to-wear collection, Prada oozes ladylike elegance that's guaranteed to elevate the everyday. Created in 1913, the original founder's granddaughter Miuccia Prada heads up the luxury fashion house, taking it to new heights. One to create trends rather than follow them, Prada is renowned for crafting future classics that define a fashion era.
Fashion editor's picks…
(opens in new tab)
RRP: $3,551 / £2,650 | More expensive than the Burberry trench coat, the Prada iteration is just as much a wardrobe classic. With a nod to the brand, via a small logo button on the top collar, this coat is chic, timeless, discreet and made from recycled fabric - win.
(opens in new tab)
Prada Recycled-Crepe Dress
RRP: $2,553 / £1,850 | If you've been thinking about what to wear to Wimbledon, then we have the answer! This tennis inspired dress offers a beautiful sports luxe feel, with subtle logo on the chest. The white trim offers a nod to the summer season.
(opens in new tab)
Prada Studded Satin Headband
RRP: $945 / £695 | Looking to dip your toe into working out how to wear headbands? This jet black design with stud detailing can be dressed up for the races or worn everyday. It adds a little something special to your look with its highly embellished finish.
9. Dolce Gabbana
View all Dolce & Gabbana from $235 / £185
When it comes to Italian clothing brands, Dolce & Gabbana is certainly one of our personal favorites. Championing a design aesthetic that puts glamour, celebration and color front and center, the brand's collections are often reminiscent of the Italian Riviera, offering a nostalgic element to its thoroughly modern collections. With a penchant for highlighting and flattering the female form, hourglass silhouettes are key to the brand's design signature. While Dolce & Gabbana create statement styles, print collections and edits each season, rooted in culture and history, its pieces won't go out of style.
Fashion editor's picks…
(opens in new tab)
Dolce & Gabbana Blue and White Maxi Dress
RRP: $2,911 / £1,800 | Offering an unbeatable Italian Riviera feel, Dolce & Gabbana is masterful at print, color and feminine silhouettes. This plunge neck maxi dress is utterly charming and can be worn for a glamourous vacation look, or as an ideal outfit for what to wear to a christening this summer.
(opens in new tab)
Dolce & Gabbana Leopard-Print Dress
RRP: $2,195 / £1,500 | Leopard is a neutral and this classic animal print will never go out of style. In a bodycon silhouette, this dress is ideal for hourglass body shapes, highlighting curves. Wear all year, layering over a cashmere roll neck in winter and going bare-armed in summer.
(opens in new tab)
Dolce & Gabbana Tiered Floral-Printed Mini Skirt
RRP: $945 / £625 | 'Florals for spring - Groundbreaking' - excuse our fashion quote, but when Dolce & Gabbana do bloom prints, the brand really goes all in. The high-waisted silhouette promises a flattering fit - skimming stomachs, nipping in waistlines and softening hips.