77 fashion quotes to inspire you and transform your style
Over 77 fashion quotes from designers, films, celebrities and style icons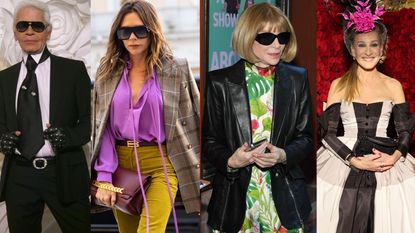 (Image credit: Getty Images)
woman&home newsletter
Sign up to our free daily email for the latest royal and entertainment news, interesting opinion, expert advice on styling and beauty trends, and no-nonsense guides to the health and wellness questions you want answered.
Thank you for signing up to . You will receive a verification email shortly.
There was a problem. Please refresh the page and try again.
Looking for the best way to pass a sartorial comment? Sometimes only fashion quotes from the experts will do. A topic that has hundreds of column inches written about it on the daily, there is a lot to say when it comes to the world of style and the best in the business are not known for holding back.
The best fashion quotes are a mix of sound style advice, critique, and levity and come from the biggest names in the fashion industry. Whether you're looking to talk about the latest fashion trends 2022 has to offer, discuss the finer points of a capsule wardrobe, or make a well-rounded comment on wardrobe essentials, then quoting an expert is an ideal way of getting your point across and expressing yourself eloquently.
Luckily there is a lot of fashion commentary available, with designers, stylists, celebrities and even film characters talking about everything from the best dresses to the best jeans. With fashion being a topic that is so subjective, there is often plenty of opposing positions too, making for lots of debate. Whether you're posting photos of one of the best designer bags on Instagram and need a killer caption or simply want shoe quotes from the people behind some of the best designer heels, we've got them, alongside pearls of wisdom from fashion icons including the best Coco Chanel quotes, Karl Lagerfeld, and even fictional fashion characters such as Cher Horowitz, and plenty more besides.
Fashion quotes for every occasion
Whatever the style dilemma, we've rounded up the best fashion quotes from all corners of the style globe so that you'll never be lost for words.
Fashion quotes by designers
Trendsetters and tastemakers, designers will ultimately choose what we wear long before we buy it. From Coco Chanel and Yves Saint Laurent to Mary Quant and the inimitable Karl Lagerfeld, designers are also full of sage style advice about what to wear, how to wear it, and what to avoid—although judging by one of these quotes, someone clearly never discovered the best joggers!
"What you wear is how you present yourself to the world, especially today when human contacts are so quick. Fashion is instant language."—Miuccia Prada
"Clothes mean nothing until someone lives in them."—Marc Jacobs
"Sweatpants are a sign of defeat. You lost control of your life, so you bought some sweatpants."—Karl Lagerfeld
"The fashionable woman wears clothes. The clothes don't wear her."—Mary Quant
"I want people to see the dress, but focus on the woman."—Vera Wang
"The joy of dressing is an art."—John Galliano
"People tell me that I've saved their marriages. It costs them a fortune in shoes, but it's cheaper than a divorce. So I'm still useful, you see"—Manolo Blahnik
"In order to be irreplaceable one must always be different."—Coco Chanel
"Fashion is like eating, you shouldn't stick to the same menu."—Kenzo Takada
"Black, like white, is the best color. They both look great with added color touches like red."—Karl Lagerfeld
Fashion quotes from movies and TV
Fashion and fiction go hand in hand. When it comes to the best fashion quotes, film and television are a source for some of the most memorable sayings. Extremely influential, the characters from our favorite fashion shows have left an impact on our language long after they went off air. If you've ever wondered how to dress like Carrie Bradshaw, chances are you can roll a few of her one-liners off too. And, who could forget Miranda Priestley's cutting words in The Devil Wears Prada? These are the best (and the most sassy) fashion quotes from film and TV...
"Whoever said orange was the new pink was seriously disturbed."—Elle Woods, Legally Blonde
"I like my money right where I can see it: hanging in my closet."—Carrie Bradshaw, Sex & the City
"I may be a beginner at some things, but I've got a black belt in shopping."—Phyllis Nefler, Troop Beverly Hills
"I'll stop wearing black when they make a darker color."—Wednesday Addams, The Addams Family
"Florals? For spring? Groundbreaking."—Miranda Priestly, The Devil Wears Prada
"I will never be the woman with the perfect hair, who can wear white and not spill on it."- Carrie Bradshaw, Sex And The City
"It calms me down right away, the quietness and the proud look of it; nothing very bad could happen to you there, not with those kind men in their nice suits, and that lovely smell of silver and alligator wallets. If I could find a real-life place that made me feel like Tiffany's, then I'd buy some furniture and give the cat a name."—Holly Golightly, Breakfast at Tiffany's
"Do you prefer 'fashion victim' or 'ensembly challenged'?"—Cher Horowitz, Clueless
Inspirational fashion quotes
If you're in need of some fashion inspiration, some of the most iconic names in the world of design and media can help to reinvigorate how you think and feel. Inspiring fashion quotes also make great artwork—print one on a canvas or as a photograph for a little morning boost as you get ready.
"Fashions fade, style is eternal."—Yves Saint Laurent
"I don't do fashion. I am fashion."—Coco Chanel
"Elegance is not standing out but being remembered."—Giorgio Armani
"I don't design clothes. I design dreams."—Ralph Lauren
"Clothes aren't going to change the world. The women who wear them are."—Anne Klein
Fashion Accessories Quotes
When it comes to updating an outfit, a new accessory is certainly the speediest way to add a seasonal refresh. Whether you've invested in the best Chanel bag, a box-fresh pair of the best white trainers or you've managed to snap up a discounted Louis Vuitton handbag, these items will give the most basic outfit a new lease of life and the fashion world certainly agrees about the importance of accessorizing.
"I've always thought of accessories as the exclamation point of a woman's outfit."—Michael Kors
"Give a girl the right shoes and she can conquer the world."—Marilyn Monroe
"I like Cinderella; she has a good work ethic, and she likes shoes."—Amy Adams
"Shoes transform your body language and attitude. They lift you physically and emotionally."—Christian Louboutin
"I can't concentrate in flats."—Victoria Beckham
"Shoes are the quickest way for women to achieve instant metamorphosis."—Manolo Blahnik
"I firmly believe that with the right footwear one can rule the world."—Bette Midler
"When it comes to getting dressed, men are a little bit more important than handbags but less important than shoes."—Ashton Kutcher
"A woman's mind is as complex as the contents of her handbag; even when you get to the bottom of it, there is ALWAYS something at the bottom to surprise you!"—Billy Connolly
Fashion quotes to use on Instagram
Looking for the perfect Instagram caption? There's nothing chicer than a fashion quote to up your social media game. Whether you're posting a selfie or a snap of an outfit from your perfectly formed capsule wardrobe, a sassy quote from your favorite fashion icon is sure to complement your post perfectly.
"When in doubt, wear red."—Bill Blass
"How can you live the high life if you do not wear the high heels?"—Sonia Rykiel
"A girl should be two things: classy and fabulous."—Coco Chanel
"Elegance is elimination."—Cristóbal Balenciaga
"The best things in life are free. The second best are very expensive."—Coco Chanel
"People will stare, make it worth their while."—Harry Winston
Fashion quotes about getting dressed
Whether you're a girl who loves her best leather jacket or perhaps you prefer to wear your best midi dress every day, there's no denying that the right outfit makes you feel like you're ready to face the day ahead, as these fashion quotes about getting dressed confirm.
"If you can't be better than your competition, just dress better."—Anna Wintour
"Girls do not dress for boys. They dress for themselves and, of course, each other. If girls dressed for boys they'd just walk around naked at all times."—Betsey Johnson
"Being well dressed hasn't much to do with having good clothes. It's a question of good balance and good common sense."—Oscar de la Renta
"I like being a woman, even in a man's world. After all, men can't wear dresses, but we can wear the pants."—Whitney Houston
"Fashion is the armor to survive the reality of everyday life."—Bill Cunningham
"When a woman says, 'I have nothing to wear!', what she really means is, 'There's nothing here for who I'm supposed to be today."—Caitlin Moran
"I wear my sort of clothes to save me the trouble of deciding which clothes to wear."
—Katharine Hepburn
"Always dress like you're going to meet your worst enemy."—Kimora Lee
"Vain trifles as they seem, clothes have, they say, more important offices than to merely keep us warm. They change our view of the world and the world's view of us."— Virginia Woolf
"When I design and wonder what the point is, I think of someone having a bad time in their life. Maybe they are sad and they wake up and put on something I have made and it makes them feel just a bit better. So, in that sense, fashion is a little help in the life of a person. But only a little."—Miuccia Prada
Fashion quotes about dresses
The most versatile of wardrobe staples, the right dress can be both transformative and can transform you, making it deserving of some serious fashion credit. A one-stop shop, a great dress makes you feel instantly put together, whatever the occasion. These quotes pay homage to our favorite item of clothing, from maxi to mini.
"Over the years I have learned that what is important in a dress is the woman who is wearing it."—Yves Saint Laurent
"One is never over-dressed or underdressed with a Little Black Dress."—Karl Lagerfeld
"A great dress can make you remember what is beautiful about life."—Rachel Roy
"The dress must follow the body of a woman, not the body following the shape of the dress."—Hubert de Givenchy
"When you hear designers complaining about the challenge of their profession, you have to say: Don't get carried away—it's only dresses."—Karl Lagerfeld
"Fashion is not something that exists in dresses only. Fashion is in the sky, in the street; fashion has to do with ideas, the way we live, what is happening."—Coco Chanel
Fashion quotes about simplicity
Sometimes, less is more—for every fashion peacock practicing the art of dopamine dressing in bright color clothes, there is an equally chic outfit composed of the simplest style essentials, as these quotes confirm.
"Style is a simple way of saying complicated things."—Jean Cocteau
"Elegance is the only beauty that never fades."—Audrey Hepburn
"Simplicity is the ultimate sophistication."—Leonardo da Vinci
"You cannot fake chic but you can be chic and fake fur."—Karl Lagerfeld
"Make it simple, but significant."—Don Draper, Mad Men
Fashion quotes about shopping
Barbara Kruger's famous 1987 artwork may have borrowed from French Philosopher Rene Descartes but she was absolutely right about our passion for shopping. That feeling of a bag swinging giddily from our hands—whether it contains a purchase from the latest cool Scandinavian clothing brand or just new socks—brings all of the endorphins.
"Buy less. Choose well. Make it last."—Vivienne Westwood
"I shop therefore I am"—Barbara Kruger
"You know that thing when you see someone cute and he smiles and your heart kind of goes like warm butter sliding down hot toast? Well, that's what it's like when I see a store. Only it's better."—Becky Bloomwood, Confessions of a Shopaholic
"Whoever said that money can't buy happiness, simply didn't know where to go shopping."—Bo Derek
"Fashion is not something that exists in dresses only. Fashion is in the sky, in the street, fashion has to do with ideas, the way we live, what is happening."—Coco Chanel
Fashion quotes about style
While fashion constantly changes with new seasons and trends, true style is said to be timeless. From designers and their muses to actresses and directors, the following fashion quotes about style may make you think twice about trying the latest shoe trends 2022 has to offer.
"Style is knowing who you are, what you want to say, and not giving a damn."—Orson Welles
"Style is something each of us already has, all we need to do is find it."—Diane von Furstenberg
"Fashion is what you're offered four times a year by designers. And style is what you choose."—Lauren Hutton
"Fashions fade, style is eternal."—Yves Saint Laurent
"The difference between style and fashion is quality."—Giorgio Armani
"Style is a way to say who you are without having to speak."—Rachel Zoe
"Style is when they're running you out of town and you make it look like you're leading the parade."—William Battie
"Don't be into trends. Don't make fashion own you, but you decide what you are, what you want to express by the way you dress and the way you live."—Gianni Versace
"Fashion can be bought. Style one must possess."—Edna Woolman Chase
"You gotta have style. It helps you get down the stairs. It helps you get up in the morning. It's a way of life. Without it, you're nobody."—Diana Vreeland
"Style is very personal. It has nothing to do with fashion. Fashion is over quickly. Style is forever."—Ralph Lauren
"Too much good taste can be very boring. Independent style, on the other hand, can be very inspiring."—Diana Vreeland
"Real style is never right or wrong. It's a matter of being yourself on purpose."—G. Bruce Boyer
Antonia Kraskowski is a freelance fashion editor with over 15 years of experience in the industry.
Having started her career at Conde Nast working for titles including Easy Living, Glamour and Vogue New Markets, Antonia went on to work in the fast-paced world of newspapers and weekly magazines, becoming Fashion Editor at Express Newspapers and Magazines in 2014, a role she held for five years before going freelance.
Her career has seen Antonia travel the world, shooting in 18 countries and styling campaigns for brands ranging from Ben Sherman and DKNY to Wallis.