The best Chanel bags to invest in - from the Boy bag to the iconic 2.55
Looking to invest in one of the best Chanel bags? Here's everything you need to know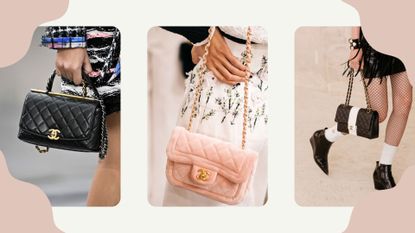 (Image credit: Getty Images)
One of the most coveted, style items, the best Chanel bags are iconic. An accessory that lives up to the hype, Chanel handbags signify luxury and elegance and are also one of the best designer brands to invest in.
For those into style, there is no item more revered than a classic Chanel bag. A life-long investment, the best Chanel bags are loved by fashion enthusiasts and celebrities alike. From the hugely popular flap bag to Meghan Markle's favorite - the Gabrielle Hobo bag, Chanel bags are recognizable the world over and are by far, one of the most sought after luxury items. One of the best designer handbags, Chanel bags maintain their value at resale (with many iconic pieces increasing in value too).
"Most girls dream of owning a Chanel handbag someday and the classic styles just ooze timeless luxury. Aspirational luxury brands like Chanel will always hold their value and often be worth more on the preowned market because of their superior quality and scarcity," says Charlotte Staerck, CEO & Co-Founder, Handbag Clinic.
Easily identifiable by its signature quilted design, statement CC clasp and chic chain strap, while the brand constantly reinvents its offering each season, there are some styles of Chanel bags that are ever enduring. As the Coco Chanel quote goes "I don't do fashion. I am fashion." - and if the best Chanel bags are anything to go by, we whole heartedly agree.
The best Chanel bags as chosen by fashion experts
Chanel bags carry a high price tag, making them not only highly sought after but also an investment that needs to be carefully considered. The best Chanel bags will retain their value for years to come, and choose a much-loved style and your designer purchase could even increase in value.
If you want a bag that goes with everything, we recommend selecting a black or other neutral hued design, as this classic look will never date. In terms of fabrication, leather will age best and be the most hardwearing, however Chanel is also well-known for its use of boucle and tweed, meaning styles in these fabrics will be equally iconic.
Make sure to look after your Chanel bag and keep it inside its designated dust cover for longevity. While professionals can authenticate your bag should you ever decide to sell it on, it is wise to maintain the paperwork that comes with your bag as assurance for any possible buyers. While you have options of where to buy a discounted Mulberry, Chanel does not do sales, so if you're buying second-hand always ensure the bag has been authenticated first.
1. Chanel 2.55 Bag
Chanel 2.55
Reasons to buy
+
Iconic design
+
Timeless and versatile
+
Wide choice of colors and sizes
Created by Gabrielle (Coco) Chanel in February 1955, hence the name, the 2.55 handbag is one of the most iconic. A novelty at the time, it was designed with a double-chain shoulder strap so it could be carried hands-free, on the shoulder, giving women some much-needed freedom. It has a quilted design and a double flap construction with a 'Mademoiselle' lock fastening. The zippered inner compartment is ideal for valuables, but in a touching tribute to the brand's history, it is also rumored to have been where Coco Chanel stored her secret love letters.
Fast forward to 2022 and the 2.55 remains one of the brand's most iconic and standout styles. Although it features a bar lock, over the perhaps more legendary CC logo lock, it still utilizes the brand's iconic quilting design. One of the best Chanel bags, the 2.55 is utterly elegant, pairing easily with anything, for any occasion. The timeless design will certainly hold its value and in many cases it can increase in value too, making the 2.55 a great investment purchase.
Fashion editor's picks...
(opens in new tab)
Chanel 2.55 Handbag Aged Calfskin & Gold-Tone Metal
RRP: $8,800 / £6,630 | You'll never tire of a classic black handbag and there's nothing as chic as a Chanel one. With its iconic flap design, the regular size is roomy enough for all the essentials and makes a stylish choice for day to evening too.
(opens in new tab)
Chanel Pre-Owned 2017 2.55 Cream Shoulder Bag
RRP: $7,428 / £6,555 | Shop sustainably with this pre-owned 2.55 bag. Cream is just as versatile as black so you're guaranteed to get plenty of wear from it. Sold with a Collector Square certificate of authenticity, so you know you've got the real deal.
(opens in new tab)
Chanel 2.55 Handbag Light Pink and Pink Tweed
RRP: $6,600 / £5,250 | Of course you don't have to stick to classic colors. Chanel is known for its tweed fabrics, making this a worthy investment. While it's not quite as discreet as neutral versions, it does tap into the brand's love of textured woven fabric.
2. Chanel Classic Bag
Chanel Classic Bag
Reasons to buy
+
Very recognizable
+
Iconic CC clasp
+
Celebrity fave
Often referred to as the 11.12, the Classic is a reinterpretation of the 2.55, designed by Karl Lagerfeld upon his arrival at the brand in 1983. Its most distinguishing feature is the signature double CC clasp, making the bag instantly recognizable as part of the French clothing brand. With additional Chanel hallmarks such as diamond quilting and chain strap, the bag features a double flap closure that offers security and style in one.
"If you're thinking of snapping up a Chanel bag on the preowned market, your best investment is a vintage Chanel Classic Bag. Vintage versions hold their resale value much better than modern ones. This style has increased by an average of 5% year on year and gets snapped up very quickly when we get one in the Clinic," says Staerck.
The Classic is one of the most recognizable of the line-up (thanks to the CC clasp) and has been seen on the arms of countless celebrities and influencers including Paris Hilton and Jessica Biel.
Fashion editor's picks...
(opens in new tab)
Chanel Classic Handbag Denim
RRP: $7,900 / £6,510 | The Chanel Classic has been redesigned fin line with the denim trends 2022, offering a casual spin that gives a nod to the '90s double-denim look. Team with your best jeans and a smart blazer for a polished weekend getup.
(opens in new tab)
Chanel Classic Handbag Pink
RRP: $8,800 / £6,930 | Introduce a splash of color to your outfit with this sugary sweet pink iteration. Ideal for tapping into some dopamine dressing, it's also the perfect answer to what is Barbiecore this season and will elevate everything you wear.
3. Chanel 19 Bag
Chanel 19 Bag
Reasons to buy
+
Newer design
+
Softer silhouette
+
Modern colors
A recent addition to the Chanel family, the 19 launched in 2019 and was one of the last bags created by Karl Lagerfeld before he passed, making this design a particularly special addition to the best Chanel bags. It has all the classic elements that make it a sought-after style, such as the signature quilted design, chain strap detailing, single flap, and the iconic CC clasp, but it offers a softer silhouette and is available in new contemporary colorways and fabrications.
With less of a legacy and history, the 19 hasn't quite reached the same level of cult status as say the Classic or the 2.55 but as it evolves each season and becomes a firm member of the French fashion house it will certainly only grow in popularity.
The softer body give this bag a more comfortable feel, but depending on the colorway and fabrication, it can work for all occasions.
Fashion editor's picks...
(opens in new tab)
Chanel 19 Handbag Corduroy
RRP: $5,300 / £4,200 | We love the cool corduroy finish for added texture and a retro edge, tapping into the '70s trend. In a soft blue hue with gold-tone finishes it'll work all-year round. There's an inner zip compartment for your valuables too.
(opens in new tab)
Chanel 19 Handbag Lambskin
RRP: $5,900 / $4,620 | Make a statement with this playful printed design. Featuring a bold multi-colored check, it'll make a stylish party bag, turning heads for all the right reasons. Keep the rest of your outfit simple and let the bag take center stage.
(opens in new tab)
Chanel 19 Handbag Large Black
RRP: $6,300 / £4,785 | Keep it understated with this black design. It has a larger capacity so you won't be short on space. The two-tone gold and silver chain strap adds character too. An everyday luxury item, the black colorway means it will never date.
4. Chanel Boy Bag
Chanel Boy Bag
Reasons to buy
+
Boxy structure
+
Lots of sizes and colors
+
Unique double-C mechanism
Named after Coco Chanel's lover, polo player Arthur 'Boy' Capel, the Chanel Boy bag was introduced to the house by Karl in 2011. It has a boxy structure for a more masculine edge and a unique double C mechanism closure. In July 2021, Chanel increased the price of the Boy bag by 15%, making it more desirable than ever. "Chanel's Boy bag is another super seller for us - it's a boxier, edgier rendition of the classic Fab Bag and is a personal favorite of mine," says Charlotte.
"The black Chanel Boy is the most sought after and most valuable. A medium can exchange hands for between £3,500-£4,000 ($4,640-$5,300) which is around 90% of the original RRP."
The Boy comes in an array of sizes from large to wallet-sized in numerous colorways to suit everyone's needs.
Fashion editor's picks...
(opens in new tab)
Chanel Mini Boy Handbag Coral Pink
RRP: $4,500 / £3,485 | Cute and compact, this mini design will make a charming evening bag. The signature boxy structure keeps it smart and the pink hue will help lift your look. Wear with the best dresses and slip-on mules for an evening summer look.
(opens in new tab)
Chanel Large Boy Handbag Metal Black
RRP: $6,200 / £4,640 | If you struggle to travel light then you might want to upgrade to the larger Boy bag. In timeless black, it's guaranteed to never go out of style or lose its value - if you can bring yourself to ever part with it! We love the gun metal chain too.
(opens in new tab)
Chanel Small Boy Messenger Bag
RRP: $4,500 / £3,650 | Shake up the classic Boy silhouette and opt for this messenger shape instead. We love the rich blue velvety texture which is sure to be a hit when party season rolls around. A luxe bag that will rightfully garner lots of admiration.
5. Chanel Gabrielle
Chanel Gabrielle Bag
Reasons to buy
+
Slouchier style
+
Hobo-bag design
+
Long double metal chain strap
Another Karl Lagerfeld creation, the Gabrielle is named after its founder. One of the best crossbody bags, the Hobo-style bag has a slouchier aesthetic, but still maintains some structure with the brand's signature stitching in a diamond pattern and a long double metal chain strap - meaning it can also be carried on the shoulder or by hand, making it extremely versatile.
Like many of the best Chanel bags, the Gabrielle has been reinvented this season in fresh colorways and fabrications to meet the latest fall 2022 fashion trends.
Available in a plethora of sizes and designs, Meghan Markle has been spotted with her trusty Gabrielle bag slung over her shoulder proving it's a celebrity hit too.
The Hobo slouchy style definitely renders this bag as a more casual design, as it's a catch-all design with plenty of room, making it more appropriate for everyday than smart occasions.
Fashion editor's picks...
(opens in new tab)
Chanel Gabrielle Small Hobo Bag in Dark Gray
RRP: $5,000 / £3,905 | Switch up black for this softer grey design which is just as wearable. This go-with-everything hue works brilliantly with other neutrals such as navy and your best camel coat, while still adding a lighter touch than a classic bag version.
(opens in new tab)
Chanel Gabrielle Small Hobo Bag Black and Beige
RRP: $5,400 / £4,280 | If you're investing in a designer bag, standout styles can be a great way to go. The intricately woven leather in this design make this Chanel bag a true masterpiece. With signature CC logo zip and chain shoulder handle, it's a winner.
(opens in new tab)
Chanel Gabrielle Pre-Owned Medium Bag
RRP: $5,433 / £4,794 | Two-tone, ivory and black is a classic Chanel look, and one often seen on its beautiful, rounded-toe pumps. This pre-owned Gabrielle has two adjustable straps and combines gold and silver hardware, zip top fastening, and a double C charm.
6. Chanel 22 Bag
CHANEL 22
Reasons to buy
+
Roomy interior
+
New design
+
Lots of colors and shapes
As the name suggests, this bag was released in 2022 and helped to cement the logo bag look as one of the biggest handbag trends 2022. Despite not been around long enough to nab that 'it' bag title, we see some serious longevity in its future and is what we might call a 'one to watch', when it comes to hit bag styles.
Staying true to Gabrielle's ethos of allowing women the freedom to move and live life to the full - after all, one of Chanel's best fashion quotes states that "Luxury must be comfortable. Otherwise, it is not luxury" - the 22 has practicality at its core. A departure from the fashion house's signature flap design, it has a soft and relaxed silhouette and a drawstring fastening for a sporty feel. One of the best designer totes on the market, it's also available as a sleek backpack, for those who want a hands-free, fun style.
Although the bag is a big departure, style-wise for the brand, the 22 still features Chanel's recognizable quilted leather, metal chain strap and is finished with a Chanel Paris medallion. A strong replacement if you're still longing for the discontinued Grand Shopping Tote, this bag is giving us the same feel as one the best Louis Vuitton bags - the Neverfull, due to its amazing capacity and laidback feel.
Fashion editor's picks...
(opens in new tab)
RRP: $5,500 / £4,360 | One of the biggest fashion trends 2022 called on a reinstatement of metallic to our closets. One of the best tote bags of the season, this silver iteration of the 22 leans into the sports luxe direction of the look and will uplift any look.
(opens in new tab)
Chanel 22 Small Handbag Pink
RRP: $5,100 / £3,945 | Hot pink is one of the main fashion color trends 2022 and this bag taps into the '90s nostalgia look that will continue to explode in the coming months. This punchy version of the 22 will add a big pop of color to all your fall looks.
(opens in new tab)
RRP: $5,300 / £4,115 | When we think of the best Chanel bags, it's easy to pigeonhole the brand into delicate clutches and shoulder strap styles. This design shows that the brand can also deliver on best backpacks and we love the additional, top grab-handles too.
7. Chanel Grand Shopping Tote
Grand Shopping Tote
Reasons to buy
+
Spacious design ideal for everyday
+
Discontinued style so more valuable
+
Timeless silhouette
Around since the '90s the Grand Shopping Tote is one of the most spacious Chanel bags around, with a rectangular silhouette and easy-to-carry shoulder strap design. Embellished with a large CC stitched front and diamond quilt embellishment, the bag is instantly recognizable as Chanel and is even completed with the iconic leather woven chain handles.
Reaching peak fame in the early 2000s when it was spotted on the shoulders of numerous celebrities, the style became hugely popular, before it was sadly discontinued in 2015.
Although the bag has yet to be officially revisited, for those desperate for a Chanel tote, the recently launched Chanel 22 tote definitely helps to fill the gap left by the loss of the Grand Shopping Tote.
The Grand Shopping Tote is now considered a vintage find, and there are pre-owned iterations available for resale, although as always you need to ensure authenticity and read the descriptions carefully, as some may be well-loved.
Fashion editor's picks...
(opens in new tab)
Chanel Pre-Owned Grand Shopping Tote
RRP: $4,786 / £4,256 | The chain strap is given added comfort with a padded shoulder piece, making this ideal for all day wear. Super roomy you can easily slip in folders and essentials for a day out or heading to the office.
(opens in new tab)
Chanel Pre-Owned Grand Shopping Tote
RRP: £2,150 (UK only) | From the engraved zipper to the quilted front with raised interwoven CC emblem, this is the tote bag that will show off your fashion prowess. A discontinued style, there are a number available for resale.
8. Chanel Wallet on a Chain
Chanel Wallet on a Chain
Reasons to buy
+
Compact size ideal for evening
+
Lots of color variations
+
Great interior organisation
A great first Chanel, this is one of the most cost effective Chanel bags. Small in stature, it taps into the trend for micro bags, measuring just 12.3 × 19.2 × 3.5 cm.
Small but perfectly formed, this design is one of the best designer crossbody bags, an ideal purchase for evening occasions or use it everyday for keeping essentials close to hand. With excellent internal storage, as it is a functional wallet on a chain, it has zipped compartments and card slits, ensuring you will find personal items with ease.
Launched in 1997 the style quickly gained momentum, becoming an iconic design for the brand. Although small, it packs a punch when it comes to key detailing. The interwoven CC emblem sits proudly on the front, on a quilted front flap and the instantly identifiable chain strap with woven leather, makes this one of the most loved and investible Chanel bags.
Functional and lightweight, the bag can be worn on the shoulder, crossbody or as a clutch which has only increased its status amongst fashion fans as it's so versatile.
Fashion editor's picks...
(opens in new tab)
RRP: $3,000 / £2,560 | Super sleek, this light grey hue will travel through all seasons. With a front flap design reminiscent of the classic Chanel Boy Bag, the small size means this iteration is ideal for those who want essentials on hand.
(opens in new tab)
Chanel 19 Wallet on a Chain
RRP: $3,600 / £3,020 | Pastel hues are guaranteed to always come back into style every summer, making this wallet on a chain a solid investment. Ideal for weddings and special occasions when you want to carry essentials only.
(opens in new tab)
RRP: $3,725 / £2,980 | The fashion color trends 2022 have championed dopamine dressing in a big way and this hot pink bag exudes happy dressing. With all the familiar hallmarks of the brand, we love the front flap design too.
9. Chanel Gabrielle Backpack
Gabrielle Backpack
Reasons to buy
+
Hands-free style
+
Discontinued design, so higher value
+
Plenty available on the resale market
An evolution of the Gabrielle hobo bag, the backpack version tapped into a fashion moment. Designer backpacks had seen a huge growth in popularity and the Gabrielle was Chanel's nod to the trend.
Once again, all the hallmarks of the brand can be found, from woven chain straps to interlocking CC hardware and quilted fabrications, the Gabrielle has a modern and youthful feel, compared to some of the more 'grown up' and sophisticated designs from the brand.
Part of the Chanel collection as recently as 2019, there have been recent rumblings that the Gabrielle backpack has been discontinued, with no versions of the backpack currently showing online on the brand's own site.
An iconic moment for the brand, as it certainly documents a moment in fashion history, there are several available on re-sale sites, should a backpack be the style you're looking to invest in.
Fashion editor's picks...
(opens in new tab)
Chanel Pre-Owned Gabrielle Backpack
RRP: $7,325.78 / £6,264.50 | Well known for its tweed, this monochrome design is undeniably Chanel. A smart design, if you're looking for the best backpack for working women, this is a great choice.
(opens in new tab)
Chanel Pre-Owned Gabrielle Backpack
RRP: $5.685.68 / £4,862 | A timeless design, this black iteration of the Gabrielle backpack has all the classic hallmarks of the French brand's design, from quilt detailing, to woven chain straps used to secure the bag.
10. Chanel Camera Bag
Camera Case
Reasons to buy
+
Lots of color and fabrication choices
+
Available new or on resale market
+
Good size for everyday crossbody
Introduced in the 1980s the Chanel Camera Case bag is an incredibly elegant style. Identifiable by its rectangular boxy silhouette, while vintage versions of the bag feature a tasselled zipper.
A classic silhouette across many design houses, the latest Chanel Camera Case bags come in two classic colorways, black and pewter - both of which can work for day or evening. Both new designs offer slightly different finishes, from a jeweled charm logo on the strap to a thicker, quilted shoulder panel for added comfort, this is a silhouette we expect to continue for some time.
There are a number of pre-owned iterations in various fabrics and colorways. One of the less talked about silhouettes, it is still one of the best Chanel bag styles on the market, offering a roomy design and compact shape in one.
Fashion editor's picks...
(opens in new tab)
Chanel Mini Camera Case Leather Bag
RRP: $4,700 / £3,820 | A black designer bag is always a good investment and this sleek quilted camera bag is one that you can wear for years to come. Accented with gold hardware, including a gold trim, the thicker shoulder strap offers added comfort.
(opens in new tab)
Chanel Pre-Owned 1990 Camera Case
RRP: $4,398 / £4,013 | Go vintage with this 1990s pre-owned bag, that taps into this season's trend, helping you to discover what is Barbiecore with its bold pink hue. A slightly more square silhouette, we love the pink fold over frontage for added detail.
11. Chanel Perfume Bottle
Perfume Bottle
Reasons to buy
+
Ideal evening bag
+
Striking design
+
Limited edition and rare piece
Subject to availability and price on application, the Chanel Perfume Bottle bags are some of the most exclusive pieces in the collection. Seen on the most recent runway show for Fall fashion trends 2022, the bag takes it shape from the brand's most infamous fragrance, Chanel No.5.
While there are resale versions available online, these limited edition designs can stretch into the tens of thousands, and their exclusivity guarantees they will retain value through the years.
Originally debuted in 2013, the perfume bottle bag was a new direction for the label and a great way of demonstrating Chanel's playfulness, while respecting the iconic symbols of the brand.
Fashion editor's picks...
(opens in new tab)
Chanel Perfume Bottle Metallic Evening Bag
RRP: POA | Available now, this slick, mirrored evening bag takes on the shape of the classic Chanel No.5 bottle but has fewer details for a cleaner, more modern finish. With a slim chain strap and striking logo detailing, this is a chic update on a bag that will never date and will hold its value at resale.
Chanel Pre-Owned Perfume Bottle Bag
RRP: £7,900 (UK only) | This sleek black iteration of the Chanel perfume bag features gold hardware and the brand's iconic woven chain shoulder strap. Easily worn crossbody, on the shoulder or as a clutch, this evening bag can be teamed with the best cocktail dresses for a stylish finish.
(opens in new tab)
Chanel Pre-Owned Perfume Bottle Bag
RRP: $20,839 / £17,527 | With a white marble effect and silver hardware, this instantly recognizable design is from 2016. Depicting the brand's famous Chanel No.5 perfume, this is an ideal evening bag for a special occasion, working effortlessly with any of the best rehearsal dinner dresses.
Charlie is the Deputy Fashion Editor at Future plc across multiple women's magazines including Woman & Home, Woman and Woman's Own.
She bagged her first magazine job in 2009 and has previously written for titles including Stylist, Closer and Dare. Over the years Charlie has embraced anything that was thrown at her from styling celebrities to testing out the best jeans on the high street to writing about must-have beauty buys.
With a weakness for a printed midi dress, Charlie is on a mission to shop more sustainably and loves finding new ethical brands and second-hand buys.