Dopamine dressing is the fashion trend that will energize you and your wardrobe
The Dopamine dressing trend is set to cheer you and your wardrobe up this season. Here's why you should shop it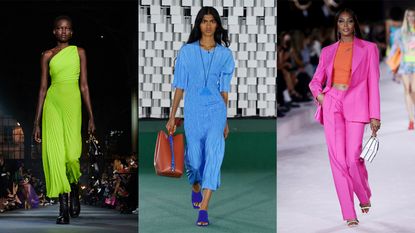 (Image credit: Getty Images)
Dopamine dressing is the latest fashion buzzword but what does it really mean? After two years of lockdowns and anxiety, slowly the world is reopening. To express this joy, designers leaned in heavily to brightly-hued outfits for their spring/summer runway shows, which has since been coined
the 'dopamine dressing' trend for its mood-boosting abilities. It's time for us to have some fun with fashion again.
Dopamine dressing is one of the biggest fashion trends 2022 has to offer. The runways were full of bright looks, from hot pink at Versace and vivid blues at Stella McCartney to acid green at Valentino, the spring/summer shows were full of color and optimism. Many designers went for statement, head-to-toe block color looks, while others simply injected hints of brightness to lift their collections for the season ahead.
When it comes to the Dopamine Dressing trend, expect this look to seep into every aspect of your closet, giving a new season boost to your capsule wardrobe basics. While we don't expect this trend to dissipate anytime soon, after all, we all need a little fashion boost right now, if you're not someone who wears a lot of bright color clothing, opt for more straight-to-market options to trial the trend without investing too heavily. While all bright hues are welcome, runways were filled with bright greens, pinks, yellows, and orange tones, making these the most popular to buy into this spring/summer. You can also consult our what color suits me guide, for some added tips.
Why is dopamine dressing a good idea?
So why should you try the dopamine dressing trend? Because it's an incredibly simple way to boost your mood. As Shaikila Forbes-Bell, fashion psychologist and author of the forthcoming book Big Dress Energy (opens in new tab), explains, "Essentially, dopamine dressing is psychological grounding to the 'look good, feel-good' concept. When you wear something you associate with happiness, you embody that emotion and feel happy."
Dopamine dressing isn't just limited to shopping bright colors though—it's also about existing pieces that you own and have an emotional connection to. As Forbes-Bell explains, "An easy way to engage in dopamine dressing is by looking at your wardrobe and identifying the pieces that remind you of a particularly happy or rewarding time in your life. Next, see how you can style these items in a new and improved way—that way, you're experiencing both the psychological benefits of dopamine and novelty. Dopamine dressing is a guaranteed mood booster so it's a recommended practice at every stage of life."
Can dopamine dressing really improve your mood?
It may be hard to believe that a brightly-colored skirt or sweater will make your feel happier, but there is science behind it. Shaikila Forbes-Bell explains what happens inside our heads when we wear bright colors or pieces we love. "Happiness stems from the chemical dopamine that mediates pleasure in the brain. It occurs in the ventral tegmental area (VTA) which is located in the midbrain and is an integral part of our brain's reward system," Forbes-Bell explains. "From there, it is released into the nucleus accumbens and the prefrontal cortex—the area of the brain that is linked to attention, memory, and our ability to think flexibly."
And there's plenty of anecdotal evidence to back up the theory, too. w&h's digital fashion editor Rivkie Baum is known for her love of colorful outfits. "While I'm as guilty as everyone else with having too many dull colors in my wardrobe, nothing cheers me up than wearing a bright color," she told me. "I've recently invested in a red wool winter coat and, even when the sky is grey, I can't help but feel an instant burst of energy every time I slip into it. I think brighter colors make you look and feel more approachable too, and it always suggests and gives confidence, even when you're not feeling 100%."
Dopamine dressing is a great trend for women over 40
Dopamine dressing is a particularly good trend for women over 40 to follow. Bright colors can actually boost the appearance of your skin, making you look—and likely feel—youthful. All too often, we are led to believe that after a certain age we should stick to a monochrome palette. However, dark hues can look harsh, particularly in winter when we are at our palest, and thereby wash out skin, leaving us looking grey, tired, and older.
Bright, bold colors will not only offer cheer on the dullest of days, but, if chosen well, they'll enhance and warm your complexion, giving your visage a new radiance that a black polo neck certainly won't.
How to wear the dopamine dressing trend
While it may seem daunting, there's the perfect bright color for everyone. Brunettes and those with olive skin will look great in every color including yellow and orange, which many shy away from. Blondes, redheads, and those with paler skin should experiment with vibrant blues, greens, and pink to brighten up their everyday looks.
The key is to start slowly—add one of the best cashmere sweaters in a bright hue for a spring-ready outfit, or, dip a toe in with a brightly colored accessory. Injecting color into accessories is an easy way to start working the dopamine dressing trend into your wardrobe and a color pop bag adds interest to even the most basic t-shirt and best jeans combo—the top handbag trends 2022 are full of zingy shades. As with many of the best trends, straight-to-market brands have been quick to embrace brights, meaning that you don't need to spend a fortune for some feel-good fashion—from Mango and Finery London to Reiss and New Look, there's something for everyone at affordable prices.
Best dresses for dopamine dressing
(opens in new tab)
RRP: $49.90 / £29.99 | Make your friends green with envy. The wrap-style draping is flattering across tummies and green is a color that works with every skin tone and hair color.
(opens in new tab)
RRP: $39.99 / £25.99 | Not only is red an instant mood booster but the retro collar detailing as well as the fit and flare cut of this New Look dress is highly flattering.
Best tops for dopamine dressing
(opens in new tab)
RRP: $240 / £148 | Workwear doesn't have to be bland. Not only will this bright blue blouse brighten your day, but it's also smart enough to be seen in the boardroom.
(opens in new tab)
River Island Satin Blouse
RRP: $60 / £32 | Dip a toe into bright-colored waters with this satin tie-waist blouse. The jeweled buttons give this sleek shirt some added luxe.
Best bottoms for dopamine dressing
Kitri Apple Green Slip Skirt
RRP: $198 / £115 | A classic slip skirt won't ever date—this apple green refresh from cool-girl label Kitri will give you a get-up-and-go mood boost.
(opens in new tab)
Finery Blue Tailored Trousers
RRP: £49 (UK only) | These Finery trousers in French Blue sit high on the waist for a flattering fit. Try adding a silky camisole and blazer for a stylish evening look.
(opens in new tab)
Jacquemus Pink Flared Trousers
RRP: $565 / £355 | You don't have to wait until Wednesday to wear these pink trousers. Pair with a crisp white shirt and the best designer heels for a head-turning look.
Best shoes for dopamine dressing
(opens in new tab)
RRP: $218 / £215 | Let your feet do the talking with these stylish flats from Kate Spade. They're a great starting point for how to style straight leg jeans—just add a white shirt and blazer for a pulled-together look.
(opens in new tab)
RRP: $196 / £169 | Ever wondered how to dress like Carrie Bradshaw? These sequin Kensington sandals from Kurt Geiger London wouldn't look out of place in Carrie's wardrobe. We love the glitz for all-year glam.
(opens in new tab)
RRP: $70 / £75 | Dopamine Dressing is great for casual style too. Wondering how to style Vans? These bright high tops are a great alternative to your best white trainers—wear with a bright midi dress for nonchalant cool.
Best bags for dopamine dressing
(opens in new tab)
RRP: $395 / £395 | One of this season's most sought-after handbags, you'll want to hug Coach's Pillow Tabby bag. The modern squishy take on a 1970s archive classic is available in five sugary pastel hues.
(opens in new tab)
RRP: $110 / £80 | We challenge you not to have your mood lifted by this gorgeous handbag from Boden. Mustard velvet? Yes. Pink Tassel? Yes. Sign us up. Ideal for special occasions, uplift your favorite little black dress.
(opens in new tab)
Gucci Marmont Matelassé Bag
RRP: $1,550 / £1,200 | Looking to invest in the best Gucci handbags? You can't go wrong with Gucci's Marmont family. This timeless shoulder bag gives us full-on spring feels with this sky blue colorway.
Antonia Kraskowski is a freelance fashion editor with over 15 years of experience in the industry.
Having started her career at Conde Nast working for titles including Easy Living, Glamour and Vogue New Markets, Antonia went on to work in the fast-paced world of newspapers and weekly magazines, becoming Fashion Editor at Express Newspapers and Magazines in 2014, a role she held for five years before going freelance.
Her career has seen Antonia travel the world, shooting in 18 countries and styling campaigns for brands ranging from Ben Sherman and DKNY to Wallis.