How to style straight leg jeans—4 ageless and wearable outfit ideas
Make everyday dressing a breeze with these tips on how to style straight leg jeans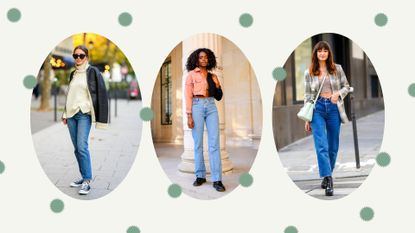 (Image credit: Future/Getty)
Understanding how to style straight leg jeans so they look modern can feel like a struggle. If you're stuck trying to figure out what to wear with straight leg jeans, we've got all the inspiration you need.
Any fashion editor will tell you that the skinny jean has fallen slightly out of favor the past few years. Don't get us wrong, skinny jeans are still one of the best jeans styles and certainly deserve a spot in your capsule wardrobe but the past few seasons have seen looser styles come to the forefront and we couldn't be happier with this comfier silhouette.
Bridging the gap between the skin-tight skinny and the relaxed boyfriend style comes the straight leg. More forgiving than the former, yet not as baggy as the latter, the straight leg jean is the perfect in-between. It sits mid to high on the waist and carries straight down to the leg for a flattering and leg-lengthening finish. Straight leg jeans have all the vintage flair of the mom jeans but with a sharper edge making them easy to dress up and down, and creating a plethora of sartorial opportunities.
How to style straight leg jeans—4 outfits ideas to try
From teaming with the best blazer to jazzing up with a fancy shoe, here are some fail-safe ideas for how to wear straight leg jeans.
1. Straight leg jeans + blazer
What you need...
A blazer or tailored jacket
Minimalist top
Statement shoes
The easiest way to sharpen your denim is to add in some tailoring. Enter the blazer, which has become a mainstay in our everyday wardrobes. Whether you opt for a pop of color or keep it classic in a check print, a blazer will instantly smarten your straight-leg jeans and render them evening appropriate. Just add a silky cami and some slip-on heels.
A styling tip...
For a daytime look that still has polish, layer your blazer over a simple tee and add your best white trainers for a sporty spin.
Our fashion editor recommends...
(opens in new tab)
Everlane The Rigid Way-High Jean
RRP: $98/£97 | Crafted from 100% organic cotton, these sit just above the belly button for a flattering finish on the waist. Tuck in a fitted top and layer a blazer over to pull the look together.
Great price!
(opens in new tab)
Mango Wrap Check Suit Jacket
RRP: $99.99/£59.99 | A classic check print will never go out of style so this smart blazer is a worthwhile investment. It has a regular fit so go up a size if you're looking for more of a boyish look.
2. Straight leg jeans + more denim
What you need...
A denim jacket
A shirt
Fancy flat shoes
Double-denim has come a long way since Britney and Justin rocked it back in the early noughties and it's now considered a favorite amongst the fashion elite. Tap into the vintage aesthetic of the straight leg jean and pair them with a matching denim shirt or your best denim jacket.
A styling tip...
Try bringing in different washes for chic contrast—team a light-wash jean with a darker shirt or vice versa. You could even introduce color and opt for some pastel-hued denim to break up the traditional denim blue.
Our fashion editor recommends...
Bestseller
(opens in new tab)
H&M Straight High Ankle Jeans
RRP: $34.99/£24.99 | H&M are pros at crafting affordable basics and their denim collection is well worth a look-in. If you want to keep the look smart, opt for a darker wash.
(opens in new tab)
Levi's Essential Western Denim Shirt
RRP: $69.50/£70 | Every wardrobe needs a denim shirt and you can't get more classic than Levi's. Made from 100% cotton it has traditional Western yoke details and statement chest pockets.
3. Straight leg jeans + slouchy sweater
What you need...
A slouchy knit
Sneakers
Delicate jewelry
A pair of straight leg jeans will be one of the most versatile pieces you own which means you can team it with all your wardrobe basics. Think cream knits, stripy jumpers, and the best cashmere sweaters and you've got a chic brunch-ready getup.
A styling tip...
Take advantage of a high-rise jean and look for cropped knits and cardigans to highlight the waist and give your outfit a contemporary, preppy feel. Alternatively, half-tuck in your knit at the front to help streamline your shape.
Our fashion editor recommends...
(opens in new tab)
Arket Straight Cropped Jeans
RRP: $79/£59 | When it comes to wearing white jeans, a looser silhouette is more flattering. The ecru shade is less stark than white.
Selling fast
(opens in new tab)
Zara Floral Knit Jacquard Cardigan
RRP: $49.90/£29.99 | This floral knit is oh-so-cute and will be perfect when spring rolls around. Leave it buttoned-up or layer over a simple tee.
Great value
(opens in new tab)
RRP: $29.99/£19.99 | Our collection of striped knits is ever-growing and this super soft number is one to add to the pile.
4. Straight leg jeans + statement shoes
What you need...
When it comes to learning how to style straight leg jeans, sometimes simple is best. A basic tee can provide the backdrop for some killer accessories and fancy footwear inspired by the latest shoe trends is an easy way to lift your look. Many straight leg jeans will finish at the ankle lending a perfect opportunity to show off your shoes and thanks to their aforementioned versatility, they pretty much go with anything. From the best winter boots to a sleek sling-back, your shoes will help define how dressy you want to go.
A styling tip...
Opt for heeled ankle boots if you're looking for a day-to-night look, or go for a boyish flat, like a loafer, if you want to keep it polished yet comfy for daytime.
Our fashion editor recommends...
We love!
(opens in new tab)
Dune London Grange in Red
RRP: $99/£75 | The pillar-box red hue helps to breathe new life into the classic loafer. High-end finishes such as the snaffle trim and statement stitching keep these looking luxe.
(opens in new tab)
Kurt Geiger Duke crystal mules
RRP: $183/£159 | Take you straight-leg jeans straight to cocktail hour with these embellished beauties. Minimal styling is needed so keep the rest of your outfit simple